Easy vegan deviled eggs made with potatoes and tofu. Perfect vegan appetizer to bring to a party and share with your friends. Gluten free, dairy free and high in protein. You will be amazed how much these taste like eggs!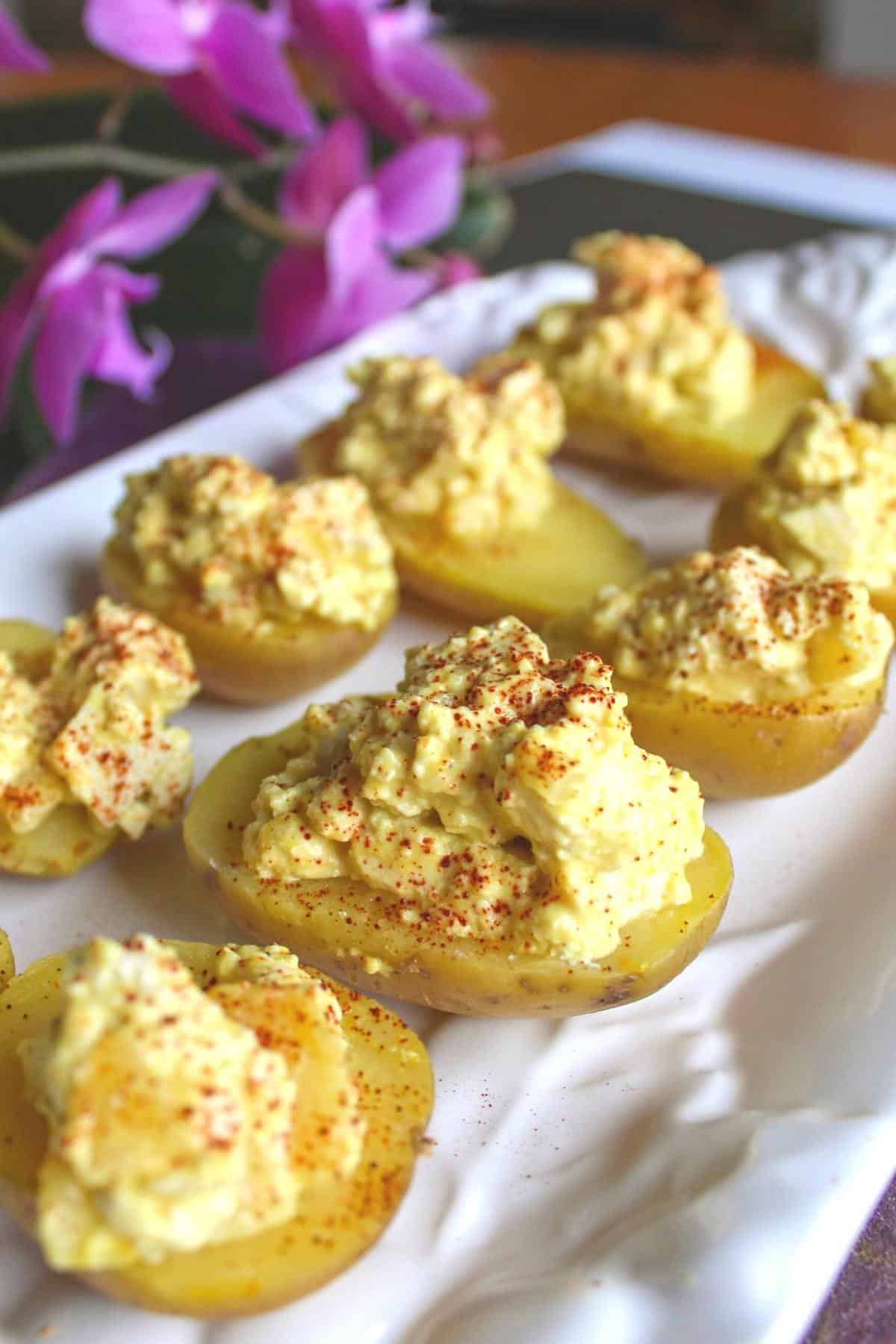 Jump to:
Potatoes and tofu tasting like deviled eggs? I can't be serious, right? Well, I'm absolutely serious, folks!
Before going vegan and learning about the cruelty of the egg industry, (yes, this includes free-range and backyard hens) I really enjoyed deviled eggs.
There was just something about the creamy, sulfur tasting filling and the chewiness of the egg whites. It was the perfect appetizer at a party.
While I don't miss eating eggs, I was really excited to mess around with this recipe and find a way to re-create these tasty party appetizers.
❤️ Why you'll love this recipe
They really taste like eggs, thanks to the black salt! It has a strong sulfur flavor and goes really well with the creamy potatoes and tofu.
This is a great appetizer to bring to a holiday party or for an Easter brunch and it will definitely impress your friends and family.
It's got minimal ingredients that use a lot of pantry essentials and it's high in protein thanks to the tofu!
🧂 Ingredients & substitutions
We're going to be using a lot of traditional deviled egg ingredients like vegan mayonnaise and mustard. But we will be doing a few tweaks to make it vegan.
Small yellow potatoes – It's very important to not use any potatoes that are big. We want them to be about the same size as an egg.
Firm tofu – Tofu is added for texture and protein. Firm or extra firm tofu has the same texture as egg whites. You can also use chickpeas. Tofu is really nice because it holds up really well and absorbs all the flavors that you mix with it.
Vegan mayonnaise – I really love Veganaise, you really can't beat its flavor.
Mustard – yellow mustard works fine. Use dijon mustard if you want to be fancy.
Black salt – Also called kala namak. This has a sulfur taste that will give these an eggy flavor. This is a must have in this recipe. You can buy this online or at an Indian grocery store.
Garlic powder, onion powder and paprika for garnish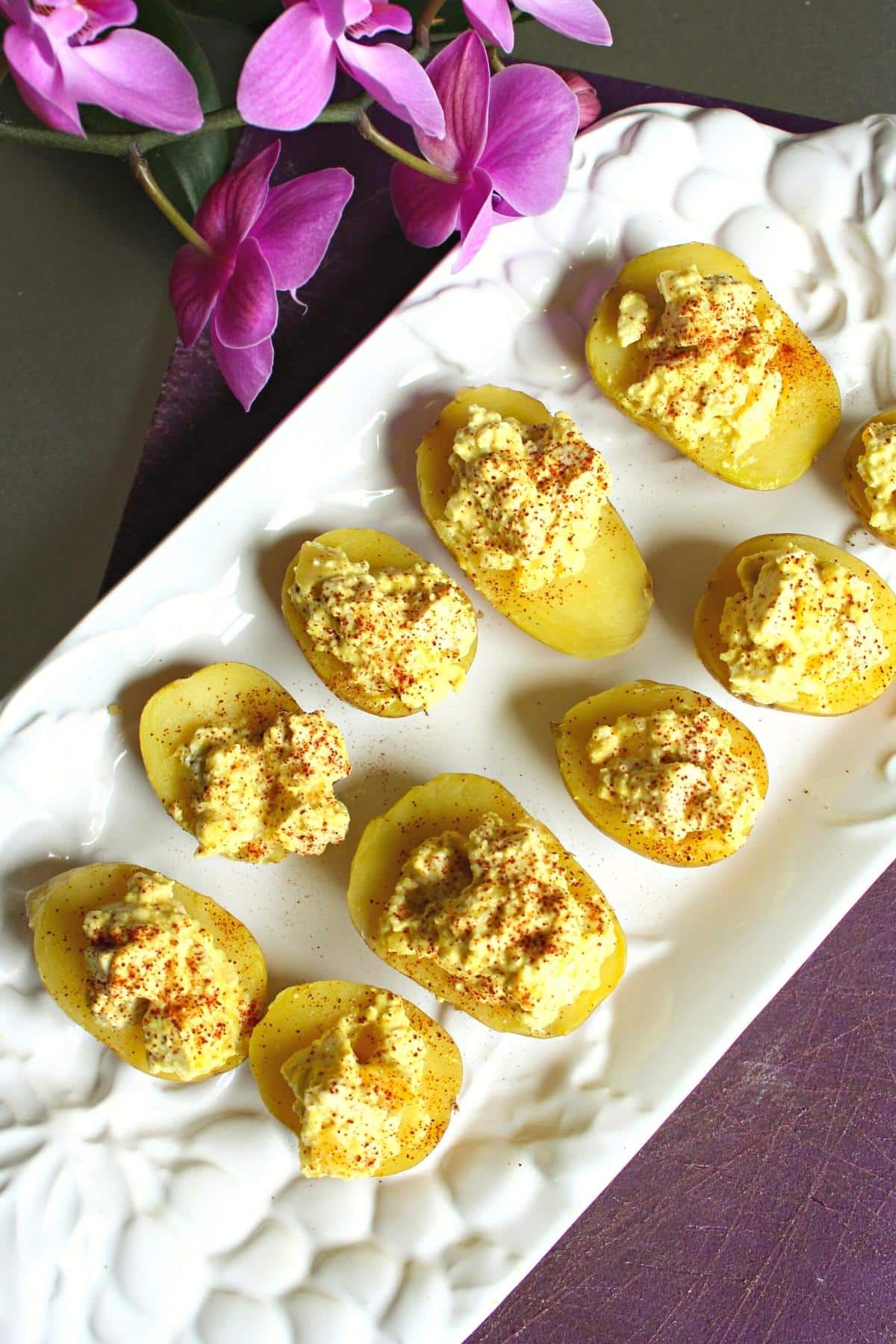 🔪 Directions
Make sure to scroll down to the recipe card for the full ingredients list and instructions!
Step one – First boil the potatoes whole, then let them cool completely. Using hot potatoes will be difficult to work with and they will fall apart easier. It's best to let them completely cool overnight in a fridge.
Step two – After the potatoes have cooled, cut them in half and sprinkle them with a little black salt (more on this in a second).
Step three – Take a small spoon and cut out a small portion of the potato. Roughly chop up the section you took out of the potato and put it in a large mixing bowl.
Step four – First press the tofu for at least 15 minutes to get excess water out. You can use a heavy pan or to make it easier, use a tofu press. Use code DAMNTASTY for 10% off.
Step five – So in a mixing bowl, add the tofu, potato chunks, vegan mayonnaise, mustard, garlic powder, onion powder and black salt. Mix well. Then take the filling and add it into the pockets you dug out of the potatoes. Top with paprika and enjoy!
👩‍🍳 Expert tips
While I chose to keep my egg filling a bit more chunky, you can make it smooth like a deviled egg by blending the filling ingredients in a food processor, or mashing them with a potato masher.
Let the potatoes completely cool before working with them. It's best to put them in the fridge overnight.
Use small yellow potatoes that are about the same size as eggs.
Check out my post, 11 best egg substitutes for baking, if you need more tips on how to replace eggs.
🥦 Serving suggestions
Top this with some fresh dill, black pepper or chives. These go great as an appetizer with any holiday meal, or potluck. Serve with other delicious sides like a green bean casserole, roasted Brussels sprouts, or asparagus.
❄️ How to store
This is a great recipe to make a day or two ahead of a party. You can store these in an airtight container in the fridge for up to five days.
Just sprinkle them with a little black salt right before serving.
There you have it! Enjoy this delicious, easy, high protein vegan deviled egg. Share it with all of your friends at your next party.
❓ FAQ's
Do these really taste like deviled eggs?
Yes! Because of the black salt, these have that eggy, sulfur taste. The boiled potatoes with the firm tofu filling have the same texture as a deviled egg as well.
Your non-vegan friends and family will love this vegan recipe. It's a great recipe to introduce people to vegan food.
Can I freeze these?
I haven't ever tried freezing them. I imagine freezing would change the texture a bit and make the potatoes mushy. Let me know if you've tried this in the comments below.
What if I don't have black salt?
I highly recommend you have black salt for this recipe. That is the ingredient that gives these and eggy flavor. Black salt is really easy and affordable to order online. It's also great to have on hand any time you want to add an eggy flavor to vegan recipes, like a tofu scramble. If you don't have black salt, this recipe will still be delicious, but it won't have that eggy flavor.
🥚 More vegan egg recipes
If you loved this recipe, leave a 5 ⭐️ rating on the recipe card and comment below!
📖 Recipe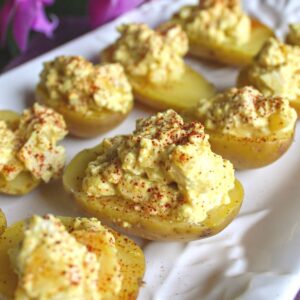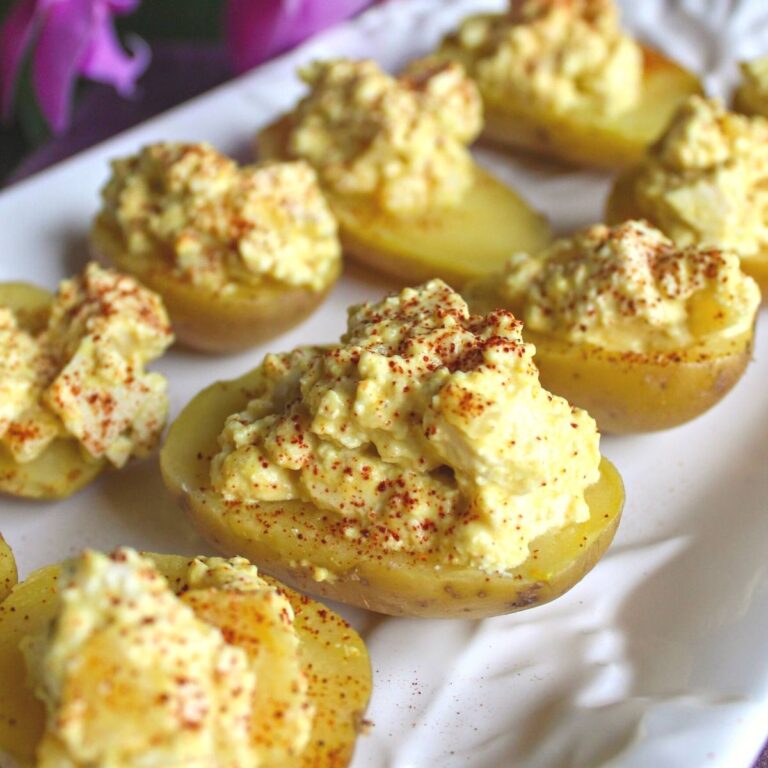 Vegan Deviled Eggs
Easy and delicious vegan deviled eggs. Perfect side dish or appetizer for the holidays or to bring to a party. Tastes just like eggs
Print
Pin
Rate
Ingredients
10

small yellow potatoes

1

package of firm tofu

(press water out and cut into small cubes)

¾

cup

vegan mayo

4

tablespoon

mustard

2

teaspoon

black salt

1

teaspoon

garlic powder

1

teaspoon

onion powder

pinch

Paprika to garnish
Instructions
First, prepare the potatoes by boiling them whole until fork tender – about 15 minutes. Make sure not to over cook them. Then let the potatoes cool completely. It's best to do this the night before and put them in the fridge over night.

The next day or once they've cooled, cut potatoes in half lengthwise and sprinkle lightly with black salt. With a small spoon, scoop out a small hole in the middle of the potato making sure NOT to scoop all the way down to the bottom so that it doesn't break apart.

Chop up the potato filling that you just scooped out and add it to a large mixing bowl. We're going to make the deviled egg filling now.

Press the water out of the tofu for 15 minutes. Then cut the tofu into small cubes and add to the mixing bowl

Mix in vegan mayo, mustard, onion powder, garlic powder and black salt to the mixing bowl with the tofu and potato cubes. Mix everything well.

¾ cup vegan mayo,

4 tablespoon mustard,

2 teaspoon black salt,

1 teaspoon garlic powder,

1 teaspoon onion powder,

pinch Paprika to garnish

If you want a smoother consistency, mash all of the above with a potato masher or fork. Scoop the tofu/egg mixture into potatoes. Garnish with a little more black salt and paprika
Video
Notes
While I prefer a more chunky egg texture, you can choose to have the filling a bit more smooth by blending the tofu, mayo, mustard, onion powder, garlic powder and black salt in a food processor or blender.
Black salt is NOT optional, this is what gives the deviled eggs and eggy flavor.  It's easy to order online if you don't live near an Indian grocery store.
Make sure the potatoes are completely cool before working with them. It's best to cook them the night before and keep them in the fridge until you plan on making the deviled eggs. 
Nutrition
Nutrition Facts
Vegan Deviled Eggs
Amount per Serving
% Daily Value*
* Percent Daily Values are based on a 2000 calorie diet.
The nutritional information on this website is only an estimate and is provided for convenience and as a courtesy only. The accuracy of the nutritional information for any recipe on this site is not guaranteed. It should not be used as a substitute for a professional nutritionist's advice.