Vegan rice krispies
These vegan rice crispy treats are easy to make and only have three ingredients. No-bake easy vegan dessert recipe that's gooey and delicious.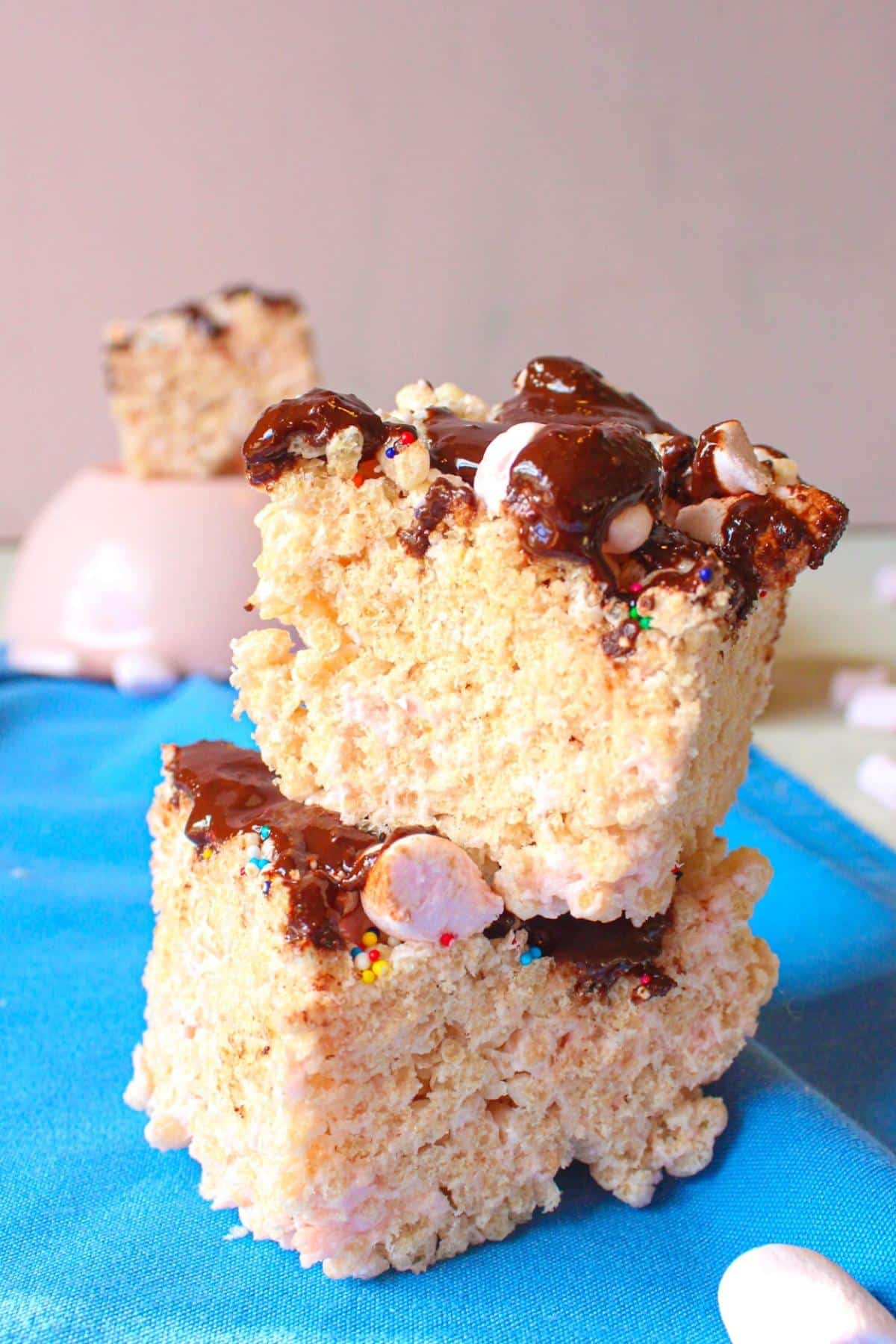 This vegan version of rice crispy treats tastes exactly the same. You would never know they're vegan!
These tasty rice krispie treats are
vegan
yummy
quick and easy
gooey marshmallow flavor
a childhood favorite
nostalgic
kid friendly
Ingredients
These rice crispy treats is made with simple ingredients. So easy!
Vegan marshmallows
The two most popular brands of vegan marshmallows are the Trader Joe's brand and Dandies vegan marshmallows. I used Trader Joe's peppermint flavored marshmallows because that was all I could find. They turned out great! You can also order some online.
Dairy free butter
I used Earth Balance but feel free to use whatever brand of vegan butter you can find. You can also use vegan margarine. Most margarines are vegan.
Rice crispy cereal
I used the Trader Joe's brand, which is a vegan cereal because it's not fortified with vitamin D3 (which is often animal derived). If you're not that picky, use whatever vegan crispy rice cereal or puffed rice cereal brand you can find the easiest. Brown rice crisps also taste good in this recipe.
Vanilla extract
If the vegan marshmallows that you use aren't vanilla flavored, then add this in.
Pinch of salt
This will enhance all of the flavors.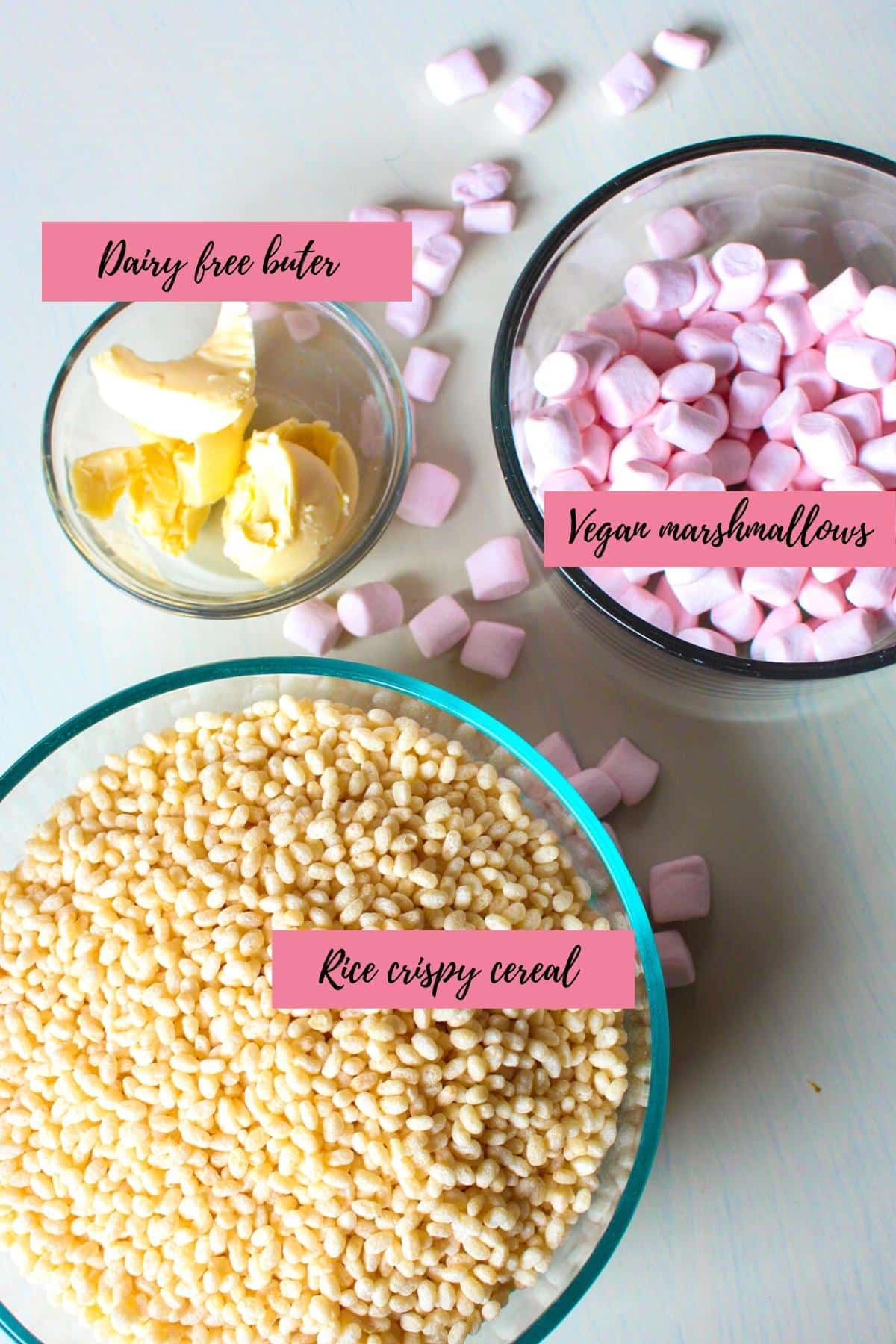 Recipe tips
When melting the butter, melt it on medium-low heat in a large pot. Make sure it doesn't brown or burn at all. Stir constantly to help it melt.
Once the butter is melted, take it off the heat. Add in the cereal mixture, vanilla extract ( if your marshmallows aren't vanilla flavored) and a pinch of salt to enhance all the flavors.
A wooden spoon or rubber spatula works well to stir these treats.
Use a sheet of parchment paper to help it not stick to your baking dish.
After the crispy squares cool, use a sharp knife to make it easier to cut into squares. Cut each piece in similar size.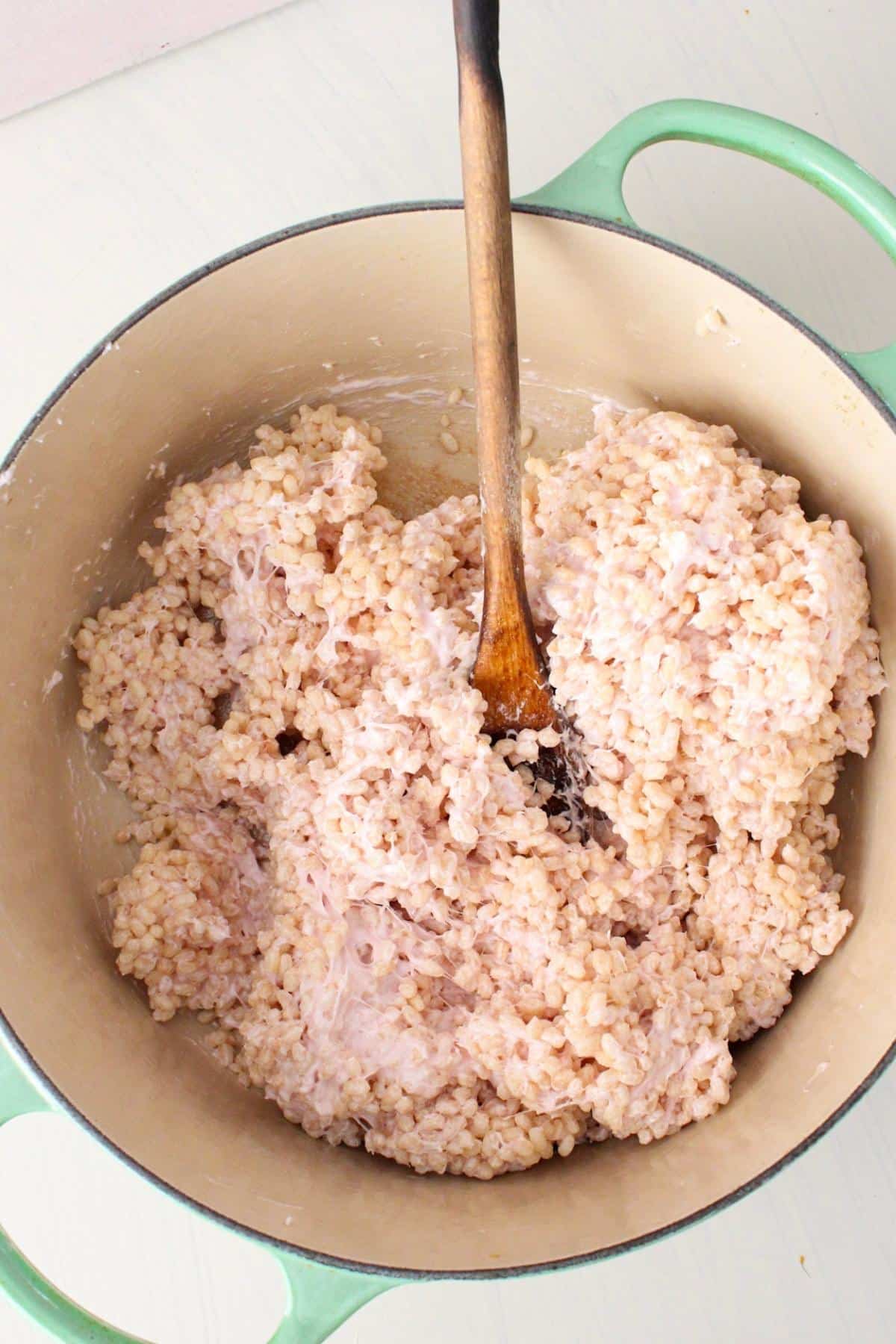 Toppings
You can keep these vegan rice crispy treats as they are, or you can add some fun toppings.
I like to add some sprinkles on top, because it makes them look pretty.
You can also add some marshmallows and melted chocolate on top as well. Just melt ½ cup of vegan chocolate chips and a teaspoon of vegan butter on low, on the stove or in a microwave in a microwave-safe bowl. Stir well. Then drizzle over the top.
Storing tips
You can keep them on the counter in a sealed container or in your fridge, in an airtight container. They will last about a week (unless you eat them all)!
Frequently asked questions
Where can I buy vegan marshmallows?
You can usually find vegan marshmallows at Whole Foods year round or at many health food stores. They can be found in the baking section or the chocolate and desserts and snacks section.
We don't use traditional marshmallows because they contain gelatin, which is derived from boiling animal parts (usually hooves and snouts) and using the film that comes to the top.
You can also find them at Trader Joe's, but be aware, they are seasonal. They have the regular marshmallows around Summer time and then the peppermint marshmallows in the winter around the Holidays.
You can also order them online to make it easier.
Can I use coconut oil?
Yes! Coconut oil works really well in this recipe because it solidifies when at room temperature. Just use ¼ cup of coconut oil if you want to replace the vegan butter.
Can I make these in the microwave?
Absolutely. Just mix together the butter and marshmallows in a large, microwave-safe bowl. Microwave for 2 minutes. Stir, then microwave for another minute or two, until the marshmallows are melted.
Take out of the microwave and then stir in the rice crispy cereal.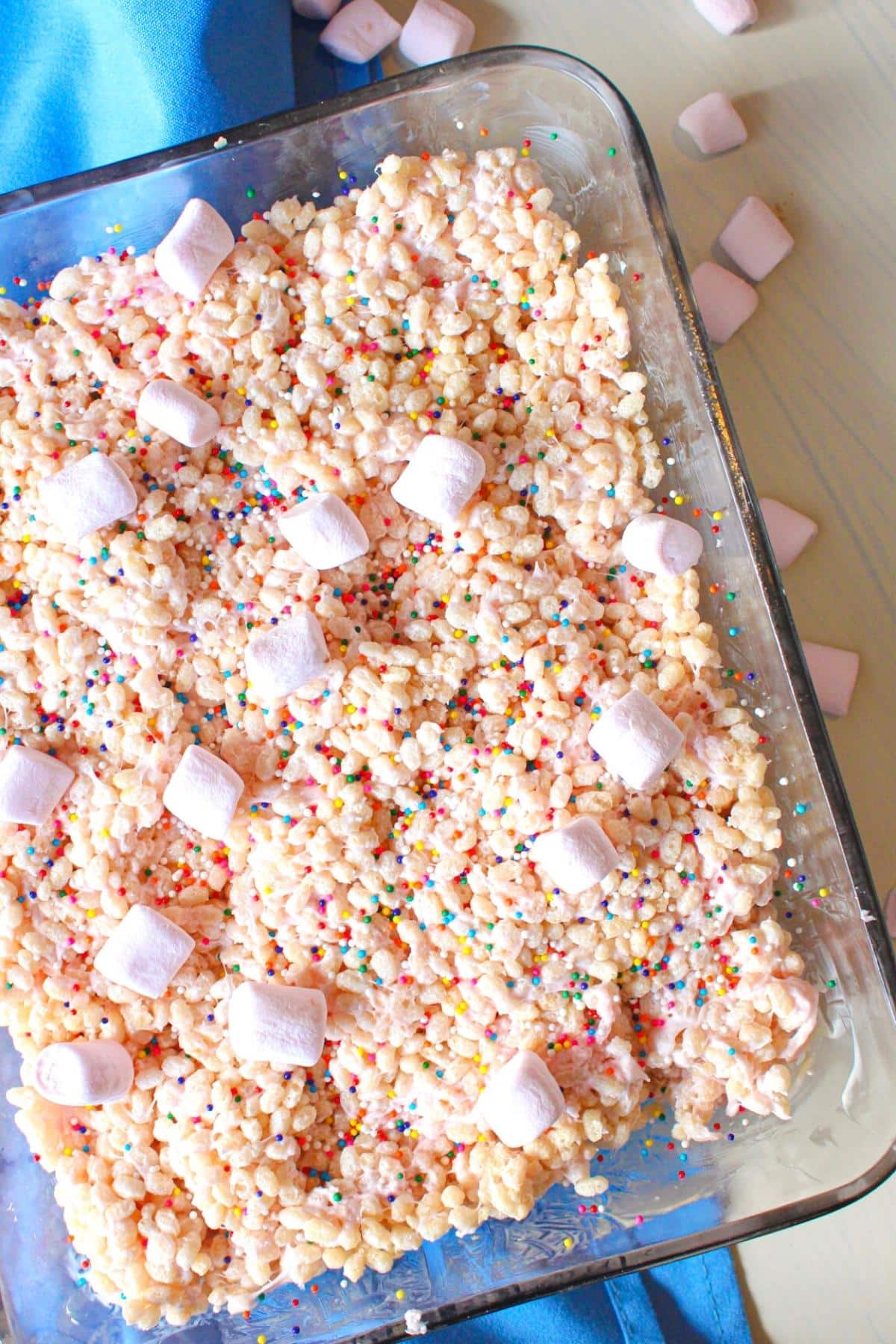 More recipes you'll love
If you loved this recipe, leave a 5 ⭐️ rating on the recipe card and comment below!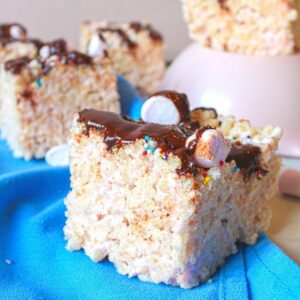 Vegan rice crispy treats
These vegan rice crispy treats are easy to make and only have three ingredients. No-bake easy vegan dessert recipe.
Print
Pin
Rate
Ingredients
¼

cup

vegan butter

10

ounces

vegan marshmallows

4½

cups

rice crispy cereal

½

teaspoon

vanilla extract

(if your marshmallows aren't vanilla flavored)

pinch of salt
For topping (optional)
½

cup

vegan chocolate chips

(optional)

1

teaspoon

vegan butter

(optional)
Instructions
In a large pot on the stove, put the vegan butter into the pan on low heat. Stir and let the butter melt.

Add in the marshmallows. Keep the heat on low and constantly stir, until the marshmallows melt. This may take 5-10 minutes. Don't let it burn! Keep the heat on low.

10 ounces vegan marshmallows

Add in the rice crispy cereal, , a pinch of salt and vanilla extract. Mix well. Grease a 9×9" pan. Press the rice crispy treats into the baking pan.

4½ cups rice crispy cereal,

½ teaspoon vanilla extract,

pinch of salt

If you'd like to add a chocolate topping, melt the chocolate chips and vegan butter on the stove on low or in a microwave. Drizzle the melted chocolate over the rice crispy treats.

1 teaspoon vegan butter,

½ cup vegan chocolate chips

Set in the fridge for 20 minutes to let it set. Cut it up into squares and enjoy!
Notes
Can I use coconut oil instead?
Absolutely! just use ¼ cup of coconut oil in place of the vegan butter. It tastes delicious.
To make these peppermint flavored
Use the peppermint mini marshmallows from Trader Joe's! 
Nutrition
Nutrition Facts
Vegan rice crispy treats
Amount per Serving
% Daily Value*
* Percent Daily Values are based on a 2000 calorie diet.
The nutritional information on this website is only an estimate and is provided for convenience and as a courtesy only. The accuracy of the nutritional information for any recipe on this site is not guaranteed. It should not be used as a substitute for a professional nutritionist's advice.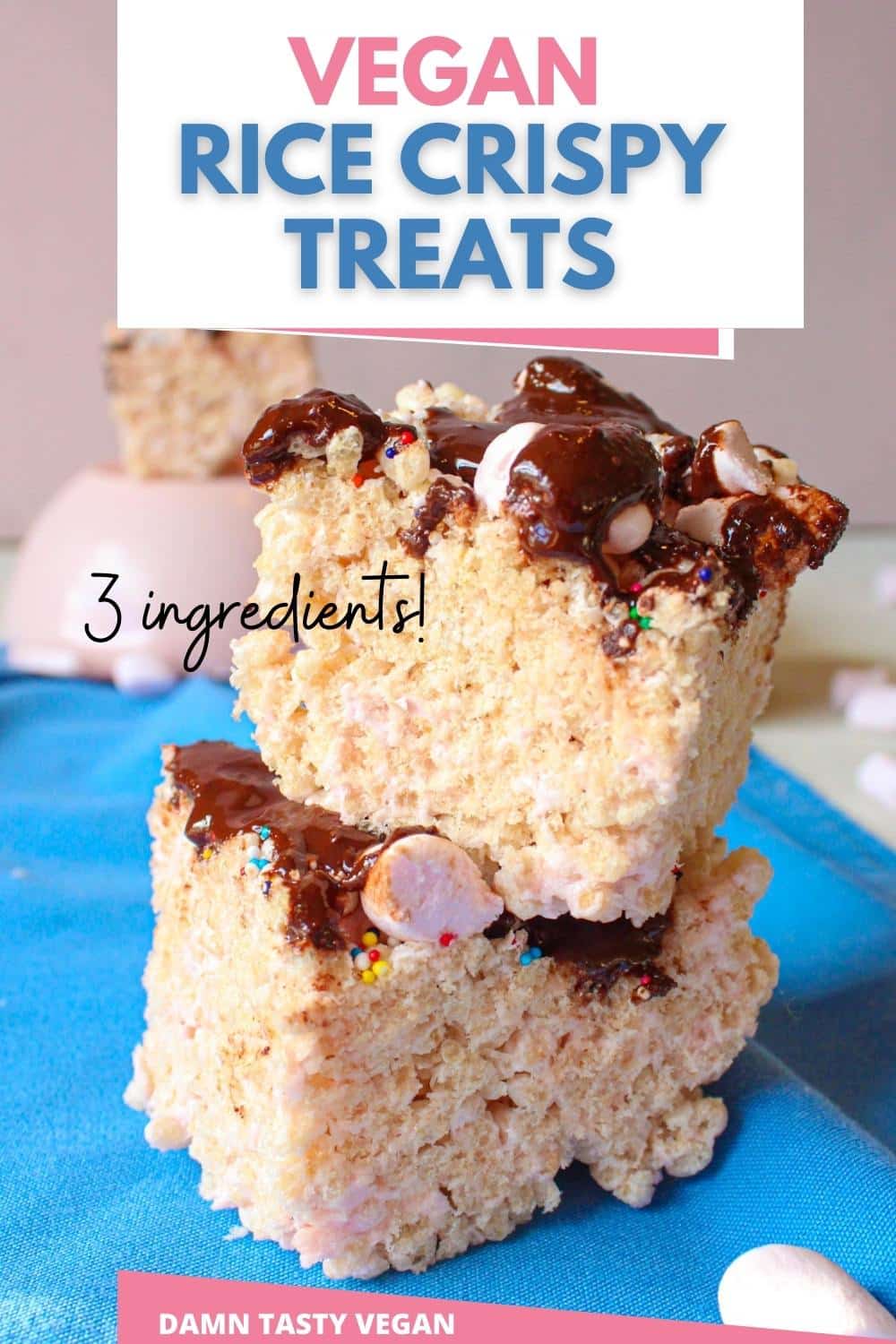 Vegan rice krispie squares