How to bake a potato in the oven
How to bake a perfect baked potato without foil in the oven. Learn the best way to get crispy skin with a fluffy interior for potato perfection every time. No fuss and super easy.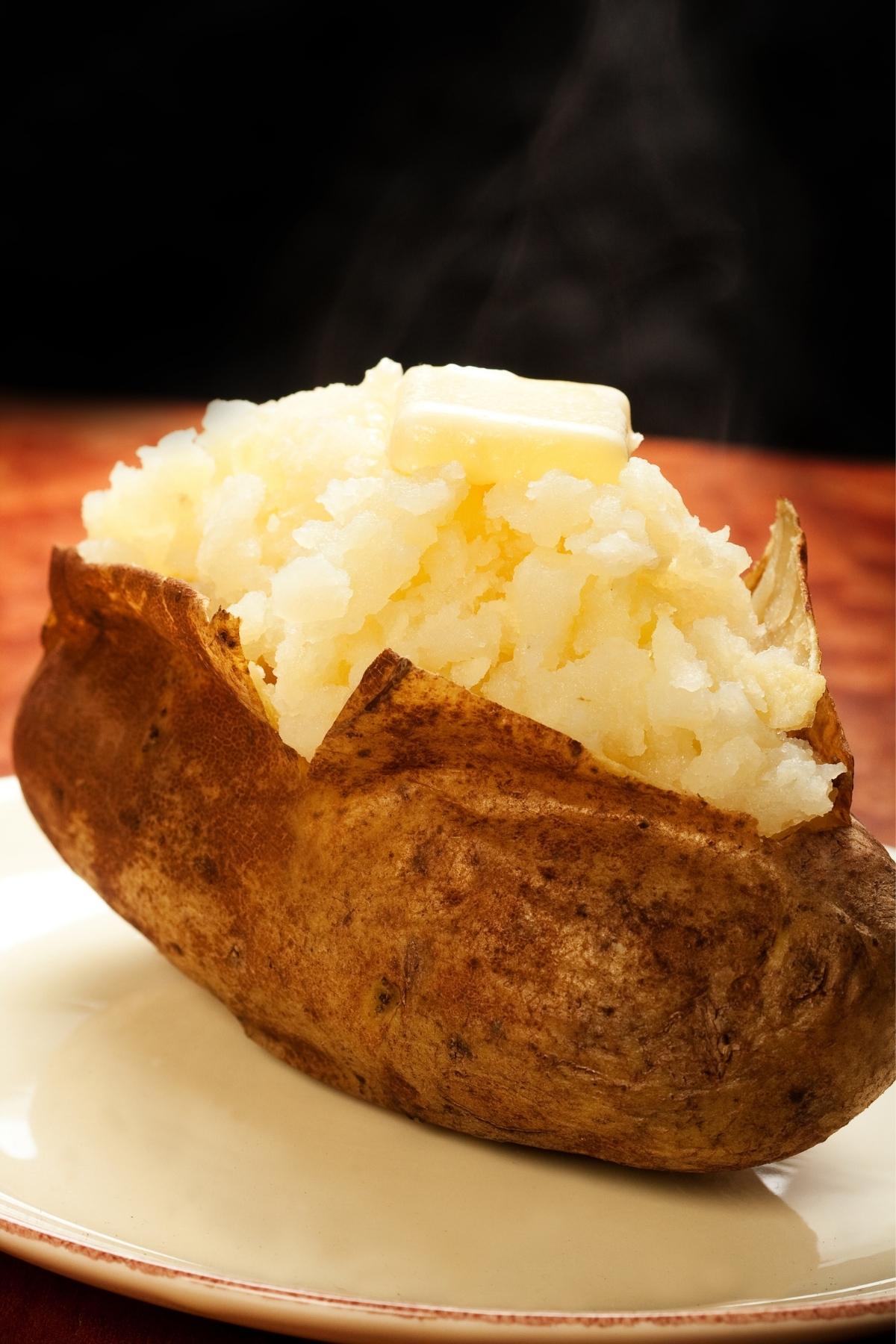 Jump to:
❤️ Why you'll love this recipe
Baked potatoes make for a great side dish to any meal. Top them with delicious toppings and they will make for the perfect main course as well.
There are many different ways to cook potatoes, but if you want the perfect fluffy potatoes, baking them is the easy way to go.
These potatoes come out perfect every time with crispy, seasoned potato skin and fluffy, creamy insides.
Potatoes are super healthy! Ignore all the low carb negative Nancies. Potatoes are full of vitamin C and B6, they have more potassium than bananas and they're one of the most satiating foods because they're full of fiber, vitamins and minerals.
👩‍🍳 Expert tips
Use russet potatoes
The type of potato really matters. First step is to use russet potatoes. Russets are the go-to baking potato because they are a starchy potato and the more starch in a potato means it will be more fluffy.
You might be surprised to hear this, but potatoes have a lot of nutrients in them. According to the New York Times, a plain, 7 oz baked potato eaten with the skins on, contains half of your daily vitamin C and vitamin B6.
2. Choose organic potatoes if you can
Potatoes are one of the dirty dozen foods (the foods with the highest amounts of pesticides) so it's best to choose organic potatoes.
Since most of the pesticides are found in the skin, and the skin is where most of the nutrients are, it's best to buy organic potatoes so you can eat your baked potatoes with the skin on without worry.
This recipe is going to show you exactly how to get crispy, delicious potato skins, so you don't want to miss out on that.
3. If you're in a hurry
Baked potatoes are best when they bake for a long time, but if you're in a hurry and have less time, then microwave the potatoes for 3 minutes, and finish in the oven. They might cook a little unevenly, but if you're in a pinch, this works.
🔪 Directions
1. Clean the potatoes
Make sure to scrub the potatoes of any dirt. We are making delicious potato skins, so we want to be able to eat them.
Take off any nubs that may have grown and cut out any dark, brown spots. After you clean, poke holes in the potato with a fork or sharp steak knife.
This helps to release some pressure so the potatoes don't burst.
2. Use a saltwater brine instead of oil
Mixing some salt with some water and then dipping the potatoes in for a few seconds will ensure that the salt sticks to the skin. You can use kosher salt or sea salt or whatever you have on hand at this point.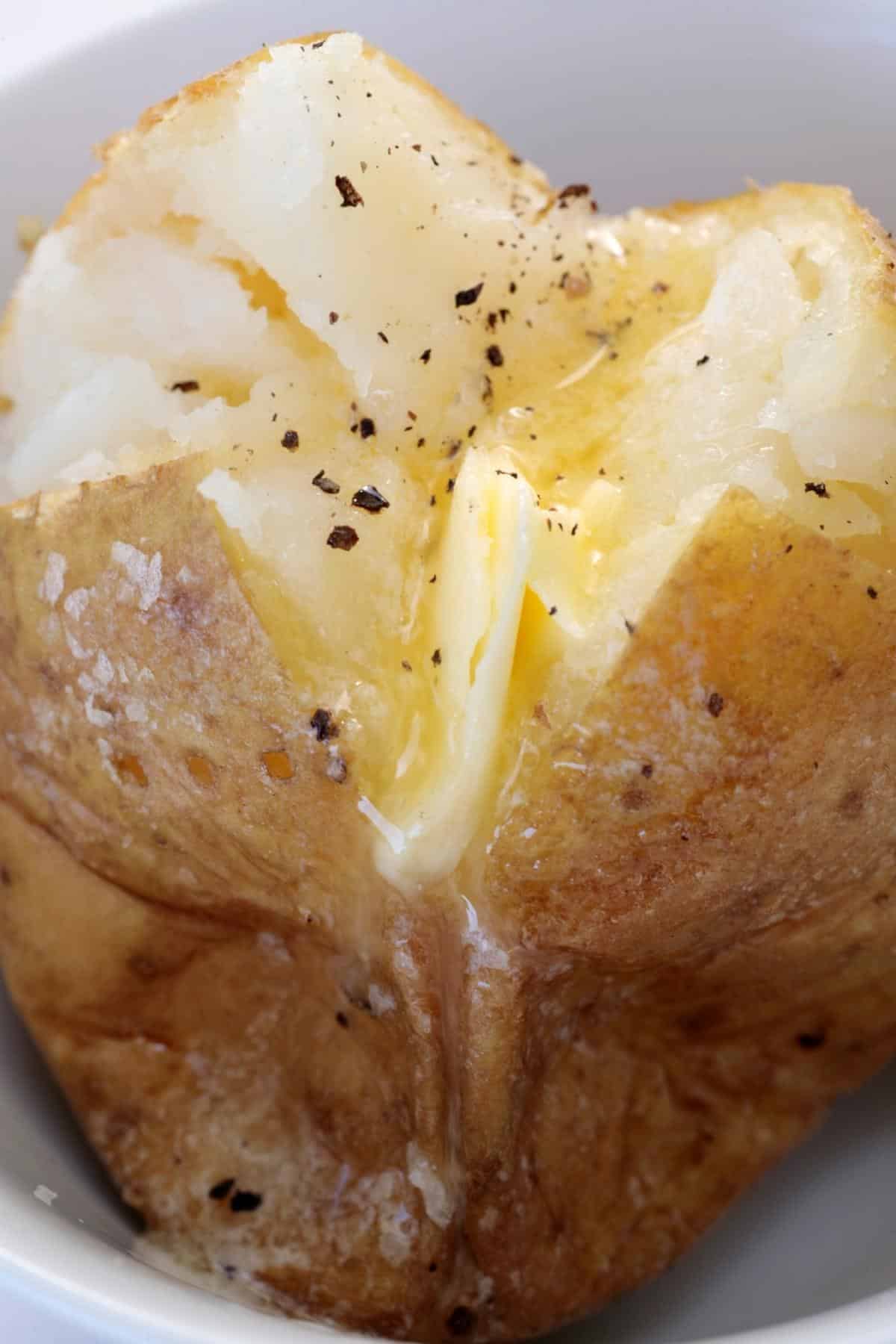 3. Don't wrap in tin foil
Wrapping baked potatoes in aluminum foil traps all of the moisture in, basically steaming the potatoes instead of baking.
This results in gummy, watery, soft skin potatoes. Just don't do it if you want the potato to have fluffy insides and a crispier skin, like you'd find at a restaurant
4. Place directly on the oven rack
To make sure the potatoes cook evenly all around, place them right on the oven rack. Don't place the potatoes on a baking sheet, unless you place a rack over the baking sheet.
Placing on a baking sheet alone will leave a weird burn mark on the bottom.
If you want to make sure the potatoes don't drip, place the baking sheet on a lower rack below the potatoes.
5. Brush oil over the potatoes when almost done
You don't want to cover the baked potato in oil until they are almost done. If you put the oil on before it's cooked and crisped up, it will trap in the moisture and make for a leathery potato skin.
Bake the potatoes until they're done, then brush some oil on and return to the oven for 10 minutes to crisp the skin up.
6. Release the steam immediately
To ensure the moisture doesn't get trapped in the potato when it's done, and you maintain a fluffy center, you have to cut into the potatoes immediately when they're done.
Use oven mitts or a hand towel to hold the potato. Cut an X into the top of the potato. Squeeze both sides to push the filling out and fluff up the potato.
🎚Toaster oven directions
If you want to cook your baked potato in a toaster oven, follow the same steps as cooking in a conventional or convection oven.
Pre-heat toaster oven to 400 degrees.
Clean the potatoes of any bruises or spots. Poke the potatoes with a fork 6 times.
Brine the potatoes by dipping them in a saltwater mixture of ½ cup of water and 2 tablespoons of salt.
Place them directly in the toaster oven on the rack. Keep them uncovered - don't wrap in foil.
Bake for 45-60 minutes. Cook time depends on the size of the potatoes. They're done when you can easily poke a sharp knife into them.
Take out of the oven and brush with some oil. Olive oil or vegetable oil will do. Place back in the toaster oven for 5-10 minutes, or until the potato skin crisps up.
Once it's done, immediately cut an X into the top of the potatoes to release steam and prevent the inside from getting too dense.
Top with your favorite toppings.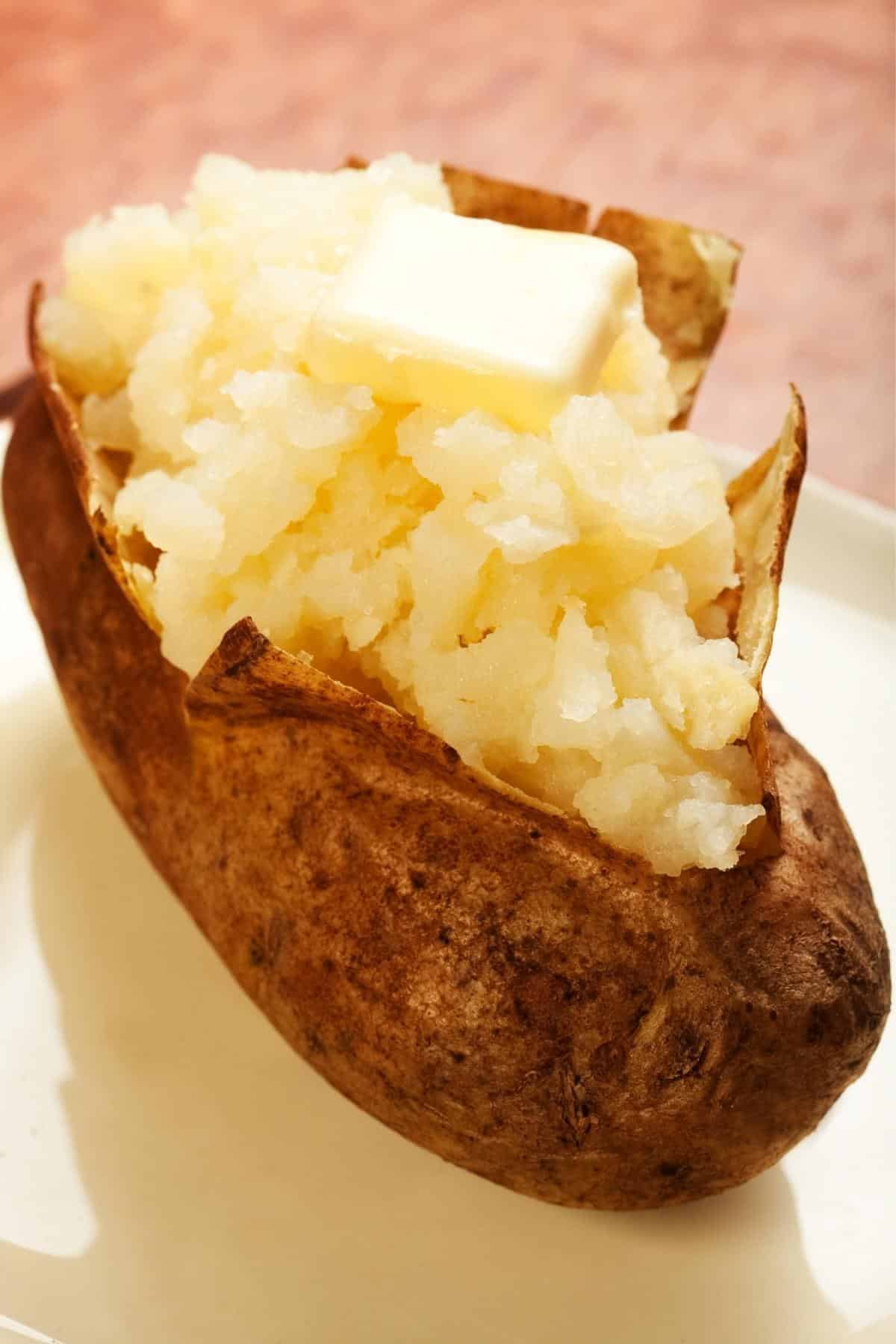 🥔 Plant based toppings
Here's some ideas if you're making a baked potato bar. Some of my favorite toppings are:
Unsweetened vegan yogurt
Vegan sour cream
Vegan butter
Chives or green onions
Steamed broccoli
Vegan queso or cheese
Coarse salt & black pepper
Steak sauce ( I know this sounds weird, but it tastes amazing)
Vegan mayo
Black beans & salsa
♨️ Serving suggestions
This potato makes the perfect side dish to any dish, especially "meaty" plant based dishes like Portobello mushroom steak, BBQ baked tempeh, Lentil sloppy Joe, Vegan steak and Vegan ribs
❓ FAQ's
How long does a baked potato last?
A baked potato lasts about 3-5 days in the fridge. It won't be as crispy once it cools in the fridge. To crisp it back up again, warm it up in the oven, on the baking rack for at least 15-25 minutes at 350 degrees.
How do you reheat a baked potato?
In the oven
The best way to reheat a baked potato, so it crisps up again, is to bake it in the oven. Set the oven to 350 degrees f. Place it in the oven, directly on the rack for 15-25 minutes.

In an air fryer
You can also heat them up in an air fryer. Set the air fryer to 350-400 degrees. Place them in the air fryer basket and heat it for 3-5 minutes, or until it's warmed through.

In a microwave
This is the worst way to heat up a potato, since it will result in gummy potatoes. But if you don't mind the texture and just want it to be quick, heat them up this way.
What is the internal temperature of a fully cooked baked potato?
If you have a meat thermometer, baked potatoes are done when they reach the internal temperature of 205 degrees f.

You can tell a baked potato is done by inserting a sharp knife. If it goes in easily, it's done.

You can also tell it's done by gently squeezing the potato. If it has a lot of give and feels a bit squishy, it's done.

Are baked potatoes wrapped in foil necessary?
Absolutely not! Wrapping potatoes in foil traps in the steam and moisture resulting in gummy skin and dense inner potato. If you want potatoes with a crispy, flaky, seasoned skin, skip the foil and place them directly on the oven rack.
How long does it take a potato to bake?
The cooking time depends on the potato size. Larger potatoes take longer. Generally, a large russet potato will take between 40-60 minutes at 450 degrees to bake.
🥄 More potato recipes to try
If you loved this recipe, leave a 5 ⭐️ rating on the recipe card and comment below!
📖 Recipe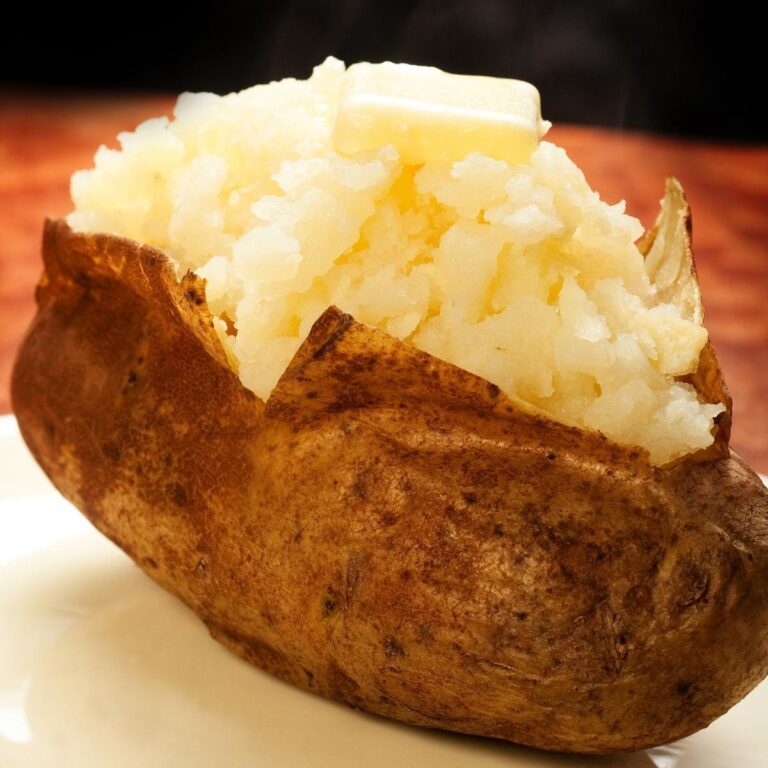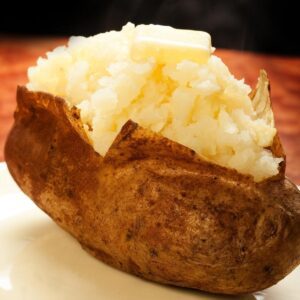 Perfect baked potato (without foil)
How to make the perfect crispy and fluffy baked potato every time, without wrapping them in aluminum foil.
Print
Pin
Rate
Ingredients
4

Russet potatoes

½

cup

water

2

tablespoons

salt

2

tablespoons

Vegetable oil
Instructions
First, pre heat your oven to 450 degrees. Next, with a fork, pierce the potato skin about 4-5 times evenly all over the potato.

Make a salt water brine by mixing the water with salt in a large bowl.

½ cup water,

2 tablespoons salt

Dip the potatoes in the salt water brine for a few seconds so that they're coated all over.

Place potatoes directly on a wire rack. Place a baking sheet on the rack below to catch any drippings. This will ensure that the potato gets cooked evenly from all over. Depending on the size of your russet potatoes, you will bake anywhere from 40-60 minutes at 450 degrees.

Bake the potatoes until you can easily pierce a sharp knife or fork in it and the outside looks crispy and brown.

Take out of the oven and brush with some vegetable oil and a little salt and pepper. Use oven mitts to make sure you don't burn your hands

2 tablespoons Vegetable oil

Place back in the oven for 10 minutes to get the skin nice and crispy.

After 10 minutes, take the potatoes out of the oven and immediately cut them open by cutting a large X across the top and squeezing them open.

You don't want to wait too long before opening them, otherwise the steam will get trapped inside and make them gummy
Notes
Tip: If you're in a hurry, then microwave the potatoes for 3 minutes, and finish in the oven
Potatoes will last 3-5 days in the fridge. 
Reheat them by placing them on the rack in the oven at 350 degrees for 15-20 minutes. 
Nutrition
Calories:
229
kcal
|
Carbohydrates:
38
g
|
Protein:
5
g
|
Fat:
7
g
|
Saturated Fat:
6
g
|
Sodium:
3500
mg
|
Potassium:
889
mg
|
Fiber:
3
g
|
Sugar:
1
g
|
Vitamin A:
2
IU
|
Vitamin C:
12
mg
|
Calcium:
31
mg
|
Iron:
2
mg
The nutritional information on this website is only an estimate and is provided for convenience and as a courtesy only. The accuracy of the nutritional information for any recipe on this site is not guaranteed. It should not be used as a substitute for a professional nutritionist's advice.
That's it for now. Hope this crispy, fluffy baked potato recipe helped you out! Even though potatoes are versatile and easy to make, baking them right takes a little bit of know how so that they come out crispy and fluffy.
Share this recipe with someone who needs an easy baked potato recipe.