Delicious seitan steak
Juicy and tender vegan steak. Made with seitan and super high in protein. Amazing chewy texture and perfectly seasoned. Looks just like the "real thing".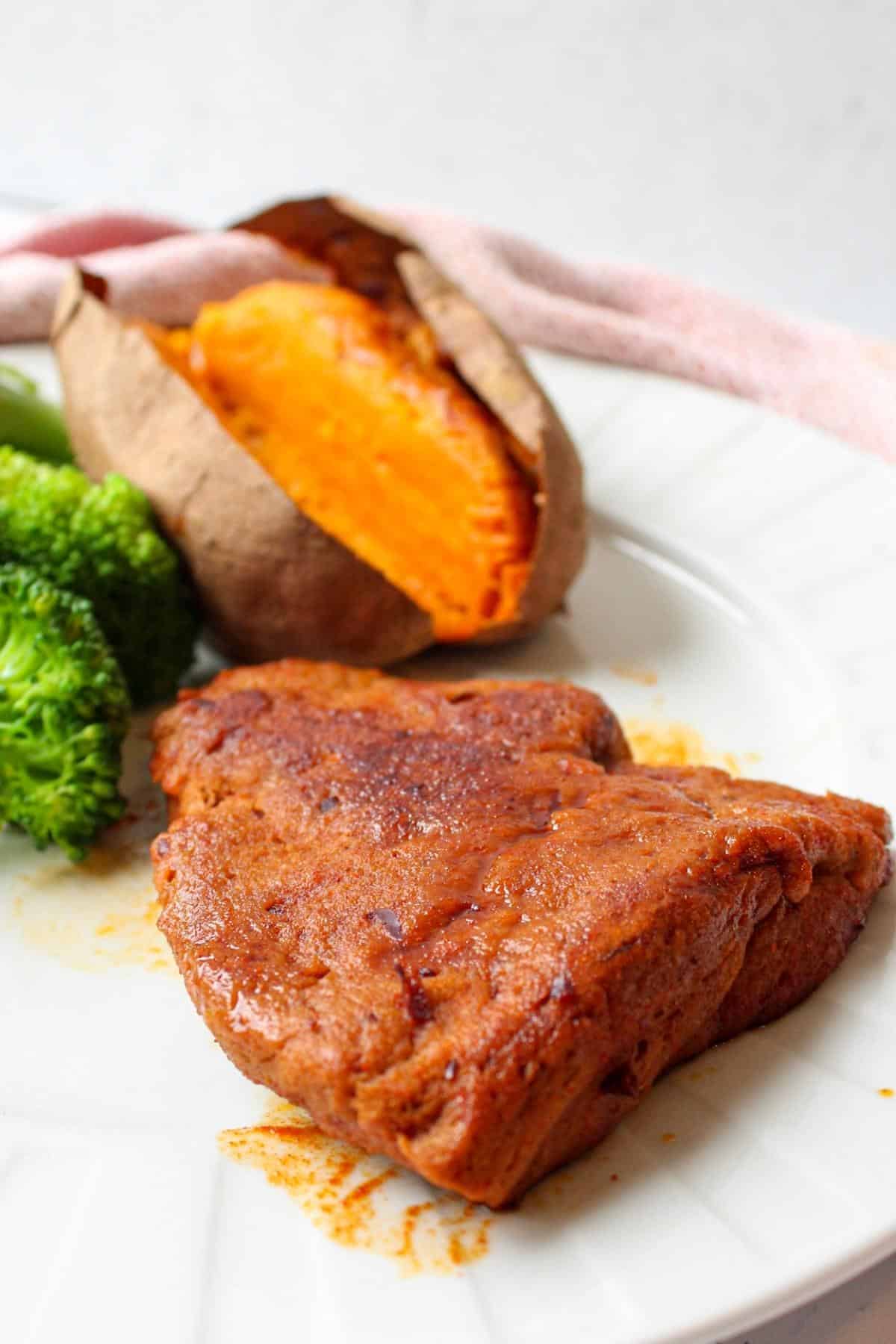 This seitan recipe is
high in protein
fun to make
great for a summer bbq
Ingredients and substitutions
Vital wheat gluten flour - This is the protein that's found in wheat. Vital wheat gluten flour is 70% protein. The easiest way to get this is to order it online.
Beans - I used kidney beans in this recipe. Garbanzo beans, black beans or brown or green lentils also work well. This adds extra protein and texture.
Spices - This is the fun part. I used garlic powder, onion powder, cumin, and smoked paprika.
Tahini - This adds some fat that makes this recipe more satisfying like steak would. If you don't have tahini, you can leave it out, or add some coconut oil or olive oil.
Beef marinade - I love using store bought, pre-made marinade for this. Makes it a lot easier. If you can't find this then just use oil and steak seasonings.
Tomato paste - This adds some umami flavor and a nice red color.
Soy sauce - This adds depth of flavor, saltiness and umami flavor. You can also use liquid aminos.
Dijon mustard - Adds a nice tangy counter balance to all the savory flavors.
Vegetable broth - You can also use vegan beef flavored bouillon to add a more beefy, meaty flavor.
Nutritional yeast - This adds another depth of flavor as well as a slightly nutty rich flavor. Fortified nutritional yeast is really high in vitamin B12 as well.
Liquid smoke - This adds a nice smoky flavor. If you don't have this, use smoked paprika.
Salt and black pepper
Helpful tips
Don't knead for longer than two minutes. The longer you knead, the tougher the vegan seitan steaks will be. We want to go for a tender, juicy steak that won't hurt your jaw.
After kneading the dough in a large bowl, push it out on the counter and flatten it out a bit, then cut it into 4-6 pieces. It helps to tenderize it a bit and push the steaks down more with a potato masher, or rolling pin.
Don't worry if you don't have enough room in your steamer basket, they can overlap or touch each other.
It helps to have a food processor for this recipe. If you don't have one, a blender works as well.
I've seen some recipes wrap the steaks in aluminium foil to help keep their steak shape, but they did just fine without it. Less waste and you don't have to worry about the aluminum seeping into the seitan.
Brush on some more marinade every time you flip the steaks.
Vital wheat gluten
Seitan, also called wheat meat, is made from vital wheat gluten flour. This is the protein in wheat, separated from the starch. So it's 70% pure wheat protein.
Buddhist monks have been making seitan for thousands of years. If you don't have celiac disease, you should be fine eating seitan.
The easiest way to get this flour is to buy it online. I find it's really expensive at the grocery stores or health food store.
Serving suggestions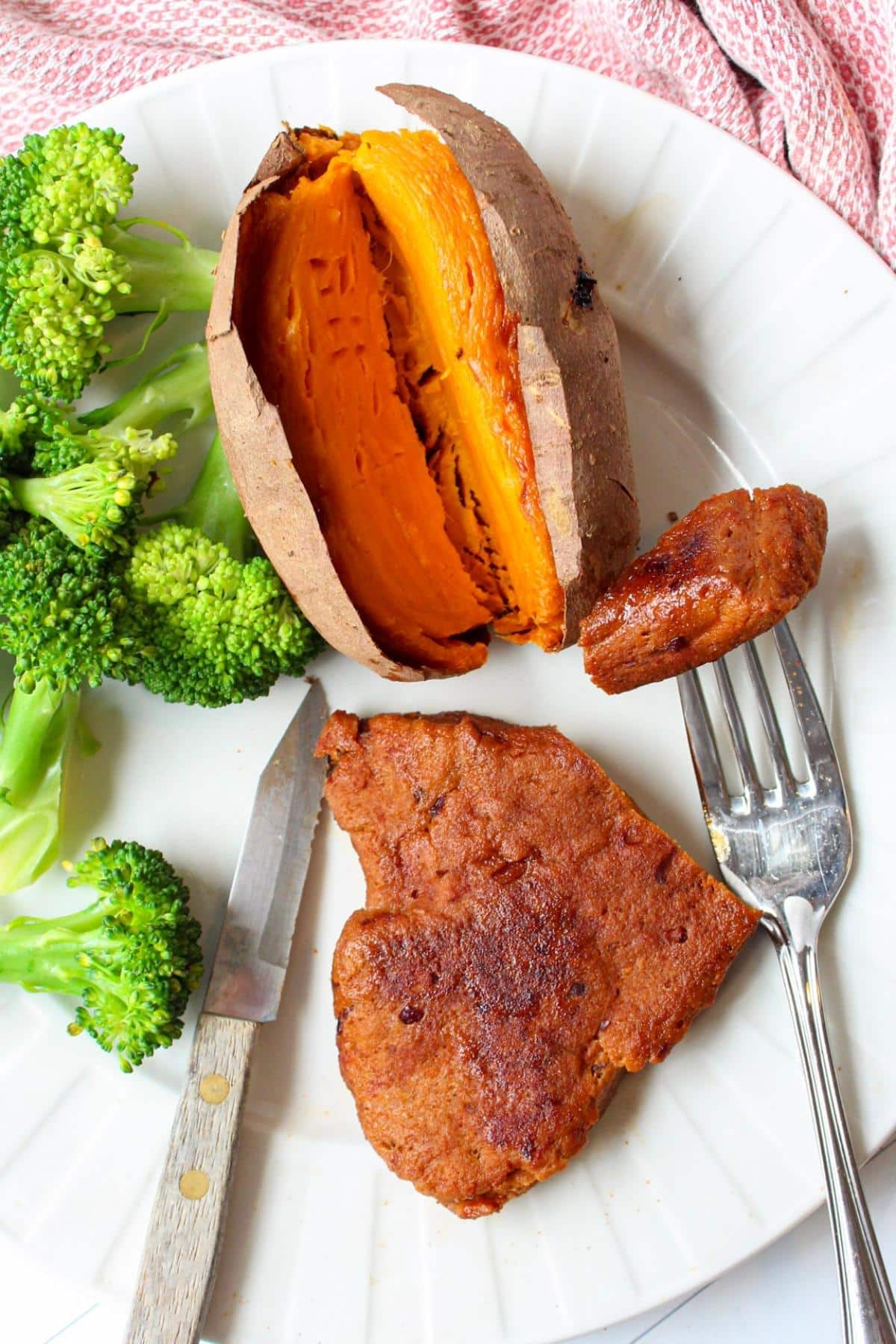 This goes really well for a summer vegan barbecue. Throw these on the outdoor grill. This makes a nice char. Brush on the steak marinade or barbecue sauce.
This tastes amazing with just plain old A1 steak sauce, or your favorite brand of steak sauce.
Serve with some baked potatoes or potato wedges and steamed or sautéd vegetables like broccoli, green beans or asparagus.
You can also make a delicious mushroom gravy to top the steak with, or just sauté some mushrooms in some vegan butter with some garlic and shallots.
Storing and making ahead
Fridge - Store this in an airtight container in the fridge for up five to seven days.
Freezer - I haven't tried freezing these yet. I imagine after you cook and pan fry them, they would do well in the freezer. Just keep them in a freezer friendly sealed container. Let them thaw out completely before cooking up on the grill or in a cast iron skillet.
Making ahead - Prepare the seitan dough, then steam it. Keep the seitan steaks in the fridge in the beef marinade until you're ready to grill them. They will keep for about five days.
FAQ's
Can this be gluten free?
Unfortunately no, this recipe can't be gluten free because of the vital wheat gluten flour. If you want a vegan steak that's gluten free, try using portobello mushrooms or oyster mushrooms. Marinate them in the beef marinade, then grill them up.
Tofu steaks or tempeh would also work for a vegan steak.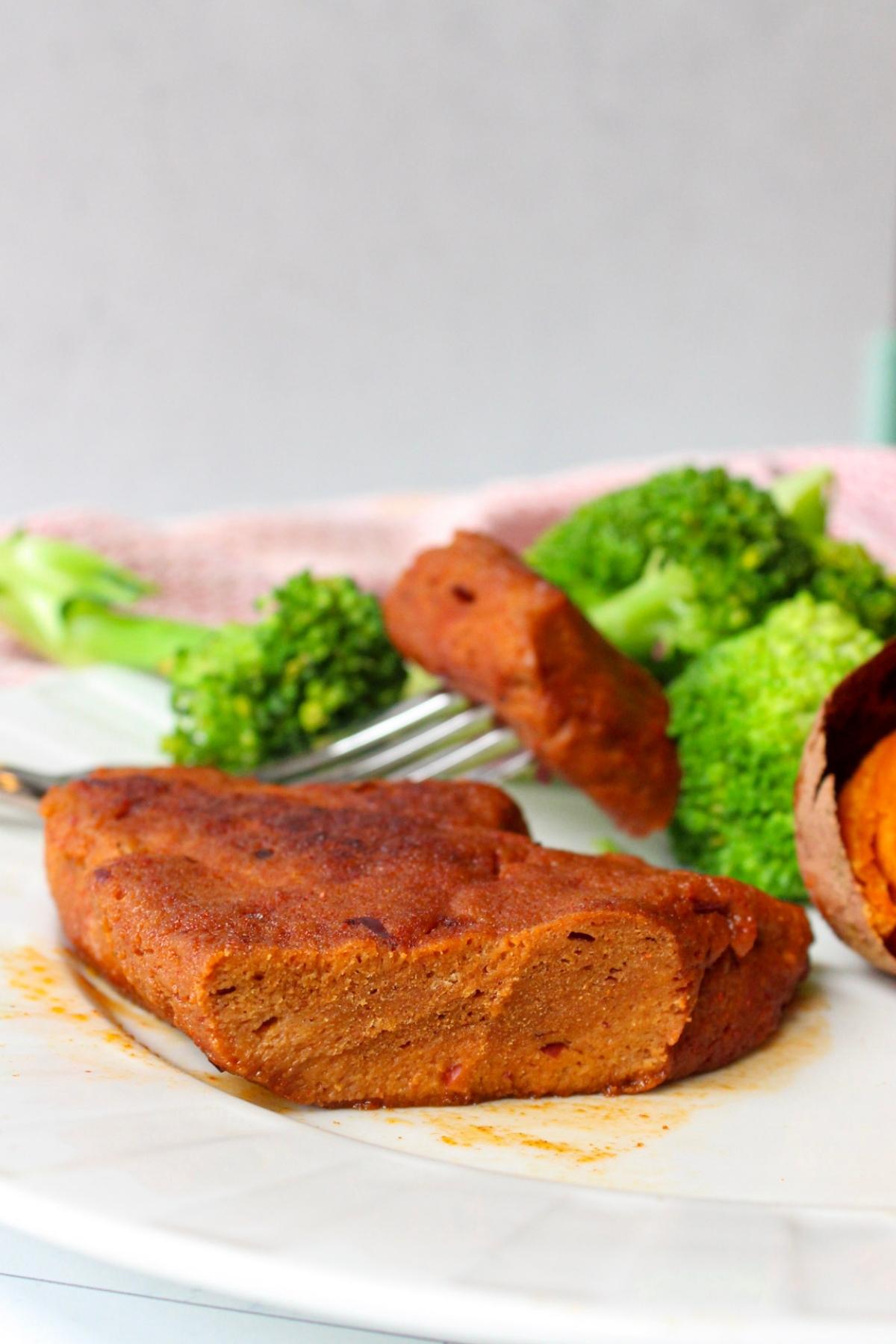 Why would vegans want to mimic meat?
I get this question all of the time. It's very simple. Most of us grew up eating meat and loved the taste of meat. We didn't stop eating animals because they didn't taste good.
We stopped eating animal meat because we didn't want to support their suffering and death by buying their flesh. Or because we know that animal products cause huge environmental devastation. While some others needed to stop eating meat because of their health.
No matter what the reason was that we stopped, we still sometimes crave the taste and texture of meat, but don't want to kill an animal for it, or contribute to all the problems raising animals for food causes. So, we opt for tasty vegan meat.
While this recipe won't fool a meat eater, it's great to just think about it as tasty veggie steaks. It can be used just like "real steak" can be used.
More recipes you'll love
📖 Recipe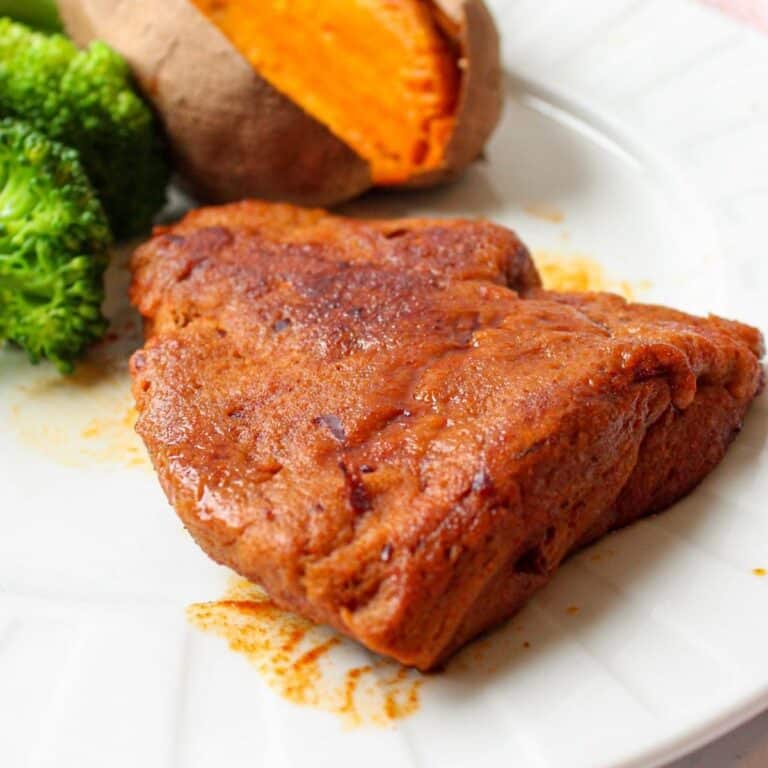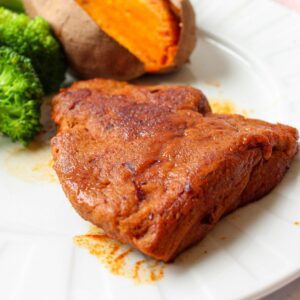 Vegan steak
Juicy and tender vegan steak. Made with seitan and super high in protein. Amazing chewy texture and perfectly seasoned. Looks just like the "real thing".
Print
Pin
Rate
Ingredients
¾

cup

brown or green lentils

(or black, kidney or garbanzo beans)

4

tablespoons

tomato paste

¼

cup

nutritional yeast

1

teaspoon

garlic powder

1

teaspoon

onion powder

4

tablespoons

soy sauce

1

tablespoon

dijon mustard

1

teaspoon

liquid smoke

(or smoked paprika)

2

tablespoons

tahini

(or coconut oil)

¼

teaspoon

salt

½

cup

vegetable broth

1¾

cups

vital wheat gluten
Instructions
Blend wet ingredients
In a food processor, add all of the ingredients except the vital wheat gluten and beef marinade.

¾ cup brown or green lentils,

4 tablespoons tomato paste,

¼ cup nutritional yeast,

1 teaspoon garlic powder,

1 teaspoon onion powder,

4 tablespoons soy sauce,

1 tablespoon dijon mustard,

1 teaspoon liquid smoke,

2 tablespoons tahini,

¼ teaspoon salt,

½ cup vegetable broth
Make the dough
In a large bowl, add the vital wheat gluten flour, then dump in the wet mixture from the food processor. Knead it together until it forms a dough ball. Knead no more than 2 minutes. If it's too dry, add a little more vegetable broth.

1¾ cups vital wheat gluten

Take the dough out of the bowl and spread and flatten it out on the counter with a rolling pin. Cut into 6 pieces. Flatten each piece by pounding it for a minute or so with a potato masher or rolling pin.
Steam
Add the steaks to a steamer basket and cover. Steam for 20 mintues. Check on them halfway through to make sure the water didn't run out. It's ok if they touch or overlap in the basket. No need to wrap them in aluminum foil, they come out just fine.
Marinate and grill
Once the steaks are done steaming, take them out and put them in a shallow dish. Pour over the beef marinade and try to get each piece well covered.

Add some coconut oil to a frying pan, if you're cooking indoors, on medium heat. Fry the steaks until each side is crispy. Brush on more marinade each time you flip it. This also goes great on an outdoor grill
Serve
Serve with some steak sauce like A1 or your favorite steak sauce. Tastes delicious with this!
Notes
If you can't find beef marinade at the store, brush on some coconut oil or olive oil onto the steaks, and sprinkle on some steak seasonings. 
Nutrition
Calories:
266
kcal
|
Carbohydrates:
24
g
|
Protein:
36
g
|
Fat:
4
g
|
Saturated Fat:
1
g
|
Polyunsaturated Fat:
2
g
|
Monounsaturated Fat:
1
g
|
Sodium:
905
mg
|
Potassium:
413
mg
|
Fiber:
9
g
|
Sugar:
2
g
|
Vitamin A:
136
IU
|
Vitamin C:
3
mg
|
Calcium:
76
mg
|
Iron:
4
mg
The nutritional information on this website is only an estimate and is provided for convenience and as a courtesy only. The accuracy of the nutritional information for any recipe on this site is not guaranteed. It should not be used as a substitute for a professional nutritionist's advice.
If you liked this recipe, leave a star rating on the recipe card. Make sure to pin it to your favorite Pinterest board by clicking the image below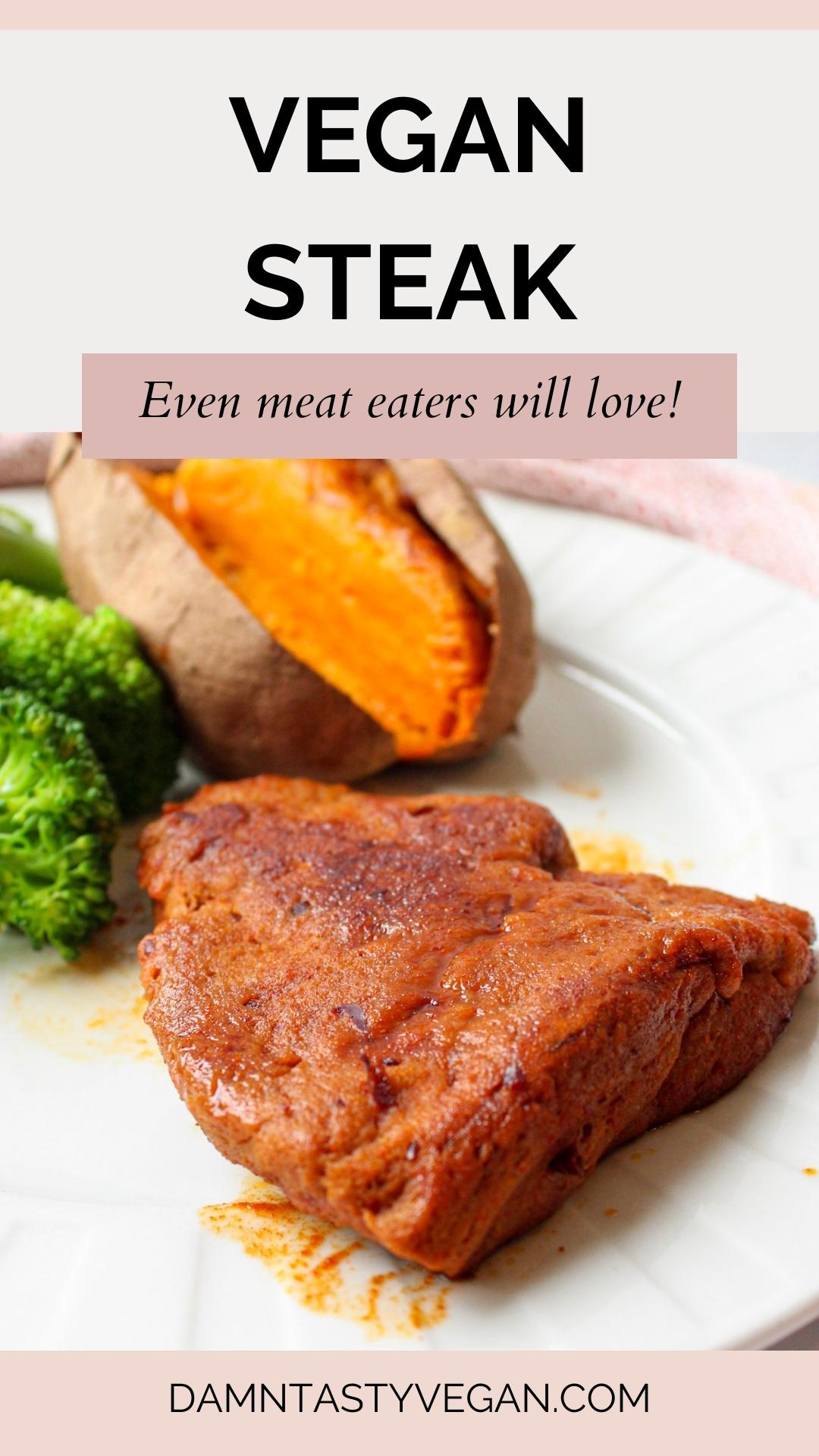 Vegetarian steak recipe