Dairy free clam chowder recipe
Creamy and comforting vegan clam chowder. Mushrooms make the perfect chewy clam replacement. Cooked in a fragrant cashew creamy soup base with hearty potatoes and carrots.
This recipe is
hearty and healthy
all in one pan
full of healthy vegetables
made with simple ingredients
delicious and easy to make
perfect comfort food for soup season
Ingredients and substitutions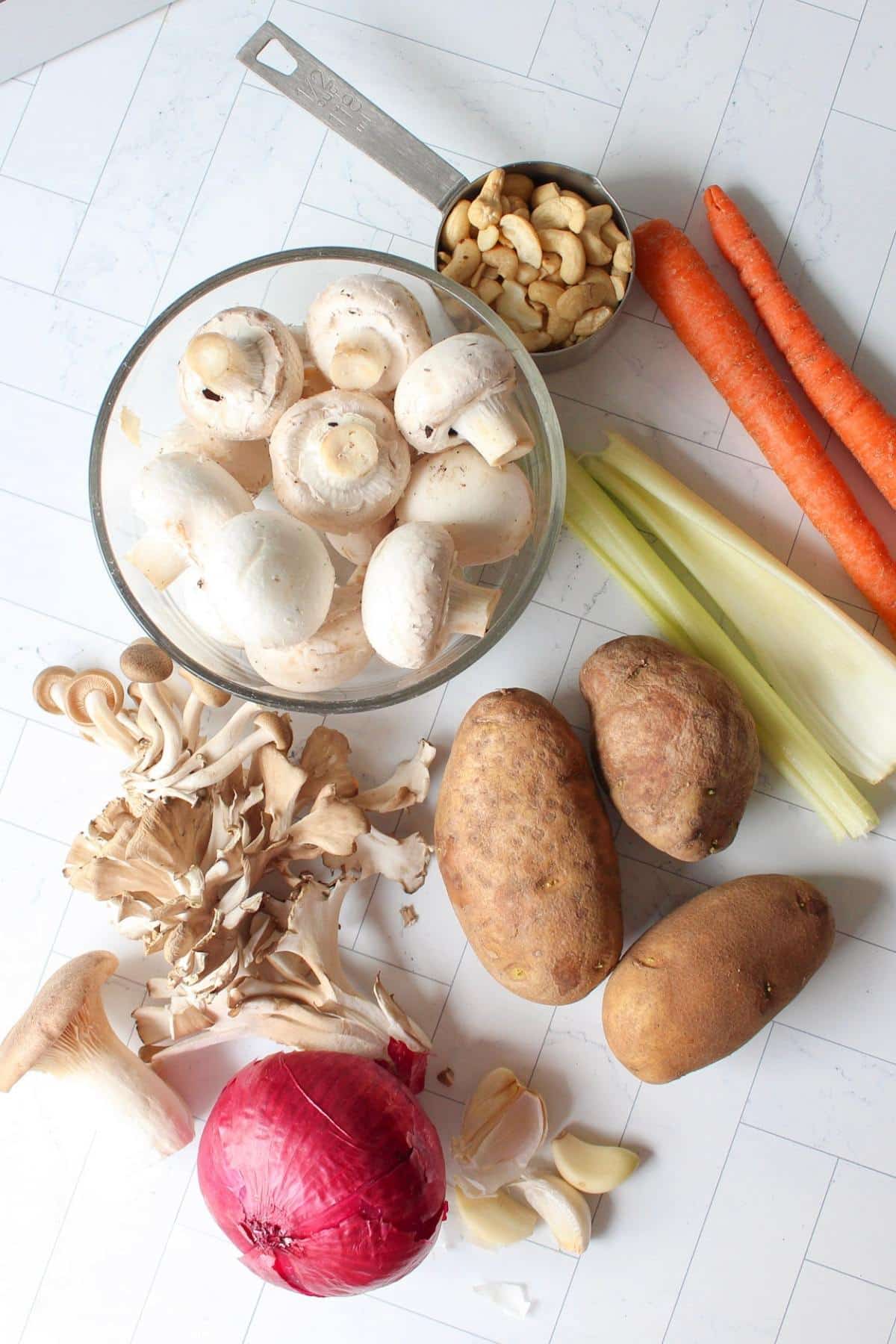 Mushrooms – any mushrooms will do but if you want to take this recipe over the edge, shiitake mushrooms are the best. You can use half shiitake and half button mushrooms if you want to save a little money. King oyster mushrooms and cremini mushrooms are also delicious. If you don't like, or have mushrooms you can replace them with white beans, like great northern beans or hearts of palm.
Carrots
Potatoes
Onions
Garlic
Onion powder and garlic powder – this adds another layer of flavor on top of the whole onions and garlic.
Thyme
Old bay seasoning – this adds that classic New England style clam chowder taste.
Soy sauce – this adds a nice depth of flavor and umami savory flavor to the broth. It also helps to replace the salty clam juice called for in traditional clam chowder.
Bay leaf
Tomato paste – this also adds savory umami flavor to the broth. The tartness of the tomato paste also helps to balance out the earthiness of the mushrooms. You can substitute this for miso paste as well.
Cashew cream – we're making a cream base by soaking cashews in boiled water, then blending with some vegetable broth or non-dairy milk in a high speed blender. If you don't have cashew cream, you can substitute with canned coconut milk. Mix 2 teaspoons of corn starch in it before adding it in, to help thicken the broth. You can also use a store bought vegan heavy cream.
Vegetable broth
Lemon juice
Salt and black pepper
Seaweed – you can use a sheet of nori (the seaweed used in wrapping sushi), dulse flakes or kelp flakes. This adds the fishy, taste of the sea to this vegan dish, without having to add any animal products. You can substitute this for vegan fish sauce to get that seafood flavor, but that can be hard to find.
Oil or vegan butter
Top with fresh parsley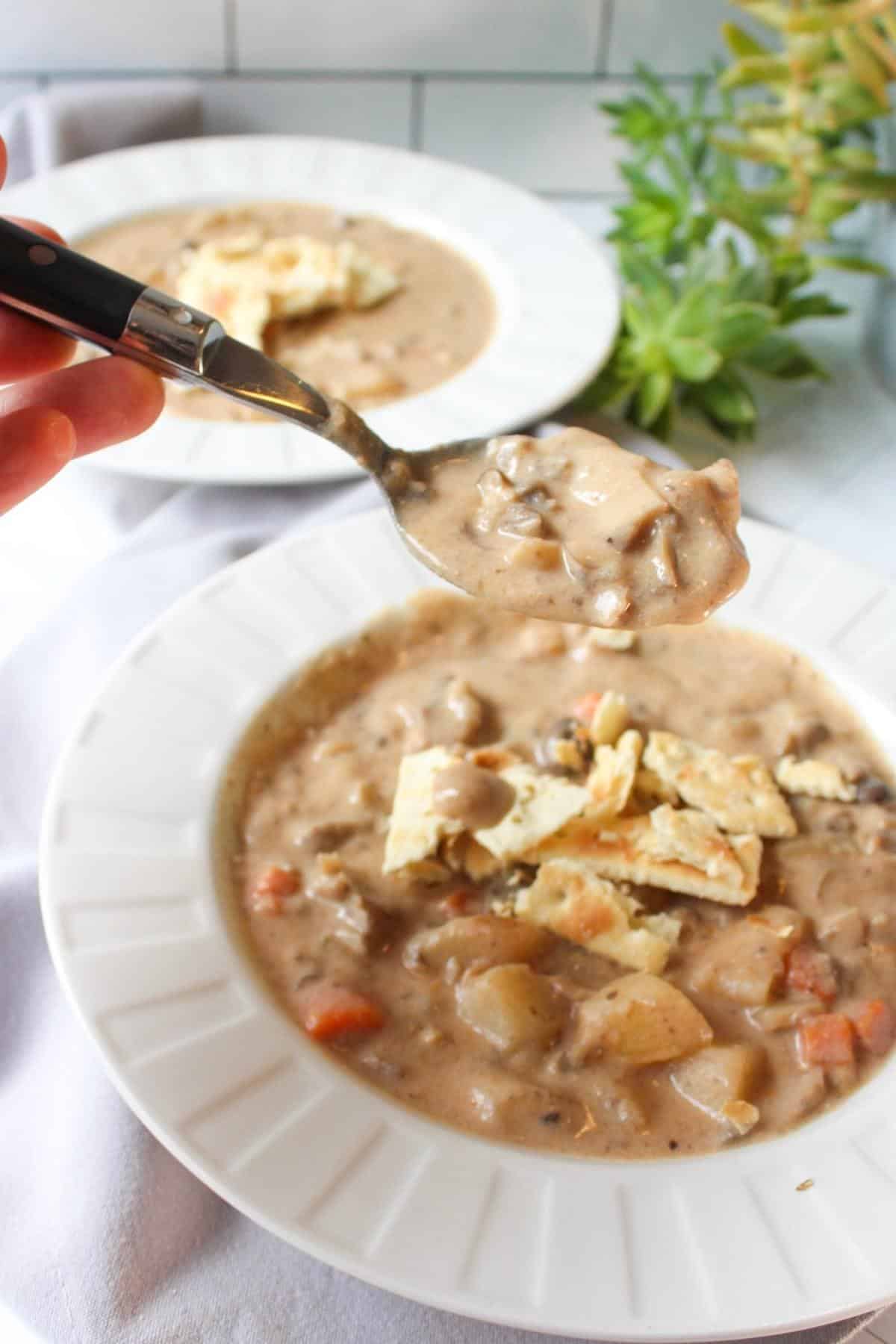 Helpful tips
If you'd like to add more protein to this vegan soup, add in a can of white beans. Great northern beans are delicious in this.
If you want to make the creamy base even creamier, use a non-dairy milk to blend the soaked cashews in. Make sure it's unsweetened though. My favorite to use is extra creamy oat milk.
The chowder will thicken up the longer it's heated up once the cashew cream is added. Stir and keep it on a medium low heat until you get the perfect consistency.
The nori or dulse flakes can be added depending on how much fishy flavor you'd like. Add more if you like that flavor, and add less if you don't care for it.
You can find nori sheets or dulse flakes in the international section of your grocery store where the other Asian goods are found. You can also order them online. I love to have them on hand as a fish flavor replacement in vegan dishes. They last a long time in your pantry.
Recommended equipment
I love using a good enameled cast iron large pot for cooking a good hearty soup, stew and chowder in.
I also swear by using this pastry scraper to scoop up and transfer my chopped vegetables to the soup pot. Makes it really easy.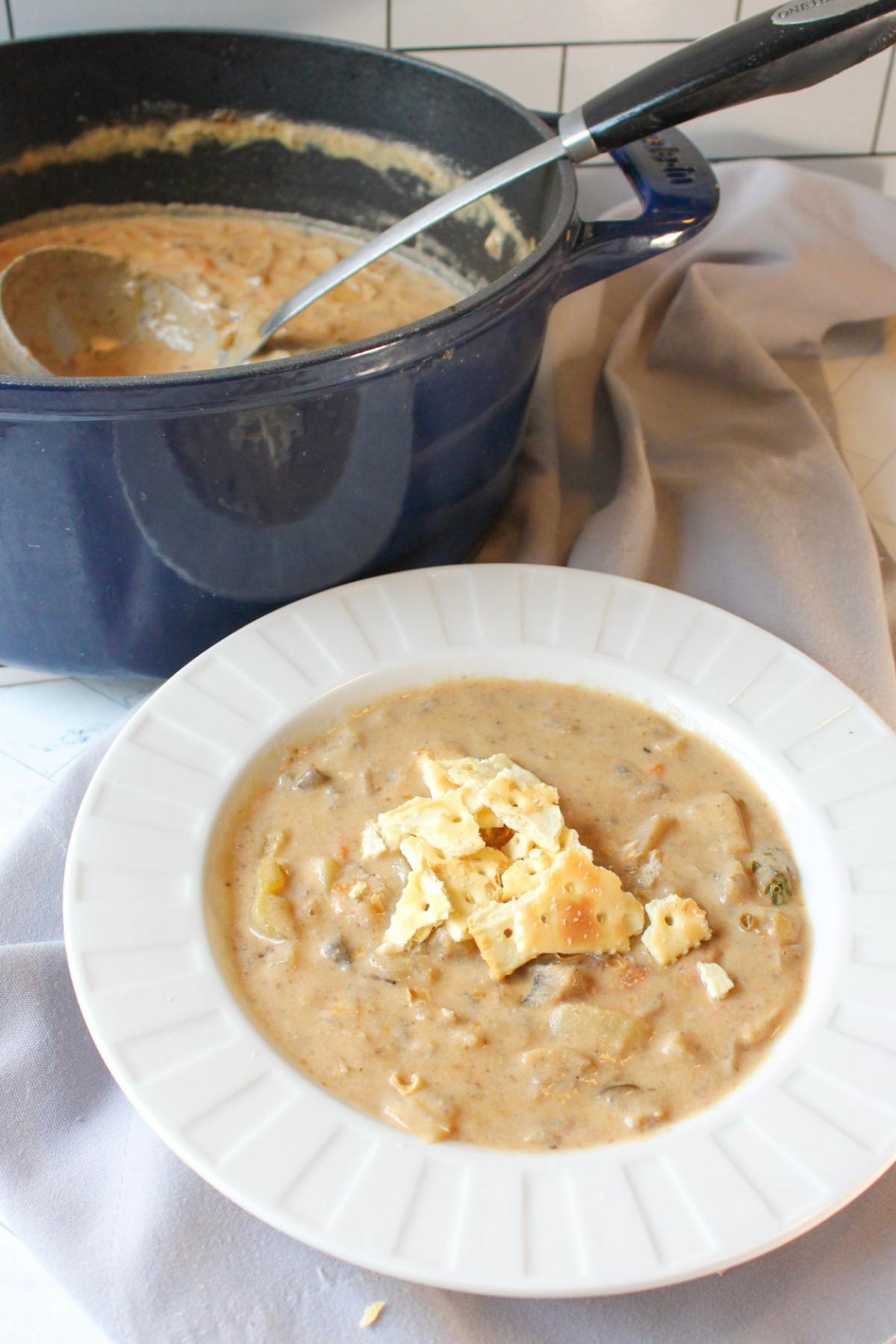 Storing
Fridge – this will last in an airtight container for five days.
Freezer – this chowder can be frozen as well. Let it thaw out in the fridge before reheating.
To make this gluten free
This recipe is gluten free as long as your broth is gluten free and you use a gluten free soy sauce.
What to serve with clam chowder
Crackers
Oyster crackers
Serve it in a bread bowl
Salad
FAQ's
Can I make this in an instant pot?
This chowder can easily be made in an instant pot. Just sauté the onions, carrots and garlic on the sauté setting. Then add the rest of the ingredients, to the pressure cooker.
Cook on high for five minutes, then quick release. Add in the squeeze of lemon juice and salt to taste.
Is this healthy?
This recipe is full of whole food ingredients and made with vegetables. It's full of fiber, vitamins and minerals.
If you want to cut down on the fat, use half the amount of raw cashews and add in a teaspoon or two of corn starch to the blender when blending to help thicken the soup.
More recipes you'll love
If you loved this recipe, leave a 5 ⭐️ rating on the recipe card and comment below!
Vegan chowder recipe