Swiss style dairy free fondue
Vegan fondue that I learned from my Swiss in-laws. Easy to make, creamy, decadent and takes less than 30 minutes. Nut free and no cashews. Satisfy your cheese cravings with this quick dairy free cheese fondue recipe that's great for a romantic date night, dinner parties or new year's eve dinner.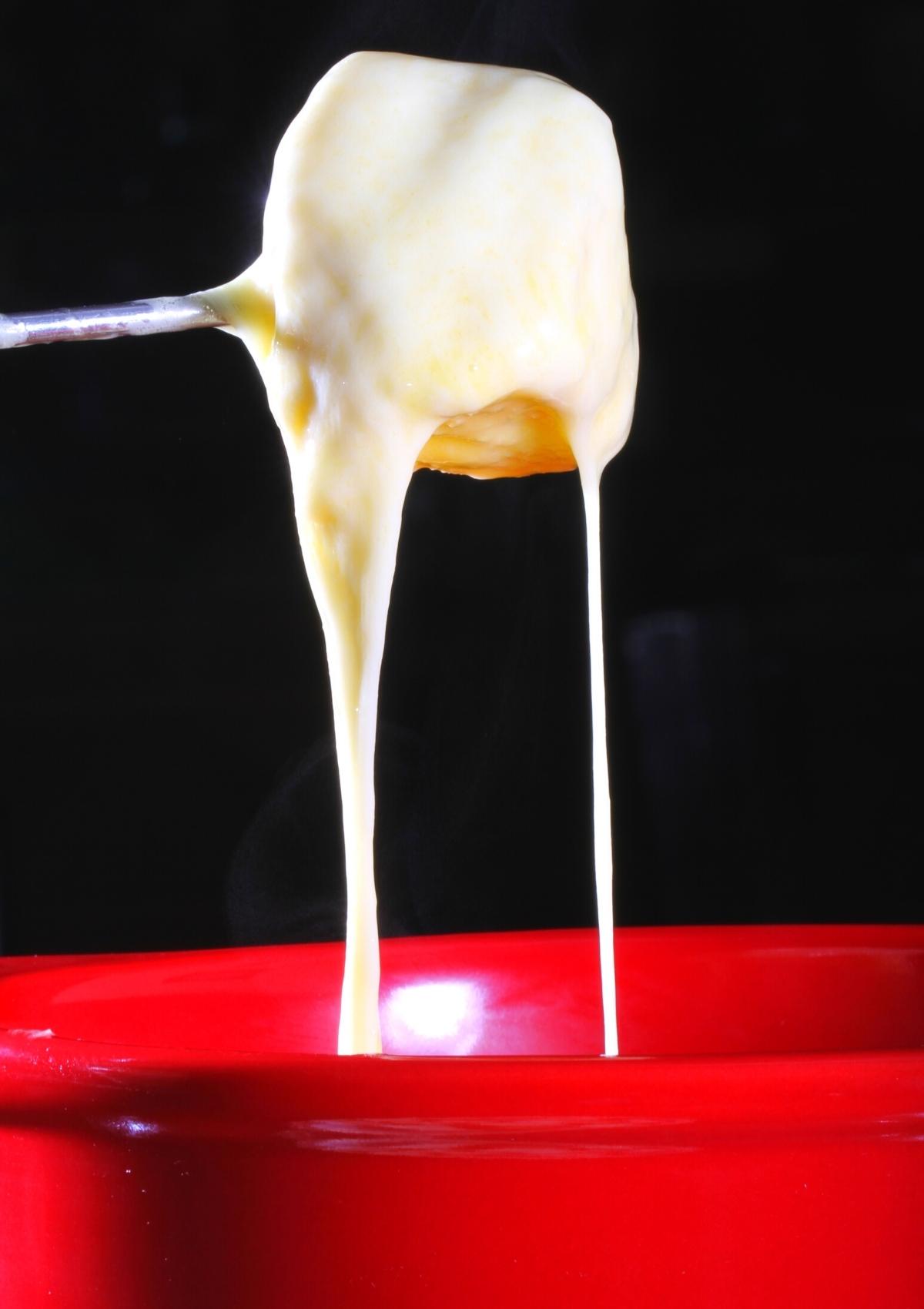 Jump to:
Every Christmas eve since 2008, my husband and I go to his parent's house (who are Swiss) and eat a Swiss cheese fondue. After a delicious meal, we light the candles on the Christmas tree. Yes, REAL CANDLES!
In 2015 I became vegan, but I didn't want to miss out on this lovely tradition as a new vegan.
So, instead of giving this tradition up, I watched my mother in-law make her fondue, and I mimicked everything she did, but made a vegan version of it.
It turned out amazing! It tastes just like I remember it tasting the first time I had it.
❤️ Why you'll love this recipe
it's great to share with friends and family
it's quick and easy and has minimal ingredients
it's a delicious winter comfort food
it's cashew and nut free
it's dairy free and vegan
it's great for the holidays or new year's eve
it's full of delicious cheesy flavor
Fondue is a great comfort food to have on new years, for a dinner party during the winter months, holiday parties or valentine's day.
This easy vegan cheese fondue does not disappoint. This recipe doesn't contain any raw cashews, so no need to fuss with soaked cashews and it's great for people with nut allergies.
🇨🇭History of fondue
Interesting side note, fondue is Switzerland's national dish and it was first mentioned in Homer's Iliad between 700-800 BC.
🧀 Ingredient notes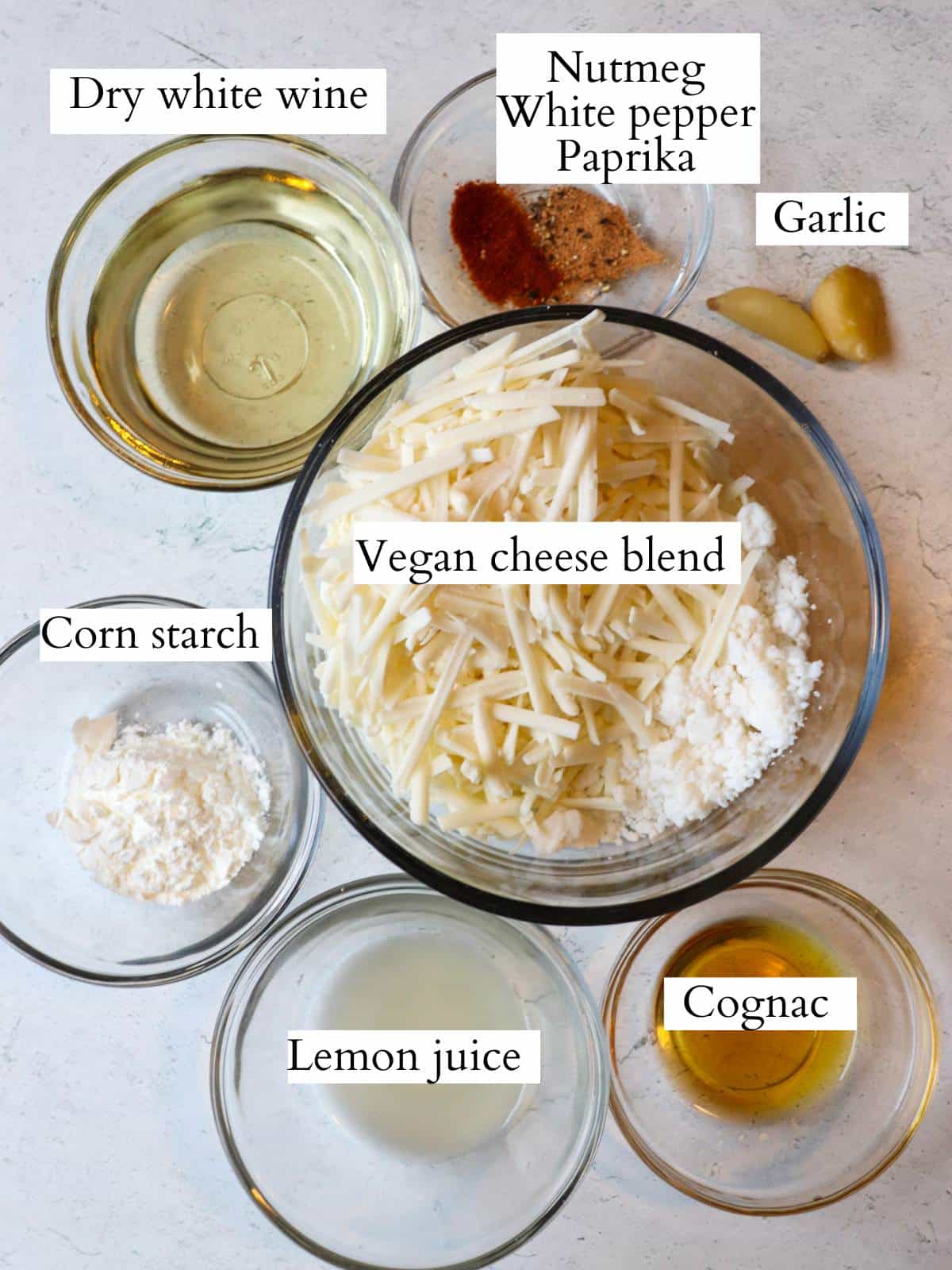 We're going to make an easy vegan cheese sauce with a nice creamy texture out of these simple ingredients:
Vegan cheese - Swiss fondue is made up of a melted cheese mixture of two or three different cheeses. I've finally found the perfect non dairy cheese blend: 1 cup Violife feta, 1 cup Violife mozzarella (or follow your heart provolone) and 1 cup Chao cheese.
White wine - make sure it's a dry white wine. This helps add a depth of flavor and balance to the fondue.
Fresh garlic - just one clove is all you need.
Corn starch - to help thicken the cheese. If you want to create an even better stretchy cheese pull, use tapioca starch too.
Cognac - Traditional Swiss fondue calls for Kirsch at the end. Kirsch is a bitter cherry liquor. We didn't have that so we substituted for Cognac. You can also use Brandy.
Lemon juice - adds a nice tangy flavor
Seasonings - Paprika, white pepper and nutmeg. Nutritional yeast and garlic powder can also taste really good in this.
🧂 Substitutions
Cheese - I highly recommend the cheese blend mentioned above, but if you can't find those, then I recommend using any other mozzarella, provolone or feta cheeses of these brands: Chao, Violife, Field Roast, Simple truth
Cognac - you can also use Brandy or Kirsch.
White wine - you can use a lager or an IPA beer or vegetable broth as well, but I highly recommend dry white wine for this recipe.
👩‍🍳 Expert tips
Shred your cheeses before you measure them. This helps the cheese to melt faster and more evenly.
Make the fondue on the stove first. You will have better control of the heat. Then transfer it over to the fondue holder once it's melted and all of the ingredients are added.
Make sure the wine is simmering before adding the shredded cheese.
Stir the whole time the cheese is melting so it doesn't stick to the fondue pot.
Dairy free cheese usually takes longer to melt than traditional cow cheese. It usually helps if I turn the heat up to medium high for a couple of minutes. But, make sure to stir the entire time!
Don't eat off of your fondue fork or double dip, if you're having a dinner party. Dip with the fondue fork, then place the dipped bread on your plate and eat it with your regular fork.
🔪 Step by step instructions
Make sure to scroll to the recipe card for full step-by-step instructions.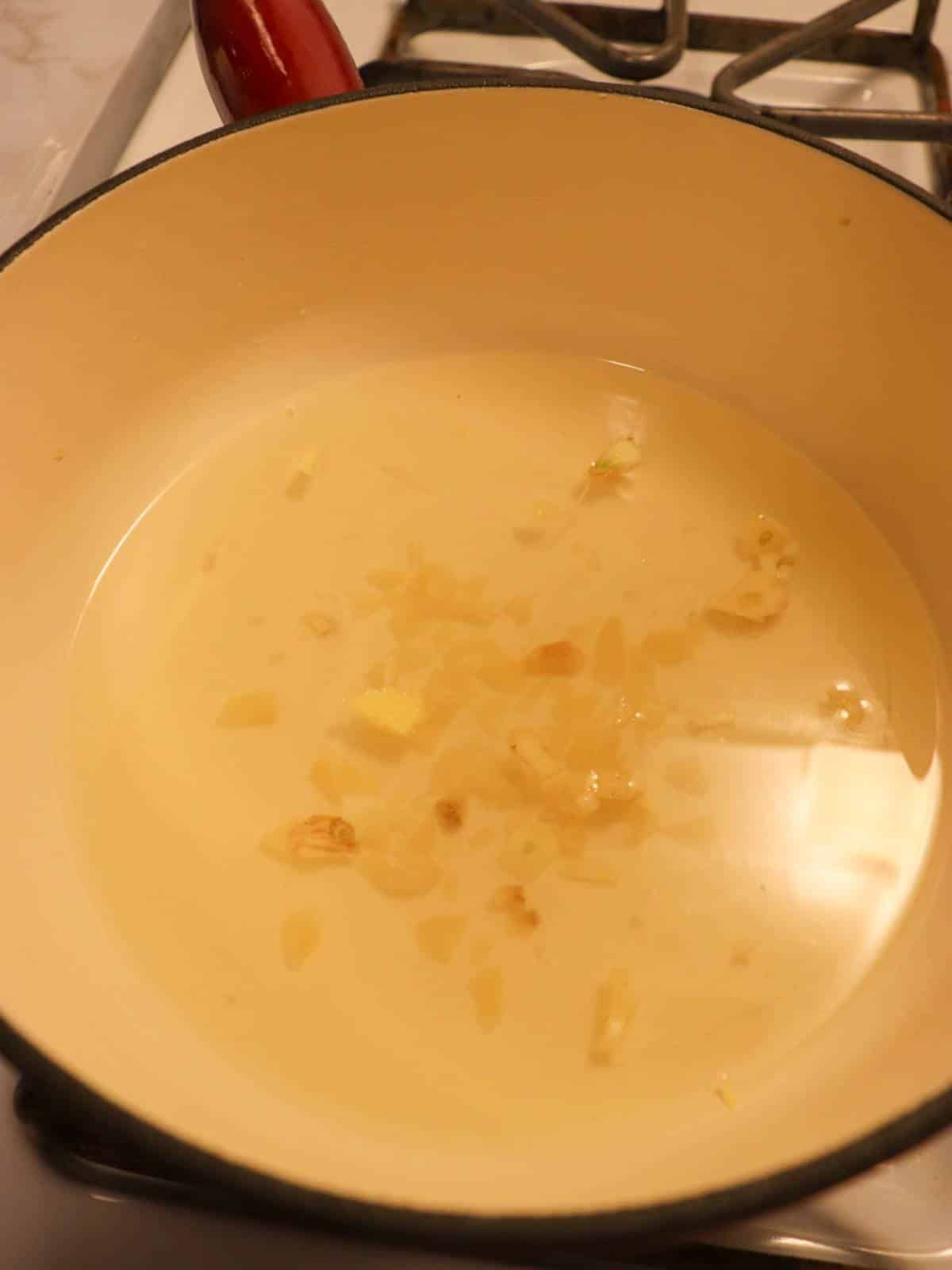 Step one - Cut a piece of garlic in half and rub the inside of the garlic on the bottom of the fondue pot. Then chop up the garlic to add later. Set the fondue pot on the stove on medium heat. Add the dry white wine and minced garlic and let it come to a simmer.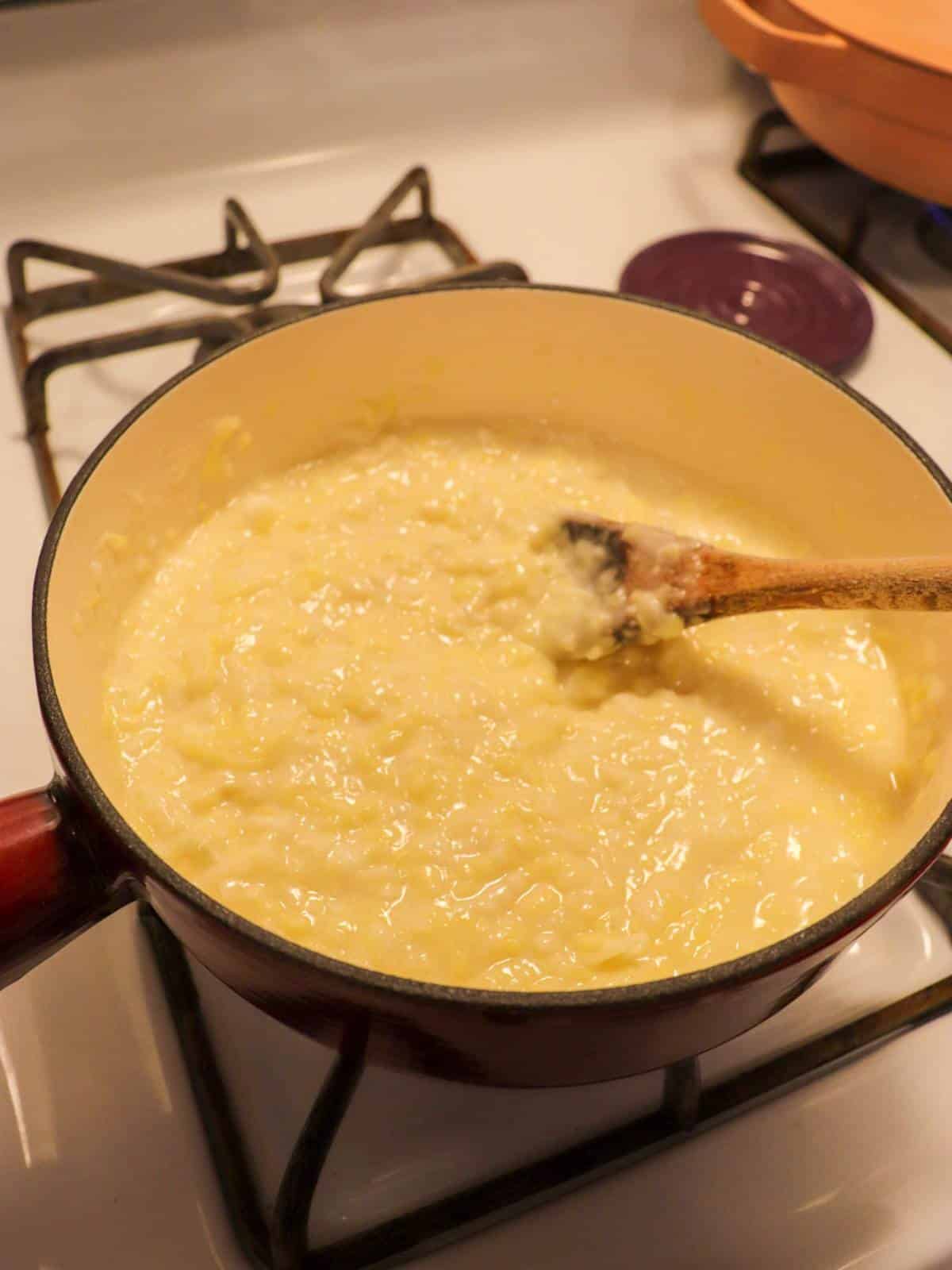 Step two - Grate your cheese so it's easier to measure and helps it to melt more evenly. Add the shredded cheese and stir constantly until the cheese melts. This will take about 8-10 minutes. The last couple of minutes, turn the heat up to medium high to help the cheese to melt. Stir the whole time so it doesn't burn.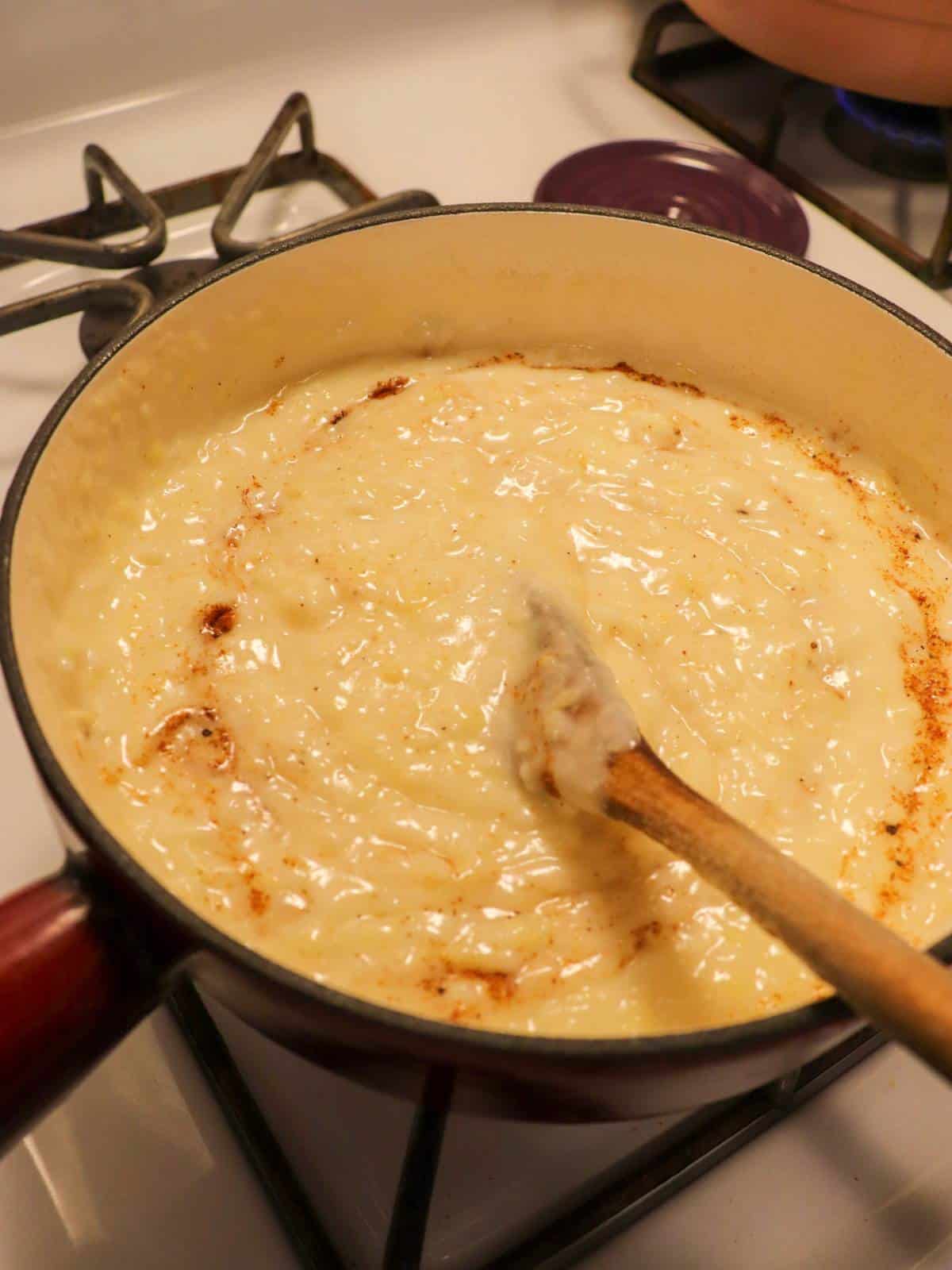 Step three - Once the cheese is melted, add in the seasonings, lemon juice and Cognac. Taste and adjust seasonings.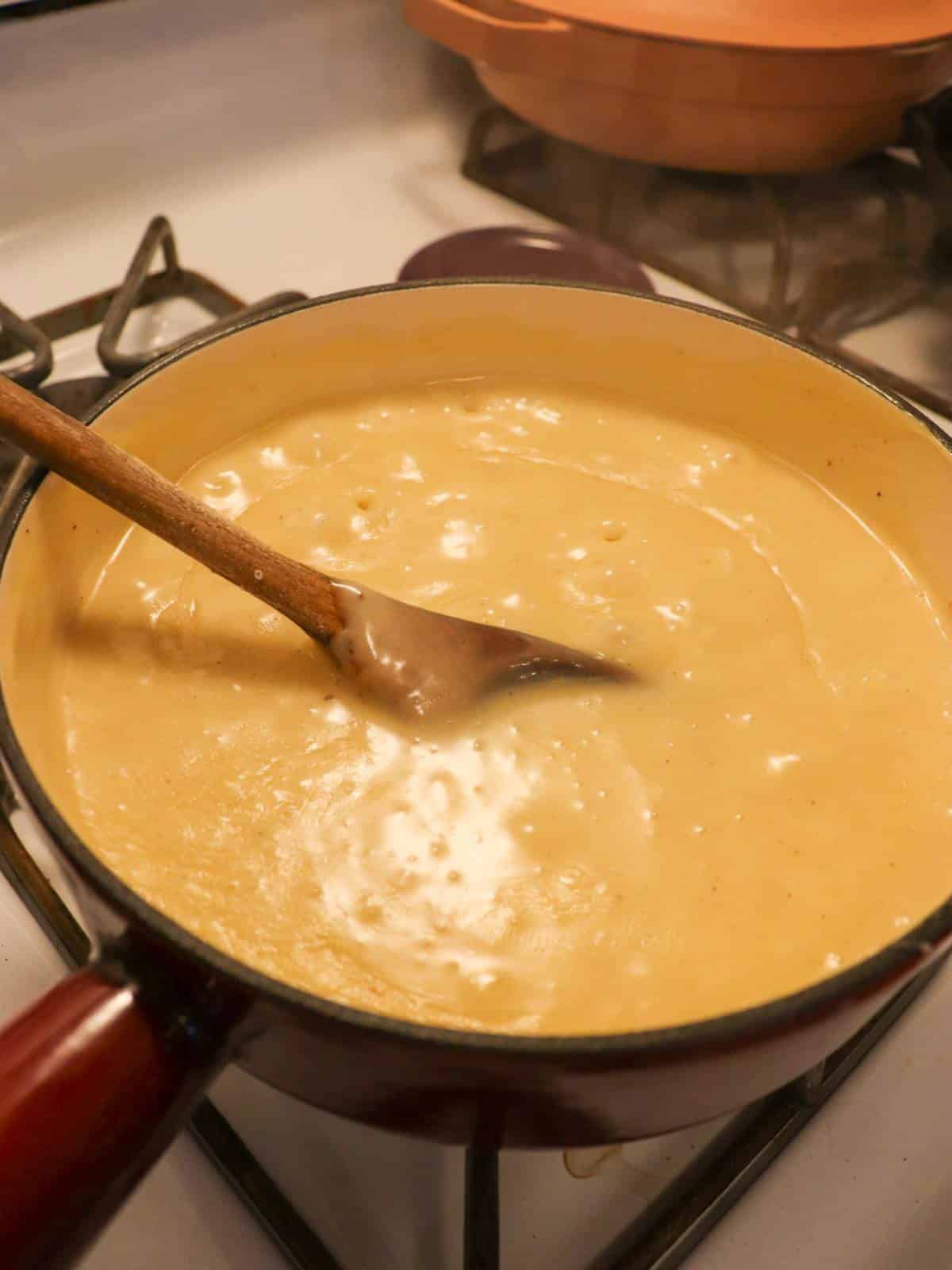 Step four - Light the fire under your fondue stand. Transfer the fondue pot over to the stand, keeping the flame on low so it doesn't burn. Serve with crusty bread and veggies of choice.
🍴 Equipment needed
It's really helpful if you have a fondue pot with fondue forks. You will also need fondue pot fire gel and matches. When you light the fire gel under the fondue pot, it's what keeps the fondue warm while you're eating.
🥖 What to dip in vegan fondue
The traditional thing to dip into a cheese fondue is a nice, crusty, thick bread like Jewish rye or a baguette.
But, If you don't want to fall into a food coma, I love dipping steamed vegetables in the melted cheese sauce.
Some of our favorite things to serve dairy free fondue with are:
Thick and crusty bread cubes
Steamed broccoli
Cauliflower florets
Steamed yellow potatoes
Steamed brussels sprouts
Pear slices
Apple slices - especially granny smith
Cherry tomatoes
Pickles
Sautéd mushrooms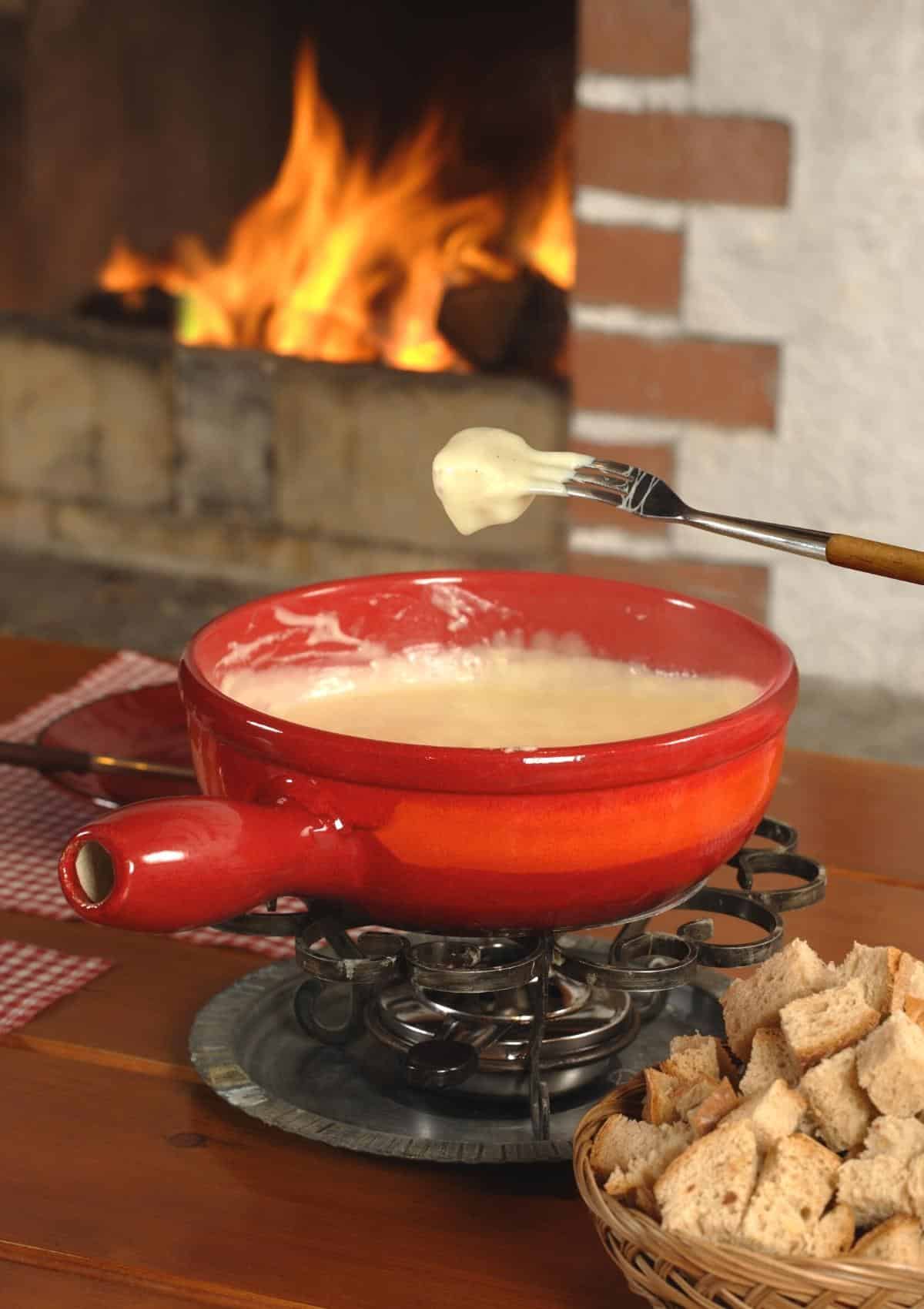 ❄️ Storing tips
Let the fondue come to room temperature, then store it in an airtight container. It will keep in the fridge for about 5 days. Fondue thickens up when it cools down, so you may need to add some liquid to it when reheating.
❓ FAQ'S
What if I don't have a fondue pot?
If you don't have a fondue pot, just use a medium saucepan and melt everything on medium heat or low heat. Stir the whole time.
Once your cheese is melted you can keep it warm by placing it on an electric hot plate.
What if I don't drink wine?
Since most of the alcohol is cooked out of the fondue when it's heated, I recommend using wine, since it balances the flavor of the fondue.

But, some other things you can use are vegetable broth, or a non alcoholic hoppy beer like a non-alcoholic IPA. But first and foremost I recommend a dry white wine.
Do you use raw vegetables in fondue?
I prefer lightly steaming the vegetables to dip in my fondue. But you need to be careful you don't over cook the vegetables, then they might be harder to dip into the cheese, since they will be more soft. I like them to still have a little bit of a bite.
🥄 Try these recipes next
If you loved this recipe, leave a 5 ⭐️ rating on the recipe card and comment below!
📖 Recipe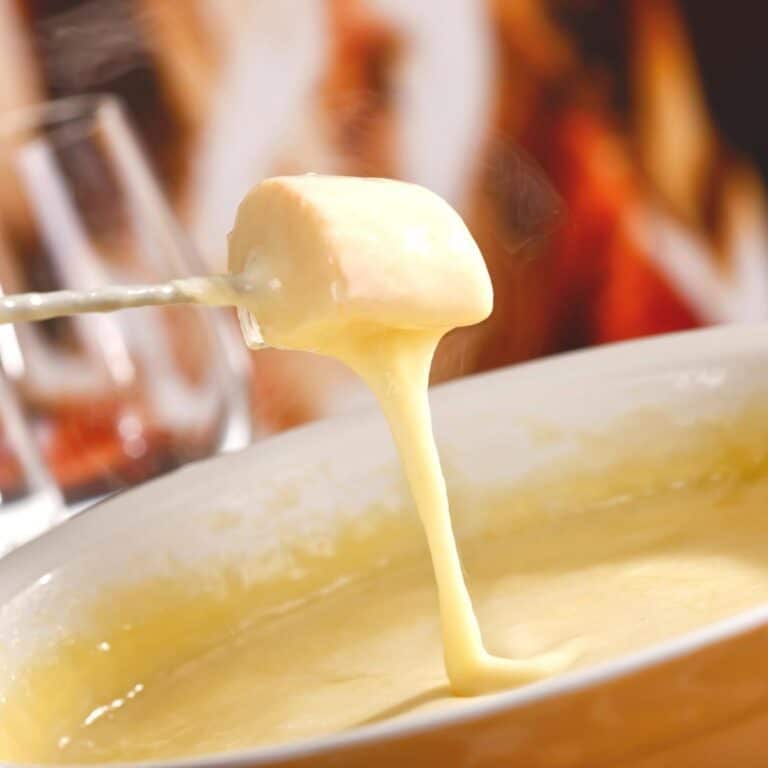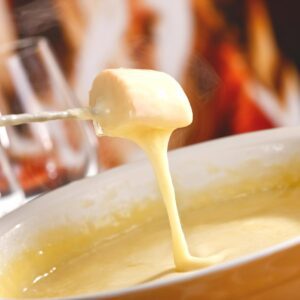 Easiest vegan fondue (dairy free cheese fondue)
Easiest and most authentic vegan fondue. Creamy and quick to make. I learned this from my Swiss in-laws.
Print
Pin
Rate
Ingredients
1

cup

dry white wine

1

clove

garlic

3

cups

vegan white cheese

(I loved the combination of Violife feta, Chao and Violife mozarella)

1

tablespoon

corn starch

1½

tablespoon

cognac

Squeeze of lemon

Dash of paprika

Dash of nutmeg

Dash of white pepper
Instructions
Shred your cheese

Cut off the ends of the garlic and rub the garlic on the insides of the fondue pot. Mince garlic once finished

Put fondue pot on medium heat on the stove and add 1 cup of dry white wine and the minced garlic. Bring to a simmer

1 cup dry white wine,

1 clove garlic

Once wine is simmering, add your cheese. I've been making this fondue for years, and really love the cheese combo that I showed above. The violife feta has a really creamy and fermented taste that goes really well in a fondue.

3 cups vegan white cheese

Stir constantly while getting the cheese to melt. This may take 5-10 minutes. For the last minute or so I crank up the heat to medium high to really help the cheese to melt. Make sure to stir the whole time so it doesn't burn!

Once cheese has melted, dissolve the cornstarch into the cognac and add it to the fondue

1 tablespoon corn starch,

1½ tablespoon cognac

Add a dash of nutmeg, white pepper, paprika and a squeeze of lemon

Dash of paprika,

Dash of nutmeg,

Dash of white pepper,

Squeeze of lemon

Remove the fondue pot from the stove and place it on top of your fondue pot holder. Light the heat source under the fondue pot. Serve with bread, cooked potatoes, steamed broccoli, fruit or whatever you desire
Notes
Violife and chao are my favorite cheese brands and they make a great combination for this fondue. Make sure you use white cheese. The above cheese combination is the best one I've tried so far.
Nutrition
Serving:
4
servings
|
Calories:
341
kcal
|
Carbohydrates:
25
g
|
Protein:
3
g
|
Fat:
18
g
|
Saturated Fat:
6
g
|
Polyunsaturated Fat:
0.003
g
|
Sodium:
843
mg
|
Potassium:
46
mg
|
Fiber:
3
g
|
Sugar:
1
g
|
Vitamin A:
0.1
IU
|
Vitamin C:
0.2
mg
|
Calcium:
67
mg
|
Iron:
1
mg
The nutritional information on this website is only an estimate and is provided for convenience and as a courtesy only. The accuracy of the nutritional information for any recipe on this site is not guaranteed. It should not be used as a substitute for a professional nutritionist's advice.