These southern style vegan collard greens are a super easy side dish to whip up. Full of rich, deep, smokey and salty flavor. Cooked with caramelized onions, smoked paprika, garlic and seasonings. Instant pot, stove top and slow cooker directions.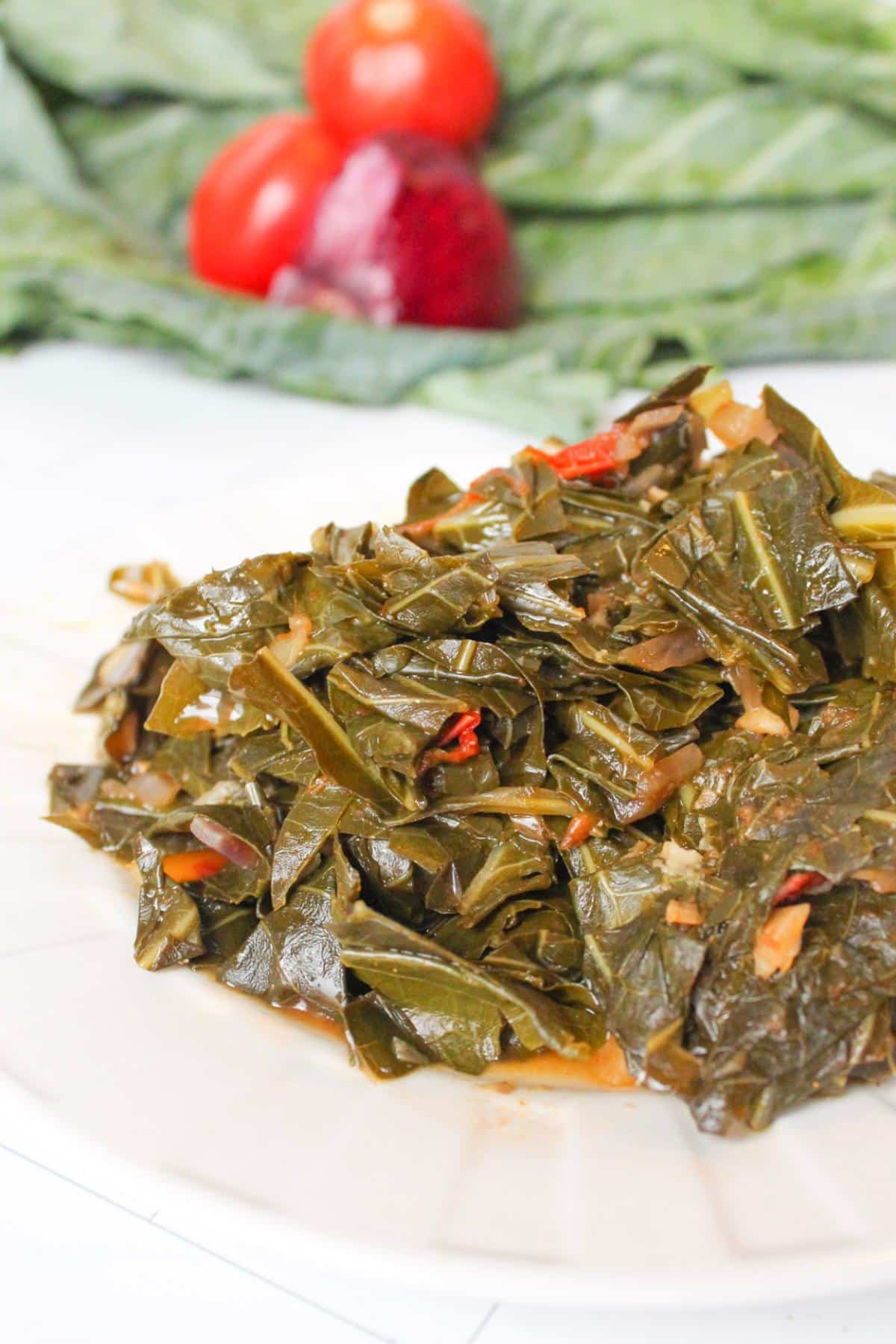 Jump to:
Why you'll love this recipe
it's a one pot, delicious side dish
it's a great way to fall in love with collard greens if you've never had them before.
it's low maintenance and super easy to make
it's a great side dish
they're full of healthy vitamins and minerals
this recipe is naturally vegan and vegetarian and gluten free
History of southern-style collard greens
Traditional southern collard greens originated from West African cooking styles. It was brought to the United States by enslaved people from Africa who were forcefully brought here during America slavery. It was a cheap and easy way to feed a lot of people since greens were so abundant.
Greens were usually seasoned with less desirable cuts of meat like ham hock or pig's feet and then simmered for hours on a low heat to create a rich and savory broth.
In this plant-based version, we're adding a vegan twist by replacing the meat with smoked paprika to create the same rich and smokey broth for the healthy greens to simmer in.
Ingredients and substitutions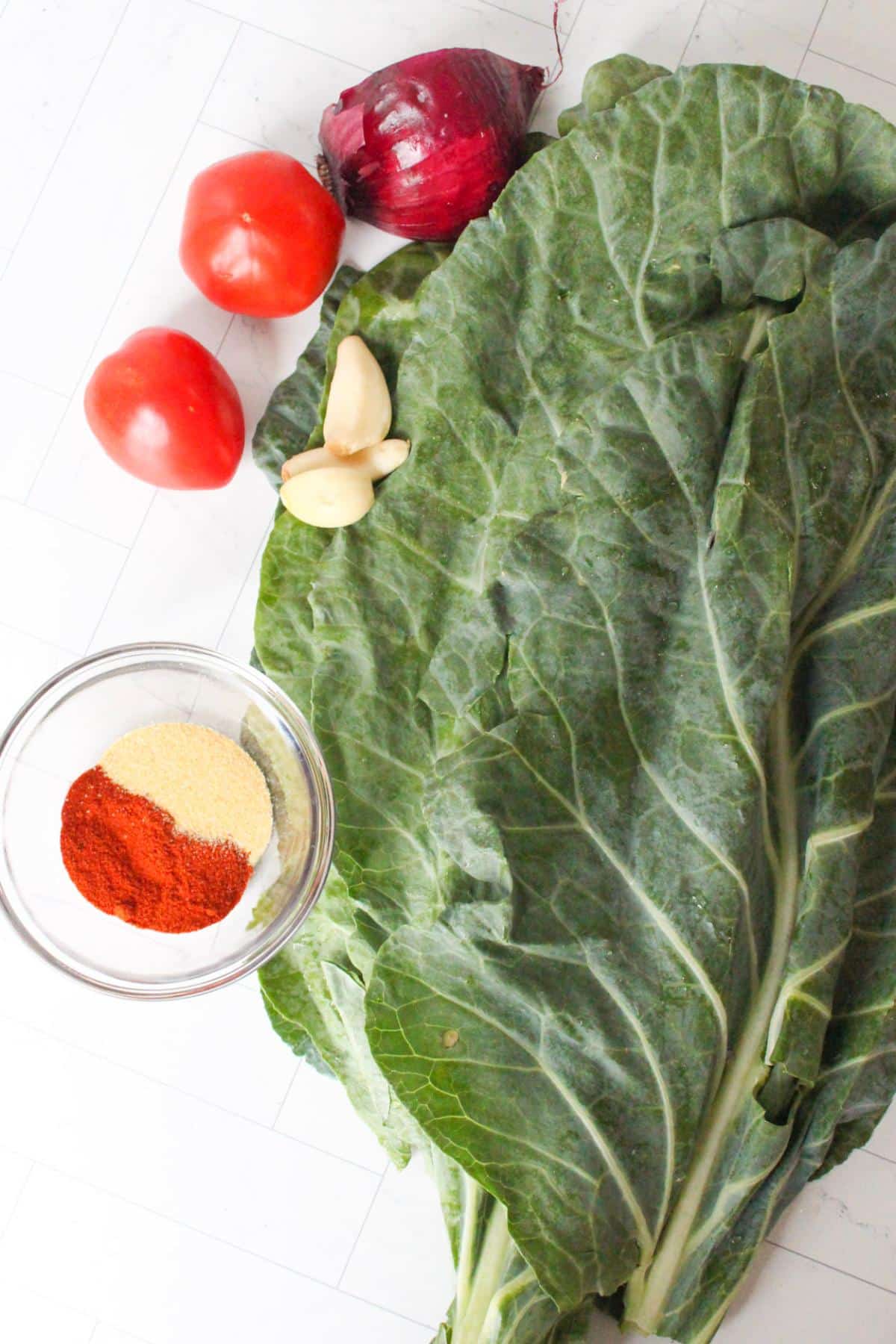 Collard greens - Choose fresh collard greens that have bright green leaves and firm looking. Stay away from any that are yellow or limp or pale.
Onions - sautéd onions add a nice caramelized sweetness.
Olive oil - or any neutral tasting oil
Minced garlic
Smoked paprika - This is where we are getting the smoky flavor that is usually found in traditional collard greens with meat. Another great way to add smoky flavor is to use Applewood smoked salt, if you can find it.
Tomatoes - When tomatoes are cooked, they add a nice umami, depth of flavor to these greens. I like using fresh tomatoes, but you can also use canned.
Apple cider vinegar - Since collard greens have such an earthy flavor, the acid in the ACV helps to balance it out. You can also use white vinegar.
Vegetable broth - this will add more depth to the greens than just using water. You can also use a vegetable bouillon cube, it's a lot cheaper.
Hot sauce - This is optional if you don't like spice but it will make your greens even more delicious. You can also add in red pepper flakes.
Salt and black pepper
Expert tips
Make sure to wash the greens in warm water a few times to loosen up any dirt that may be caked on them.
Store the unwashed, raw greens in a bag with a paper towel until you're ready to cook them.
After cooking on high pressure for 5 minutes, let the instant pot natural release for 20 minutes, then quick release. This gives the dish more time to develop flavor.
Most leafy greens can be cooked with this recipe. You can use turnip greens, mustard greens, kale and any other hearty, winter leafy green.
The liquid that collects at the bottom of the pot is full of amazing flavor. Dip some bread in it and enjoy!
How to cut collard greens
Instant pot directions
Rinse your collard greens and chop them up making sure to take the stem out in the middle of the leaves. Photos of how to cut up the leaves are in the section above this one.
Set your instant pot to sauté mode and add in the onions for a minute or until translucent and caramelized. Add in the garlic and sauté for another minute.
Add in the rest of the ingredients and set the lid to seal. Cancel sauté mode and put the instant pot on high pressure. Cook for 5 minutes. Let the steam naturally release for 20 minutes and then open the pressure valve and release all the way. Serve with a little bit of hot sauce.
Storing tips
Fridge - Store any leftover collard greens in an airtight container in the fridge for up to five days.
Freezer - Collard greens can be frozen very well. Store in a freezer friendly bag or container for up to three months.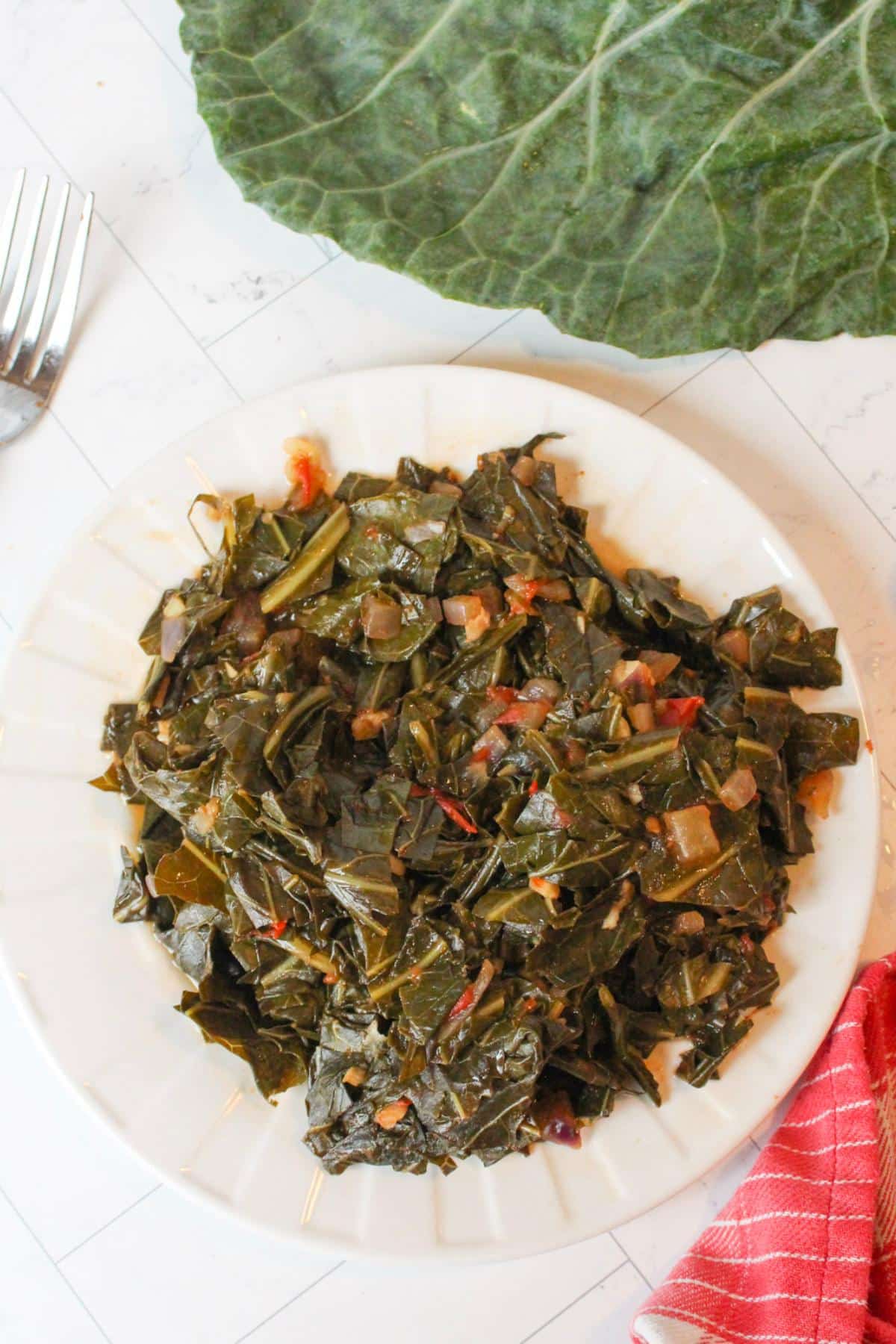 Serving suggestions
Collard greens make an amazing side dish to just about any recipe. Try it with these New Orleans style red beans and rice.
Serve them with meaty vegan recipes like this vegan steak or vegan ribs. They make an amazing side dish with other side dishes like an easy air fried baked potato, dairy free mashed potatoes, green bean casserole, sweet potatoes, vegan deviled eggs and vegan mac and cheese.
FAQ's
More side dish recipes
If you loved this recipe, leave a 5 ⭐️ rating on the recipe card and comment below!
📖 Recipe