These vegan dumplings are absolutely delicious. Great to meal prep ahead of time then freeze. Made with simple and healthy ingredients like like carrots, ginger, green onions, cabbage, mushrooms and tofu.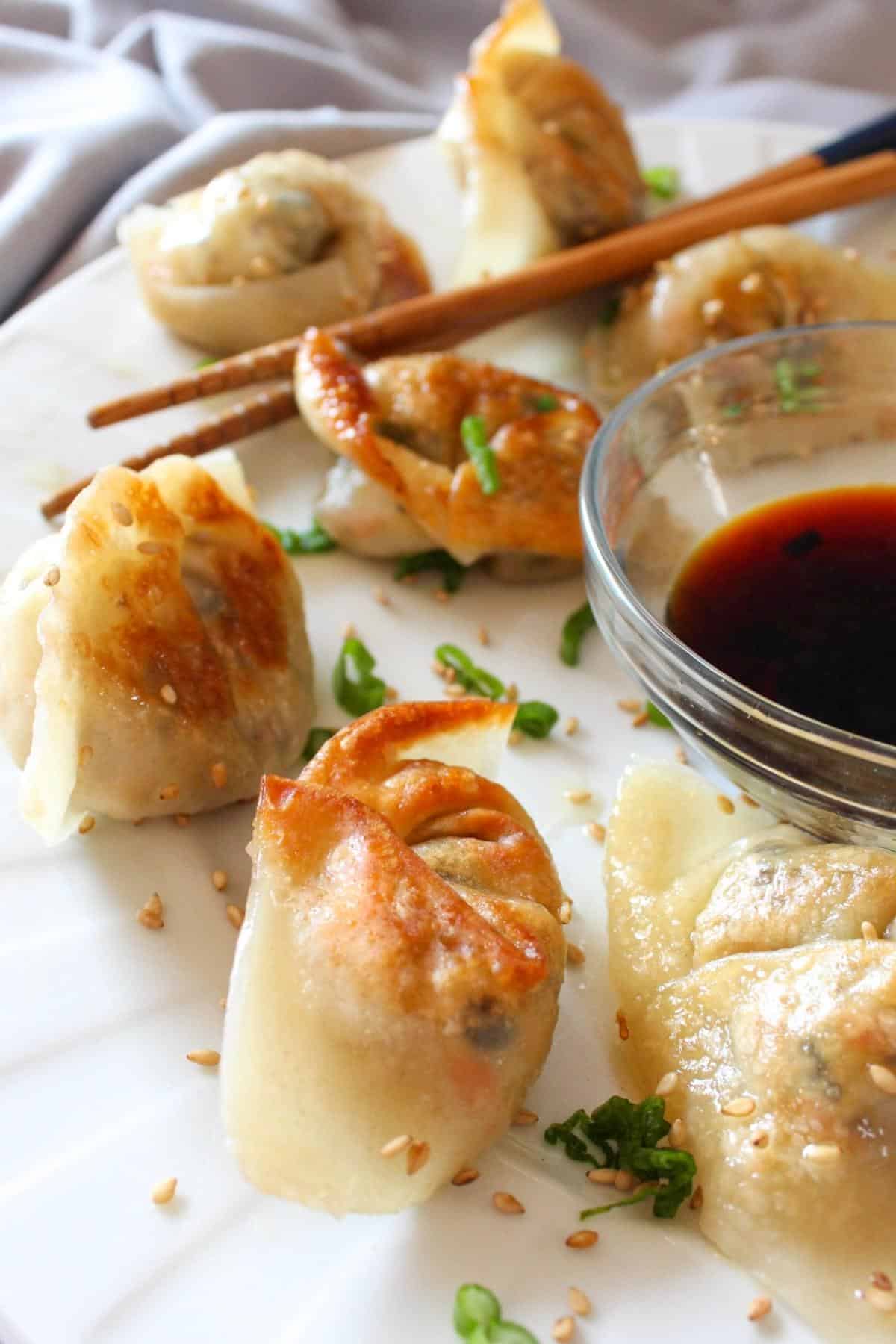 If you're looking for some more bite-sized vegan appetizers, check out these Crispy Air Fryer Buffalo Tofu, Vegan Marinated Tofu Summer Rolls and Crispy Buffalo Cauliflower. These Vegan Deviled Eggs will also knock your socks off.
Jump to:
❤️ Why you'll love this recipe
full of fresh veggies
vegan & vegetarian
great to meal prep
freezer friendly
made with simple ingredients
🍚 Ingredients and substitutions
Extra firm tofu - I love adding tofu to these dumplings to add a bit more protein and substance. I pressed the tofu first to make sure to get excess water out, so the dumplings weren't soggy. If you want these to be soy free, just leave the tofu out. You can also use vegan chicken.
Mushrooms - Mushrooms add an amazing umami flavor and chewiness to this recipe. Use white button, shiitake mushrooms or baby bella.
Garlic & ginger - Mince them up finely with a knife or fine grater. This will add an amazing pop of flavor.
Green cabbage - This is a great filler and adds a nice flavor.
Shredded carrots - You can't go wrong with carrots. Lots of vitamins and a nice pop of color.
Green onion - I prefer green onion to white or red. You can also use leeks.
Toasted Sesame oil - This is a must for this recipe. This adds an amazing flavor.
Soy sauce - Adds a little bit of sodium. Use low sodium if you're tryin to cut back.
Vinegar - I used apple cider vinegar because that's what I had on hand. But use rice vinegar if you have it. This helps balance all of the flavors.
Vegan wonton wrappers or dumpling wrappers - I used the square wonton wrappers that I found at the grocery store, near the tofu. You can also always find them at an asian market. Using store-bought wrappers makes this recipe a bit easier.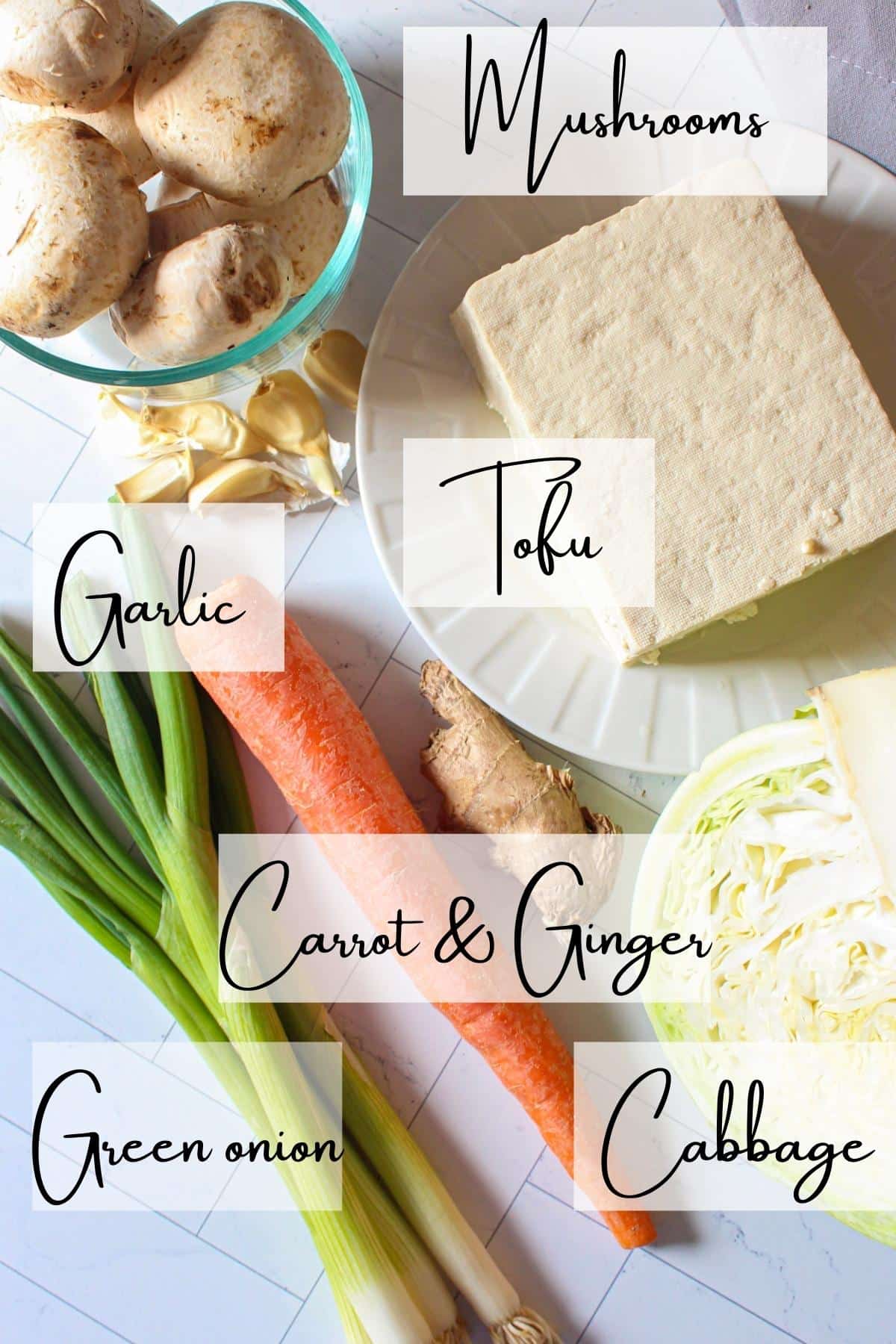 👩‍🍳 Helpful tips
The most laborious part of making your own dumplings is wrapping them. If you have friends or family members willing to help, this goes by a lot faster.
If I don't have anyone around to help me, I'll just put on one of my favorite shows and the time goes by a lot faster.
To get make this even easier, use a food processor to mix all of the dumpling ingredients.
This vegan filling also works great for making vegan gyoza, or vegan soup dumplings.
🥟 How to fold square dumpling wrappers
You can make all sorts of different shapes, but here is how to fold them into a half-moon shape.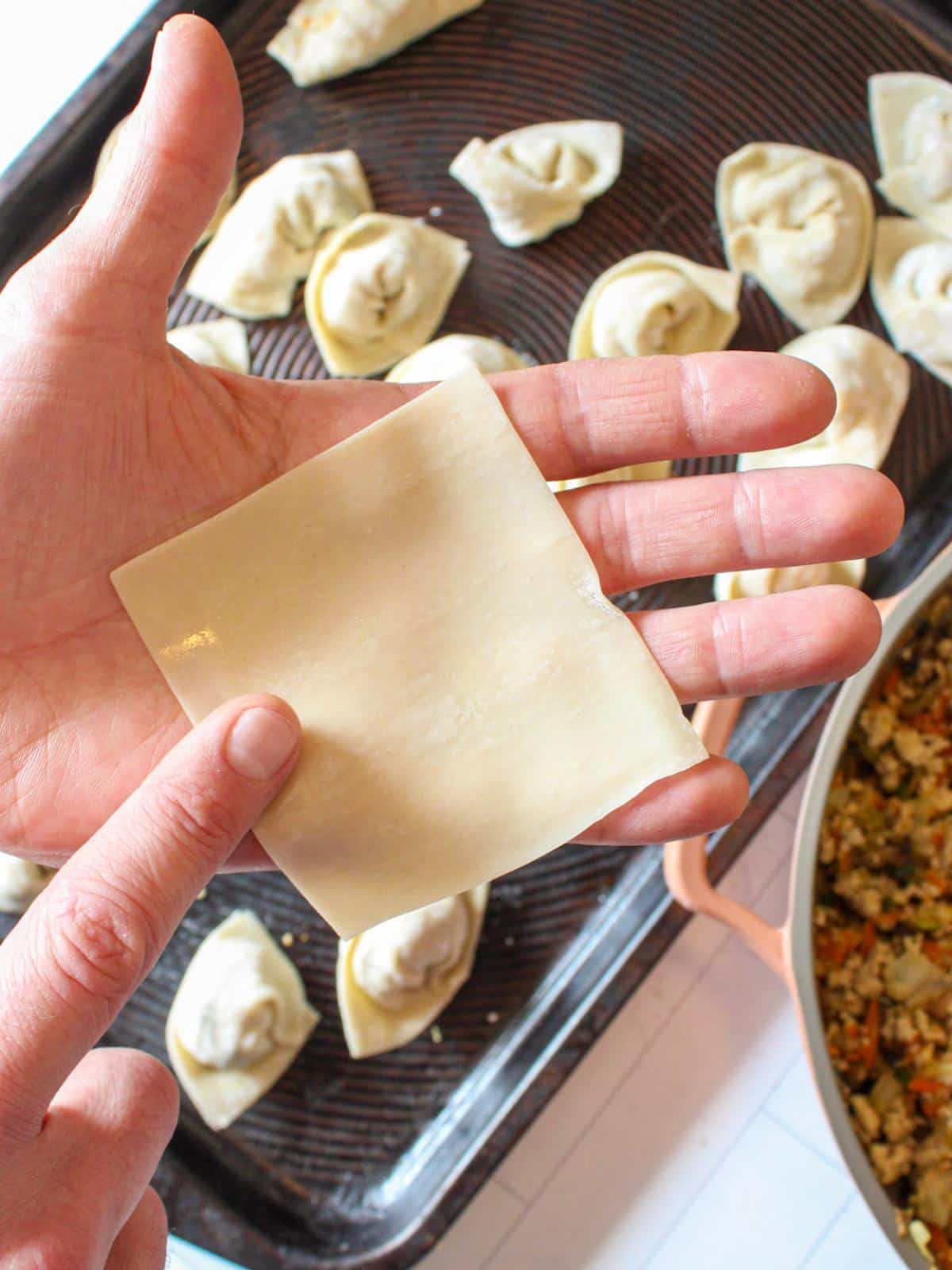 Step one: Get a small bowl of water. Lay the wrapper out flat on your hand. Get the edges slightly wet by dipping your index finger into a little water and running them along the edges of the wrapper.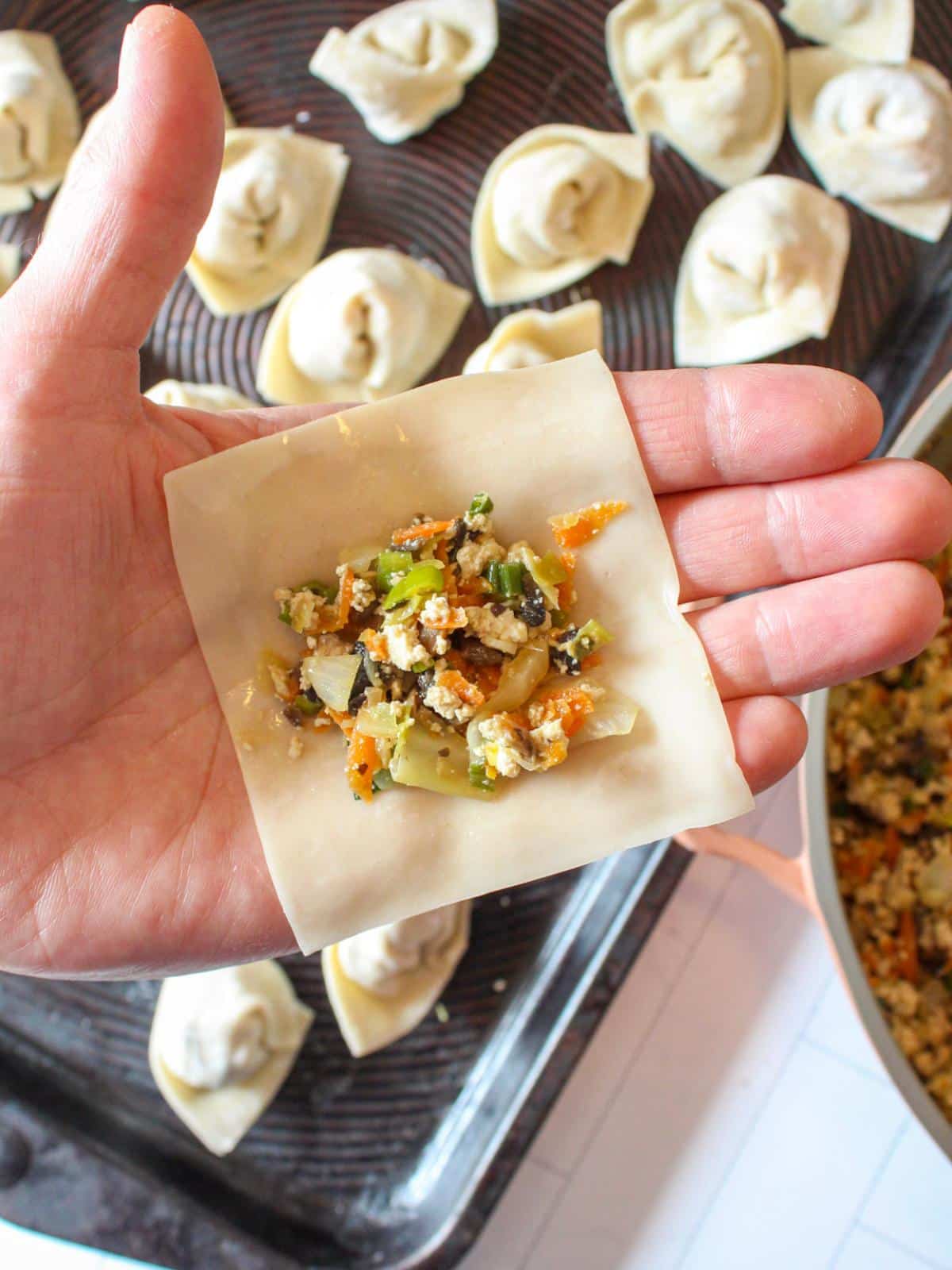 Step two: Add a teaspoon of the dumpling filling to the middle of the wrapper.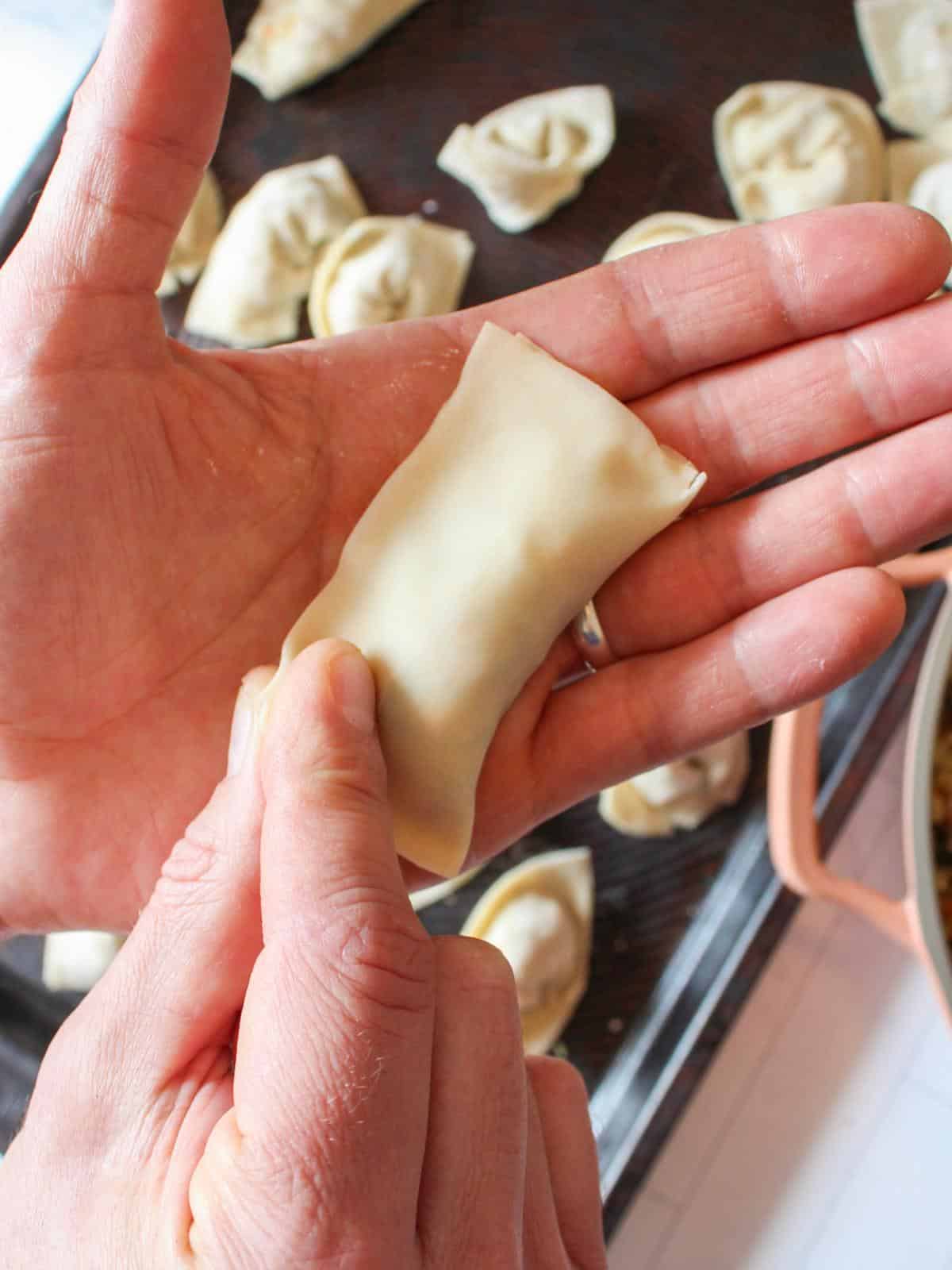 Step three: Fold the dumpling in half over the vegetable filling and press the edges shut.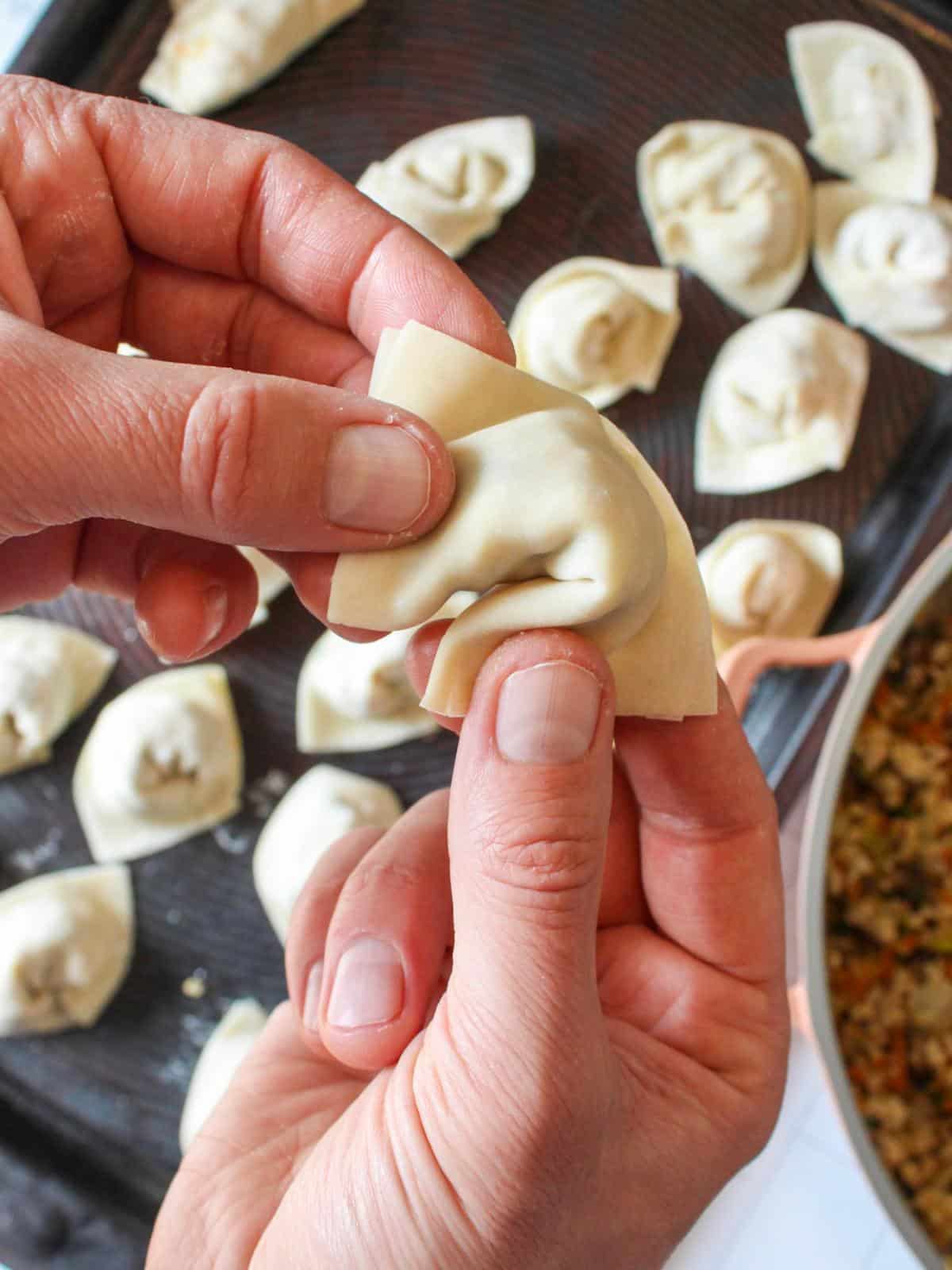 Step four: Grab the bottom two edges of the wrap, and get them wet.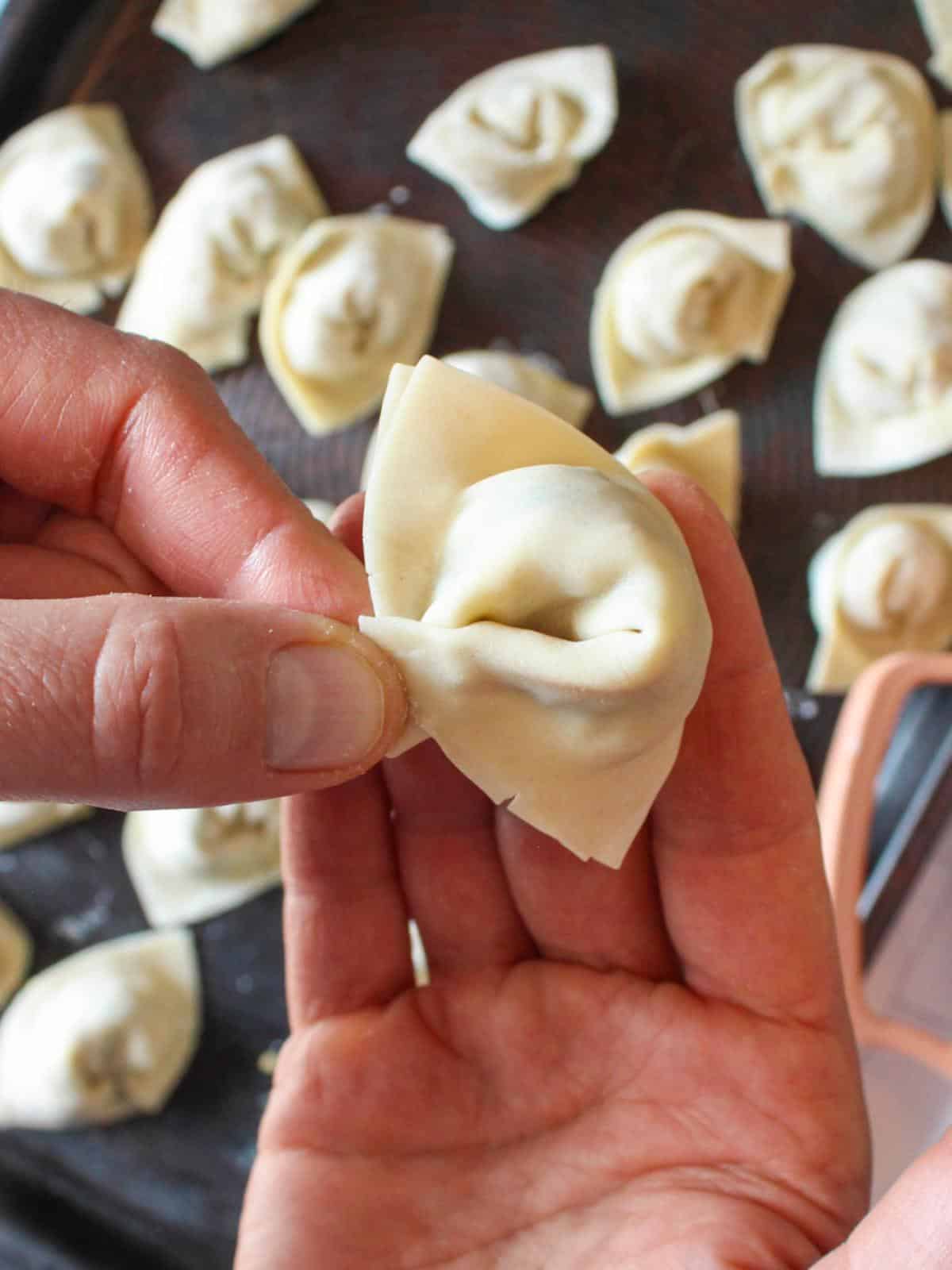 Step five: Bend them in towards each other, let them overlap. Press down on the bottom two edges so that they stick together. Set the dumplings aside on a large tray or sheet pan, making sure they don't touch and stick together.
🍜 History of dumplings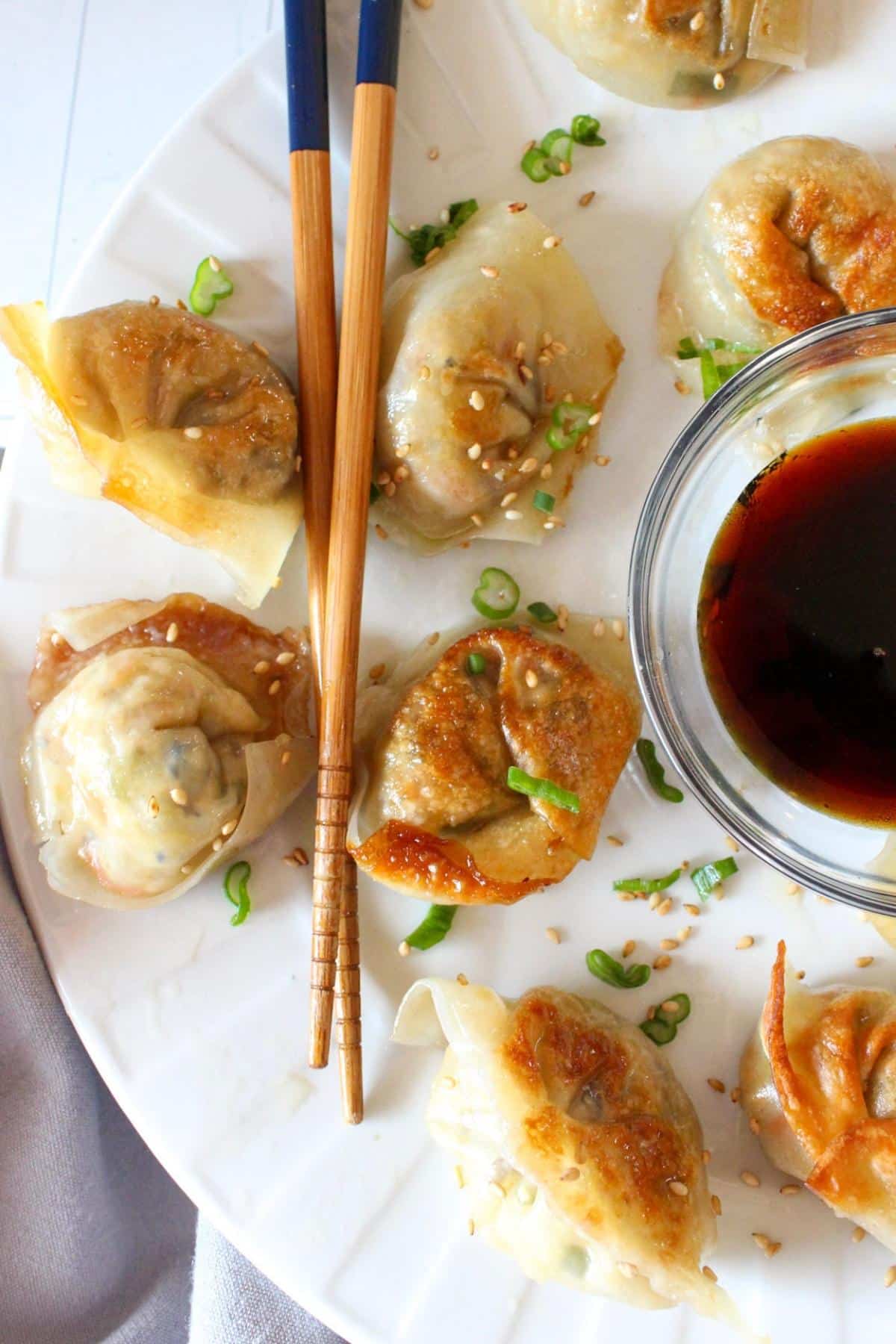 According to Chinese legend, dumplings (also called jiaozi) were first created by a healer about 1800 years ago named Zhang Zhongjian. (1)
He noticed that many villagers were suffering from frostbite, especially around their ears.
He wrapped up some meat, vegetables and healing herbs into some dough, and folded them to look like ears.
The villagers loved them so much, they continued to make them well into the spring.
Many Chinese people still make traditional dumplings to bring good luck, fortune and prosperity into the new year.
❄️ Storing tips
Since it takes too long to wrap up these dumplings, I make a big batch and then freeze them. They freeze incredibly well.
To freeze dumplings, spread them out, uncooked, on a lined baking sheet with some parchment paper in a single layer. Freeze for one hour. Then put them all in a freezer friendly zip loc bag. They will last 3-5 months in the freezer.
♨️ Serving suggestions
These taste amazing topped with sesame seeds and green onions.
Dip these delicious dumplings into your favorite dipping sauce, like soy sauce or ponzu sauce. Add a little chili oil or red pepper flakes to add some heat.
Serve these with a side of steamed bok choy, veggie stir fry, Chinese soup, or this delicious sticky maple miso tofu or this sesame ginger tofu.
🥄 How to cook frozen dumplings
This is entirely up to your taste preference, choose whichever method you like. Steaming is a little healthier and will make fluffy dumplings, and pan frying will make them crispier and richer in flavor.
To steam
Add dumplings to a steamer basket. It helps if the basket is lined or lightly oiled, so they don't stick to the pan. You can also lightly spray the basket. Get the water to boil, then steam for 5-8 minutes, covered.
To pan fry
To make pan-fried dumplings, add 1-2 tablespoons of neutral tasting oil to a large skillet on medium heat. Let the pan heat on medium low heat for at least five minutes. Add the dumplings to the hot pan. After about 5-8 minutes, or until they're lightly brown and crispy, move them around a little.
Then, add a small amount of water, maybe ¼ of a cup, and pour it in. Cover with a lid for 5 minutes. Let the dumplings crisp back up.
To boil
Bring a large pot of water to a boil. Drop the dumplings in the hot water once the water is boiling. Boil for about 5-8 minutes.
❓ Recipe FAQs
Is this recipe gluten free?
No, since the wanton or dumpling wrappers are made from flour, this recipe is not gluten free.
What are vegan dumplings made of?
These dumplings are made with a delicious filling of tofu, cabbage, mushrooms, carrots, ginger and seasonings.
🍛 More vegan recipes you'll love
If you loved this recipe, leave a 5 ⭐️ rating on the recipe card and comment below!
📖 Recipe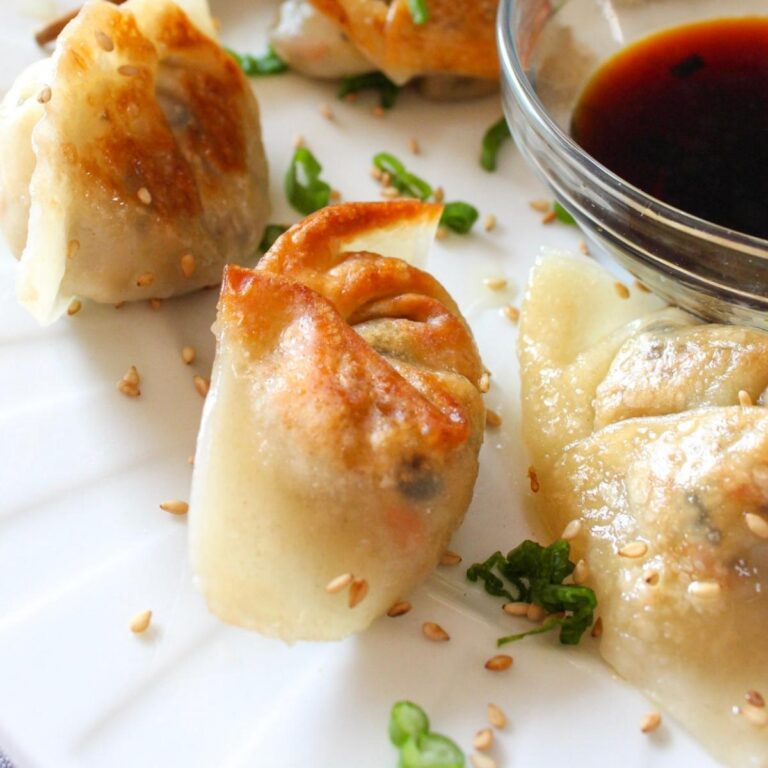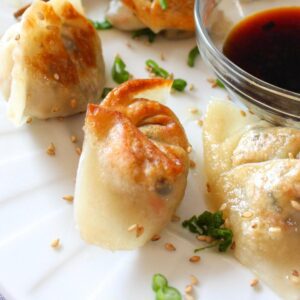 Vegan dumplings
Delicious vegan dumplings with vegetables and tofu.
Print
Pin
Rate
Ingredients
1

teaspoon

neutral oil

1

package

extra firm tofu

2

teaspoons

toasted sesame oil

2

tablespoons

soy sauce

1

tablespoon

rice vinegar

8

ounces

mushrooms

(chopped small)

1

cup

green cabbage

(shredded)

1

cup

carrots

(shredded)

4

green onions

4

cloves

garlic

(minced)

1

tablespoon

minced ginger

34

vegan dumpling wrappers
Instructions
Take the tofu out of the package and press it for at least 10 minutes. Use either a tofu press, or heavy pans and books.

1 package extra firm tofu

Add oil to a large saute pan on medium low heat and let the pan heat up. Add the mushrooms, cabbage and carrots and saute for 8-10 minutes.

1 teaspoon neutral oil,

8 ounces mushrooms,

1 cup green cabbage,

1 cup carrots

Once tofu is done pressing, crumble it into the pan and stir well. Add soy sauce, green onions, garlic, ginger, vinegar and sesame oil. Stir, then cook until all vegetables are soft and cooked through.

1 package extra firm tofu,

2 teaspoons toasted sesame oil,

2 tablespoons soy sauce,

1 tablespoon rice vinegar,

4 green onions,

4 cloves garlic,

1 tablespoon minced ginger

Set the dumpling filling aside for 10 minutes to let it cool. Get your dumpling wrappers out and add about 1 teaspoon of filling to the wrapper. If you have a square dumpling wrapper, then look at the photo in the post above, on how to fold a dumpling.

34 vegan dumpling wrappers

Don't stress too much about getting them to look perfect. Set the dumplings on a lined baking sheet. Cover them with a cloth towel to help them not dry out.

Freeze the dumplings that you're not going to immediately cook on the baking tray for one hour. Then put them in a freezer friendly ziploc bag.
To steam
Add dumplings to a lined steamer basket and cover. Steam for about 5-10 minutes.
To pan fry
Heat a pan with 1-2 teaspoons of oil on medium heat. Add the dumplings after 5 minutes. Let them saute for about 5 minutes, or until golden brown. Add about ¼ cup of water, then cover with a lid and let them steam for 5 minutes.
Dipping sauce
I use either just plain soy sauce, gyoza sauce, or I make my own dipping sauce using soy sauce, sesame oil, maple syrup and vinegar. I eyeball it and taste it until I get the flavor I love.
Nutrition
Calories:
207
kcal
|
Carbohydrates:
31
g
|
Protein:
11
g
|
Fat:
4
g
|
Saturated Fat:
1
g
|
Polyunsaturated Fat:
2
g
|
Monounsaturated Fat:
1
g
|
Trans Fat:
1
g
|
Cholesterol:
4
mg
|
Sodium:
640
mg
|
Potassium:
388
mg
|
Fiber:
2
g
|
Sugar:
3
g
|
Vitamin A:
3661
IU
|
Vitamin C:
8
mg
|
Calcium:
64
mg
|
Iron:
3
mg
The nutritional information on this website is only an estimate and is provided for convenience and as a courtesy only. The accuracy of the nutritional information for any recipe on this site is not guaranteed. It should not be used as a substitute for a professional nutritionist's advice.