Easy marinated tofu recipe
Crispy and delicious sesame ginger baked tofu. Easy to make tofu that goes great in a stir fry or a buddha bowl. The most delicious marinated tofu that will take your tofu cooking game to the next level.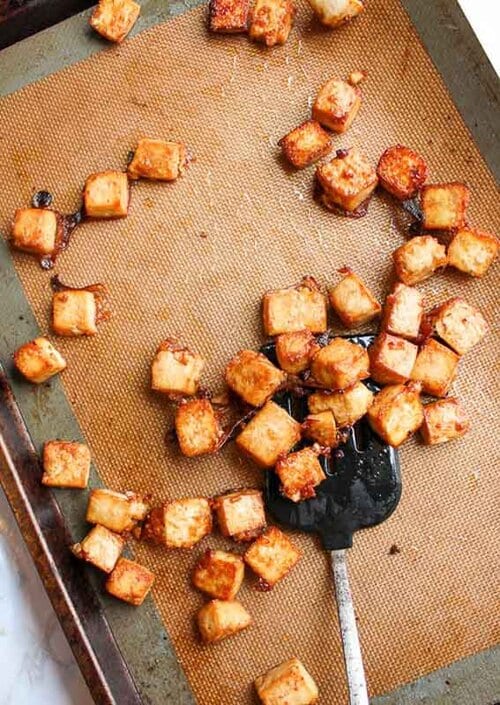 I know. Tofu can be a tricky little jerk to cook, but once you learn its secrets, you'll be craving this tasty little protein in no time.
This marinated tofu has everything you could possibly desire. It's crunchy, flavorful, easy and damn delicious.
How to press tofu
Press your tofu! Just do it!
If your tofu always comes out as soggy and disgusting as a dish rag, it's probably because you didn't press the tofu and get the excess water out.
When you press the tofu, it squeezes out all of the water and makes room for your marinades and spices. Hello, flavor town!
So, there are two ways to press your tofu. I recommend getting a tofu press. Use code DAMNTASTY for 10% off. If you plan on cooking tofu on any regular basis, you will thank me for this.
I was resistant for a while, but after using this bad boy once, I wish I had bought it sooner.
If you're not quite ready to commit, then you can wrap your tofu in paper towel, or a lint-free kitchen towel and place a heavy pot or pan on top of the tofu. You want to let it press for at least 15 minutes.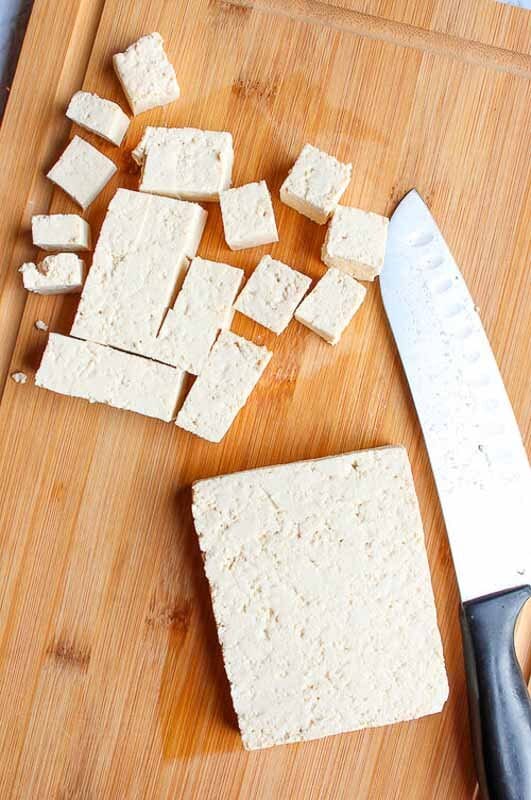 How to make tofu marinade
Onto the sesame ginger marinade. This stuff is pure gold. I could honestly bathe in it.
Mix together your soy sauce, sesame oil, rice vinegar, maple syrup and then freshly minced garlic and ginger.
Let the tofu marinate in this for at least an hour. You can also do 20 minutes if you don't have the time. Overnight would be best, but who ever remembers to do that?!
I like to put it in a Tupperware bowl, put the lid on. I then flip the tofu upside down and store it in the fridge for an hour.
Flipping the tofu upside down helps the marinade to get all over the tofu, without having to stir it and possible break up the tofu.
Right before you're ready to bake the tofu, sprinkle on the nutritional yeast and use a rubber spatula to gently mix the nutritional yeast in. You want to mix it enough so that you don't see the corn starch.
The nutritional yeast will give this tofu a really nice coating that comes out chewy and amazing.
How to bake tofu
When it's time to bake the tofu, it's all about letting it cook in high heat, for a longer amount. Set your oven to 400 degrees. Bake for 15 minutes, then flip, spoon on the rest of your marinade and bake for another 10-15 minutes.
Let the tofu sit for at least 5 minutes before you serve. Once it cools a little bit, it firm up a bit more.
Can I pan fry tofu instead?
Yes, absolutely. Heat up a frying pan, or cast iron pan on medium heat. Add 2-3 tablespoons of oil.
The key to getting crispy tofu that doesn't stick is to let the pan heat up for 5 minutes before adding the tofu. Once you add the tofu, don't touch it for at least 3-5 minutes. Then flip to another side and let sit for 3-5 minutes.
Letting the tofu sit will help it to create a crispy coating on the outside of the tofu. Once this coating is formed, it's easier to lift it off of the pan.
How to serve this tofu
I love putting this tofu in a stir fry, or a buddha bowl. It's great to meal prep on a Sunday afternoon and then have it ready to go in the fridge all week.
If you need more help cooking tofu, check out my article called how to cook tofu for beginners.
More delicious tofu recipes to try next:
📖 Recipe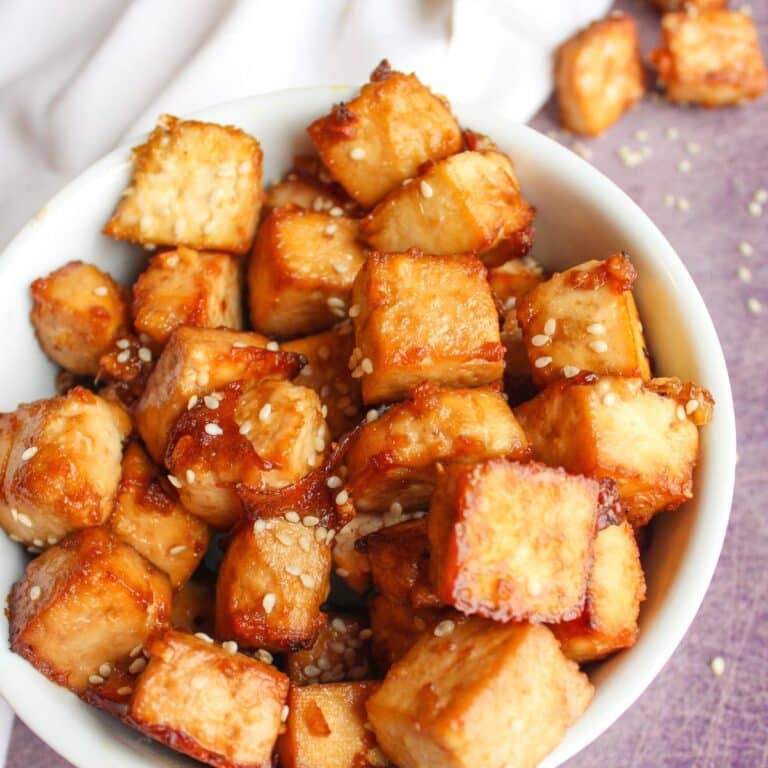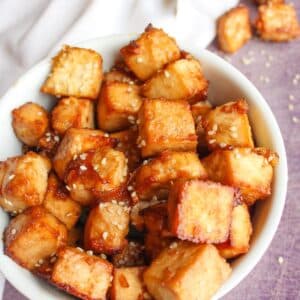 Sesame ginger baked tofu
Fall in love with tofu with this recipe. This is such an easy and satisfying way to make tofu. Put it in a stir fry or on top of a salad or in a wrap.
Print
Pin
Rate
Ingredients
1

package of extra firm tofu

(drained and pressed for 15-30 minutes)

4

tablespoon

soy sauce

1

tablespoon

toasted sesame oil

2

tablespoon

rice vinegar

2

tablespoon

maple syrup

2

cloves

garlic

(minced)

1

tablespoon

ginger

(minced)

2

tablespoon

nutritional yeast OR corn starch

(I prefer nutritional yeast if you have it)
Instructions
Take your tofu out of the package and drain it.

Either press the tofu in a tofu press for 30 minutes, or wrap tofu in paper towel or towel and place a heavy pan or object over the tofu. Press for 30 minutes but if you're short on time, 15 minutes will do.

Cut tofu in cubes

In a mug or bowl, mix together soy sauce, sesame oil, vinegar, maple syrup, ginger and garlic.

Place the tofu in a storage container with a lid and pour the marinade over.

Put the lid on the container and gently turn container upside down, to make sure tofu marinade gets on all sides.

Place tofu in the fridge, upside down and let it marinate for at least 30 minutes. 1-8 hours is best, but sometimes we don't have the time

Pour nutritional yeast (or corn starch) over tofu and gently mix until you don't see the nutritional yeast

Pre-heat oven to 400 degrees

Take tofu out of the marinade and place on an oiled, or lined baking sheet - save some of the marinade

Bake for 15 minutes, then take out of the oven and flip

Spoon the rest of the marinade on top of the tofu

Place back in oven and bake for another 10-15 minutes or until the tofu is caramelized.

Take out of oven and off of baking sheet and let it cool for 5 minutes to let it firm up
Nutrition
Calories:
114
kcal
|
Carbohydrates:
10
g
|
Protein:
9
g
|
Fat:
4
g
|
Saturated Fat:
1
g
|
Sodium:
856
mg
|
Potassium:
241
mg
|
Fiber:
1
g
|
Sugar:
6
g
|
Vitamin A:
1
IU
|
Vitamin C:
1
mg
|
Calcium:
39
mg
|
Iron:
2
mg
The nutritional information on this website is only an estimate and is provided for convenience and as a courtesy only. The accuracy of the nutritional information for any recipe on this site is not guaranteed. It should not be used as a substitute for a professional nutritionist's advice.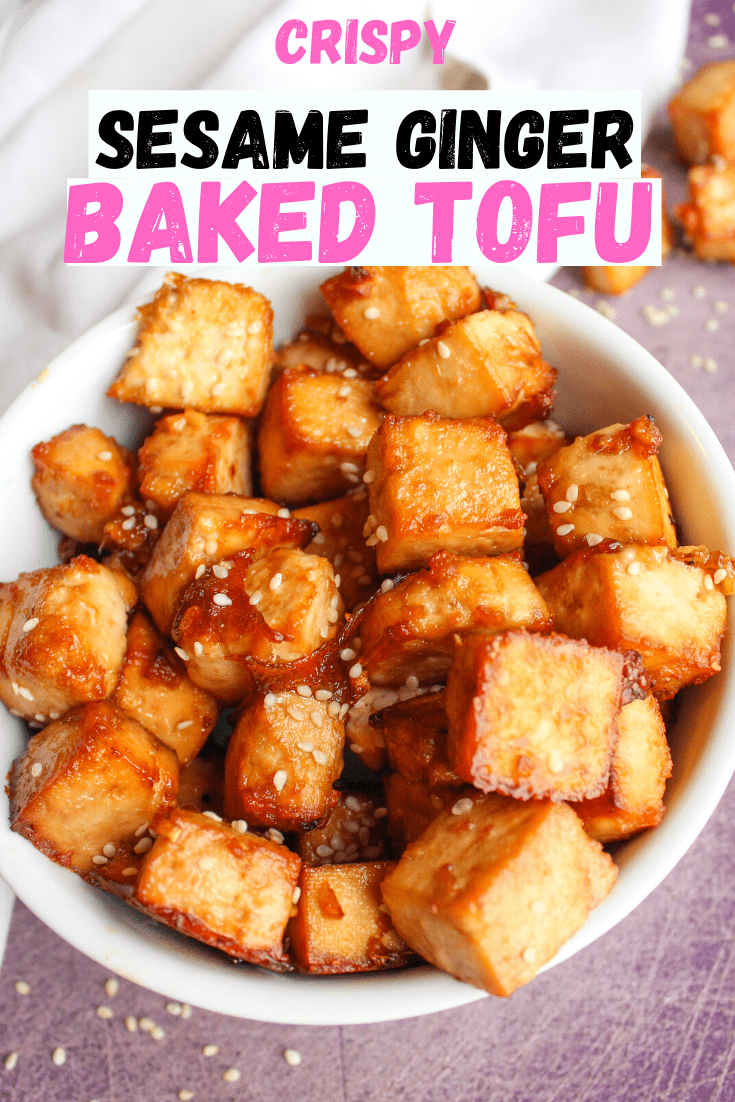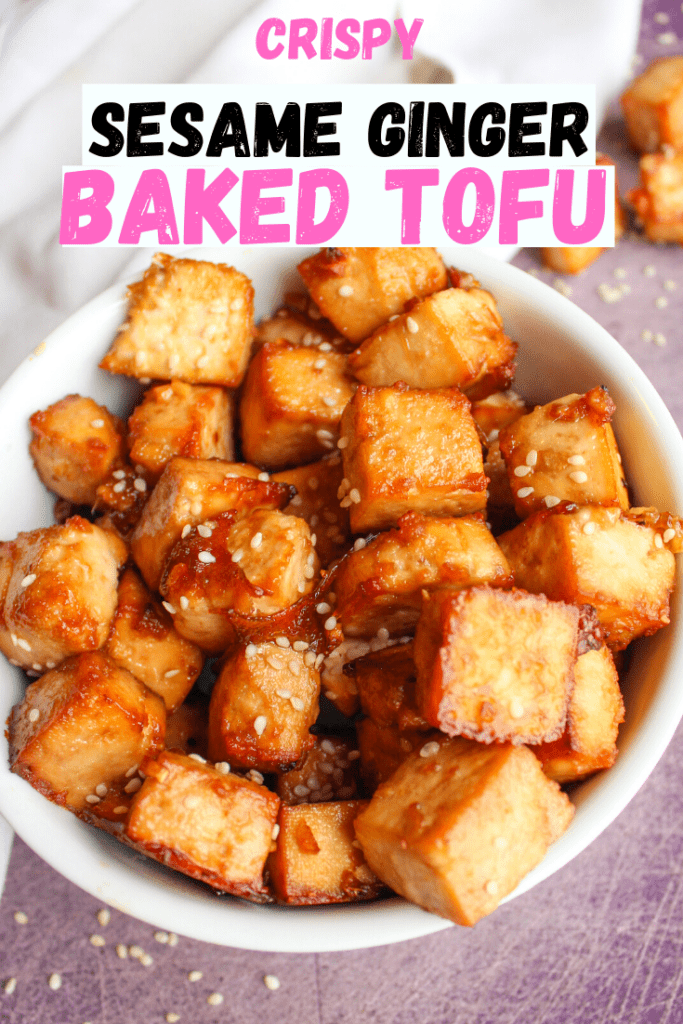 Delicious tofu marinade