High protein vegan buddha bowl meal prep
Healthy, high in protein and delicious quinoa bowl recipe with peanut tofu. If you're looking for a tasty tofu recipe, this meal idea is for you.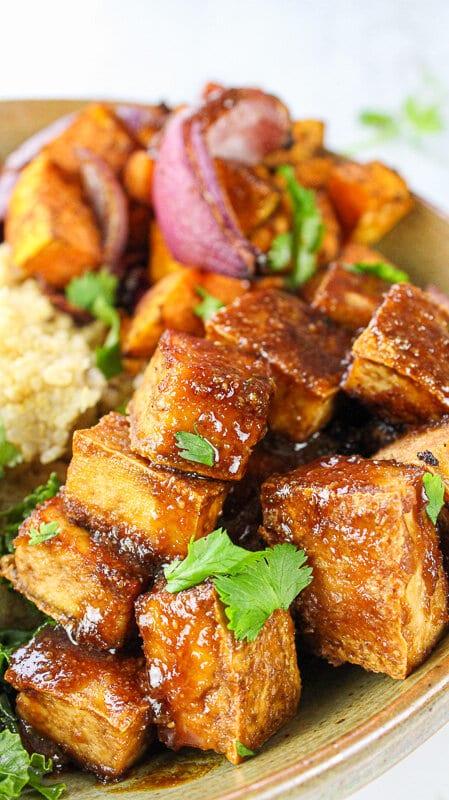 You are going to absolutely love this recipe.
This is a great thing to meal prep on a Sunday and then have healthy vegan lunches or dinners ready to go throughout the week.
The flavor combinations in this are going to blow you away.
Not only is this bowl incredibly delicious, thanks to the kidney beans, peanut butter, quinoa and tofu, this bowl is super high in protein, fiber and minerals.
This quinoa bowl recipe is:
High in protein
Healthy
Easy to make
Gluten free
Meat free
Vegan
Damn tasty
Tips for making this peanut tofu quinoa bowl
Press the tofu first, this step takes the longest, about 15 minutes. While the tofu is pressing, move on to prepping the vegetables.
It's important to press the tofu because it squeezes out excess liquid to make the tofu crispier. It also makes room for the tofu to soak up the delicious peanut sauce.
Since buddha bowls require a few different pots and pans and different items cooking at the same time, l like to make a big batch of everything so I only have to do this all once.
To cut down on getting yet another pan dirty, after the quinoa is cooked, open the lid, and place the chopped kale on top, then shut the lid. The steam from the quinoa.
My favorite way to cook quinoa is in a rice cooker. Just do four cups of water for two cups of quinoa.
You can also cook quinoa in a pressure cooker. The water ratio will be different: 1 cup of quinoa to 1 and ¼ cup of water. The pressure cooker requires less water because it doesn't release steam like a rice cooker does.
Check out my blog post on how to cook quinoa in a pressure cooker, rice cooker or on the stove top if you need more directions.
Make sure to cut the sweet potatoes all about the same size. I prefer to peel my sweet potatoes, but that's up to you.
The peanut tofu sauce is what makes this whole recipe. You will need maple syrup, soy sauce, peanut butter, sesame oil, garlic and ginger. If you don't have all of that on hand, you can still make a delicious sauce with just peanut butter, soy sauce and maple syrup.
We're also going to flavor the sweet potatoes with some salt, curry powder, garlic powder and cinnamon. The combination of peanut butter and cinnamon in this dish make the perfect, cozy, fall or winter dish. It will comfort you and warm you right up.
If you need more help cooking tofu, check out my article called how to cook tofu for beginners.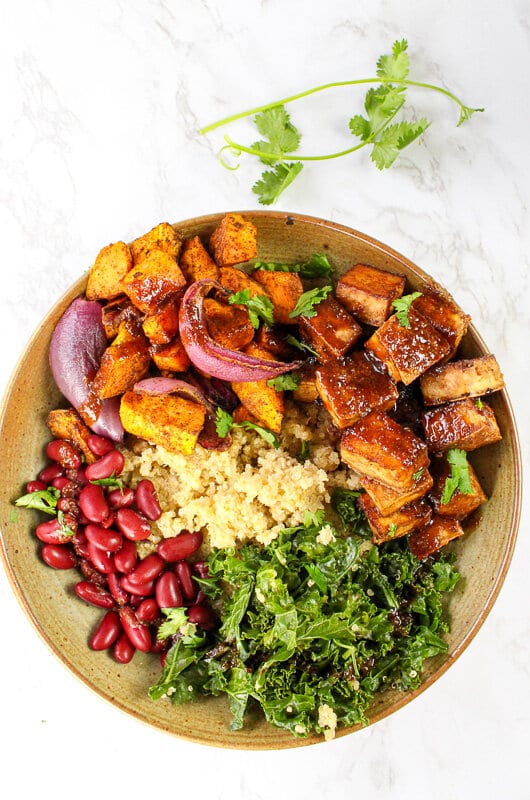 Try these delicious recipes next: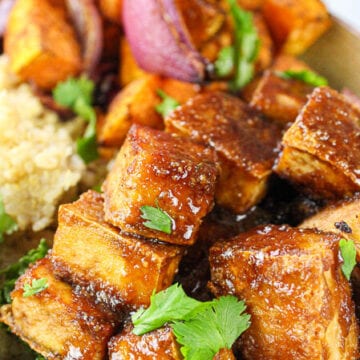 Peanut tofu quinoa buddha bowl
Delicious and healthy vegan meal prep recipe. This peanut tofu quinoa buddha bowl is healthy, easy and delicious. Ingredients
Print
Pin
Rate
Ingredients
Peanut tofu
1

package of extra firm tofu

(pressed for 15 minutes)

¼

cup

peanut butter

¼

cup

soy sauce

¼

cup

maple syrup

1

teaspoon

sesame oil

(optional)

1

tablespoon

lime or lemon juice

1

teaspoon

garlic ginger paste

(If you don't have this, just mince up 2 cloves of garlic and ½ teaspoon of ginger to make your own.)
Quinoa buddha bowl
2

cups

dry quinoa

(rinse well in a fine mesh strainer)

1

small

red onion

(quartered)

2

medium

sweet potatoes

(peeled)

1

teaspoon

garlic powder

1

teaspoon

cinnamon

1

teaspoon

salt

1

teaspoon

curry powder

16

oz

can of kidney beans

(drained and rinsed)

1

bunch of kale

(de-stemmed, rinsed and roughly chopped)

Cilantro

(optional for topping)
Instructions
Pre-heat oven to 400 degrees

Press the tofu for 15 minutes. If you don't have a tofu press, wrap it in paper towel and cover with a few heavy books or pans

While waiting for tofu to press, lets prepare the sweet potatoes

In a small bowl, mix together 1 teaspoon each of garlic powder, cinnamon, salt and curry powder

Place quartered red onion and diced sweet potatoes in a large bowl.  Drizzle over 1 TBL of oil and mix well.

Shake spice mixture over the sweet potatoes and onions and mix well.

Place on a non-stick baking sheet and set aside, while we get our tofu ready. Give enough room between the sweet potatoes so that they become crispy.

Now that the tofu has been pressed for 15 minutes, cut it into larger cubes and place on a non-stick baking sheet

Place sweet potatoes/onions and tofu in the oven for 25 minutes.

While the sweet potatoes and onions are baking, prepare the quinoa by placing 4 cups of water and two cups of quinoa in a rice cooker.  Add 1 veggie bouillon cube and press the white rice cooking option. If you don't have a rice cooker, check out this post to learn how to cook it on the stove or in a pressure cooker.

After the quinoa is cooked, open the lid of the rice cooker and throw the chopped kale in and shut the lid. The steam from the quinoa will cook the kale without having to dirty another pot

Prepare the peanut tofu sauce by combining ¼ cup each of peanut butter, maple syrup and soy sauce, 1 teaspoon of sesame oil (optional), a squeeze of lime or lemon juice and 1 teaspoon garlic ginger paste. See ingredients list on how to substitute this if you don't have garlic ginger paste

After 25 minutes, keep the sweet potatoes in the oven, but take the tofu out.

Place tofu in a bowl and pour ⅓ of the mixture over the tofu.  Gently mix to make sure each piece is well coated.  Let it marinate for 5 minutes, then pop it back on the baking sheet and into the oven for another 10 minutes.

After 10 minutes, take the tofu and sweet potatoes out of the oven – or when they become slightly caramelized and golden brown.

Place the remaining ⅔ of the peanut sauce in a sauce pan on low and gently stir while it heats up and thickens.

Pour this sauce over the tofu, or over the whole buddha bowl.

Assemble the bowl:  add the quinoa, drained and rinsed kidney beans, kale, sweet potatoes and peanut tofu and top with a little peanut sauce and cilantro
Video
Notes
Recommended Products:
Tofu press
Non-stick baking mat
Nutrition
Nutrition Facts
Peanut tofu quinoa buddha bowl
Amount per Serving
% Daily Value*
* Percent Daily Values are based on a 2000 calorie diet.
The nutritional information on this website is only an estimate and is provided for convenience and as a courtesy only. The accuracy of the nutritional information for any recipe on this site is not guaranteed. It should not be used as a substitute for a professional nutritionist's advice.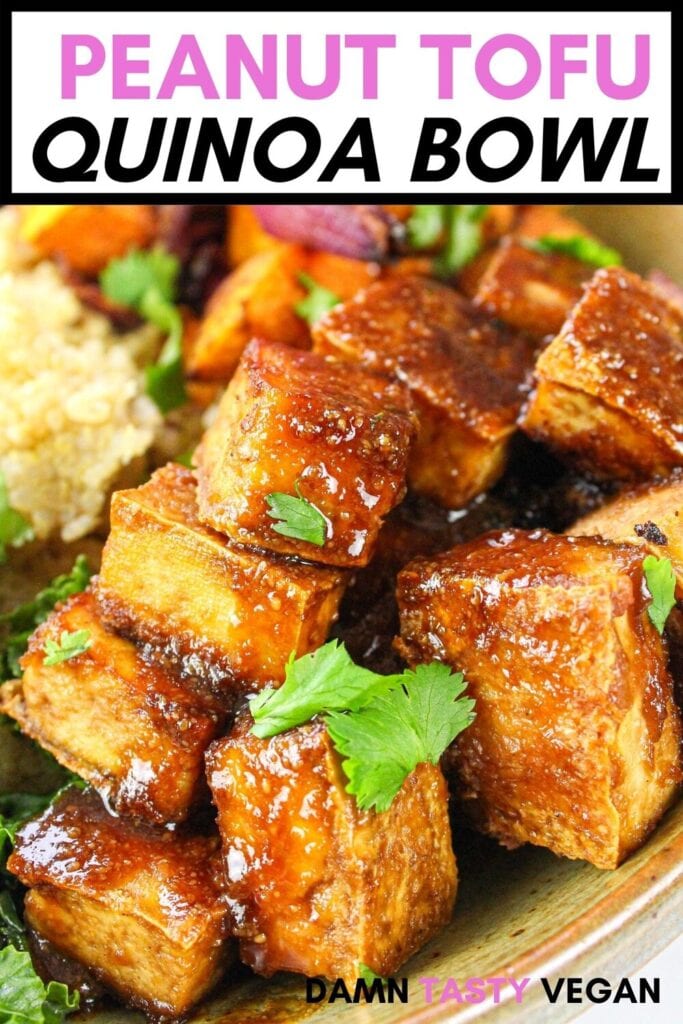 Peanut tofu quinoa buddha bowl (high protein)