How to grill a portobello mushroom
Delicious grilled portobello mushroom burger. Vegan and easy to make. Mushrooms make the best burgers because of their chewy texture and meaty flavor. Here is how to season a portobello mushroom before grilling.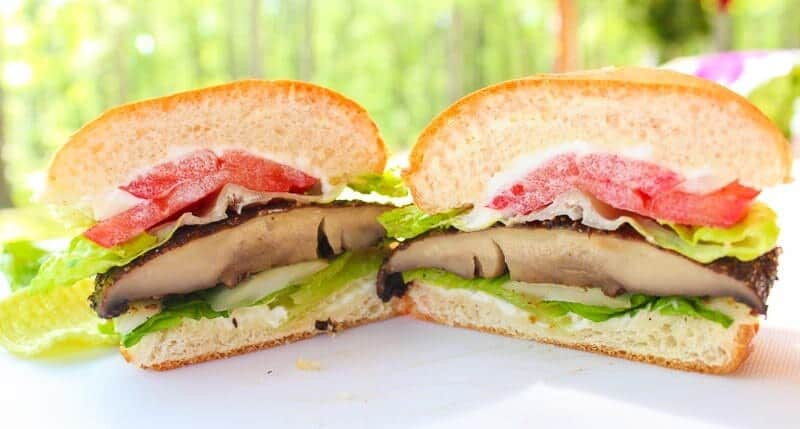 Mushrooms are my favorite meat alternative. When they're cooked right, they satisfy just like meat does.
Health benefits of portobello mushrooms
Mushrooms are can be packed with tons of flavor if you season them right and they come out savory and chewy. Perfect, whole foods meat replacement if you're missing that texture.
Not only are mushrooms delicious, they pack a health punch as well, according to this New York Times article.
Mushrooms are full of selenium, copper, B vitamins and potassium. Not to mention, they have zero cholesterol, so they beat a beef burger every time.
How to clean a portobello mushroom
It's important to not get the mushrooms too wet because then they will get mushy.
The best way to clean a portobello mushroom is to dampen a paper towel or clean dish rag. Then wipe away the dirt.
If you don't like a strong mushroom flavor, you can scoop out the black gills on the underside of the mushroom. I personally love keeping them in, but if you're new to eating mushrooms, you might want to take them out.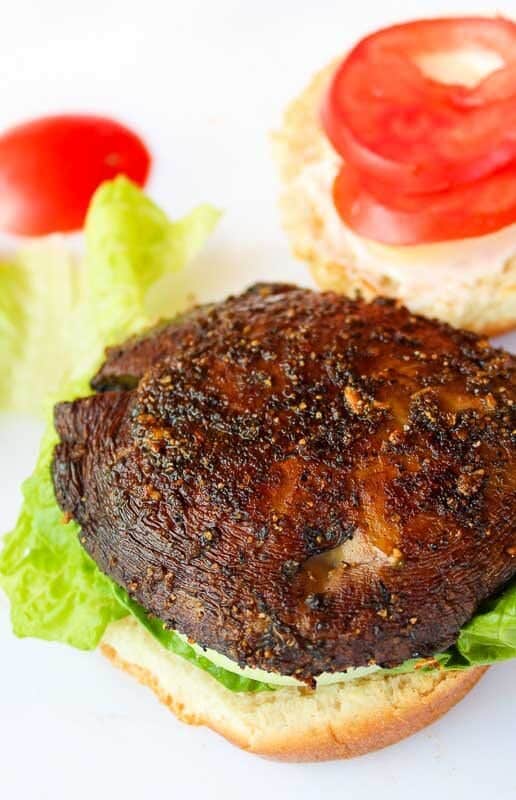 How to season a portobello mushroom
Mushrooms are an amazing replacement for meat. They are chewy and have a meaty flavor when done right.
The beauty of mushrooms is that you can season them just like you would meat. Most meat marinades are naturally vegan.
I love marinating mushrooms in a couple tablespoons of oil and then seasoning them with burger or steak seasoning. That's the easiest way to do it.
If the burger seasoning doesn't have salt, make sure to add some. Salt is important with mushrooms.
You can also marinate them in barbeque sauce. BBQ mushrooms are amazingly delicious.
Let them marinate for at least 20 minutes. Overnight is best.
How to grill a portobello mushroom
After cleaning and marinating the mushrooms, they're ready to be grilled.
Set your grill to medium heat and let it heat up first. Once the grill has heated up, place the mushrooms right side up on the grill.
Cook them for about ten minutes on that side, then flip them upside down. You will see the juices of the mushroom start to pool in the center of the mushroom.
After ten minutes I like to flip them one more time to right side up and then pour the juices of the mushrooms on the top of each other.
Finish with a pinch of salt.
If you're not eating this is a burger, portobello mushrooms make really delicious steaks. I love eating them with a little A1 steak sauce and having a baked potato on the side.
How do you know when a portobello mushroom is done cooking
You know the mushroom is done cooking when you press in the middle of the mushroom with a fork or spatula and it's juicy and soft.
I like to cook mine a little longer: 10 minutes on each side on medium low heat
How to serve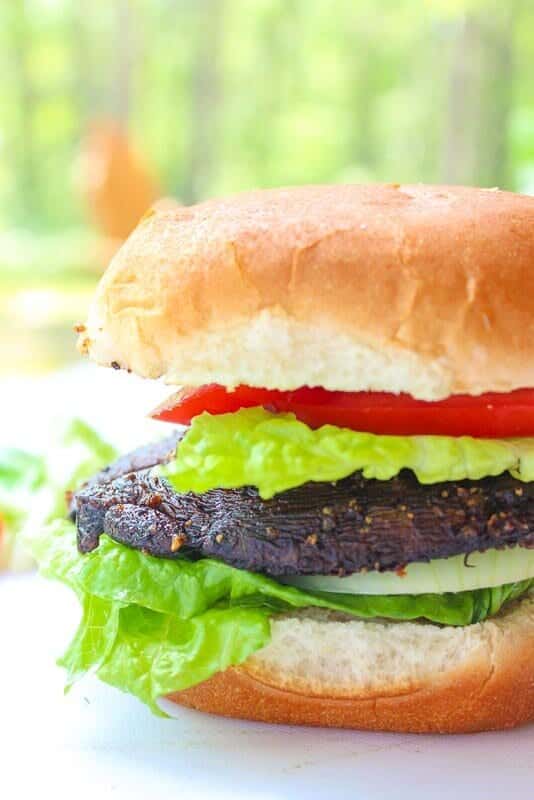 I love treating this just like a beef burger.
Top it with ketchup, mustard, relish, lettuce, onions and vegan mayo.
Add some vegan cheese as well if your heart desires.
Grilled portobellos go great as a burger. Topped with all your favorite burger toppings.
Season the mushroom like you would steak, grill it like above and serve it with some potatoes and veggies. Portobello mushrooms can be eaten just like a piece of steak.
Dip the mushroom in steak sauce and serve it with a baked potato
Cook it like steak and serve it over vegan nachos. Try out my vegan smoked gouda steak nachos.
Try out these vegan recipes next
📖 Recipe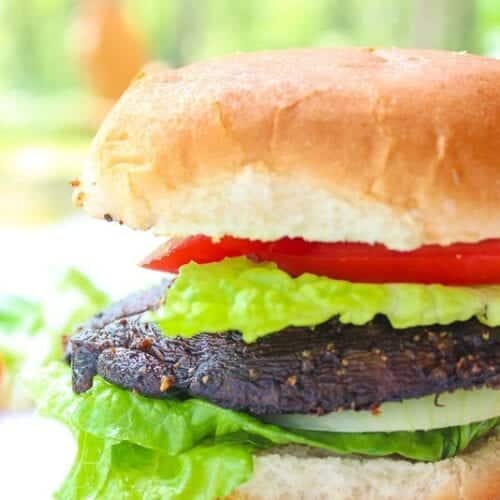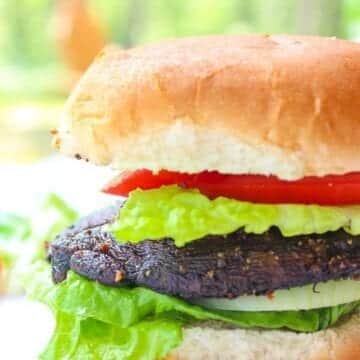 Grilled portobello mushroom burger
Delicious and juicy portobello mushroom burger. Easy veggie burger for vegetarians and vegans.
Print
Pin
Rate
Ingredients
4

large portobello mushroom caps

2

tablespoon

Avocado oil

(Use more if needed)

2

teaspoon

Burger or steak seasoning

(Use more if needed)
Instructions
Start by wiping off the outside of the mushroom with a damp rag or paper towel.

This will get rid of the dirt. DO NOT rinse the mushroom under water. Doing this will make it mushy and gross. If you're new to the flavor of mushrooms, I suggest cutting off the stem and using a spoon to carve out the brown gill like stuff on the underside of the mushroom. The video below shows you how. This brown stuff on the underside of the mushroom tastes very earthy and strong and can be off putting if you're new to eating mushrooms.

After cleaning off the mushrooms, you need to season and marinate them. Marinating mushrooms over night will yield the best results, but if you don't have time, just marinate them for 20 minutes.

Use the same marinades you would for meat and steak. Most of them are vegan.

For this recipe I used avocado oil (you can use whatever oil you have on hand) and then a burger seasoning. Steak seasoning also tastes amazing on mushrooms. BBQ sauce is also great to marinate mushrooms in.

After seasoning and marinating, let your grill or pan heat up on medium low heat.

Place the mushroom cap right side up on the grill, so that the part that had the stem on it is facing down.

Grill for 10 minutes and the flip it upside down Let it cook on this side for another 5-10 minutes.

IT'S IMPORTANT TO FINISH THE MUSHROOM OFF, UPSIDE DOWN SO THAT ALL OF THE MUSHROOM JUICE COLLECTS IN THE UNDERSIDE OF THE CAP (as shown in the video below)
Nutrition
Calories:
82
kcal
|
Carbohydrates:
4
g
|
Protein:
2
g
|
Fat:
7
g
|
Saturated Fat:
1
g
|
Trans Fat:
1
g
|
Sodium:
8
mg
|
Potassium:
309
mg
|
Fiber:
1
g
|
Sugar:
2
g
|
Vitamin A:
13
IU
|
Vitamin C:
1
mg
|
Calcium:
8
mg
|
Iron:
1
mg
The nutritional information on this website is only an estimate and is provided for convenience and as a courtesy only. The accuracy of the nutritional information for any recipe on this site is not guaranteed. It should not be used as a substitute for a professional nutritionist's advice.
LOVED THE RECIPE? PIN IT TO YOUR FAVORITE BOARD BY CLICKING BELOW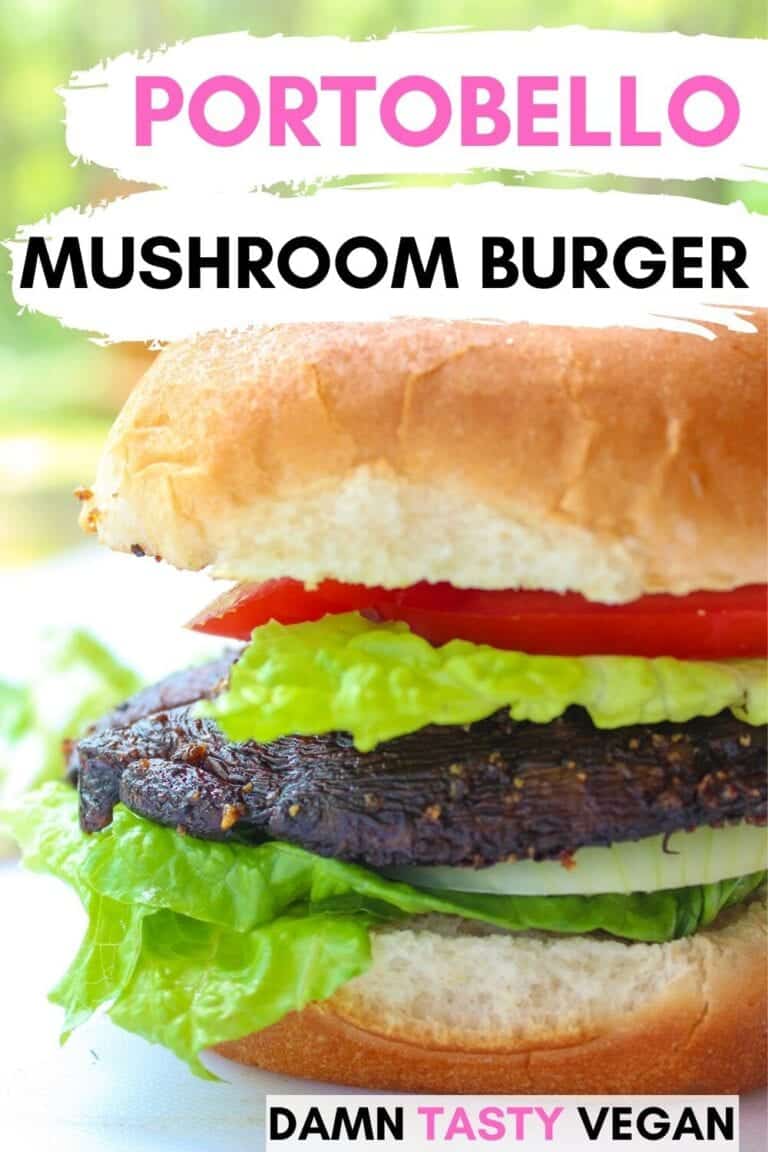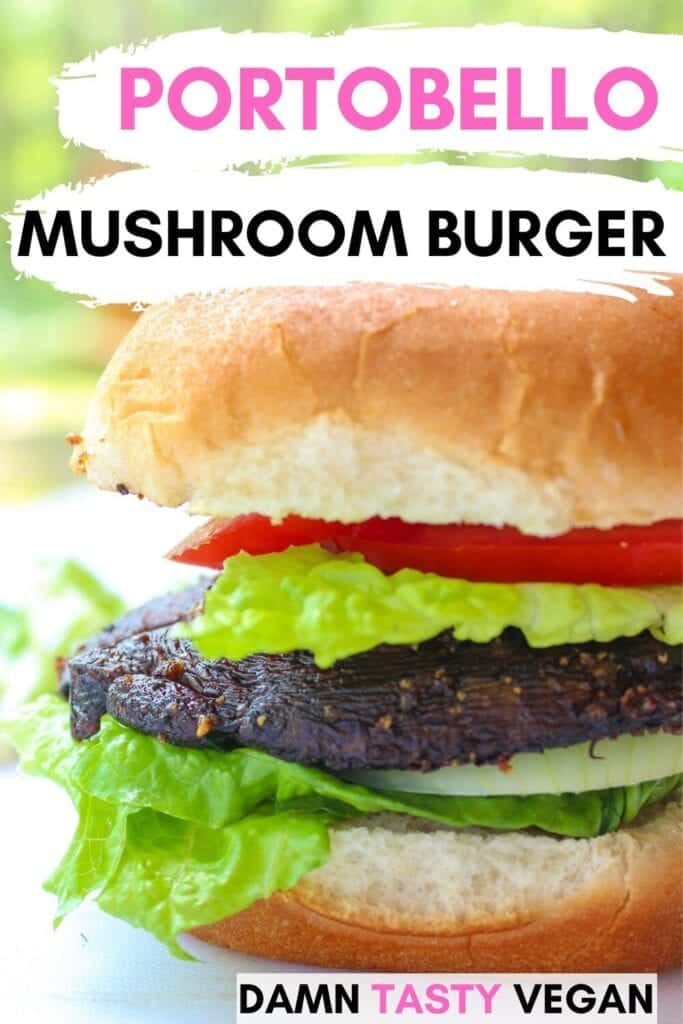 Grilled portobello mushroom burger (vegan)