Delicious tempeh recipe
This Nashville hot tempeh sandwich is gonna blow your mind. Great way to cook tempeh if you're new to it. Seasoned with a spicy, and sweet Nashville hot sauce and marinated in a tangy vegan buttermilk. Breaded and crisped up to perfection.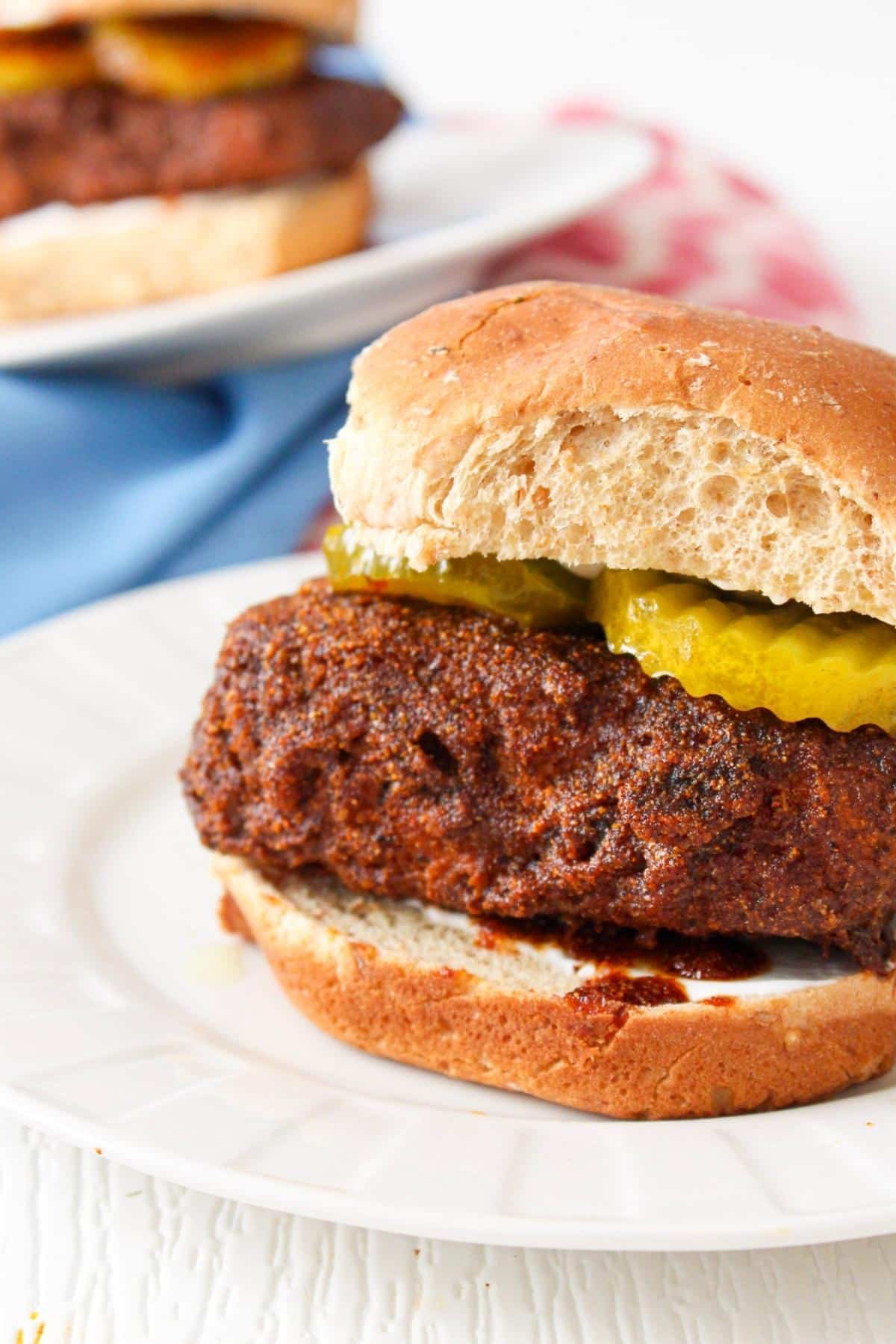 If you love the Nashville hot sandwich, but don't want to eat animals anymore, this is the perfect recipe for you.
There's no need to eat chicken for this recipe, tempeh is an amazing and healthy alternative.
If you want more tempeh recipes, make sure to check out this Mouthwatering Tempeh Vegan Reuben next!
This recipe is
Southern
Vegan
Mouth watering
Better than chicken
Meatless
Ingredients
Tempeh - I partnered with Hippie Farm Foods for this recipe. I used their seasoned Nashville hippie hot tempeh and it took this sandwich to a whole new level. This added an amazing extra layer of flavor.
I love their company because they're vegan and they focus on sustainability and using locally grown, organic soy beans for their tempeh. They have an amazing community that lives together in Tennessee that makes the tempeh and other healthy foods from scratch. They've been in the business of creating healthy and high quality foods for over 45 years!
All purpose flour
Garlic powder
Onion powder
Old bay seasoning
Smoked paprika
Chipotle chili powder
Cayenne pepper
Brown sugar - This is used to sweeten the Nashville hot sauce a little bit. That mix of spicy, smokey and sweet is amazing in this recipe.
Unsweetened and plain soy milk
Lemon juice
Hot sauce
How to make vegan buttermilk
The first part of this recipe involves marinating the tempeh in some vegan buttermilk. Vegan buttermilk is really easy to make.
Grab two cups of unsweetened and plain soy milk. Soy milk is the best to use because it has a nice fat content, and it thickens the best.
Then add a tablespoon of lemon juice. Stir it up and let it sit until it thickens. This should take about a minute or two.
What is tempeh?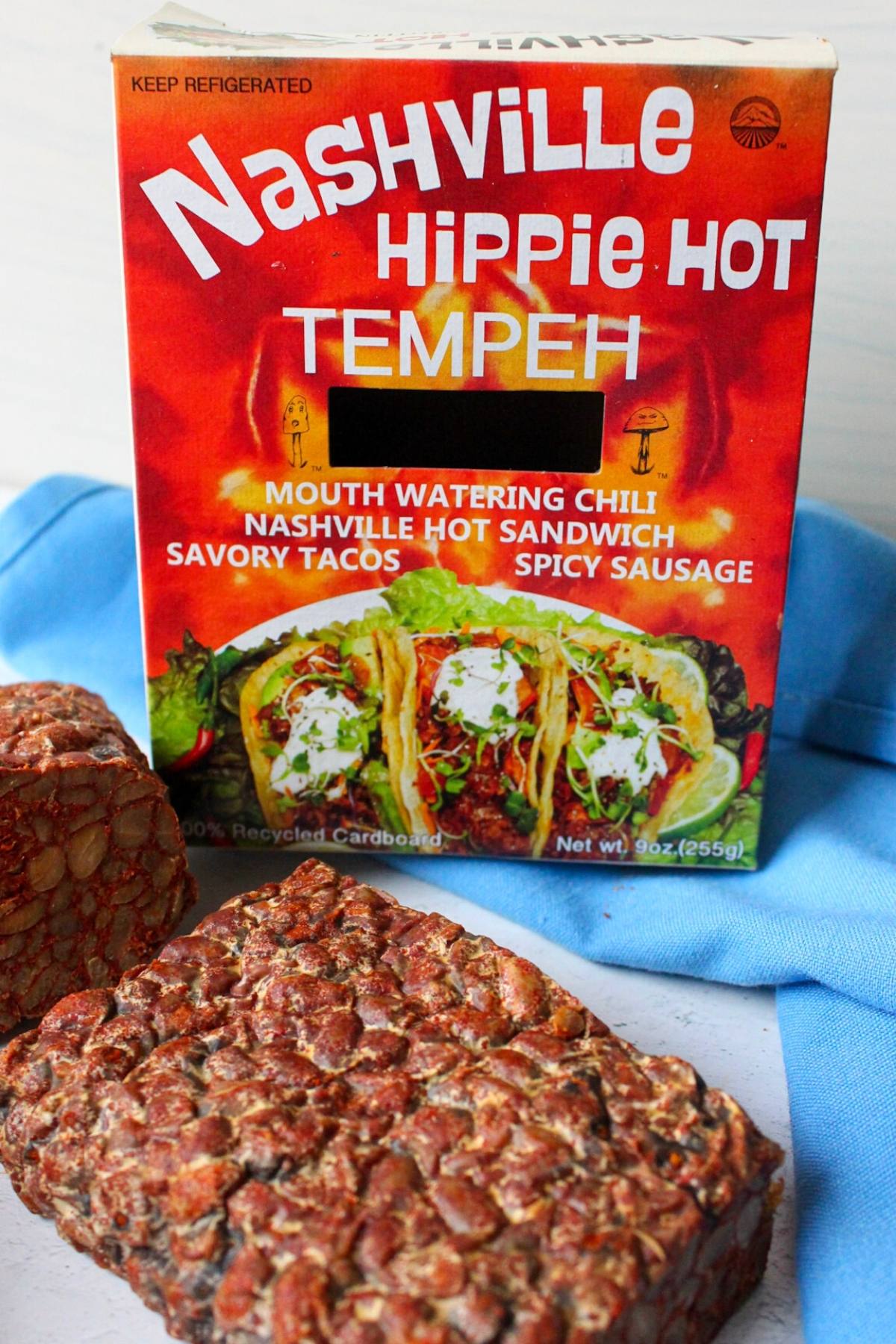 Tempeh is from Indonesia. It's made from fermenting whole soy beans. It's a healthy meat alternative because it's high in protein, vitamins and minerals like calcium and has zero cholesterol. (1)
They call it the "poor man's meat" in Indonesia because it's so cheap. Tempeh is an amazing, less processed meat alternative because they ferment the whole soy beans, instead of processing them.
If you would like some more tips on how to cook tempeh, click on that article.
Storing tips
I don't really recommend storing this tempeh, because it's been breaded and deep fried. It will become a little soggy when you reheat it.
If you make too much and need to reheat it, heat it up in the oven, at 400 degrees, to get it nice and crispy again.
FAQ's
Can I bake instead of deep fry?
I haven't personally tried it yet. But, you can always bake instead of deep fry. Use a high temperature, like 420 degree.
Bake the breaded tempeh for about 20-30 minutes, or until it crisps up.
The tempeh won't be as rich, but it will be a lot healthier for you.
Can I use an air fryer instead?
Absolutely! This is also a great way to cut down on the oil. Set the air fryer to 400 degrees, and air fry for 20 minutes. Then check on it and flip.
Cook it until the outside is nice and crispy.
Can I make this gluten free?
I haven't tried it using gluten free flour, but you can absolutely use an all purpose gluten free flour in this recipe if you want to make this gluten free.
Where can I buy tempeh?
Tempeh is usually found in the produce section of most grocery stores, where the refrigerated items are against the wall.
It can usually be found next to tofu and other plant based meats and cheeses.
Most health food stores carry tempeh and many large grocery stores carry it now as well.
You can order some Nashville hot seasoned tempeh from Hippie Farm Foods, which I partnered with to make this recipe.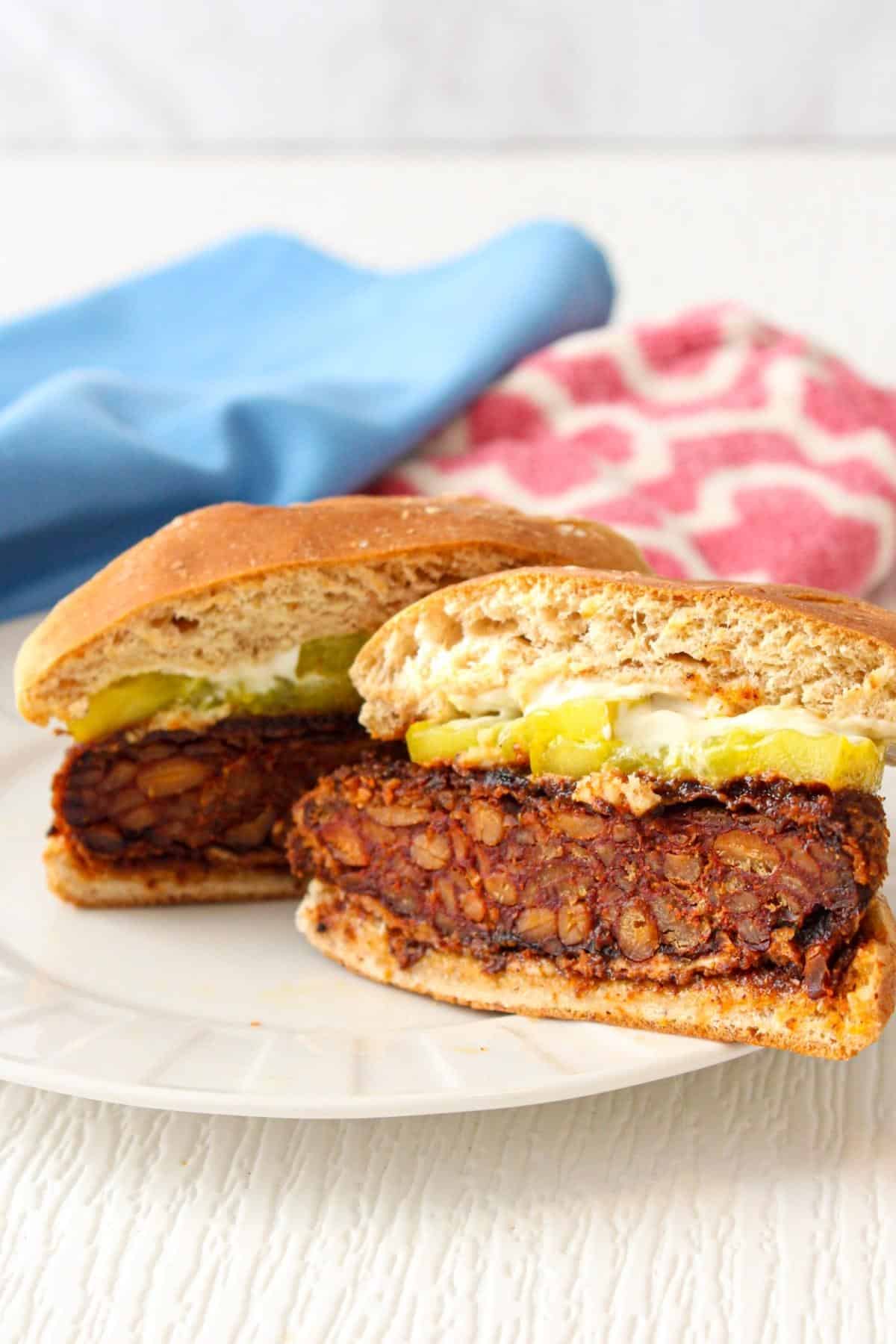 More recipes you'll love
📖 Recipe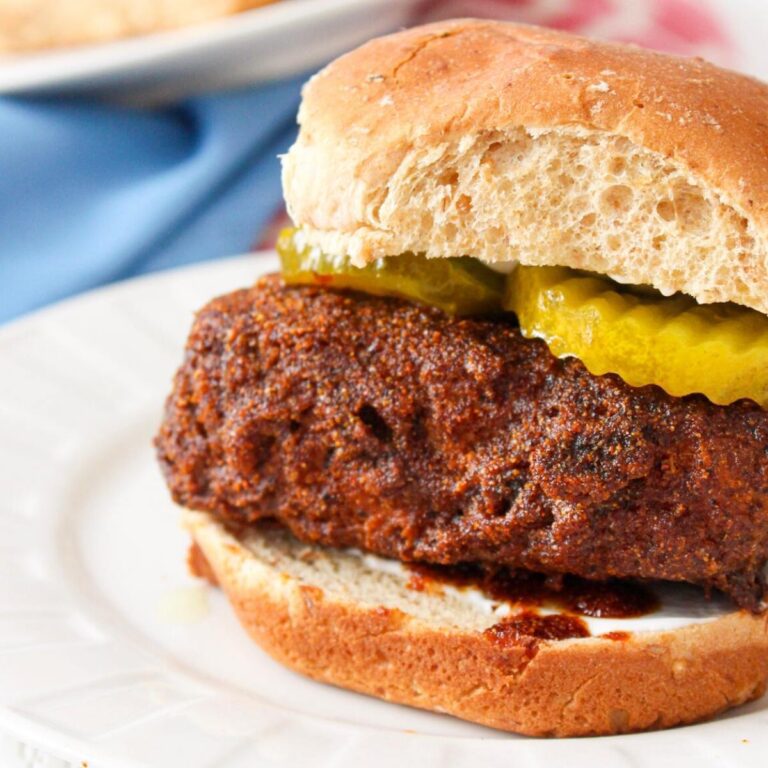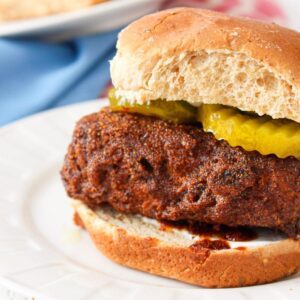 Nashville hot sandwich (vegan)
This Nashville hot tempeh sandwich is gonna blow your mind. Great way to cook tempeh if you're new to it. Seasoned with a spicy, and sweet Nashville hot sauce and marinated in a tangy vegan buttermilk. Breaded and crisped up to perfection.
Print
Pin
Rate
Ingredients
8

ounces

tempeh

(one package - see notes)

3-4

cups

oil

(avocado or vegetable)
Buttermilk marinade
2

cups

unsweetened plain soymilk

1

tablespoon

lemon juice

1

tablespoon

hot sauce

pinch of salt and pepper
Breading
1

cup

all purpose flour

1

teaspoon

garlic powder

1

teaspoon

onion powder

1

teaspoon

smoked paprika

1

teaspoon

old bay seasoning
Nashville hot sauce
¼

cup

cayenne powder

2

tablespoons

brown sugar

1

tablespoon

smoked paprika

1

tablespoon

garlic powder

1

tablespoon

chipotle chili powder

1

teaspoon

salt

1-2

cups

oil that you fried the tempeh in
Instructions
Prepare the buttermilk
Cut the tempeh in half - the short way. In a large bowl add the soy milk and lemon juice. Stir and let sit for one minute to let it thicken up. Then add the hot sauce, salt and pepper. Add the tempeh blocks in the marinade. Make sure they're completely immersed.

8 ounces tempeh,

2 cups unsweetened plain soymilk,

1 tablespoon lemon juice,

1 tablespoon hot sauce,

pinch of salt and pepper
Bread the tempeh
In another large bowl add the flour, garlic powder, onion powder, smoked paprika and old bay seasoning. Stir well.

1 cup all purpose flour,

1 teaspoon garlic powder,

1 teaspoon onion powder,

1 teaspoon smoked paprika,

1 teaspoon old bay seasoning

Once the tempeh has marinated for 10 minutes, pick up one of the blocks and let the excess buttermilk run off of it. Set it into the flour mixture and cover it. Gently press the flour into the tempeh.

Take the tempeh out of the flour, and put it back in the buttermilk one more time, completely covered. Then add it to the flour mixture again, completely coating it. Set it aside on a plate and do the same thing to the other piece of tempeh
Fry the tempeh
Add neutral oil to a skillet, enough that the tempeh will be completely immersed when fried. Turn on the heat to medium. Wait about 5-10 minutes for the oil to heat up. Test out the temperature by adding a small chunk of tempeh to the oil and seeing if it fries. Once it does, add in the tempeh pieces. Fry until golden brown. This took me about 10 minutes

Once tempeh is golden brown, set it on a wired rack to allow the oil to drip and not make it soggy.
Brush on Nashville hot sauce
In a small bowl, add the cayenne pepper, brown sugar, smoked paprika, chipotle chili powder and salt. Then add 2-3 ladle fulls of the oil from the frying pan. It will bubble up. Stir well

¼ cup cayenne powder,

2 tablespoons brown sugar,

1 tablespoon smoked paprika,

1 tablespoon garlic powder,

1 tablespoon chipotle chili powder,

1 teaspoon salt,

1-2 cups oil that you fried the tempeh in

Coat the tempeh pieces with this Nashville hot sauce. Add to a bun with vegan mayonnaise and dill pickles.
Notes
I used Hippie Farm Food's seasoned Nashville hot tempeh for this recipe. You can order them online and have it delivered right to your door, or if you live in the Nashville area, you can buy them from certain stores and restaurants. 
If you aren't able to order, or buy that type of tempeh, then use a plain tempeh. Simmer it in vegetable broth for 30 minutes, let it cool, then follow the steps in this recipe. 
The nutritional information on this website is only an estimate and is provided for convenience and as a courtesy only. The accuracy of the nutritional information for any recipe on this site is not guaranteed. It should not be used as a substitute for a professional nutritionist's advice.
If you liked this recipe, make sure to pin it to your favorite Pinterest board by clicking the image below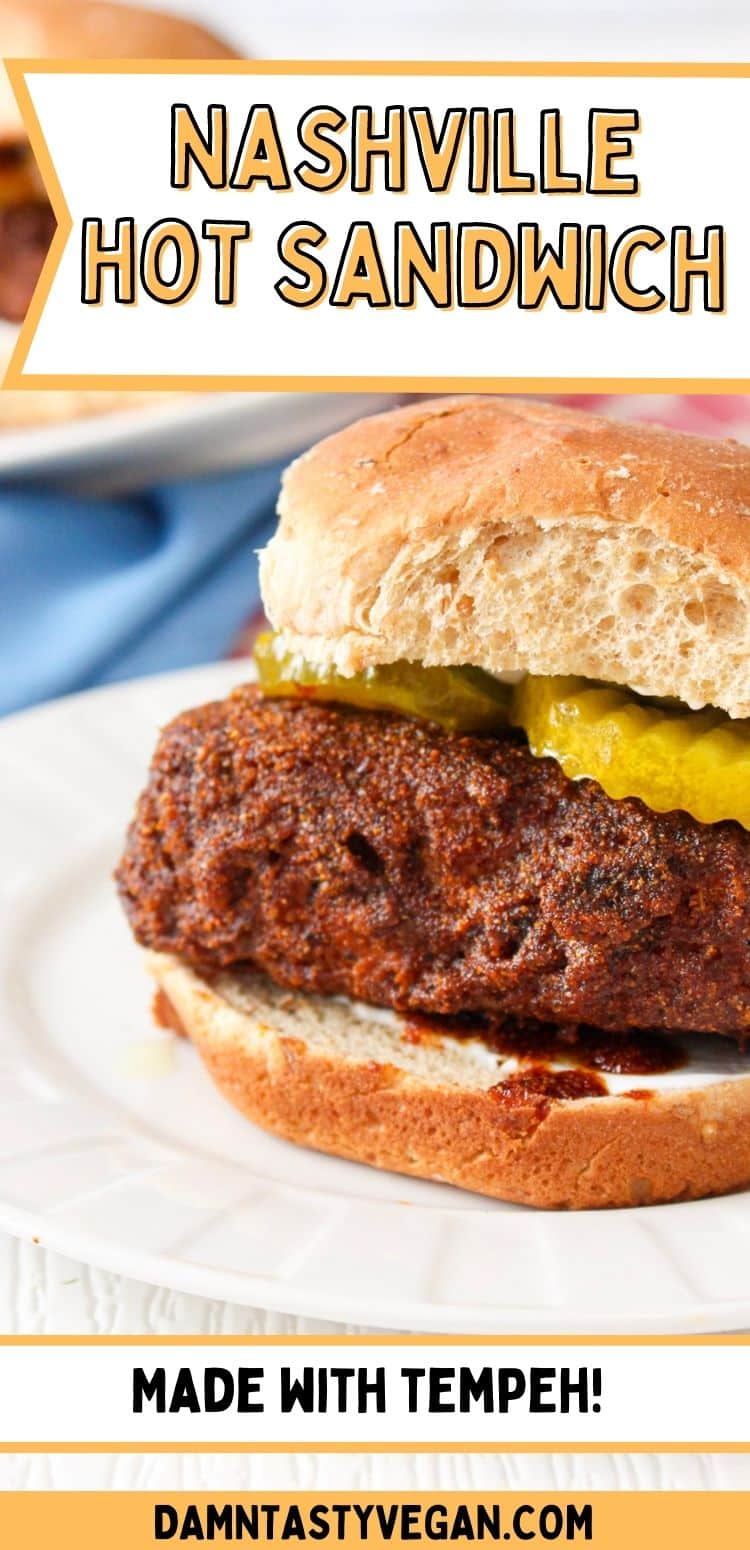 Nashville hot sandwich (vegan)