Easy beginner vegan holiday recipes
Just pour, mix and cook. Minimal chopping! Easy holiday recipes for new vegans.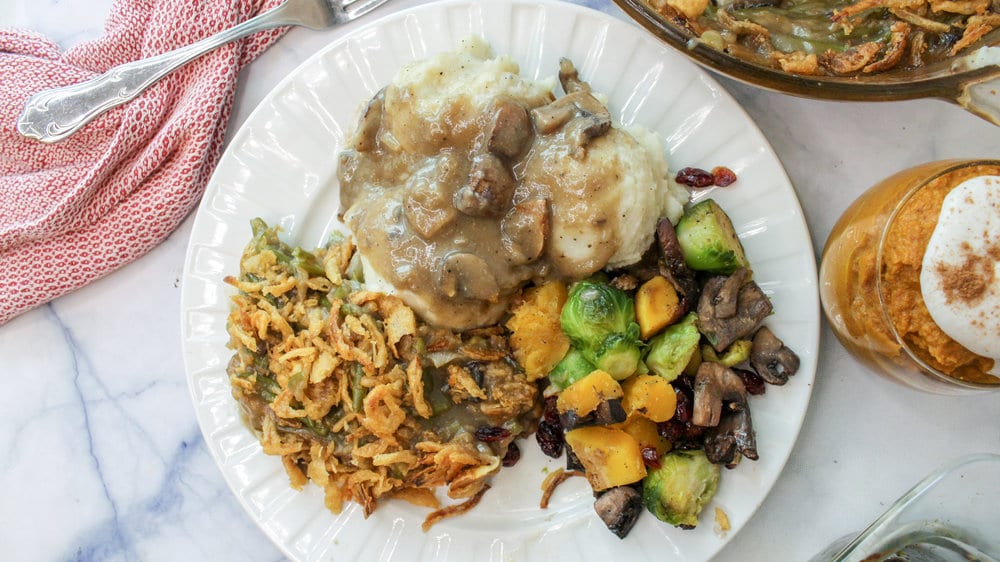 It's that time of year! Family, friends and food abound. If you've always been a bit overwhelmed with taking on holiday cooking, but want to give it a crack this year, this menu is perfect for you. I'm here to help! This is a great introduction to cooking for a bigger crowd. This serves 4-8 people.
Why is this menu so easy? It involves mostly dumping, mixing and cooking. That's it. We use frozen vegetables and pre-cut items, so there's minimal chopping involved. Frozen vegetables are packed with nutrients because they were packaged at the peak of their freshness. The only thing you chop are the onions and you can even skip this part by buying frozen, chopped onions.
This Vegan Holiday Menu is extremely easy to make and will satisfy hard-core meat eaters. You will be able to spend less time in the kitchen and more time playing card games. My family loves playing games when we're together (Euchre anyone?) Here is a look at what we're going to cook:
Creamy, Garlic Mashed Potatoes with Mushroom Gravy

Roasted Vegetables with Cranberries

Crunchy, Creamy Green-bean Casserole

Heavenly Pumpkin Mousse with Vegan Whipped Cream
Not shown is the main centerpiece. I recommend getting a pre-made vegan roast since it's insanely easy to prepare. Pop it in the oven and you're good to go. The two I recommend are Gardein Holiday Roast and Tofurky Holiday Roast.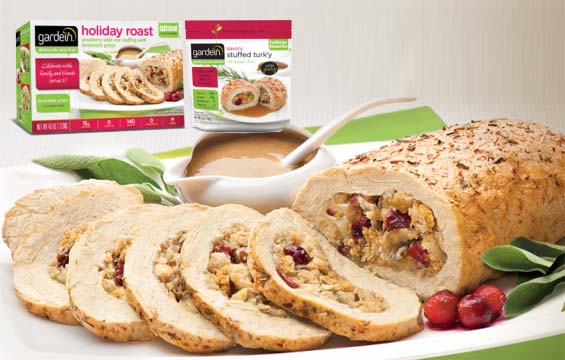 Garlic Mashed Potatoes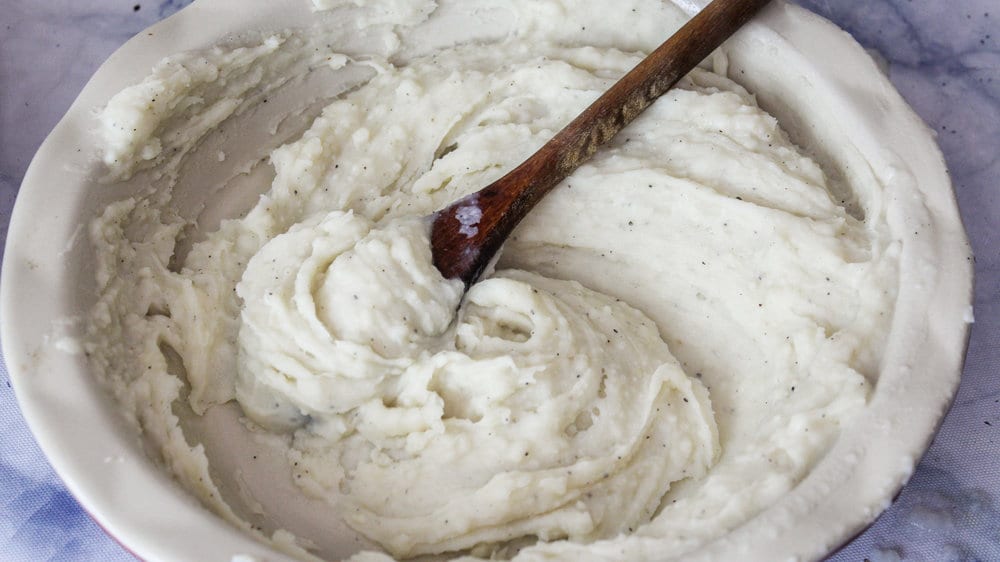 First thing on our list are creamy, easy garlic mashed potatoes with a mushroom gravy. This is divinely delicious. We're going to use Bob's Red Mill dehydrated potato flakes. The only ingredients are potatoes. No need to fuss with peeling, chopping, boiling and mashing. You just rehydrate them with some boiling water and add your spices and vegan butter. You would never know they were from a bag.
Ingredients:
4 cups of Bob's Red Mill potato flakes.

1 teaspoon of garlic powder

1 teaspoon of Salt

black pepper

2-3 TBL vegan butter

1 cup unsweetened plant milk

3 cups boiling water
Directions
1- Boil Water
2- Put potato flakes salt, pepper, garlic powder and vegan butter in a mixing bowl
3- Add boiling water and stir until smooth
4- Stir in the dairy-free milk
Mushroom Gravy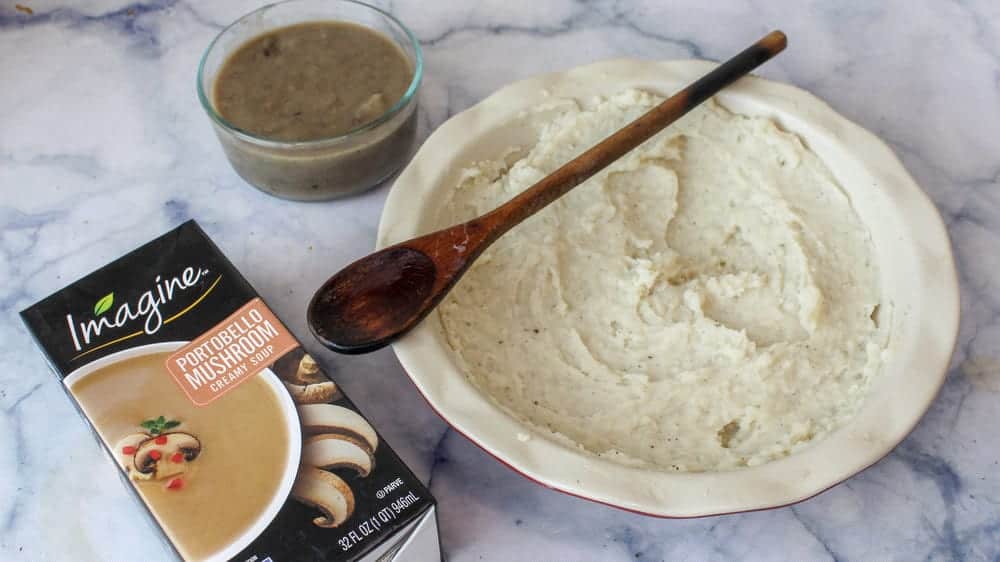 Now for the delicious mushroom gravy. To make this insanely easy, we'll be using this vegan creamy mushroom soup from Imagine. If you want to make this even easier, forgo the mushrooms and onions and just spice up the mushroom soup. Voila!
Ingredients
1 cup sliced mushrooms - white button or baby bella

1 medium onion chopped

2 TBL vegan butter

1 teaspoon salt

1 teaspoon pepper

2 teaspoon garlic powder

3 TBL corn starch or flour

3 Cups Imagine Portobello Mushroom Soup
Directions
2- put pan on medium low heat, melt the vegan butter
3- add the chopped onions for 3 minutes
4- add the mushrooms and cook until lightly browned
5- sprinkle on the salt, pepper garlic powder and corn starch and mix well
6- add the mushroom soup in and stir until it thickens
Green Bean Casserole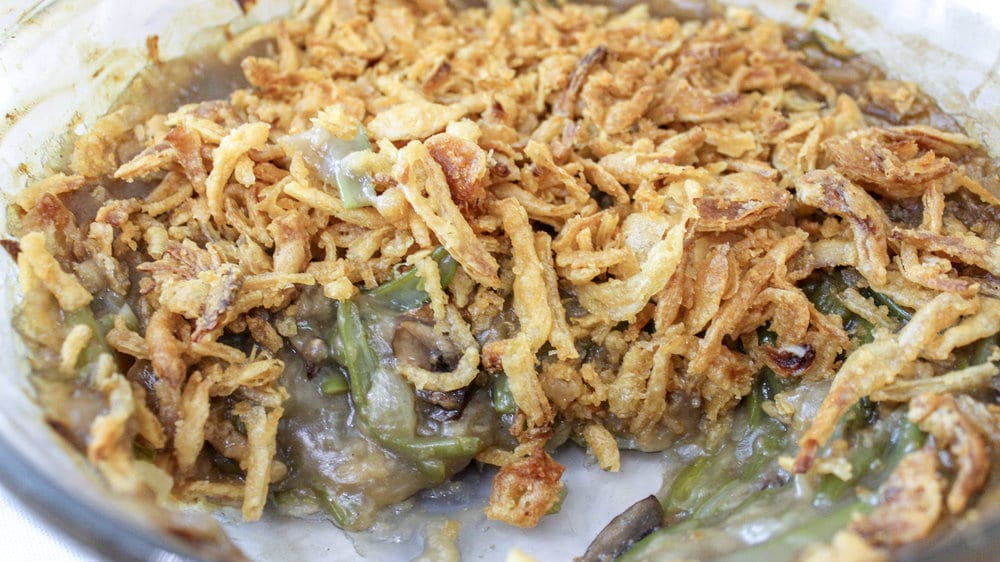 Next up we have our green bean casserole. We will be using some of the mushroom gravy for this, so most of the work is done! How great is that?
Ingredients
2 12oz bags of frozen french cut green beans

2 cups fried onions

1.5 cups of mushroom gravy that we made for the mashed potatoes
Here's how easy this is
1- Put bag of frozen green beans in casserole dish
2- Mix in 1.5 cups of the mushroom gravy
3- mix in a handful of fried onions
4- cover and bake at 375 degrees for 35 minutes
5- uncover and top casserole with rest of onions - cook for 5 minutes
Roasted Vegetables with Cranberries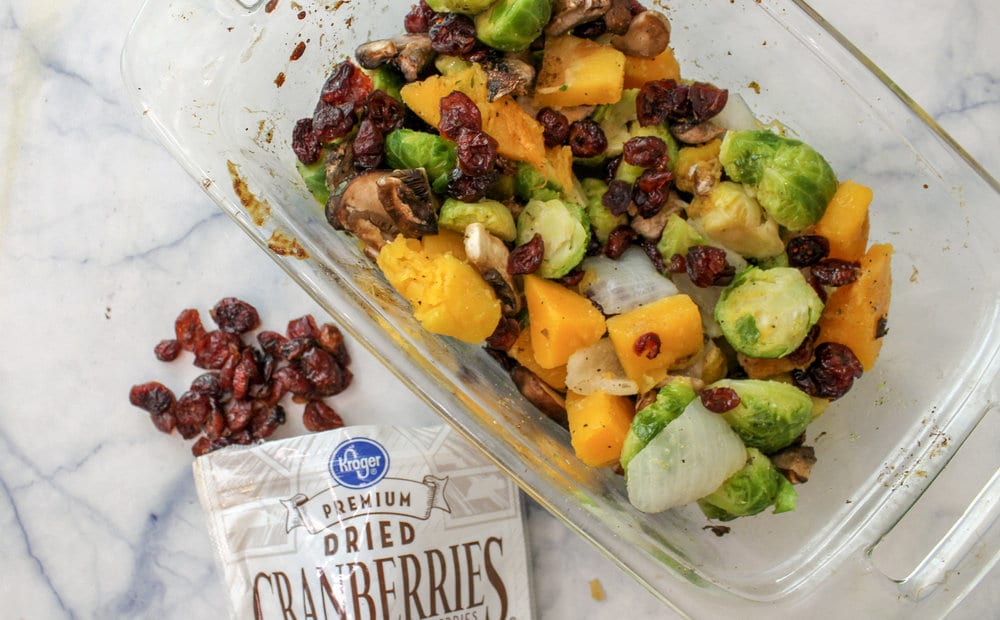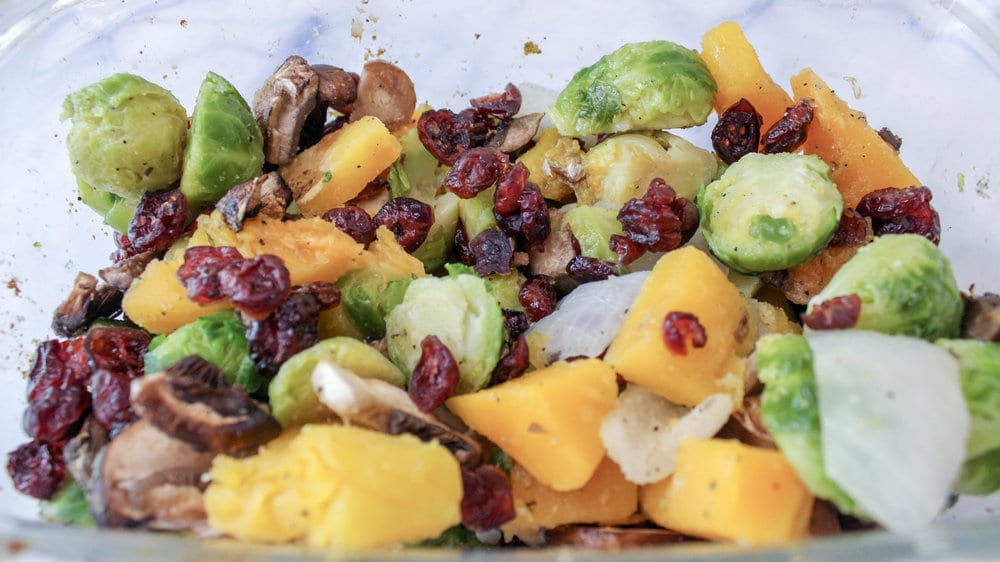 Here we are folks, on to a vegetable dish. For this, I used a frozen roasting vegetable blend that had butternut squash, brussels sprouts and onions. If you can't find a blend like that, get a bag of each vegetable separately. You can always find frozen butternut squash cubes and brussels sprouts. If you don't care for that, use whatever veggies you like
Ingredients
1-2 bags of roasting frozen vegetable blend

1 TBL olive oil

1 TBL garlic powder

1 teaspoon salt and pepper

handful of dried cranberries
Directions
1- Place frozen veggies in mixing bowl
2- Drizzle over olive oil, then sprinkle on the garlic powder and salt
3- Place on lined or oiled baking sheet and bake at 375 for 25-30 minutes
4- When veggies are done cooking, put in serving bowl and stir in dried cranberries
Dessert (2 options)
(for Thanksgiving)
Or
(for Holiday Dinner)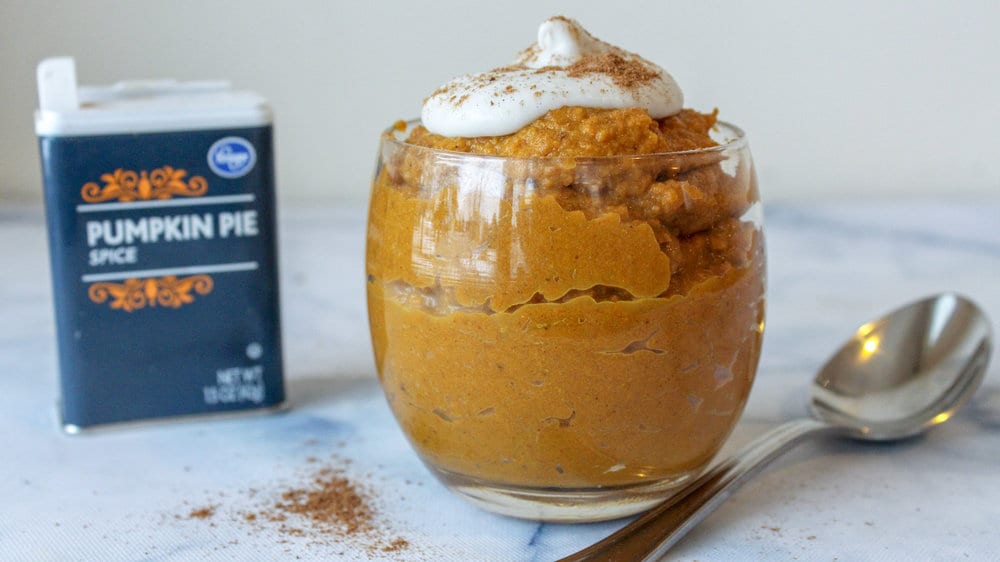 This is way easier than baking a pie. Now, if you want to skip dessert and just go buy a pie, feel free. Whole foods has vegan pumpkin pies for sale. You've done quite enough already. But if you would like to give a crack at dessert, this is as easy as it gets.
Easy Pumpkin Mousse parfait in less than 10 minutes
Ingredients
3 15oz cans of pumpkin puree

Vegan granola - just look for granola made without dairy or honey

1 cup of sugar

2 cans of coconut cream

2 TBL pumpkin pie spice

1 teaspoon vanilla extract

Vegan whipped cream
Directions
1- Separate water from the cream in the can of coconut cream. It works better if you put the cream in the fridge over night
2- Blend all ingredients together in a mixing bowl. You're Done!
3- Place in small wine glasses and top with vegan whipped cream
For your holiday dinner, mix things up a bit with a super simple chocolate mousse. It's just three ingredients! Click the title above for the recipe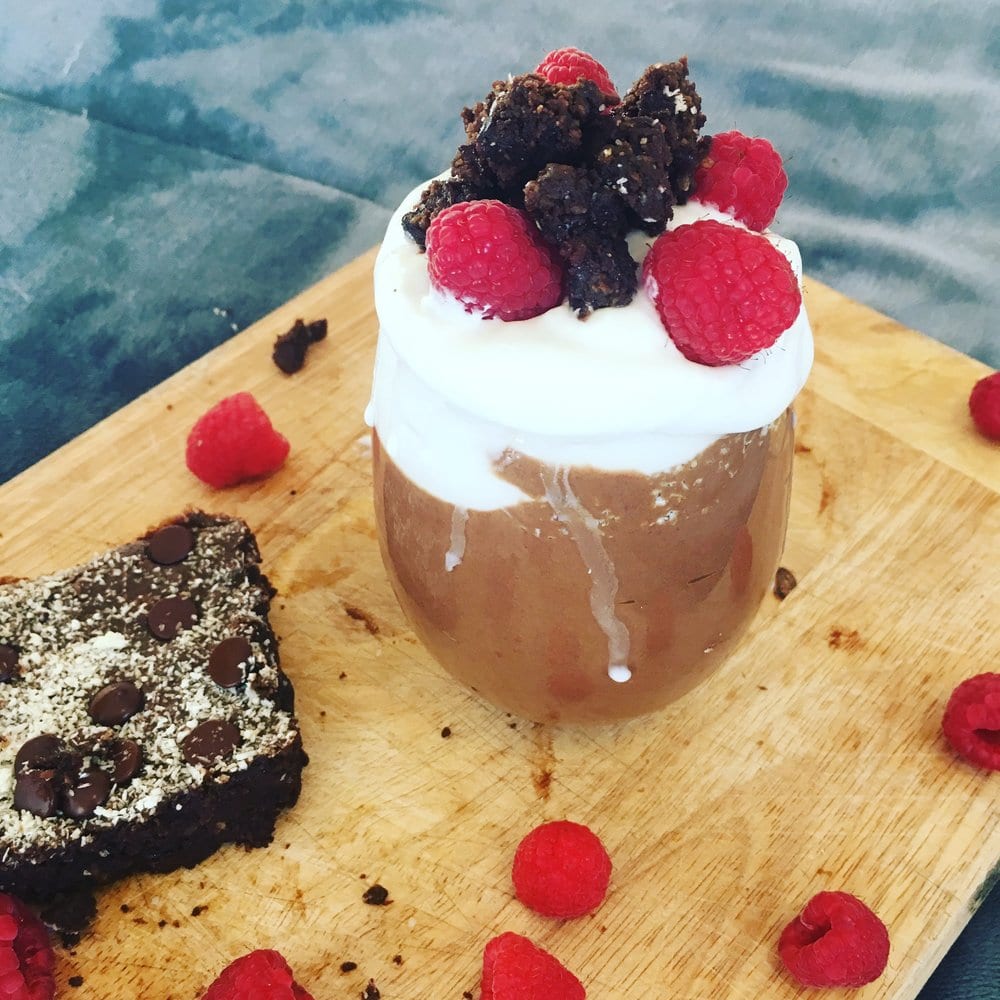 And there you have it! Wasn't that easy? Let me know how you enjoyed this menu in the comments below. Have a great holiday season!
Easiest Vegan Holiday Dinner You'll Ever Make