How to make vegetables taste good
Whether you're a meat-eater that thinks of vegetables as an after thought, or a junk food vegan, we can all benefit from adding more vegetables to our diet. How to make vegetables taste good so you eat more.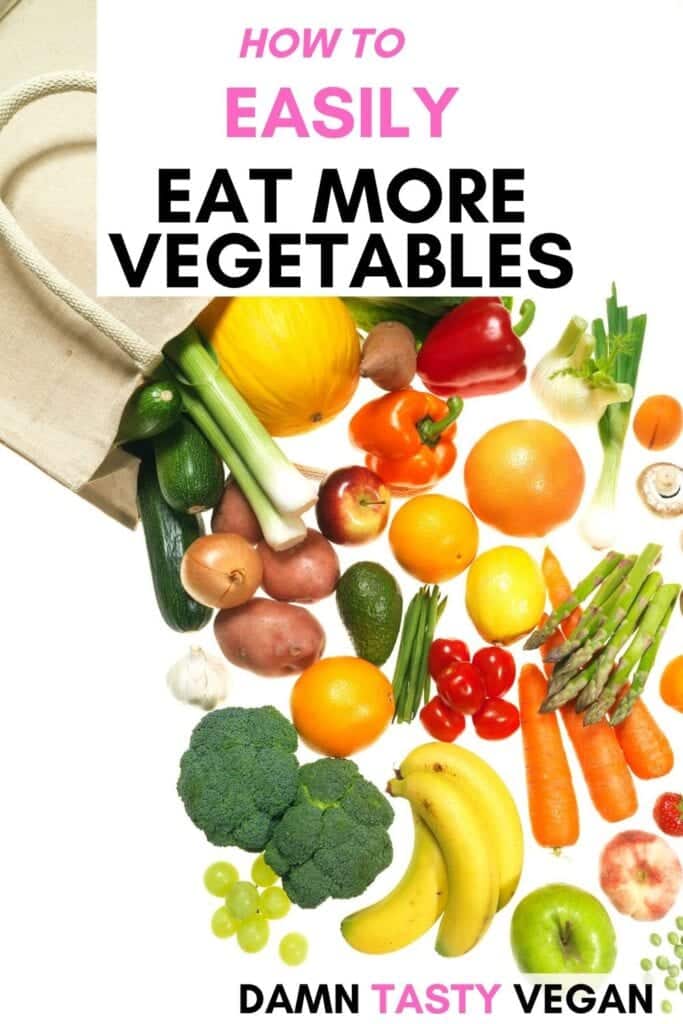 Only 3% of Americans get enough fiber in their diet. This is about more than weight loss, it's about adding more nutrient dense foods to our diet. Foods that help protect against certain diseases and illnesses.
1. Get your mindset right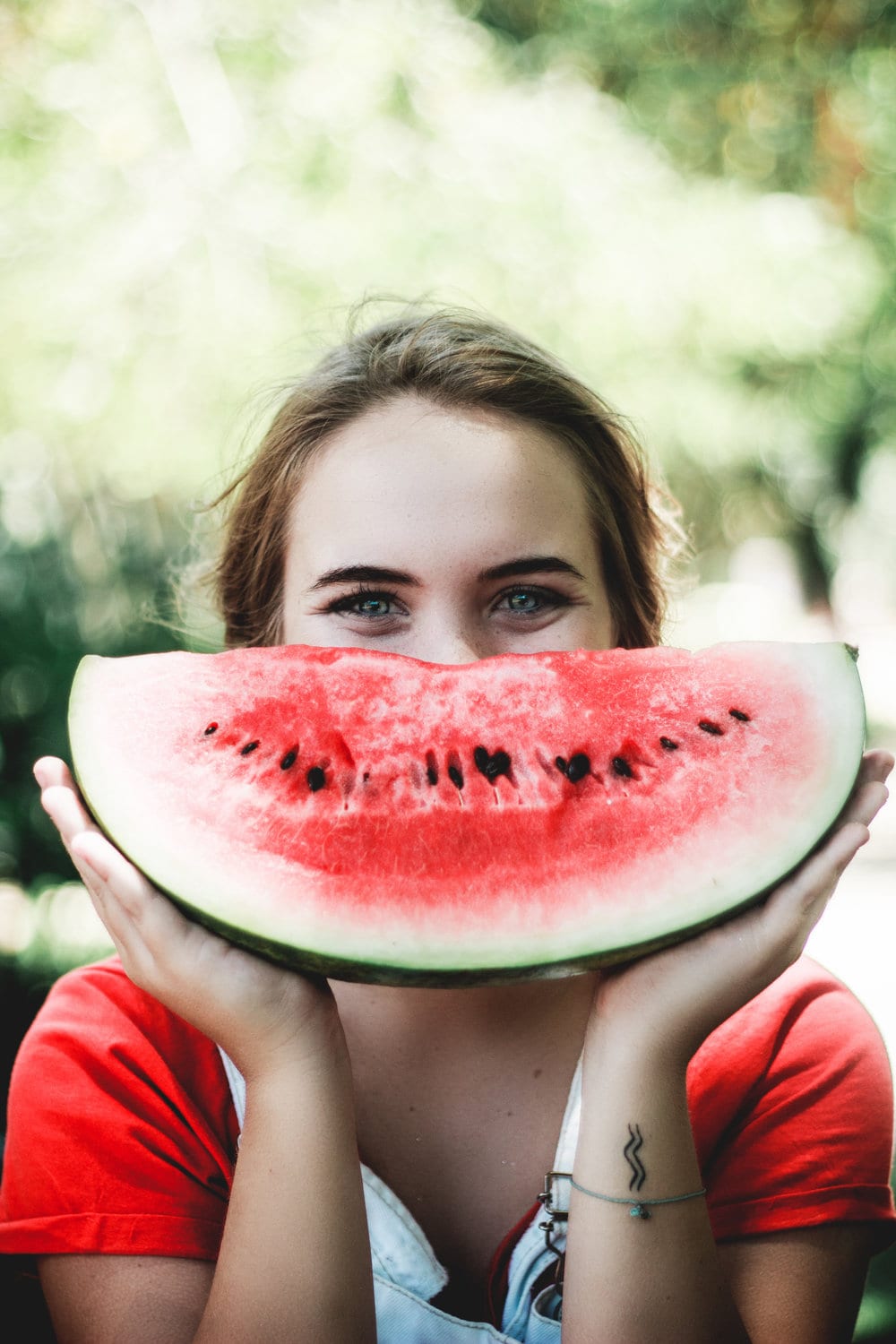 Depending on will-power sucks. We've all been there: through sheer will-power we commit to a lifestyle change for a few weeks until it gets difficult or boring and we fall into the nearest bag of potato chips.
White-knuckling your way through it with sheer-will only gets you so far. What will really help is to change your mindset. Re-frame your thoughts to look at vegetables differently.
Instead of thinking of vegetables as a gross, tedious chore, re-frame your mind to look at vegetables as antioxidant, phytonutrient-rich mineral bombs.
I highly recommend reading the book How Not To Die by Dr. Michael Gregor. It's packed with peer-reviewed scientific studies that show how the foods we eat can help protect and even reverse certain diseases.
Dr. Greger also has a tremendous YouTube channel with bite-sized videos that go over the research if you're more of a visual learner
For instance, did you know that five white button mushrooms a day can possibly help suppress breast tumor growth? That cruciferous vegetables and the garlic and onion family are all-stars with helping to protect against certain cancers as well?
Instead of looking at that kale salad as a gross, healthy chore, imagine it entering your body and fighting off all sorts of nutrient deficiencies and diseases.
2. Start with your favorites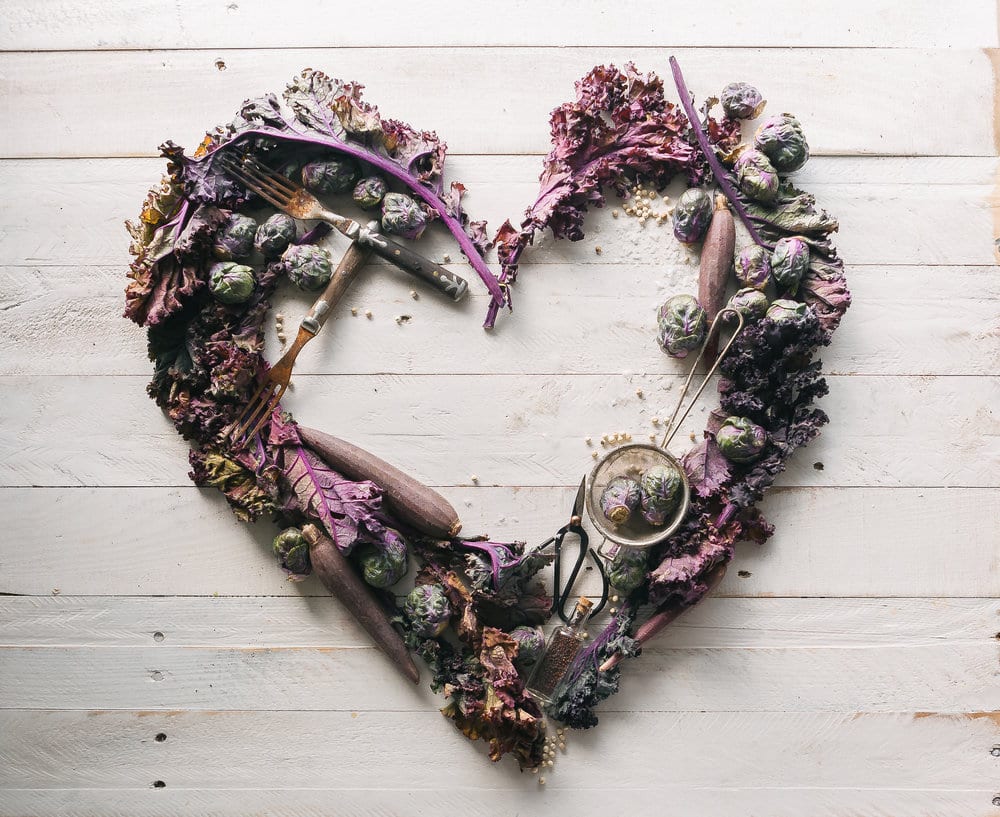 Start creating a positive relationship with vegetables by stacking your fridge up with your favorites. Always keep them on hand and ready to go, even if the only thing you like are carrots.
Spend one night a week chopping up and washing your produce to make it as quick, convenient and easy as possible to eat.
3. Snack only on colorful fruits or veggies for a week & have them ready to eat.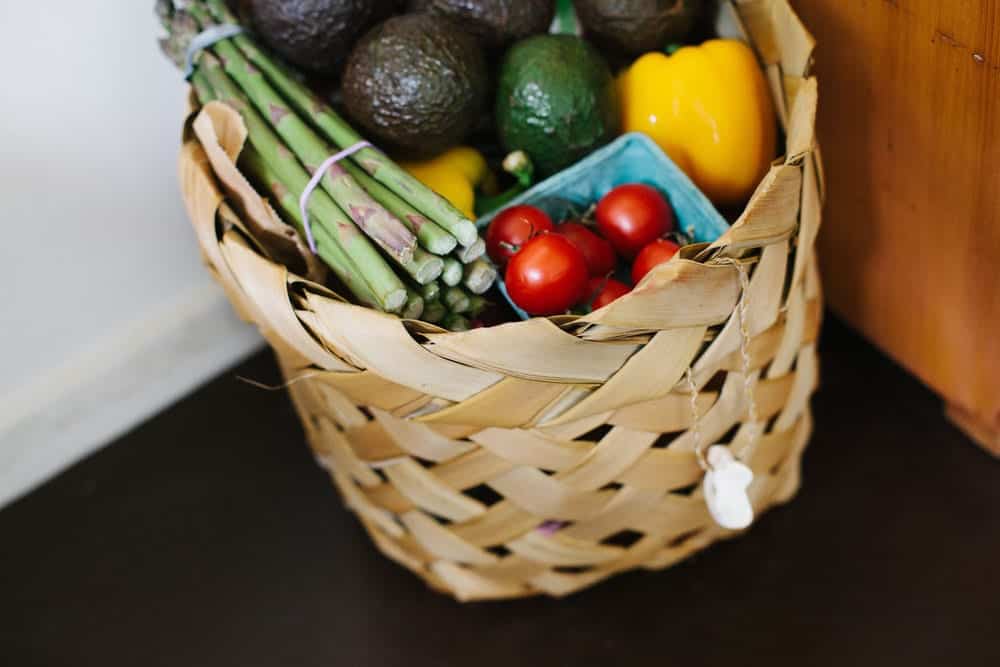 Now that you have your fridge full of your favorite veggies, go ahead and reach for them when you have a snack attack.
Instead of stressing out on how to cook whole meals with veggies, just try snacking on them. Try it for a week. You will start to get creative with the veggies and slowly acquire a taste for them.
Don't worry about making them healthy. However you need to eat them, eat them: with hummus or your favorite fatty veggie dip, or any other way that makes them tasty to you.
What you see, you usually reach for. So, make sure that you prep all your snacks and have them out and ready to go.
4. Eat one vegetable per meal
Next step is to add just one vegetable to your meal. Potatoes don't count. I think we already effortlessly eat potatoes. Let's try to expand our taste.
Instead of making big, ambiguous goals like "eating more vegetables" try just ading one vegetable at every meal. You'd be surprised how many meals we go without eating any at all.
Look at the color of your meals. Are they predominately brown? Make sure to add some colors to your dish. The more colorful and beautiful, the better.
Throw in some spinach to that pasta, add broccoli to your mac & cheese, sautée some spinach with garlic, salt and a little olive oil and have it as a savory addition to any meal.
5. Learn how to cook them right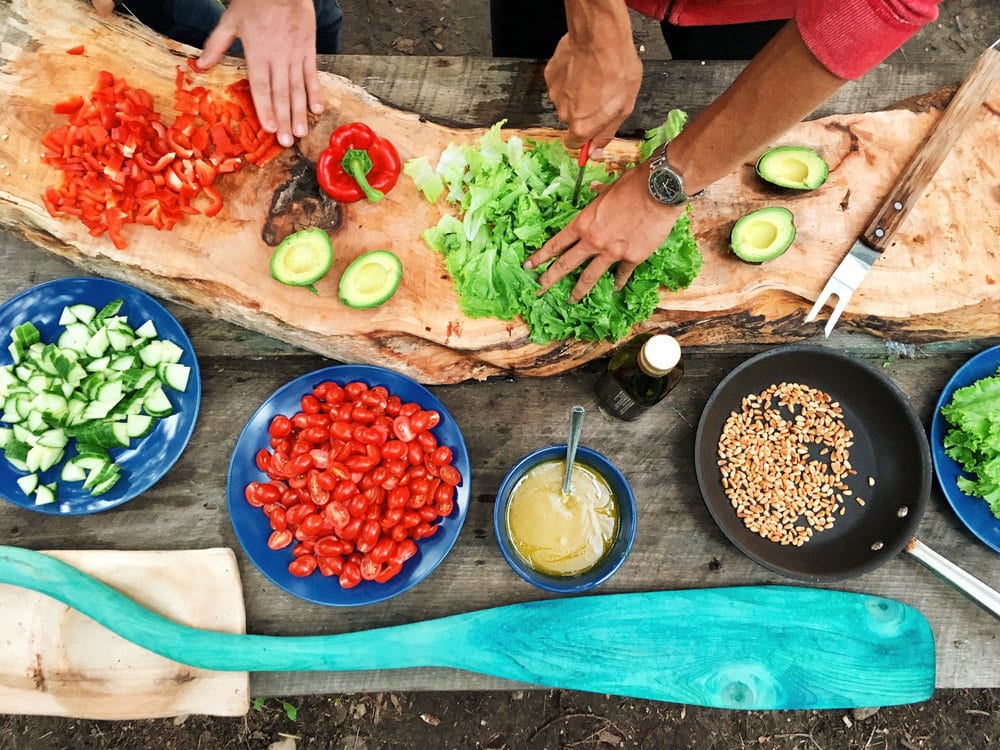 Most people who say they hate vegetables have never had them cooked right. For the love of god, please don't think the only way to cook them is to steam them. BORING! Try out different cooking methods.
You can use the same cooking and prep methods that you use on meat.
Marinate them in the same sauces that you would meat and grill them up!
Season them up the way you would meat!
Roasting vegetables brings out the delicious sugars in them and makes them more appealing.
Sauté them with a little bit of oil, salt and garlic. Holy guacamole! Take a little time to watch some YouTube videos with vegetable-based dishes or side dishes. You'll be inspired in no time.
6. Hide them in smoothies, baked goods or cover with delicious sauces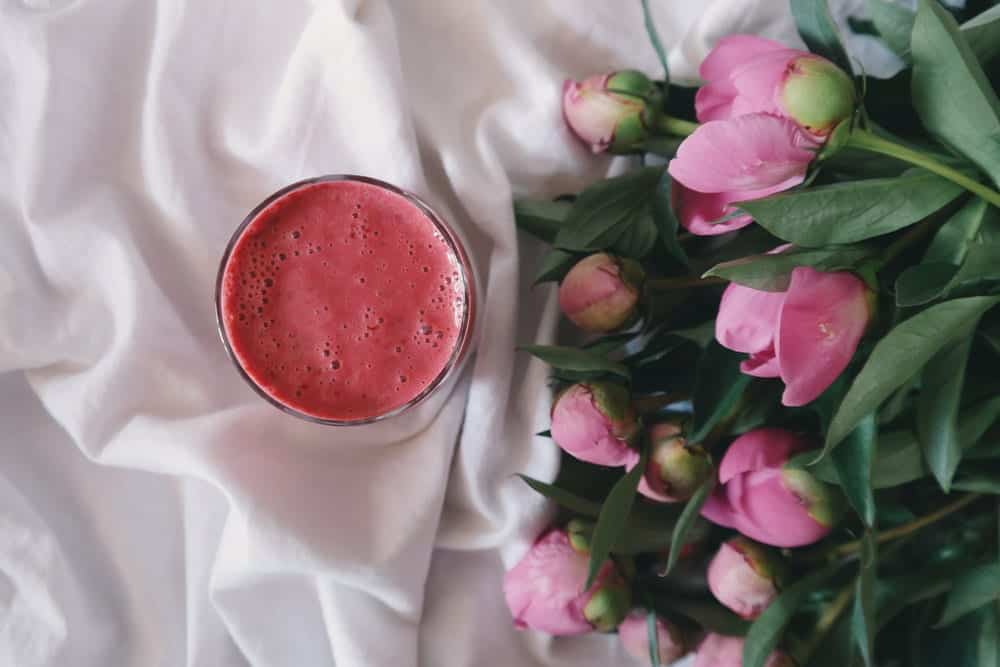 If you really can't stand the taste of vegetables, or you have picky eaters in your family, you can start by hiding them.
Yup! You can put zucchinis and sweet potatoes in baked goods. Cover them in your favorite sauces. Throw a boat-load of greens into a sweet, fruit-heavy smoothie. The fruit will mask the flavor of the greens.
Hide them in your favorite flavors and dishes.
7. Add a cooked green to lunch or dinner
If you're having pasta, throw in some peas, or steamed broccoli. Add sautéed spinach & garlic to the side of a main dish. Sautée some kale and throw it in your lasagna.
Cooked greens are great to add to dishes because they don't overpower a dish. They're loaded with nutrients and it's an easy way to up your vegetable intake.
Remember: garlic, a little olive oil and salt are a green vegetable's best friends.
8. Try to have at least one vegetable-centered meal a week
A great way to eat more veggies is to look at them as a main dish instead of a side dish.
Just hop on Youtube or google vegan meals and make sure they're vegetable based: Cauliflower steaks, roasted vegetable casserole, portobello burgers.
Make sure to eat a whole foods fat like avocados, nuts, tahini or a teeny bit of oil with these meals. The fat will make you more satisfied like a meat-centered meal would.
The fats also help you to digest the fat-soluble vitamins in many vegetables.
9. Add savory toppings to your salads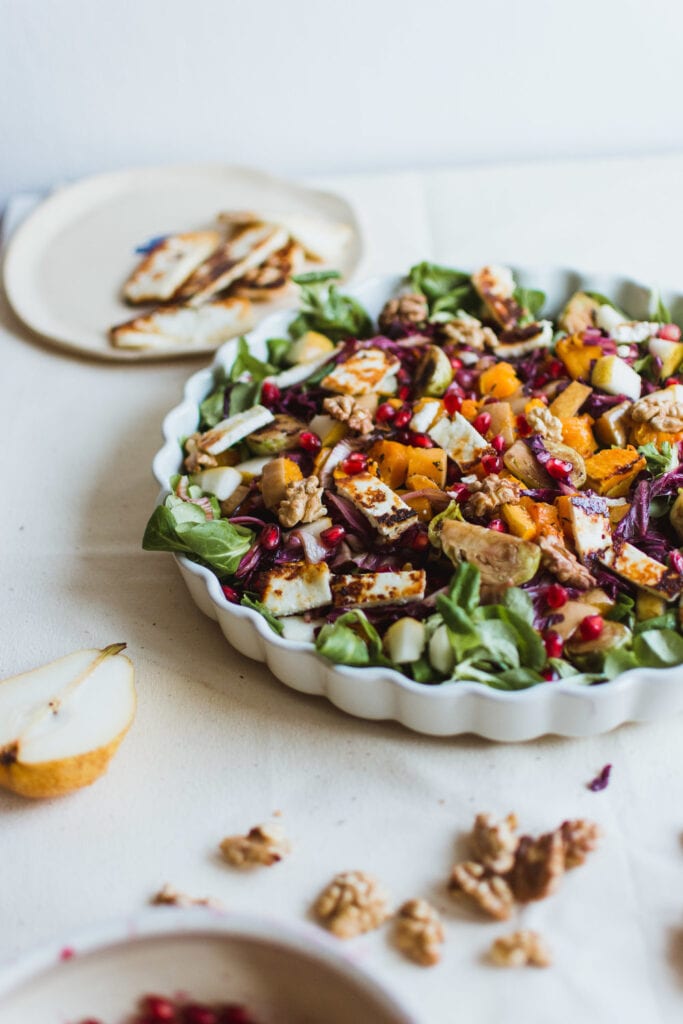 Be gone, boring ice burg lettuce with a watery, fat free dressing! No thanks!
Do everything in your power to make your salad as drool-worthy as possible. Salads are the quickest way to get in massive amounts of produce.
One way I do this is by putting savory toppings on my salad like roasted potatoes or my delicious buffalo tofu bites ! 
Hell yes! Here are some other options: black beans, seasoned and roasted chickpeas, roasted nuts, avocado, or Vegan mock meats like Gardein Crispy vegan Chicken.  
Are you starting to get the picture? Put delicious items on top of your salad to make it more interesting and savory.
Don't forget to also sneak in the more nutrient-rich veggies in there as well like spinach, kale, red cabbage, onion, bell peppers.
Here is your chance to painlessly get some major nutrients and associate veggies with deliciousness and satisfaction.
And there you have it! I hope these tips will help you to effortlessly eat more vegetables and get you feeling your best.
Leave me any questions or comments below!
Happy Munching
Loved this post? Pin the image below to your favorite Pinterest board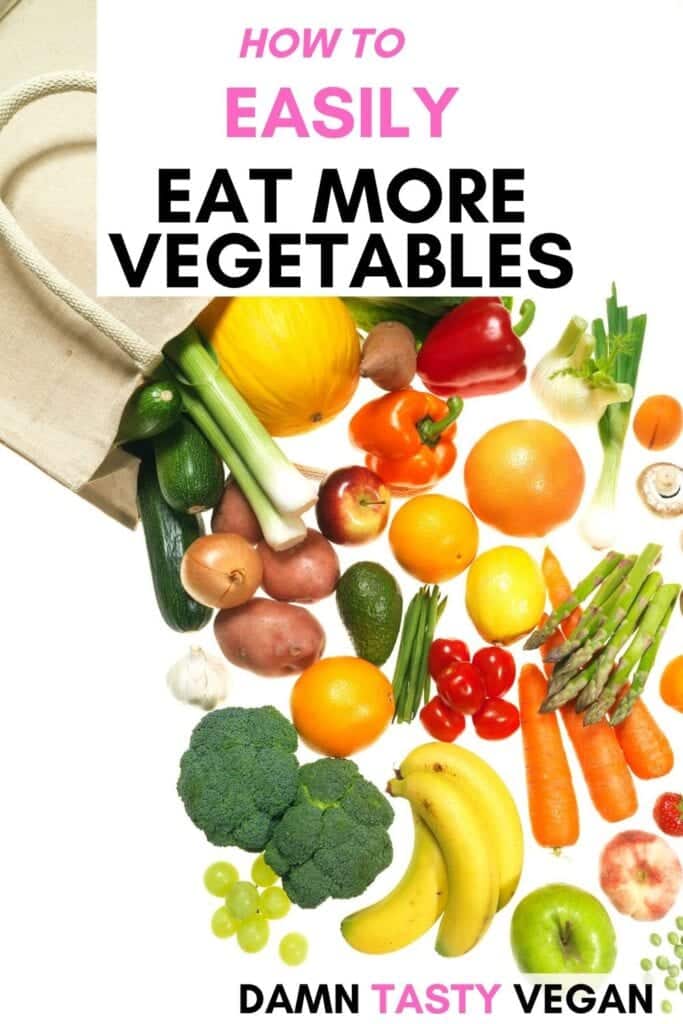 How to easily eat more vegetables