How to order vegan fast food in 2023
Vegan fast food options you never knew were there. I show you exactly what I say to be able to order vegan food at many common fast food chains like taco bell, burger king, KFC and more!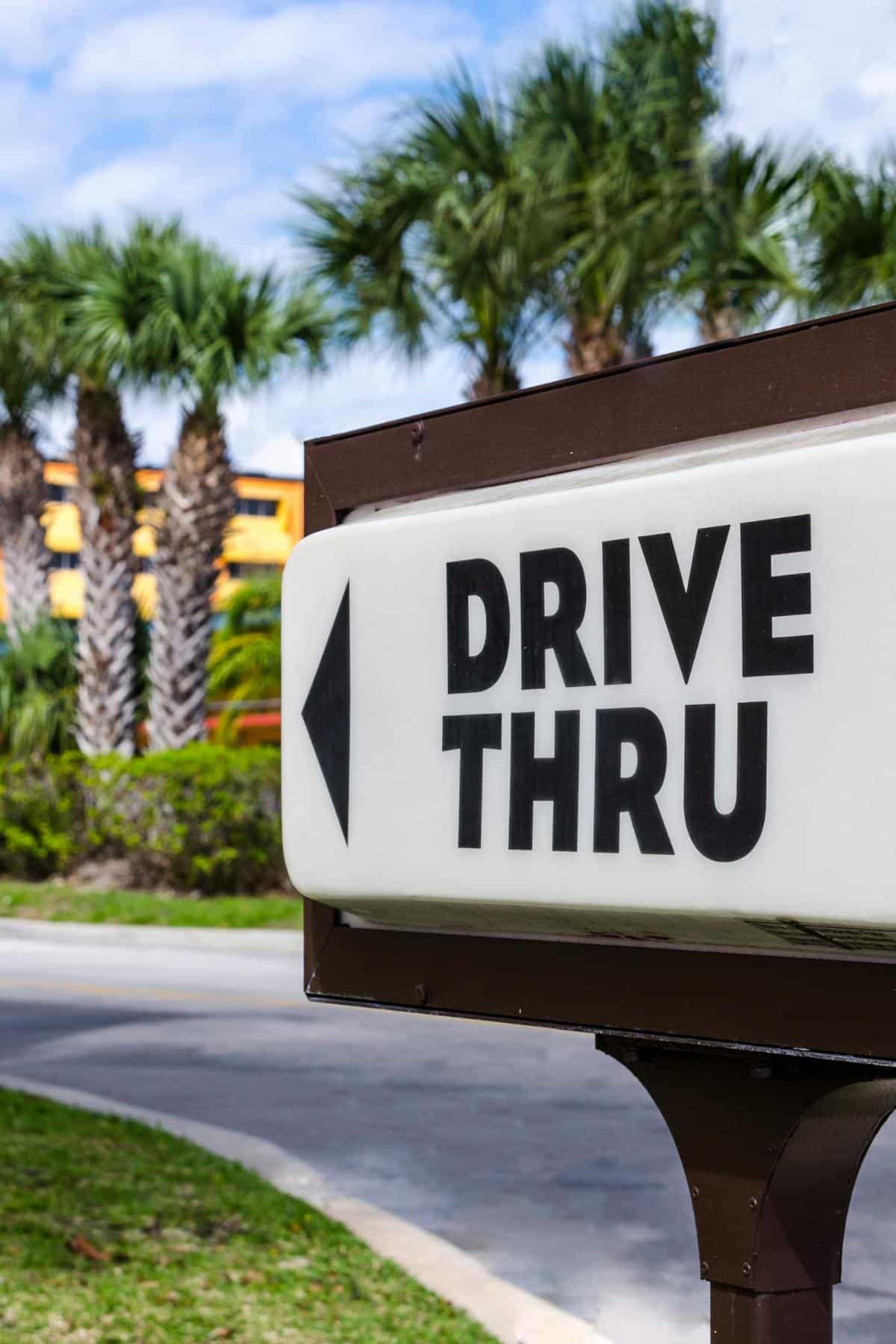 Jump to:
🥗 Tips for ordering vegan fast food
I have traveled all over the U.S. as well as internationally. I can always find vegan fast food options when I'm traveling and need something fast and convenient, because I've learned what fast food restaurants offer vegan options.
Some tips I have for eating vegan on the road is to:
Learn how to order vegan at fast food restaurants that you find everywhere and are easy to order vegan at (like Taco Bell, Chipotle, Burger King and more). I will give you the ones I eat at instead of overwhelming you with every single option at every restaurant. That way, you can always find something vegan, even if you're in the middle of nowhere.
Any item on the menu can be substituted or adjusted. If something has dairy on it, you can ask for it to be taken off. If something has meat, see if they have any vegan meat options available or (like with Taco Bell) replace it with beans.
Order through an app if that is available. It's easier to adjust and the employees are less apt to make it incorrectly.
Bring along supplemental items that may help like hummus, vegan mayo, vegan cheese, non-dairy vinaigrette.
Don't be afraid to ask what vegan options they have.
Look at their menu online before going.
Order a side salad to help make the meal more filling.
If you'd like more ideas on how to eat vegan on the road check out the blogpost in the link.
🌮 TACO BELL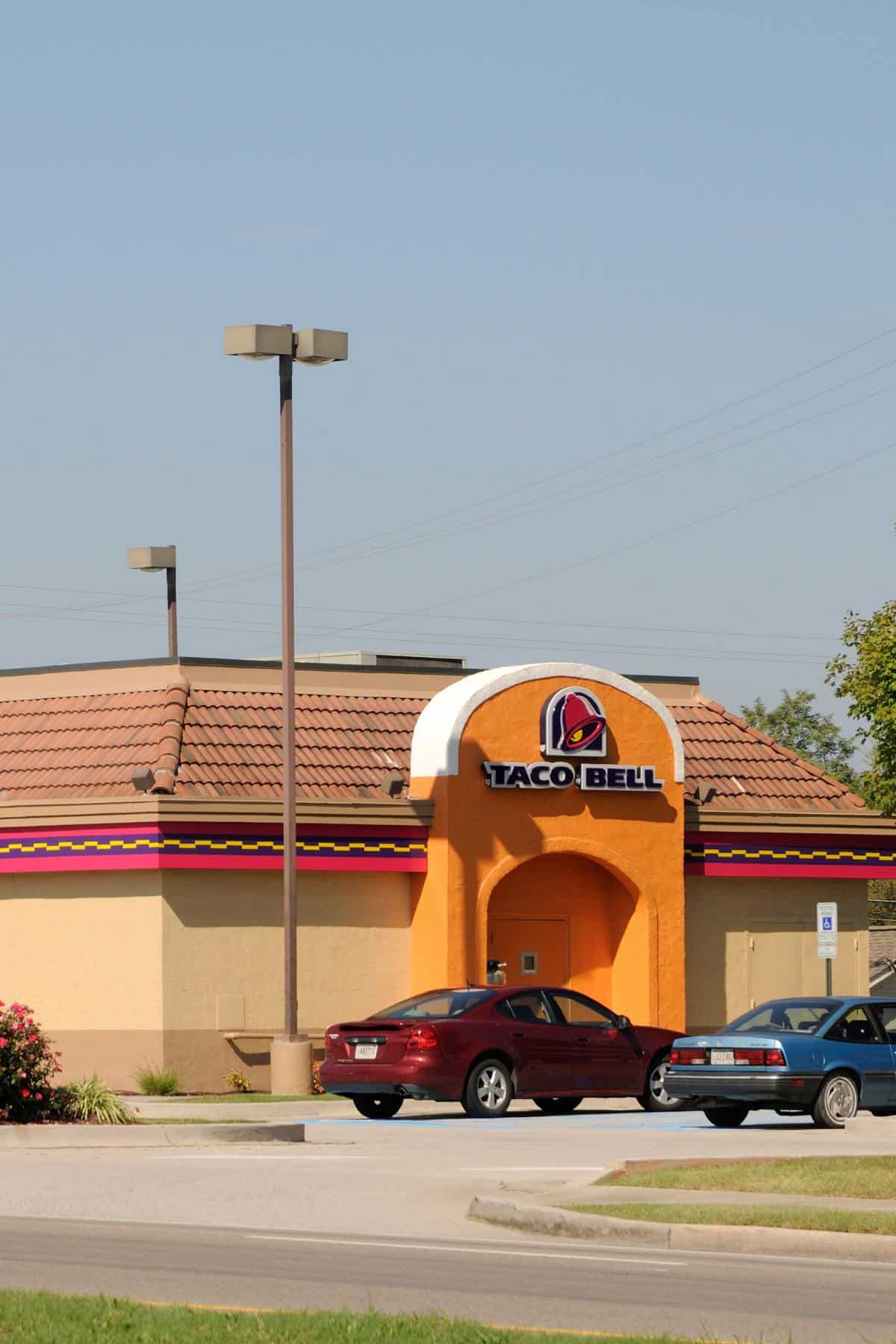 This is by far the best and easiest fast food restaurant to eat vegan on the road. They are everywhere and are very friendly with vegans. You just have to order these without cheese and sour cream.
When you say you want something "fresco style" it means they take the sour cream and cheese off and they add tomatoes instead.
I've found they mess that up a lot, so I just say no cheese and no sour cream. They are used to vegans modifying orders, so don't worry. Here is exactly what I say when I'm ordering:
Taco bell recently took the 7 layer burrito off its menu, but there is still a way to order it, plus it's a lot cheaper! Order a cheesy bean and rice burrito (from the $1 menu): No cheese and no creamy jalapeno sauce, add lettuce and guacamole
Taco bell menu options:
Black bean burrito: No cheese and no sour cream, add guacamole and lettuce
Bean burrito: No cheese and no sour cream, add guacamole and lettuce
Veggie Mexican pizza: fresco style, or ask for no cheese. I also love adding potatoes and guacamole. Yes, the guacamole is dairy free.
Veggie power menu bowl: No cheese and no sour cream
Crunchy or soft taco: Fresco style (or say no cheese and no sour cream), sub beans for beef, add guacamole
Black bean crunch wrap: No cheese and no sour cream, add guacamole
Nachos bell grande: Substitute black beans for beef, no cheese and no sour cream, add lettuce, pico de gallo and guacamole
☕️ Starbucks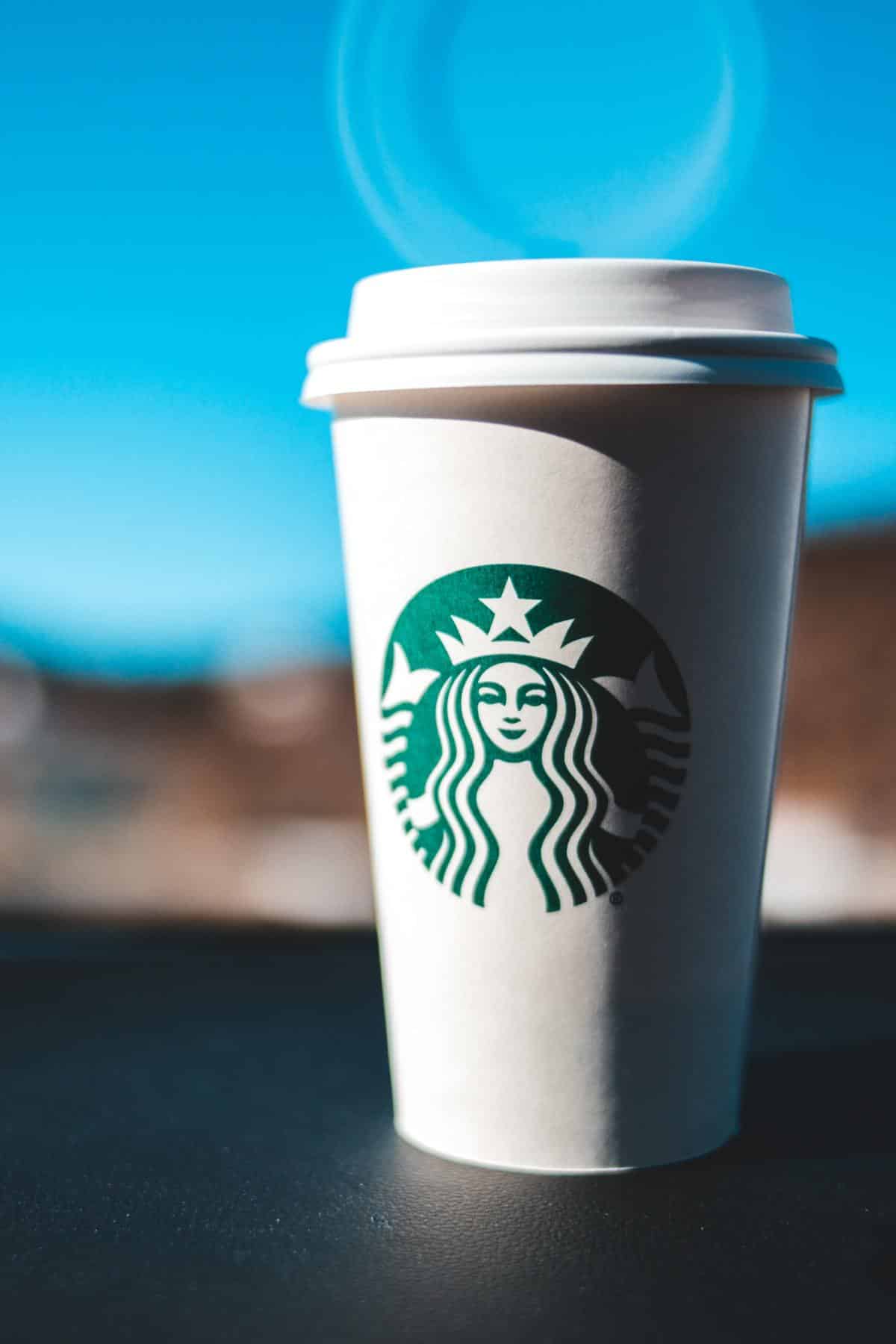 Oatmeal with soymilk
Latte: Made with soy, coconut, almod or oat milk
Coffee
Tea
Unfortunately the impossible breakfast sandwich isn't vegan
Vegan bagel with avocado spread
Java chip frappaccino: Hold the java chips, use soay, almond, oat or coconut milk, no whipped cream
🥪 Panera bread
If you'd like a bigger list of vegan options at panera bread click that link.
Mediterranean veggie sandwich: No feta, on country rustic or french baguette
10 vegetable soup
Mediterranean Grain Bowl: No feta, No yogurt, sub for extra hummus
Any salad on the menu: Substitute meat and cheese for avocado, quinoa and hummus
Modern greek salad with quinoa: No feta, Balsamic dressing instead of greek dressing
🌯 Chipotle
Chipotle is super vegan friendly. I love eating here. Check out my blog post Chipotle vegan options for more info.
Sofritos burrito or bowl: rice, black and pinto beans, salsa, guacamole, grilled veggies and lettuce
🌯 Qdoba
Veggie burrito or bowl: All the veggies, beans and guacamole, no sour cream or cheese
Impossible burrito or taco: No cheese and no sour cream
🍔 Carl's Jr
Beyond famous star and fries: No cheese and no mayo
🍟 Burger king
Impossible whopper (No cheese and no mayo)
Fries
For breakfast:
French toast sticks
hash browns
Impossible breakfast sausage patty
🍩 Dunkin' Donuts
Avocado toast
Avocado toast with roasted tomatoes
Bacon avocado tomato sandwich - ask for it without the bacon
English muffin
Hashbrowns
Vegan bagels: Plain, Cinnamon Raisin, Everything & Sesame. Order with NO cream cheese. It doesn't usually come with it on but we have received info that some locations automatically add it.
🏰 White castle
Impossible burger slider: No cheese or mayo
Veggie slider: No cheese or no mayo
🍌 Tropical smoothie cafe
Tropical smoothie cafe offers Beyond Chicken! You can replace any wrap, sandwich or bowl that has chicken, with Beyond chicken. Just ask for it without mayo and cheese. They don't advertise this very well, so this is good to know!
Hummus veggie wrap or bowl: No cheese
Baja chicken wrap - get it with vegan Beyond Chicken instead and remove the cheese.
Thai chicken wrap - replace the chicken with Beyond chicken.
Any of the chicken wraps - replace it with Beyond chicken and remove any dairy or cheese.
Any smoothie can be made without yogurt or milks
Any of the chicken salads can be replaced with Beyond Chicken and remove any of the dairy.
🥖 Subway
Veggie delight: all the veggies, no cheese or mayo, add avocado, subway vinaigrette
Beyond meatball sub: no cheese. This is only available at select subways. This is only located at 600 select locations in the U.S. but is available more widely in the U.K.
🥡 Noodles and Co.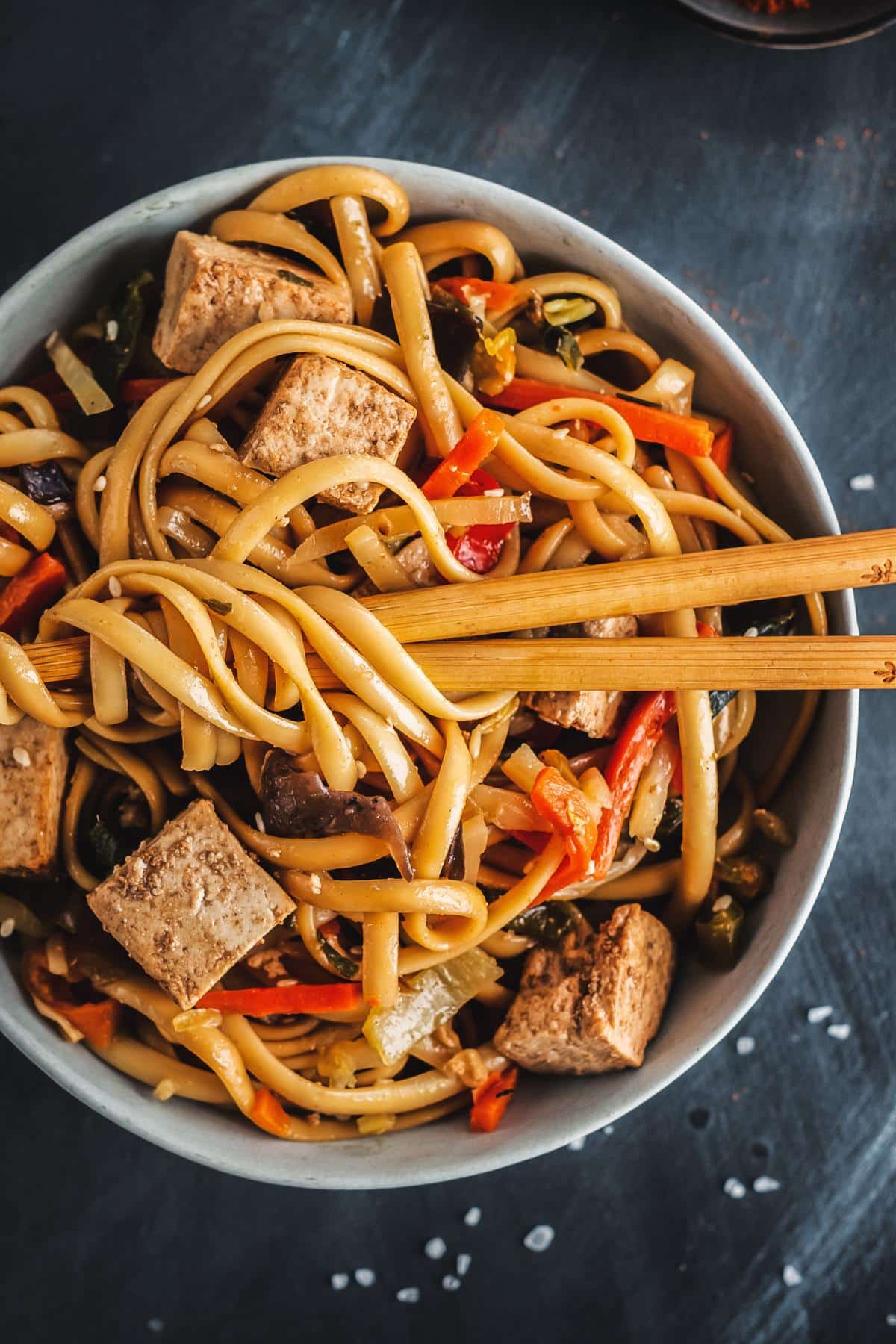 *Tofu can be added to any dish
Chinese chop salad: No wantons
Indonesian peanut sauté
Japanese pan noodles
Penne rosa: No cream and no cheese
Whole grain tuscan fresca: No cheese
🍝 TGI Fridays
These can be found in a lot of airports as well. So this place is great if you're traveling by plane.
Beyond burger & fries: No cheese and no mayo, add avocado. You can also order this"green" and it omits the bun and serves it wrapped in lettuce
🥤 Del Taco
Del taco has some amazing vegan options, especially since they introduced Beyond Beef a few years ago. Here's what you can order vegan at Del Taco:
Beyond avocado taco
Beyond 8 layer burrito: Ask for it to be made vegan (they will know what that means there)
Beyond cali burrito: Ask for it to be made vegan
🍫 Gas station (road snacks)
Kind bars
Clif bars (chekc ingredients, some have honey or dairy)
Trail mix
Oreos (yes, they're accidentally vegan)
Potato chips
Pretzles and hummus
Tostito bean dip
Tortilla chips
Pringles
Apples, bananas, oranges
Fig newtons
Dark chocolate (read ingredients)
🥔 KFC
Beyond fried chicken
Corn on the cob (request no butter)
BBQ baked beans
Green beans
Fries
Sweet kernel corn (no butter)
Apple turnover
House side salad (no cheese)
Light Italian dressing
If you visit India, I've seen KFC in the airports and they have vegan chicken there. Their slogan in India is even "KFC, so fresh, so veg"
🍕 Mellow mushroom pizza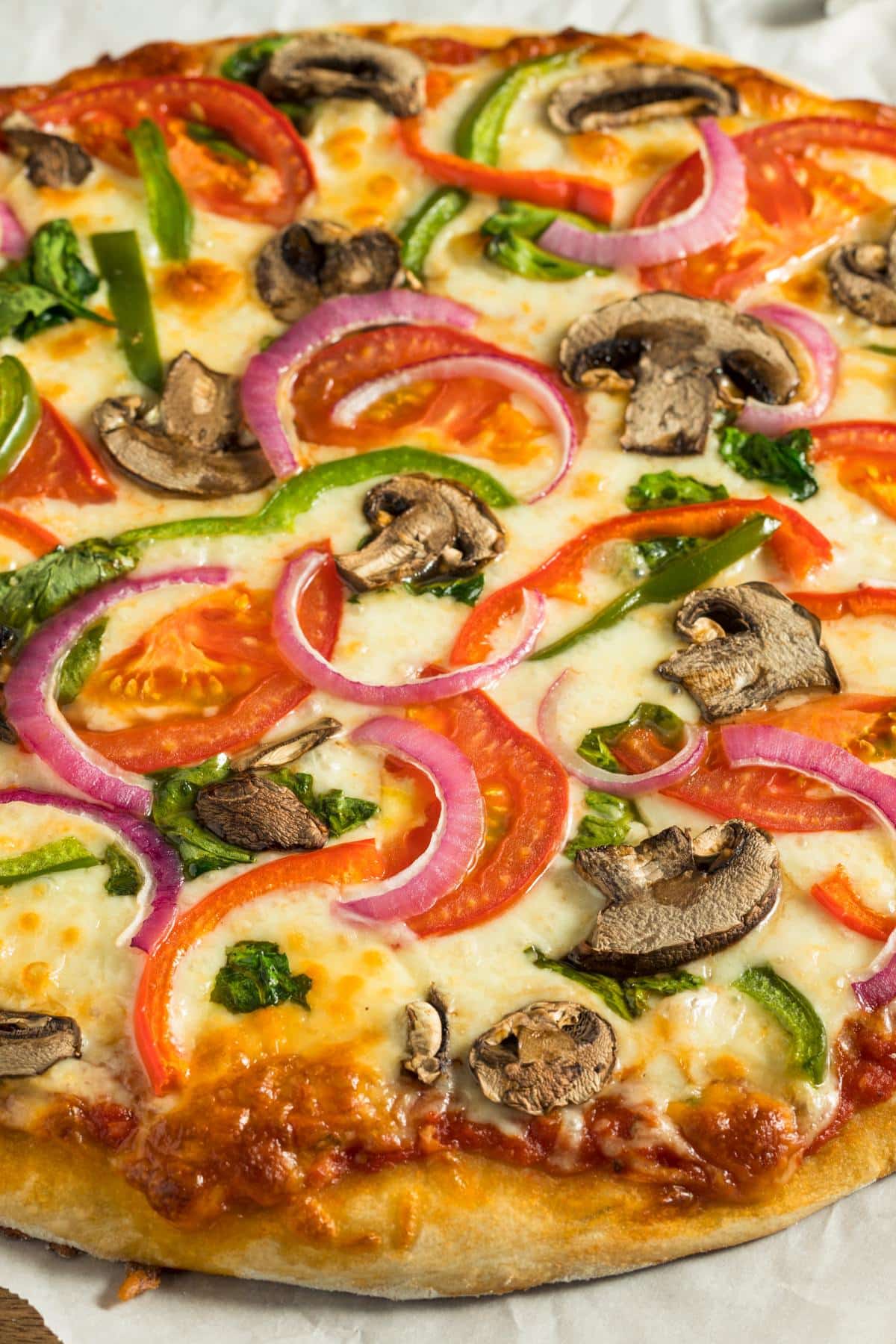 My family loves going here every time we vacation in Gatlinburg, Tennessee.
Veggie pizza: No cheese or butter on the crust, order it to be made with vegan cheese
Mushroom pizza: Vegan cheese, no butter on the crust
🍅 Blaze pizza
They offer vegan cheeses and meats here! Design your own pizza with veggies and vegan meats and cheeses.
❓ FAQ's
Does Wendy's have any vegan options?
The vegan options at Wendy's are pretty slim. You can get a baked potato with no butter or sour cream, a side salad with an Italian vinaigrette or any of the salads, but take off any meat and cheese and get a non-dairy dressing.
Does McDonald's have any vegan options
Various locations in the U.K. offer the vegan McPlant burger, but they are still in the process of rolling it out in the U.S. Unfortunately, the fries and hash browns in the U.S aren't even vegan because they contain milk and beef fat.
🚙 Final thoughts
I hope this post helped you to see that it's completely possible to order vegan food at many common fast food chains. If you need some snack ideas, especially for kids, check out my post - vegan snack ideas for kids. Please leave me questions in the comment section below.