Tips for how to go vegan again after messing up or quitting. How to easily transition to a vegan lifestyle. Why it's ok to fail at being vegan. How to learn from your mistakes and go vegan again. How to go from ex-vegan to vegan again!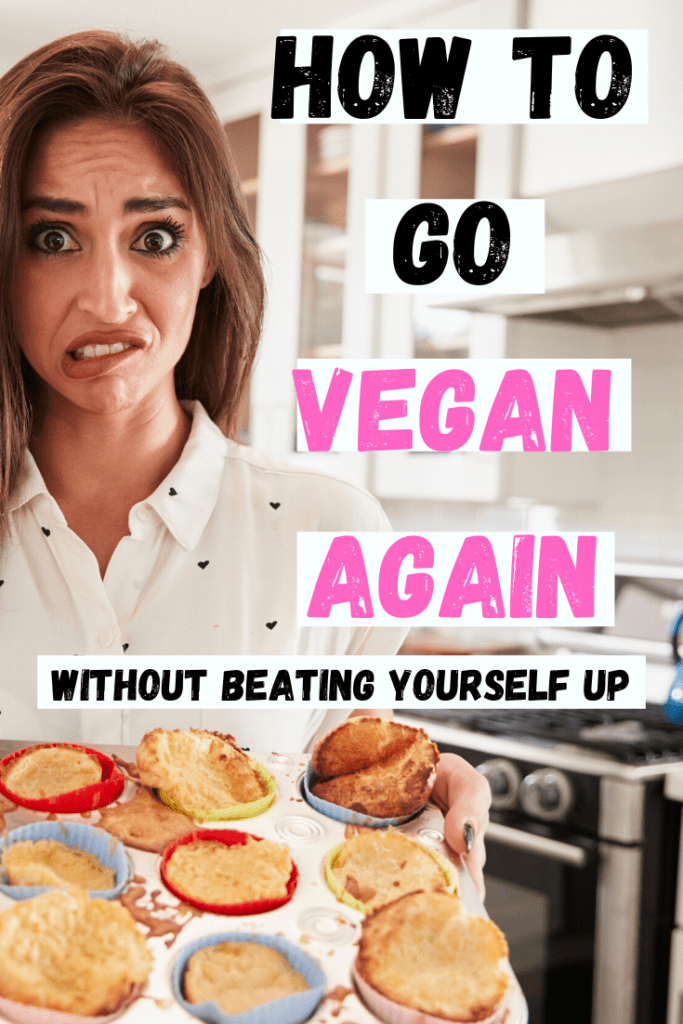 I am a vegan failure. At least that's what I used to tell myself.
For two years, I was on the vegan wagon, but fell off and became vegetarian again. Not because of some health issue, but because old habits really do die hard.
After four years of struggling internally with my ethics (I'm slow at changing my ways) I was ready and became vegan again.
I learned so much from this and I wanted to share it with you.
I know that I'm not alone in this. I hope my tips will help inspire you to let go of the guilt and limiting beliefs and to go vegan again if it's calling to you.
Sometimes our paths to veganism aren't so straight and narrow.
Whatever your path, be kind and keep steering yourself toward veganism.
It is the kindest and most environmentally friendly lifestyle we have at the moment.
It's all about how you frame it in your mind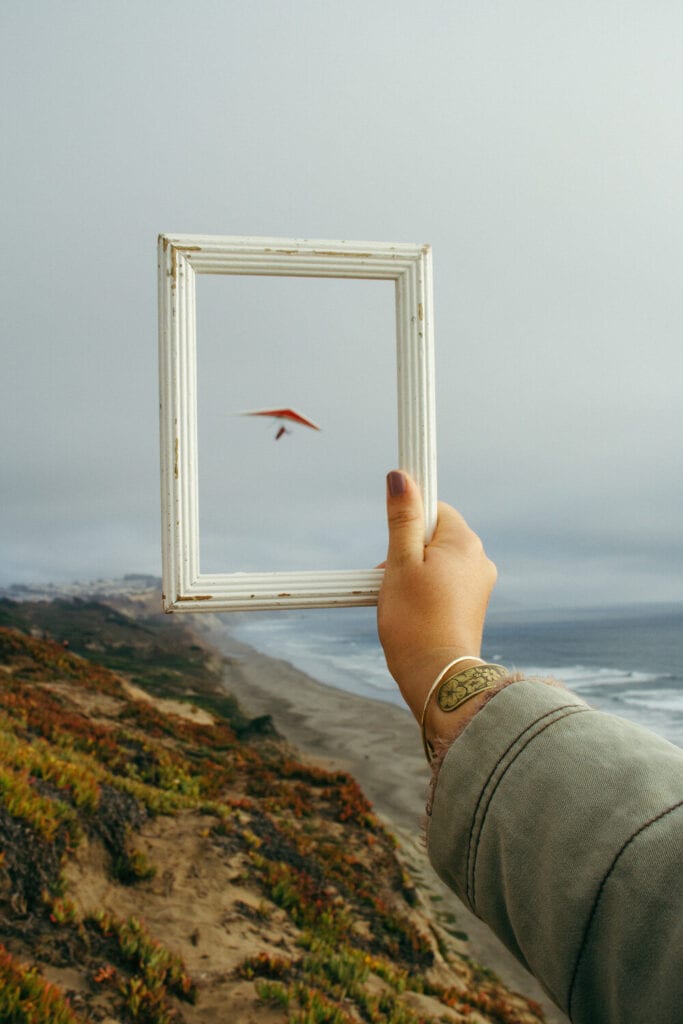 Changing your diet is extremely hard.
To be successful, It all depends on how you frame it in your mind.
You're going against a lifetime of industry-funded messages telling you that animal products are normal and natural to eat.
They make BILLIONS of dollars, so you better bet your ass the meat & dairy industry is heavily influencing our thoughts and beliefs.
When people fail at staying or going vegan, it's usually because our minds frame around thoughts like these:
I won't ever be able to give up cheese
I'll miss my favorite foods
social events will be hard, my family will be mad
vegan food isn't as good
there aren't any options where I live
Maybe the keto/low carb/ atkins people are right and I can't get protein from plants…..
These are really all made up problems, derived from our fear of change and the influence of the meat & dairy industry.
To get veganism to stick, your thoughts have to frame around the VICTIMS of your actions , instead of your temporary (sometimes made up) discomforts (resistance to finding solutions).
I think about the sentient animals that don't want to feel pain, and just want to live a happy, LONG life with their babies and friends (yes, animals make friends).
I focus on the fear in their eyes when they're sent to slaughter (all animals end up slaughtered at a young age, even if they were free range and organic).
I think about the devastation to the planet that animal agriculture causes. And I think about how eating vegan is the best diet for the planet.
I think about the undocumented workers in slaughter houses being mistreated by their bosses because they have limited power.
When my mind is framed around these thoughts, instead of my fear of change, I easily find solutions to my discomforts.
So, start first by putting on your vegan glasses. Focus on the victims and you will easily find solutions where you hadn't before.
Ex-vegans were never truly vegan?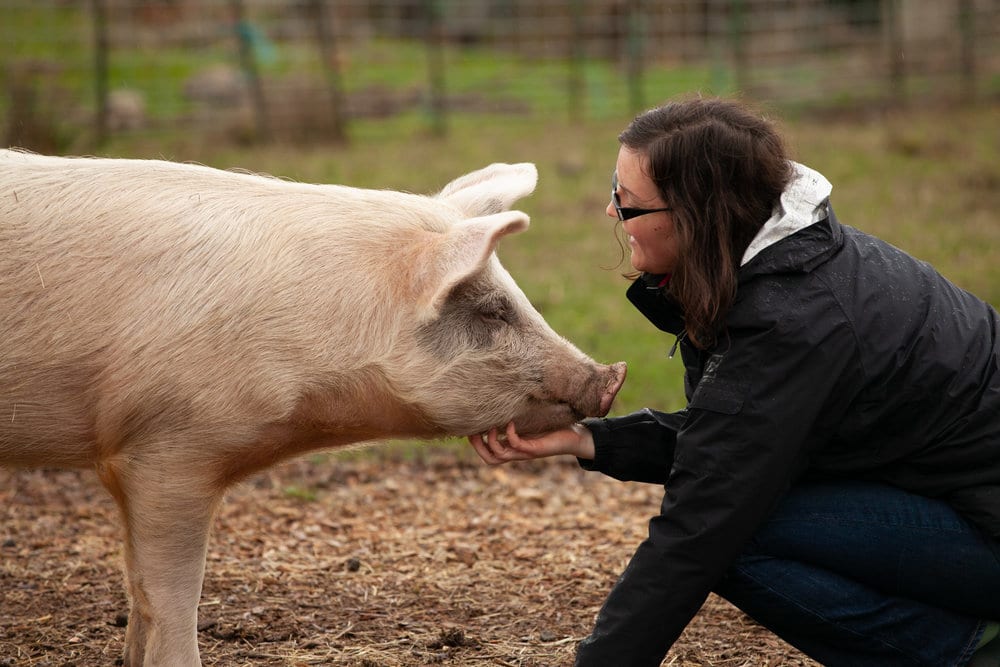 When someone becomes an ex-vegan, sometimes you hear the response "they were never vegan". I don't necessarily agree with this.
There is a hell of a lot of force going against veganism and if you don't reinforce your ethics on a regular basis, they will inevitably wear away over time.
Even for the most hard-core vegans.
Saying someone was "never vegan" only writes people off that might want to become vegan again later.
When people become ex-vegans, I believe it's because they stopped reinforcing their ethics, and the messages from society got to us.
Veganism is an ethical stand point and choice and just like all choices and ethical stand points, they can be heavily influenced by our surroundings.
We are HIGHLY social creatures and going against the force of society can wear many people down after a while.
Take a minute and think about all of the ways that society reinforces, every single hour, the belief to eat animals. It's done so much that it's a central part of our society and it seems normal:
All of the billboards, commercials, magazines
jokes in TV shows about vegans
the abundance of meat in every grocery store, gas station, restaurant
the ads that make us believe protein only comes from animals
Holidays centered around animal flesh
Companies make billions of dollars off of the belief that eating animals is normal, natural and necessary. You better bet your ass that they will reinforce this belief every second they can.
So, when someone says "they were never vegan" I don't necessarily agree.
There are a few reasons people quit being vegan: not eating a balanced diet, eating too few calories, not supplementing properly, not learning the basics of vegan nutrition.
But I think that the biggest reason people quit veganism, if they're honest with themselves, is that they didn't regularly reinforce their ethics and the pressure from society eventually got to them.
This is easier to remedy than writing someone off as "never vegan". You can't really remedy that. You can, however, rebuild and reinforce neglected ethics.
So, reinforce your vegan ethics by every so often, watching vegan documentaries, youtube videos, books or becoming an activist.
Find out why you fell off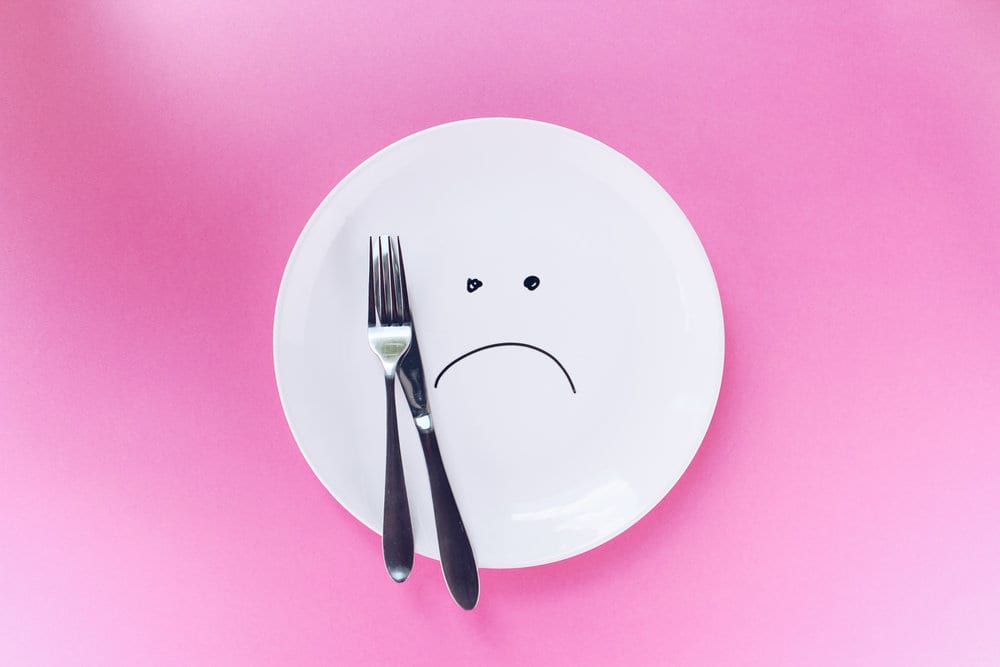 In order to not make the same mistakes, you have to know what led you to make those mistakes in the first place. Then you can avoid these situations.
I took a lot of time to figure out what culminated in my falling off the vegan wagon. When I did this, I realized it wasn't an ingrained character flaw, but situations and mindsets that I allowed myself to unconsciously slip into. This is empowering because you can change these things.
Find out why you fell off the wagon. Be honest with yourself.
To give you a jump start, here's what culminated in me eating dairy and eggs again:
I began focusing too much on health, purity and weight loss.
I did cleanses and restricted my diet too much. I never really ate any vegan junk food, bread or meat alternatives.
I was under-eating and this lead to cravings and lack of willpower.
I moved in with my boyfriend's parents who were Swiss. They had stinky cheese (my favorite) in abundance in their fridge. Combine that with my lack of willpower from under eating and BOOM!
It was hard for me to stop once I messed up.
I was an isolated vegan. I wasn't part of any online or in-person vegan community.
I constantly heard "just eat some cheese it won't kill you". The belief that eating eggs and cheese was normal was reinforced through the every-day brainwashing all around us.
I didn't reinforce my ethics after I went vegan.
I didn't supplement
I wasn't in a good place in my life and this made me mentally exhausted. I didn't want one more thing to think about. This was before the boom of vegan cheese and dairy alternatives. I suddenly had a f*ck it attitude and began eating eggs and dairy again because I was tired of thinking about it.
I was coping with life by binge drinking which worsened my mental state and willpower.
Tips for going vegan again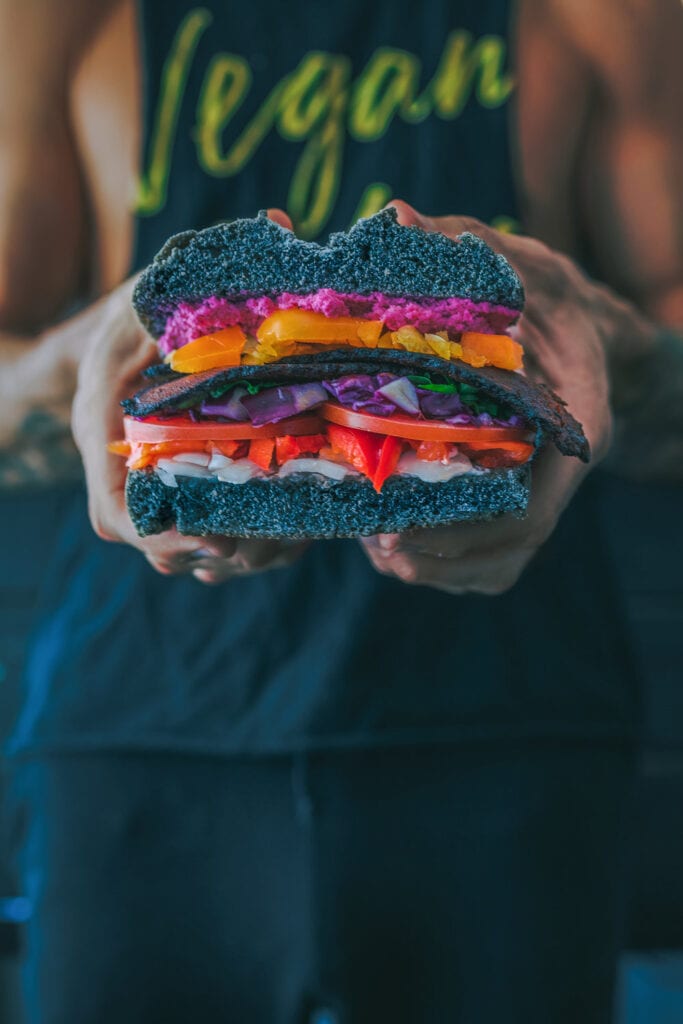 Now that we're clear with why we fell off, let's try to avoid these situations. Here's what I did to come back to veganism. If you find any of these tips resonate with you, feel free to give them a go.
How to go vegan again after falling off the wagon:
I re-learned why dairy

and

eggs

are cruel. I watched those

hard to watch videos

.

I reinforce my ethics regularly with books, YouTube videos and activism.
I stay educated about vegan health by following doctors like Dr. Michael Gregor

and I learned how to discern misinformation thrown out by the meat & dairy industry.

I joined the vegan community by going to vegan meet ups and joining facebook groups.
I stopped being afraid to ask for vegan options at restaurants
I looked for recipes that made me excited about veganims again
I quit drinking (this doesn't have anything to do with veganism, it just put me in a bad mental space that made me lack willpower)
I take care of my mental health with yoga and journaling and I work toward creating the life I love.
I focused on a balanced vegan diet with lots of beans and whole foods and occasional "junk foods"
I stopped obsessing with purity and weight loss and I don't f*ck with juice cleanses anymore.
I make sure to eat enough calories
When cravings hit, I find a vegan alternative.
I experimented with different brands until I found vegan cheese and dairy replacements that I love
I eat meat replacements when cravings hit
I learned the basics of vegan nutrition

. It's not as complicated as you think

I supplement smartly (B12, Iodine, DHA & EPA, Vitamin D)
It's not about purity & perfection, but about progress
It's never too late to become vegan again. For some people (ahem…ME!!), it takes a long time to unlearn all of the brainwashing instilled in us since our childhoods. Our paths aren't always so straight and narrow. It's ok to mess up. Learn from your mistakes and begin again!
There is no vegan police (even if some people act like it). Instead of beating yourself up for "failing", take a look at the mindset and situations that may have influenced you.
Try to avoid those situations and work at changing your mindset. Take time to regularly reinforce your ethics. Brush yourself off, grab some vegan cheese and get back on that vegan wagon!
For more motivation read my article
Loved this article? Click below to save it to your favorite Pinterest board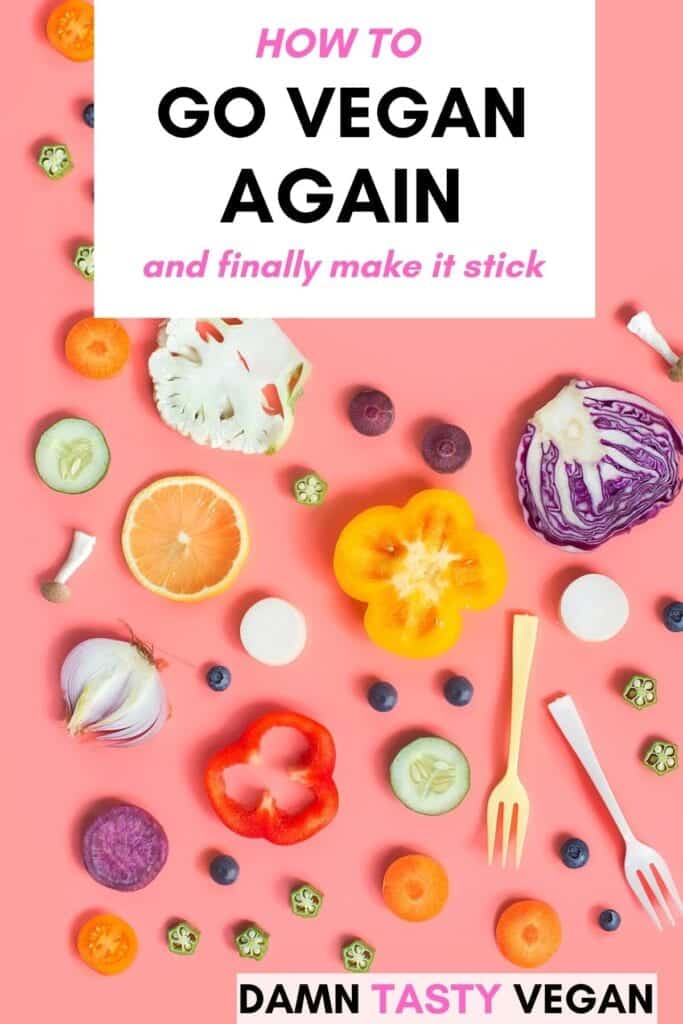 How to go vegan again after messing up