These delicious healthy vegan snacks are perfect for both kids and adults. Whether you're planning a road trip, packing school lunches, or looking for after-school treats, these snacks are both tasty and nutritious. Packed with whole grains and important nutrients, they're sure to satisfy even the picky eaters in your family.
Jump to:
1. Peanut butter bliss balls
These bliss balls can be eaten any time: as a snack, for breakfast or late at night. They're healthy because they're made from chickpeas, oatmeal, peanut butter and coconut sugar. Great high protein vegan snack with lots of fiber.
2. Raspberry fingers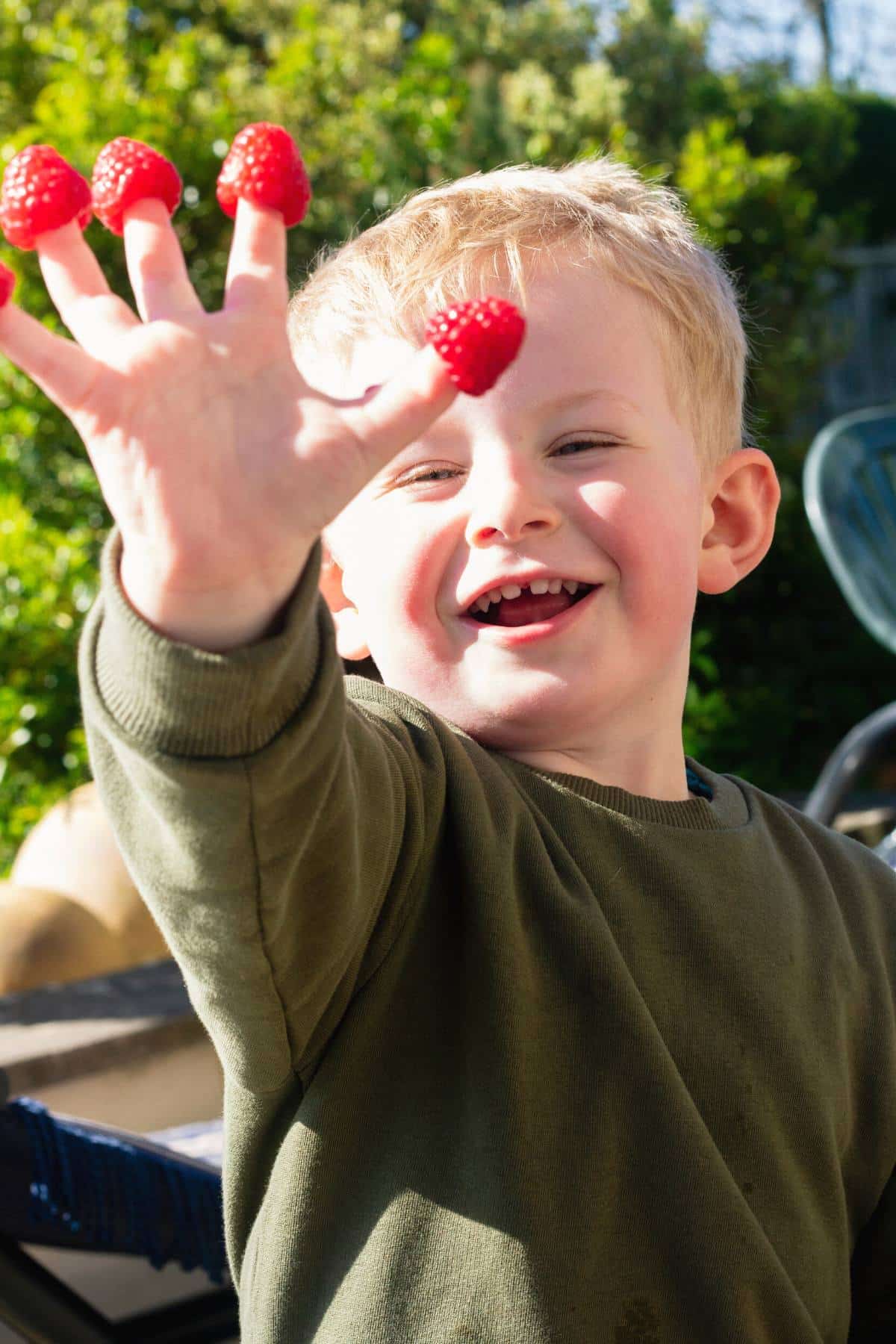 This one is super fun and simple. My three year old nephew saw me doing this one time while visiting, and he immediately had to try it out.
Let me add, my nephew did not like eating raspberries, but when he saw me doing this, he happily swallowed them down. Sometimes it's not so much the food, as the delivery.
Just wash off some fresh raspberries and pop them on your finger tips. So simple!
3. Crispy roasted chickpeas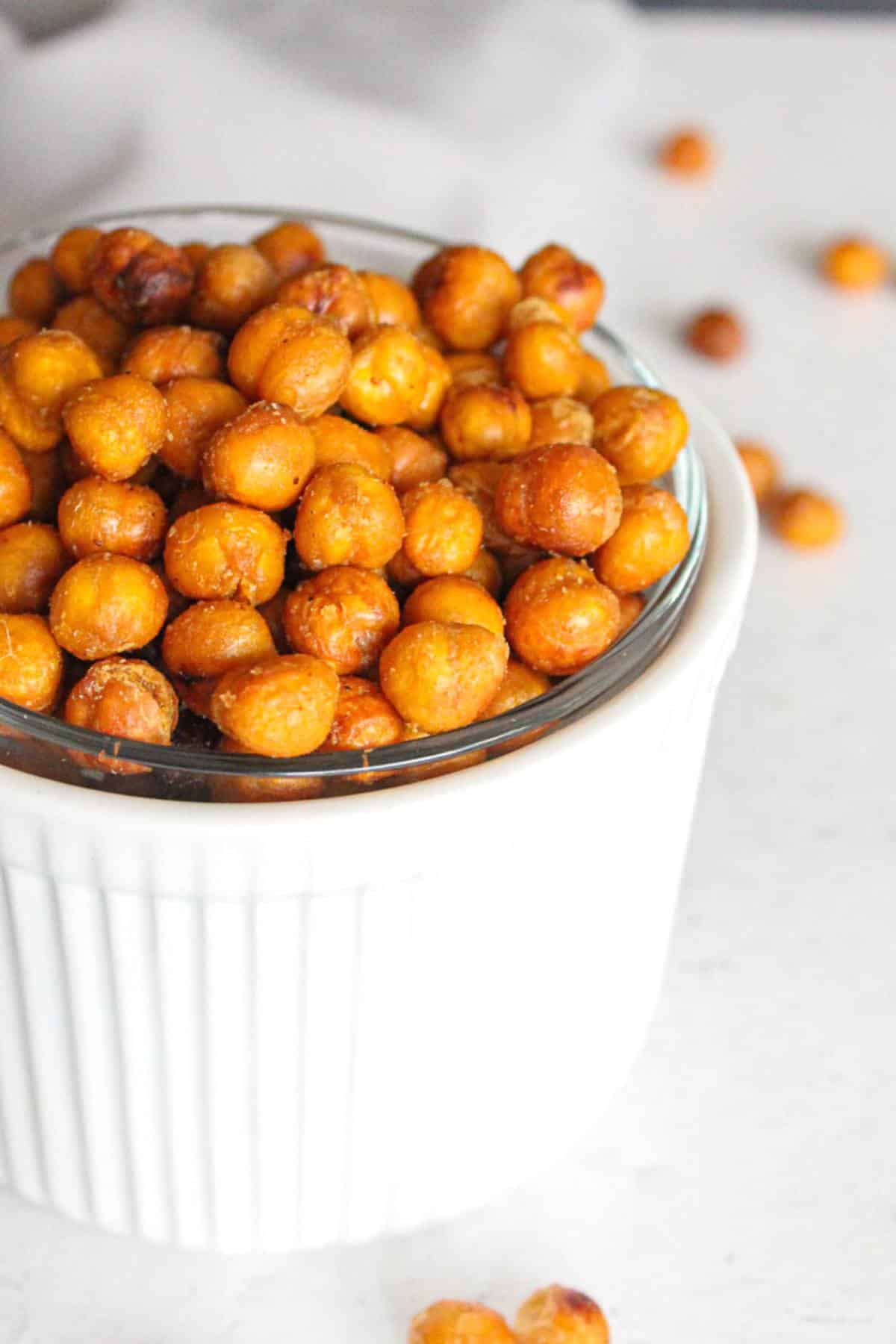 This is a crunchy, high protein snack idea. It goes great with a cold and fizzy drink. You can season these up any way you'd like.
Sometimes I just use garlic and onion powder, other times I use curry powder. It's fun to try different seasoning blends. Be careful feeding this to really small children, though, as it could be a choking hazard.
4. Vegan cheese-its
These are great to take with you as a road snack, or to put into lunches. Earth balance makes these and they're easy to find at Whole Foods or any other natural foods store.
5. Oil-free vegan granola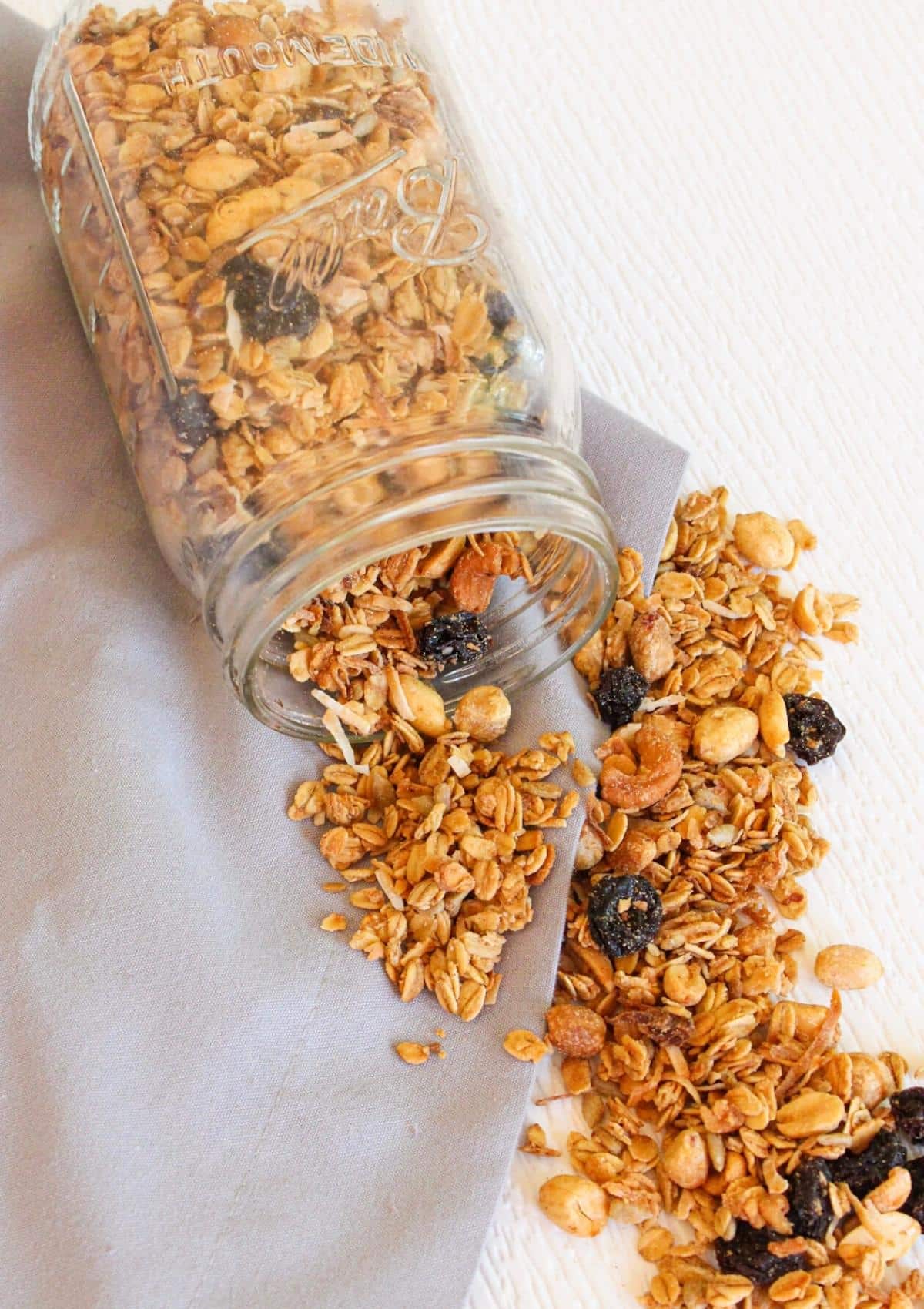 Store bought granola or granola bars can be filled with tons of sugar as well as honey, which isn't vegan. These granola bars are made with only five ingredients and you can control how sweet you'd like them to be. Super easy to make and no oil.
6. Ants on a log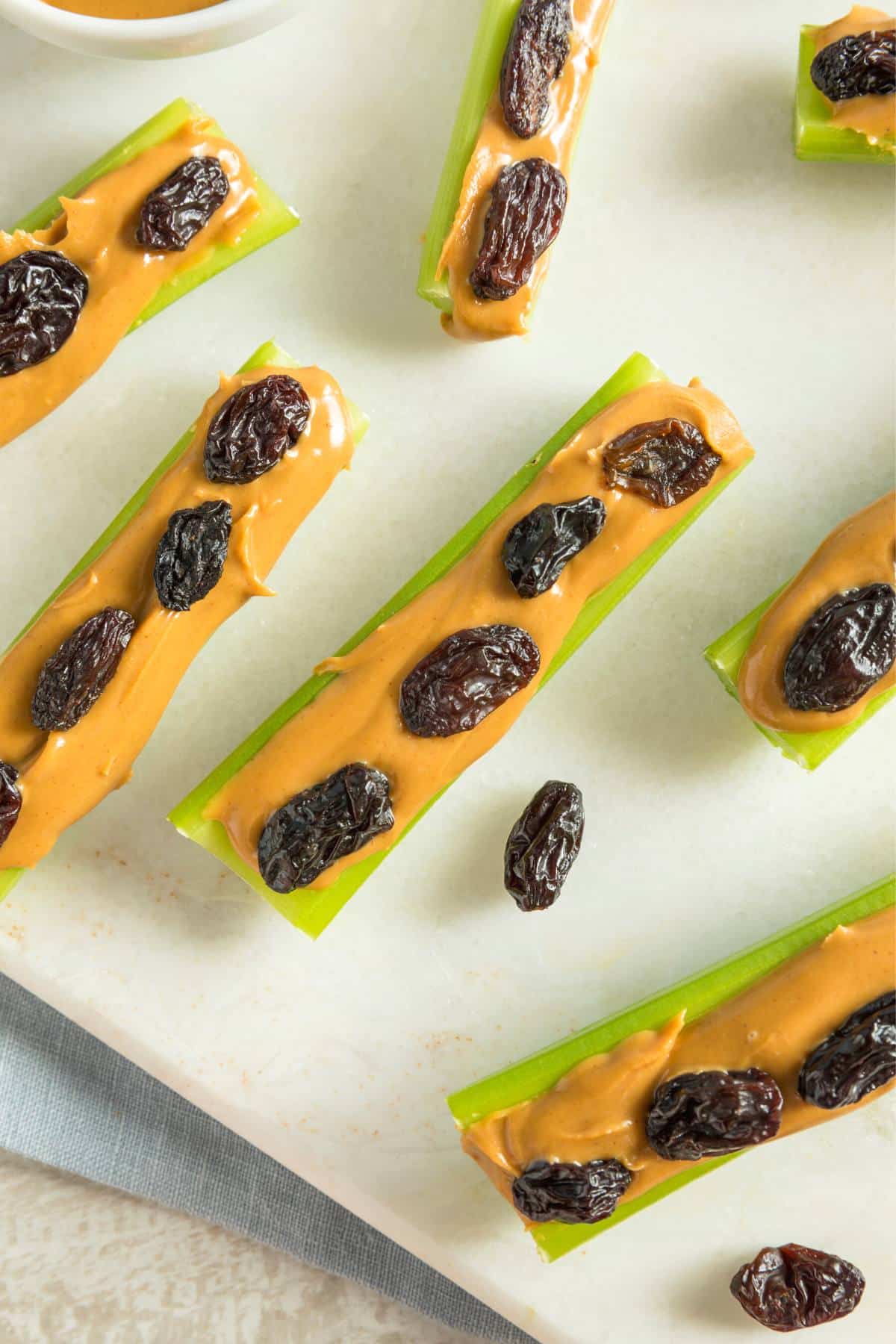 This was one of my favorite snacks as a kid. It combines sweet and salty and crunchy. What's not to love. Plus, it's a great way to get kids to eat more vegetables. Just spread some peanut butter onto some celery stalks and top with raisins. This also tastes good with almond butter.
If your child is allergic to nuts, you may be able to use salted tahini in any of these recipes (it's made from sesame seeds) instead of peanut butter. But be careful, because some kids who are allergic to nuts, are also allergic to some seeds.
7. Date energy balls
These no-bake vegan energy balls are super easy to make and super healthy. They can also be make into bars. Made with simple and healthy ingredients like maple syrup, dates, oats and cocoa powder. Take these with you while on-the-go.
8. Dates and nut butter
This is one of my favorite, easy snacks for when I want something sweet. It's so satisfying that I only need to eat about two of these and I'm good to go. Just open up a medjool date and take the pit out. Put some peanut butter or your favorite nut butter inside of the date and enjoy!
9. Apples and peanut butter with cinnamon
Kids love this snack. Just wash and cut up and apple into slices. Slather on some peanut butter (or nut butter of your choice) and top with a sprinkle of cinnamon. For a nut-free snack, use salted tahini instead.
10. Banana and peanut butter
Another great snack for kids with a sweet tooth. Great to feed them some bananas with peanut butter instead of candy. This snack provides lots of minerals, vitamins and protein with the nut butter.
This also tastes good topped with raisins.
11. Sweet potato fries
Slice up sweet potatoes and bake them in the oven with a drizzle of olive oil. These fries are a healthier alternative to traditional French fries and are a great source of vitamin A.
12. Veggie pinwheels
Spread vegan cream cheese on a tortilla, add some sliced red bell peppers and carrots, and roll it up into a pinwheel. This snack provides a variety of flavors and important nutrients.
13. Seaweed snacks
These savory snacks are a hit with kids! They're low in calories and high in iodine, making them a great addition to any plant-based diet. They are slightly salty and satisfy like potato chips, but a lot better for you!
14. Black bean brownies
These vegan black bean brownies are a delicious and healthy treat packed with fiber and protein. They are easy to make and perfect to have in the morning with coffee or as an afternoon snack. Not only are they kid-friendly, but they can also be made gluten-free, dairy-free, egg-free, and oil-free.
15. Chickpea cookie dough dip
Combine chickpeas, nut butter, and maple syrup in a food processor for a high-protein dip that's perfect for dipping veggie sticks or whole grain crackers. This is a great recipe from Chocolate Covered Katie.
16. Rice cakes with nut butter and maple syrup
Rice cakes are a versatile snack that can be made more satisfying by adding a layer of nut butter and a drizzle of maple syrup. Peanut butter is a popular choice, but you can also use almond or cashew butter for a different flavor profile. Nut butters provide a good source of protein, healthy fats, and fiber, which can help keep kids feeling fuller for longer. Meanwhile, the touch of maple syrup adds a touch of sweetness that kids will love.
17. Vegan Zucchini Muffins
Delectable Vegan Zucchini Muffins: Soft, Moist, and Simply Irresistible! Effortless to Make and Fully Customizable with Chocolate Chips or Nuts. A Delightful Garden-Inspired Treat to Savor the Bounty of Zucchini.
18. Vegan rice crispy treats
These three-ingredient vegan rice crispy treats are a delicious and healthy snack that your kids are sure to love! With no baking required, this easy vegan dessert recipe is perfect for busy parents who want to give their children a tasty treat without sacrificing nutrition
19. Vegan deviled eggs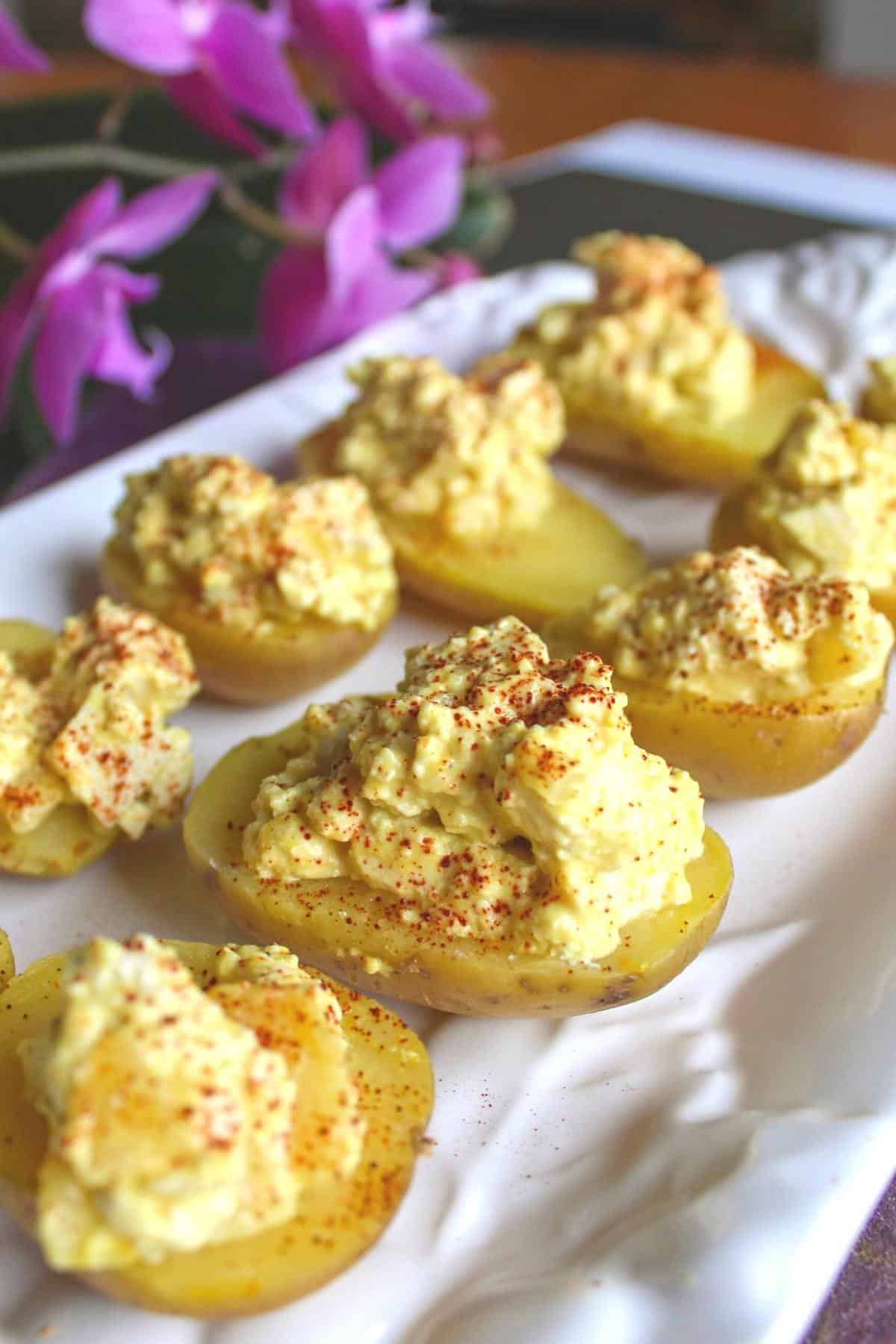 These vegan deviled eggs are not only delicious, but also a great snack for kids. They're full of protein, thanks to the tofu. Even though they don't contain real eggs, they taste just like the real thing!
20. Air-fried zucchini fries
Coat zucchini slices in whole grain breadcrumbs and seasonings, and air fry until crispy. These fries are a healthier alternative to traditional French fries and are a great source of vitamin C. Recipe from Vidhyas home cooking.
21. Nut-free granola bars
Make homemade granola bars with whole grains, dried fruit, and seeds. These bars are a healthier and nut-free snack option that provides a good amount of protein. Just substitute maple syrup for the honey to make them vegan. Recipe from Two peas and their pod.
22. Plant-based yogurt with fresh fruit
Top some vegan yogurt with fresh fruit like berries, kiwi, and banana for a refreshing and nutritious snack.
23. Nut-free energy bites
Combine dates, sunflower seed butter, and oats in a food processor to make energy bites that are free from nuts and are a great source of fiber and protein.
24. Cucumber and hummus bites
Top cucumber slices with hummus and cherry tomatoes for a tasty and low-calorie snack.
25. Whole grain pita chips with hummus
Make your own whole grain pita chips by cutting pita bread into smaller pieces and baking until crispy. Serve with a high protein hummus for a healthy snack.
Summary
And that's it! I hope you got some great snack ideas for your child. I put a mix of sweet and salty plant based snacks. Pack these up for when your kids need something on the road, or after school.