Basic seitan recipe
Easy vegan seitan recipe. It's never been easier to make seitan from scratch. Seitan is high in protein and low in carbs and fat and has zero cholesterol. It's a fantastic meat substitute and has been around for centuries. It's chewy versatility is a great meat replacement for vegans, vegetarians and flexitarians.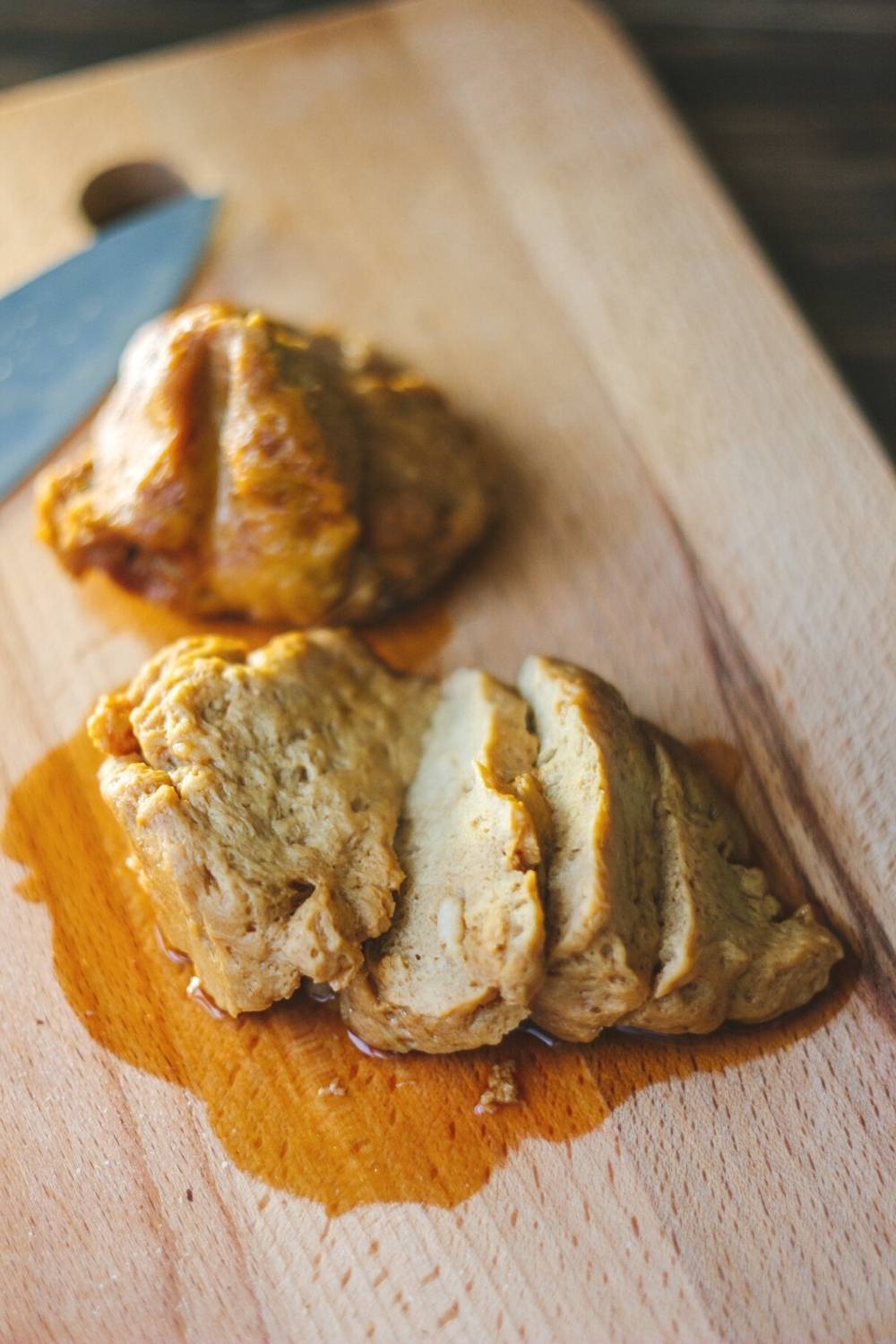 What is seitan?
Seitan is when you mix pure vital wheat gluten with water or broth and seasonings. Vital wheat gluten is the protein in wheat separated from the starch. It's pure wheat protein. It's also called wheat meat.
Gluten is the main protein found in wheat. It's what gives bread dough its elastic and stretchy nature and makes bread nice and chewy.
Even though it seems like a fad that only vegans eat, seitan has been around for a long time.
Buddhist monks have been eating seitan for thousands of years. People even ate it during the great depression when meat was scarce and they needed their meals to be more filling.
Isn't gluten bad to eat?
Unless you have celiac disease or gluten sensitivity, seitan is completely safe and healthy to eat.
Seitan is a great source of protein for vegans and vegetarians.
Seitan Nutrition
Seitan is a delicious meat alternative that is also an amazing source of protein. It has more protein than chicken and contains 70 grams of protein per 100 grams.
It's is also low in carbohydrates and fat. It's low in carbs because the starch and bran have been washed away to leave only the wheat gluten.
It also contains minerals like selenium, copper, calcium, iron and phosphorous (1).
If you're a vegan, make sure to also include beans in your diet since seitan doesn't have a high amount of the essential amino acid lysine.
Ingredients and directions
There are two ways to make seitan.
There's the way you might have seen on tik tok (the washed flour method) where you make vegan chicken from all purpose flour by first making a dough. Knead it and then let it rise for eight hours. Then rinse it until the water becomes clear and you're left with just the gluten. This takes over eight hours.
2. Or you can make it in about an hour by skipping the washing part and just starting with vital wheat gluten flour. This takes only 10 minutes to make and then it just simmers in a broth for an hour. You mix together the dry ingredients in a large bowl, then add the wet ingredients and knead the dough to activate the gluten. You can then either simmer the seitan pieces in a large pot of vegetable broth or wrap them up tightly and steam them in a steamer basket. This is the way I'm going to show you in the recipe card below.
To make the base I use:
Vital wheat gluten – This is the main ingredient in seitan. It can be found in health food grocery stores, like a Whole Foods, or you can order it in bulk online. It's a lot more affordable that way.
Onion powder
Garlic powder
Soy sauce – Adds savory, salty and umami flavor.
Smoked paprika – You can also use liquid smoke. This adds a nice meaty, smoky flavor.
Nutritional yeast (this adds a savory flavor and some vitamin B12)
Tahini (this adds a nice fatty richness and some more savory-ness) you can sub this for some olive oil or neutral tasting oil.
Salt
Vegetable broth – You can also dissolve some bouillon cubes in boiled water to make your own broth. It's a lot cheaper. You can also make your own vegetable stock by simmering your vegetable scraps for an hour and adding salt. Then strain the vegetable scraps away.
Chickpea flour – This is sometimes added to create a little more lightness to the seitan dough. If you don't have it on hand, feel free to leave it out.
Helpful tips
The secret to the perfect, meaty texture when making your own seitan is to make sure you don't boil it. This will create large pockets. You want a nice, gentle simmer. Bring the broth to a boil before adding the seitan, then turn it down to medium low once it reaches that heat. Add the seitan and let it gently simmer.
Make sure to check the broth halfway through, to make sure it didn't all evaporate.
Feel free to use any seasonings you'd like. The suggestions I give are just my personal preference.
If you don't have nutritional yeast, don't worry. It's not super essential to the recipe, it just adds a little savory flavor.
The more you knead the dough, the chewier and tougher the seitan will get. So if you want your seitan to have a tender texture, only knead it for five minutes or so.
If you want a firmer texture, like for a seitan roast, or seitan kebabs, knead it for at least 10 minutes and let it sit for 10 minutes before cooking, to let the gluten strands activate.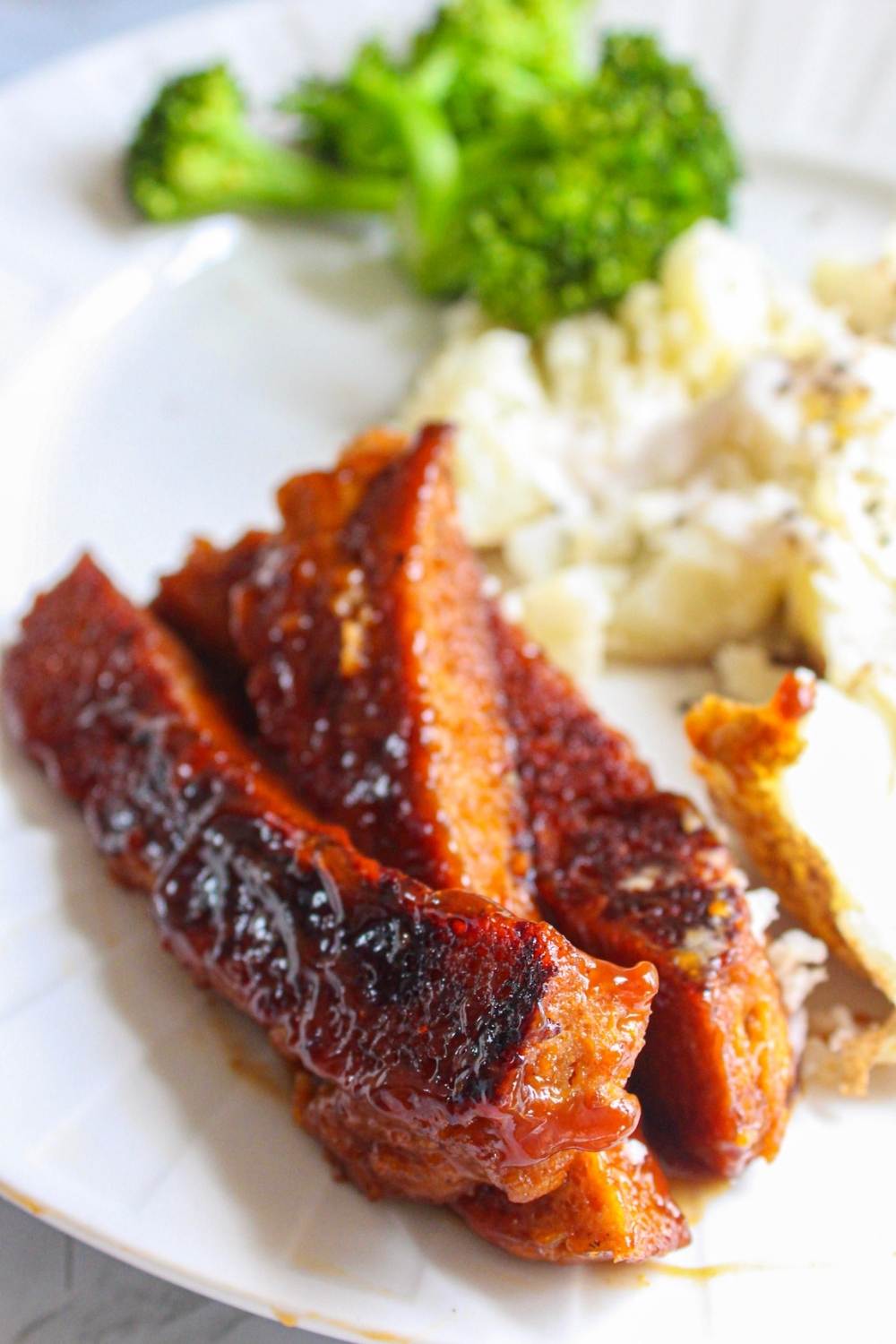 How to store seitan
You can keep seitan in its broth in the fridge in an airtight container for about 5-7 days. I also love straining the broth away and letting it sit in a marinade in the fridge. The texture of seitan changes slightly as it cools. It won't be as puffy.
You can also freeze it after straining the liquid away and putting it in a freezer friendly air tight bag.
How to use seitan
You can use seitan in any way that you would chicken, beef or tofu. Seitan goes great in Asian recipes like Mongolian beef or a vegan butter chicken or a stir fry.
I also love to marinate it in bbq sauce and then cook it on a grill, or cast iron skillet.
Seitan wings are also delicious to make.
Recipes that work well with seitan
If you liked this recipe, leave a star rating on the recipe card, a comment below and pin it to Pinterest.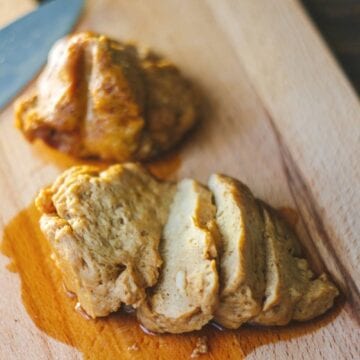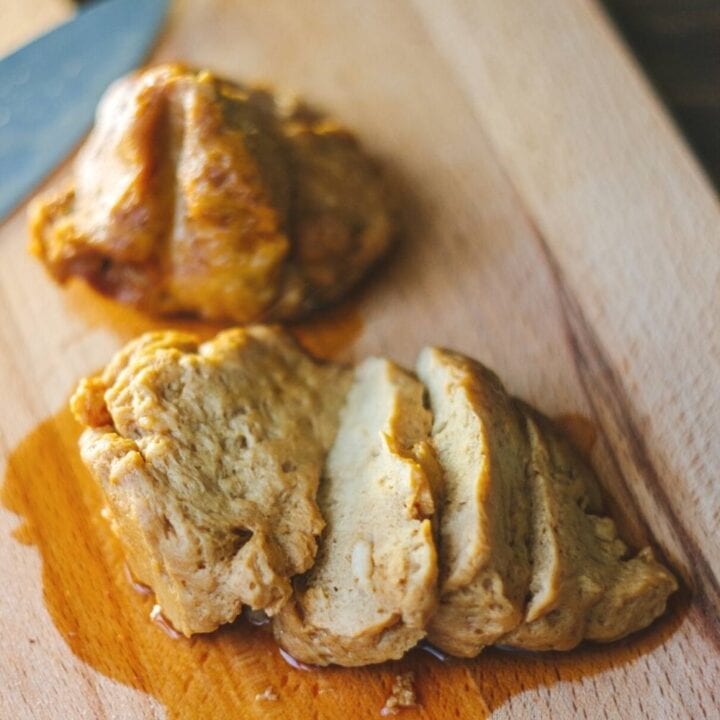 Easy homemade seitan recipe
How to easily make seitan from scratch.
Print
Pin
Rate
Ingredients
Seitan
1

cup

vital wheat gluten flour

1

teaspoon

garlic powder

1

teaspoon

onion powder

2

tablespoons

nutritional yeast

(optional if you don't have this)

½

teaspoon

salt

½

teaspoon

smoked paprika

2

tablespoons

tahini

¾

cups

vegetable broth

(or water)
Simmering broth
6

cups

water

1

onion

(quartered)

2

cloves

garlic

(crushed but whole)

1

tablespoon

vegetable bouillon paste

(or two vegetable bouillon cubes)

2

tablespoons

soy sauce
Instructions
In a large mixing bowl, mix together vital wheat gluten, salt, garlic and onion powder, smoked paprika and nutritional yeast.

1 cup vital wheat gluten flour,

1 teaspoon garlic powder,

1 teaspoon onion powder,

2 tablespoons nutritional yeast,

½ teaspoon salt,

½ teaspoon smoked paprika

Add the tahini and broth and stir until you make a ball.

2 tablespoons tahini,

¾ cups vegetable broth

Knead the ball for 5 minutes. The longer you knead, the more chewy and dense it will get. Knead for 10 minutes if you want it to be more chewy and firm. Cut the dough into four even pieces and let it rest while your broth comes to a boil.

Get a large soup pot on the stove and add all of the ingredients from the "simmering broth" section. Bring to a boil then turn down to medium low. Add in the seitan pieces and gently crack the lid. Gently simmer for one hour.

6 cups water,

1 onion,

2 cloves garlic,

1 tablespoon vegetable bouillon paste,

2 tablespoons soy sauce

Make sure it doesn't boil because it will create pockets in the seitan. You want small, gentle bubbles. Check after 30 minutes and add more liquid if it lost too much.

After one hour, the seitan is ready to be used however you like. I love to keep it in a marinade in the fridge, until you're ready to cook it up. Seitan can be used any way you would cook chicken or beef. Cut it into pieces and fry it in a pan in some oil. After it's browned, add your favorite marinade.
Video
Notes
Store seitan in the fridge in it's broth, or a marinade of your choice for about five days. 
Drain and seal the seitan and it can be frozen. Let it completely thaw before cooking. 
Seitan can be used any way you would chicken or beef. I love marinating it in bbq sauce and then cooking it on a grill. I also love using it in Asian recipes like Mongolian beef. 
I didn't show this in the video, but before simmering the seitan, cut it into four even pieces. This ensures that the center gets cooked and that each piece is cooked evenly. 
Nutrition
Nutrition Facts
Easy homemade seitan recipe
Amount per Serving
% Daily Value*
* Percent Daily Values are based on a 2000 calorie diet.
The nutritional information on this website is only an estimate and is provided for convenience and as a courtesy only. The accuracy of the nutritional information for any recipe on this site is not guaranteed. It should not be used as a substitute for a professional nutritionist's advice.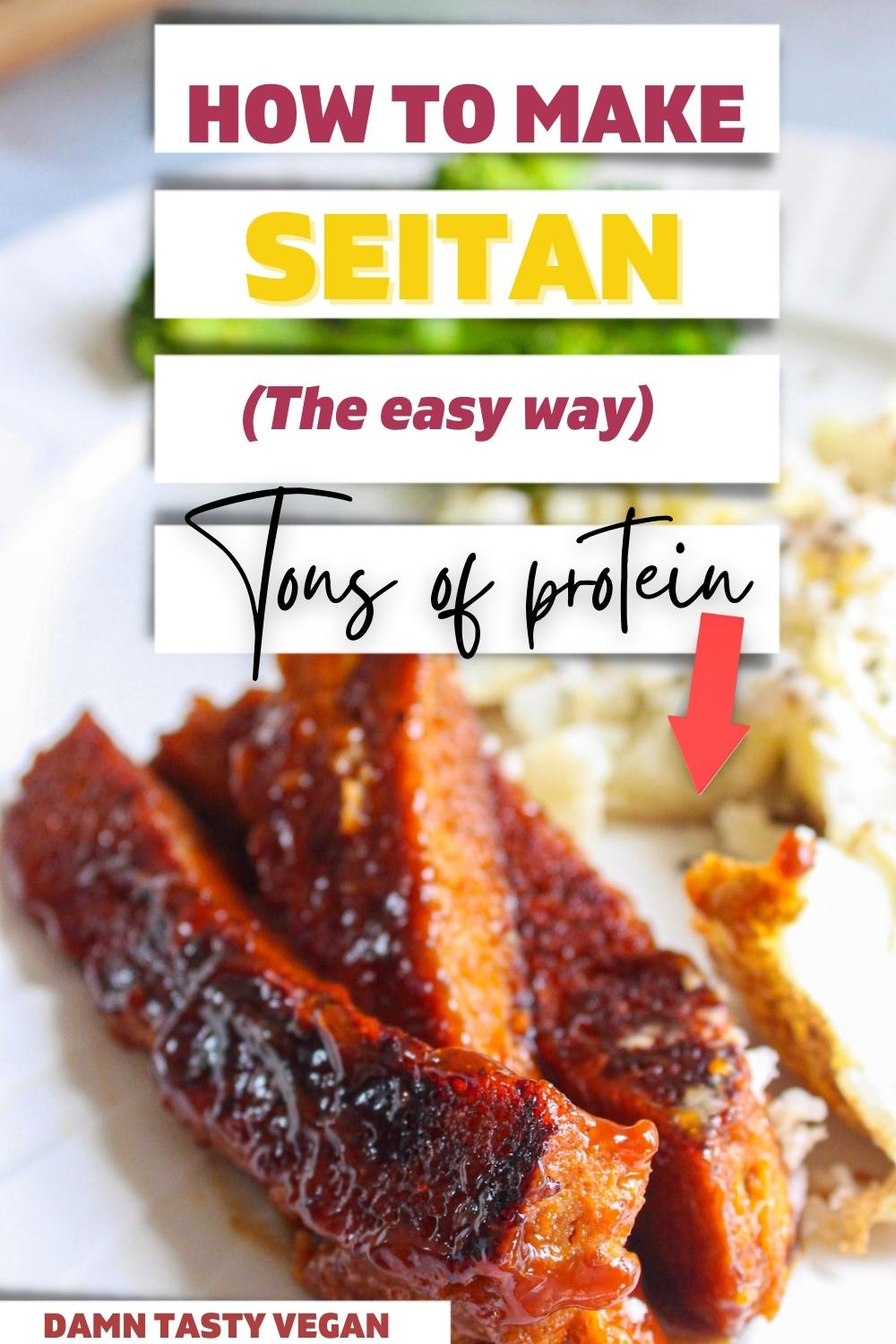 Homemade seitan recipe