Learn how to eat vegan on the road with these six simple tips. Once you learn these tips and tricks, eating vegan while traveling becomes a breeze! Learn how to find and order from vegan friendly restaurants, how to order vegan at common fast food chains and easy vegan road trip snacks and foods to pack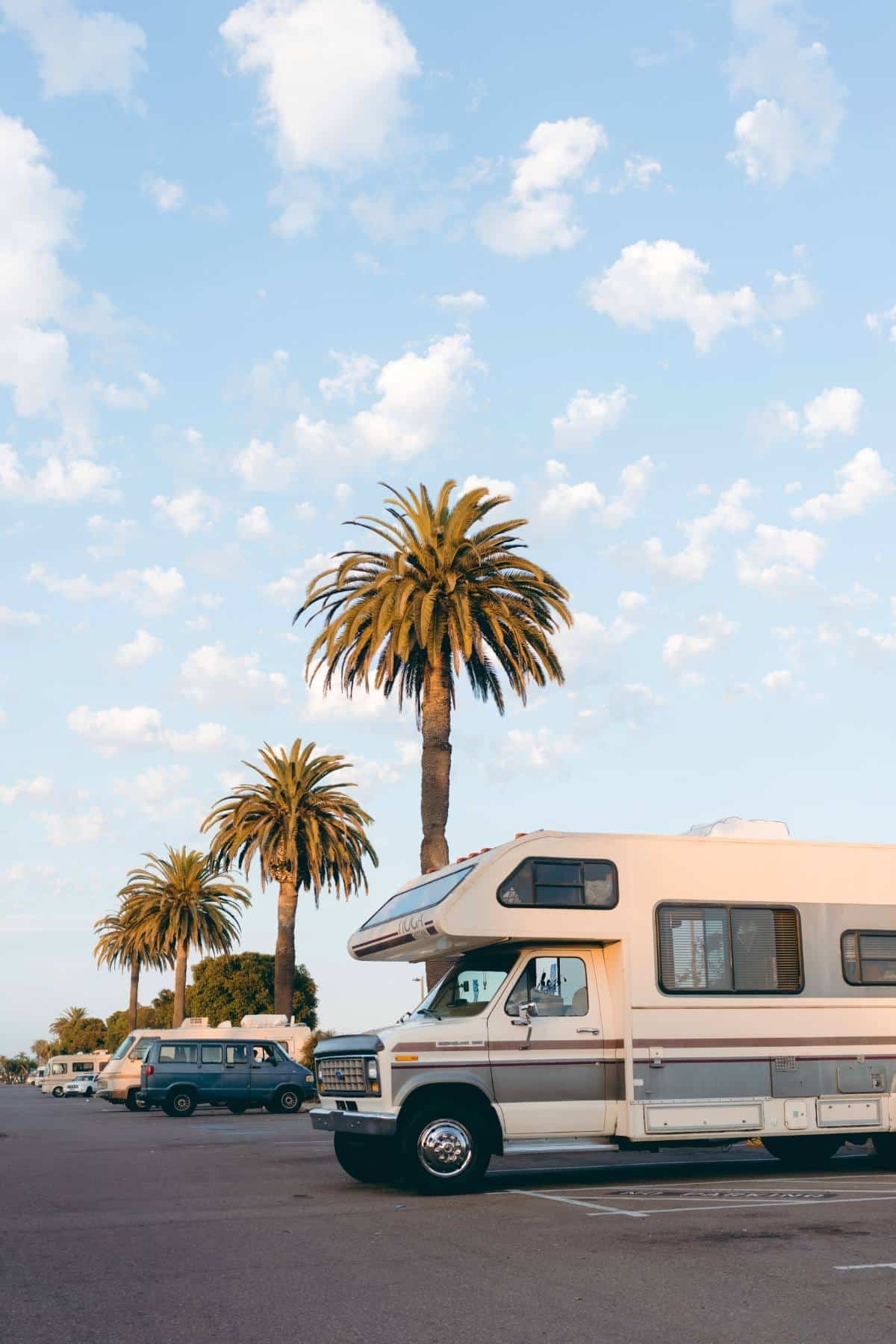 Jump to:
If you're a new vegan, chances are that eating vegan on the road feels like an unsolvable riddle.
Never fear! Once you learn a few tips and tricks, eating vegan on the road will become as easy as putting on underwear…unless you're not into that, then by all means let it all HANG OUT!
🧠 Get your mindset right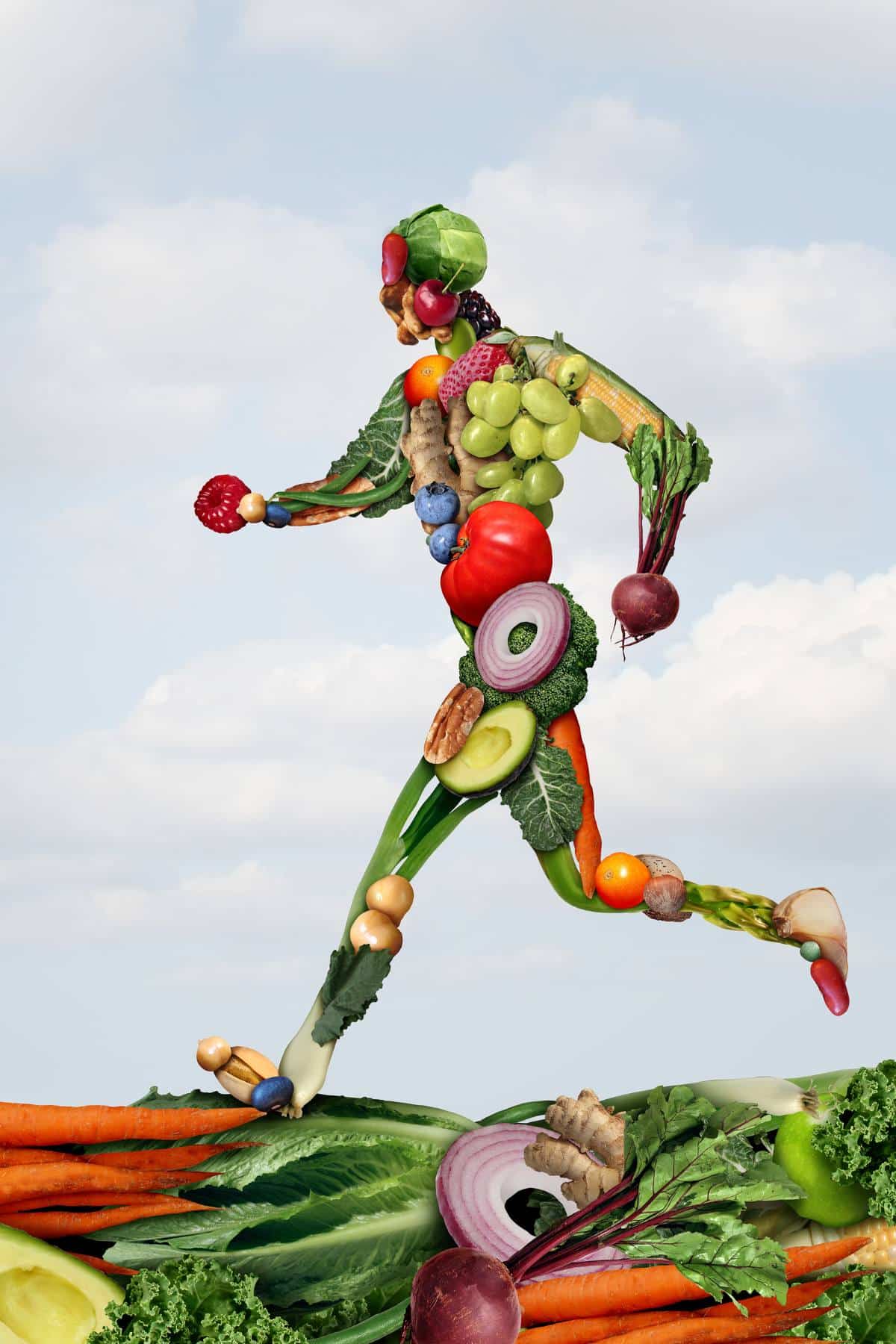 To eat vegan on the road, you have to learn to see through your new vegan glasses. Once you do, you'll see options where you didn't see them before.
It's not necessarily harder, it's just that you have to re-learn some things. Once you learn those tricks, it becomes second nature.
When you're on the road, finding vegan options can be a breeze but there are definitely those times when it takes a little bit more effort.
Just be mentally prepared for this. Without a strong 'Why', all of this will feel pointless and annoying.
Before I give you tips and advice on how to eat vegan while on the road, the first thing you have to have in place is your 'Why'.
Why are you vegan? For veganism to stick, your 'Why' has to have a strong emotional pull.
Your 'Why' is so important because it keeps you motivated in those instances when finding vegan options takes a little more effort.
For me, my 'Why' is animal suffering. When I see animal products at restaurants, my mind doesn't even register it as an option anymore because I've established such a strong connection to my 'Why'.
Whatever it is, find a strong, emotional 'Why' and keep connecting to it until animal products don't register in your mind as an option anymore.
Now that you're connected to your strong, emotional 'Why', here are some tips and tricks to staying vegan on the road.
If you'd like more motivation on becoming and staying vegan, check out my article on how to quit eating cheese and go vegan.
❄️ Pack a cooler and prep food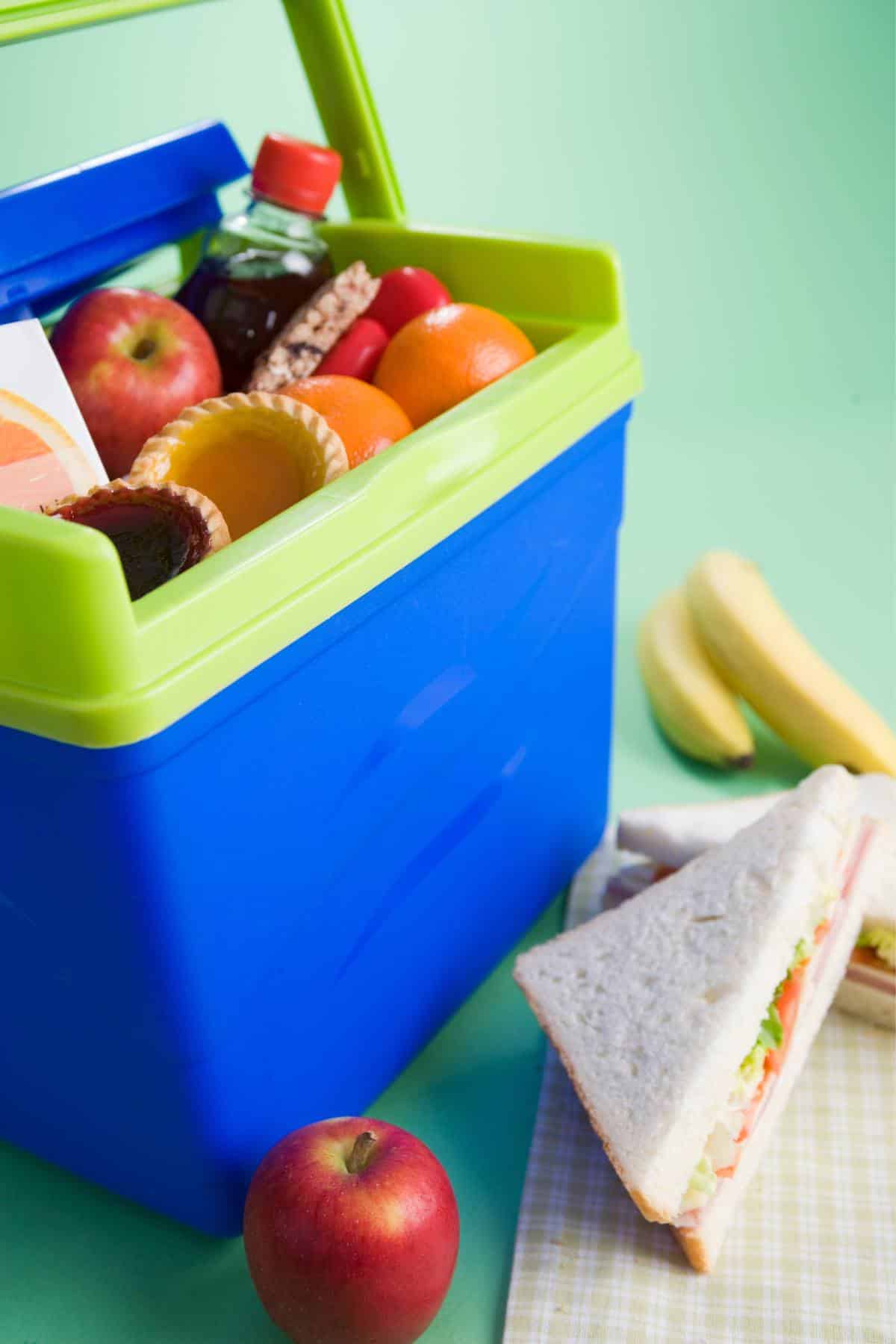 This is probably the smartest, healthiest and cheapest way to eat vegan on the road, but it does take a little planning.
To make this even easier, get an electric cooler that plugs into your car outlet. Then you don't have to waste money on ice or bother draining the water every time the ice melts.
You can always find a grocery store, even in the most remote places.
🍎 Vegan road trip snack ideas
Here are some easy snacks and foods that are easy to make ahead and bring with you on your trip. All of these foods travel well.
Sandwiches
Buy vegan sandwich meat, hummus and mustard. PB&J is also easy. Check out this chickpea salad sandwich recipe below. Just keep the chickpea salad part separate until you're ready to make the sandwich, so it doesn't get soggy.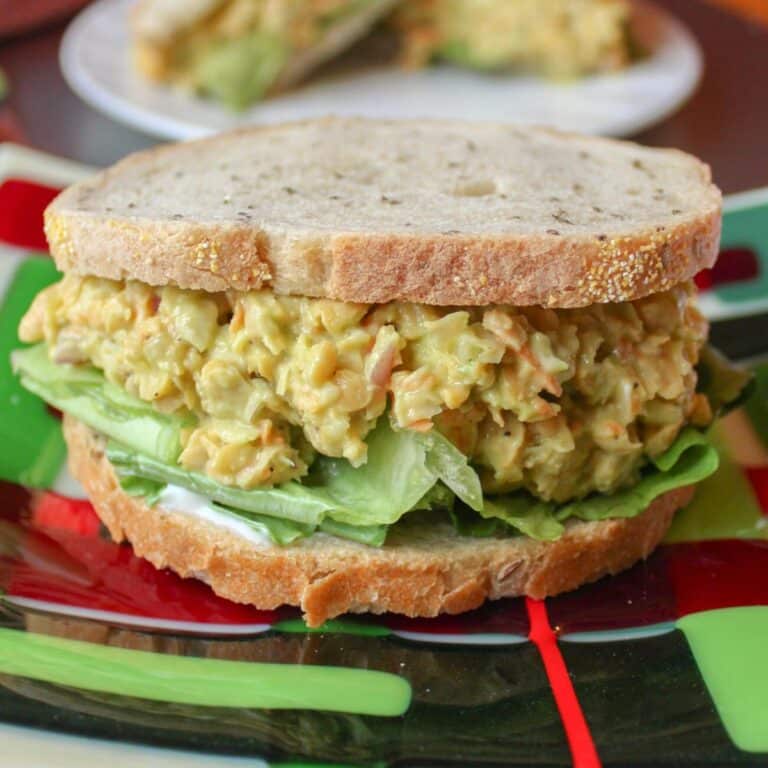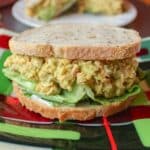 Vegan chicken salad sandwich
Vegan Chicken Salad Sandwich
This vegan chicken salad recipe is super easy to make and high in protein! Soy curls are rehydrated then seasoned with vegan mayonnaise, fresh dill and seasonings. Celery is added for sweetness and grapes are added for a little bit of sweetness.
CLICK HERE FOR FULL RECIPE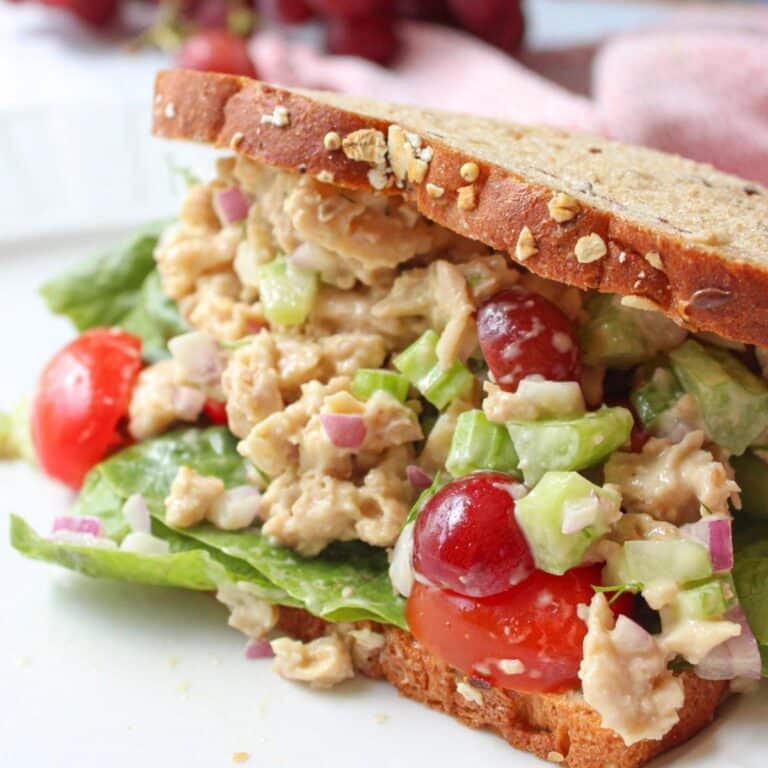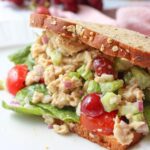 Pasta salad
I love making a big container of this and taking it with me on a road trip or even in an airplane.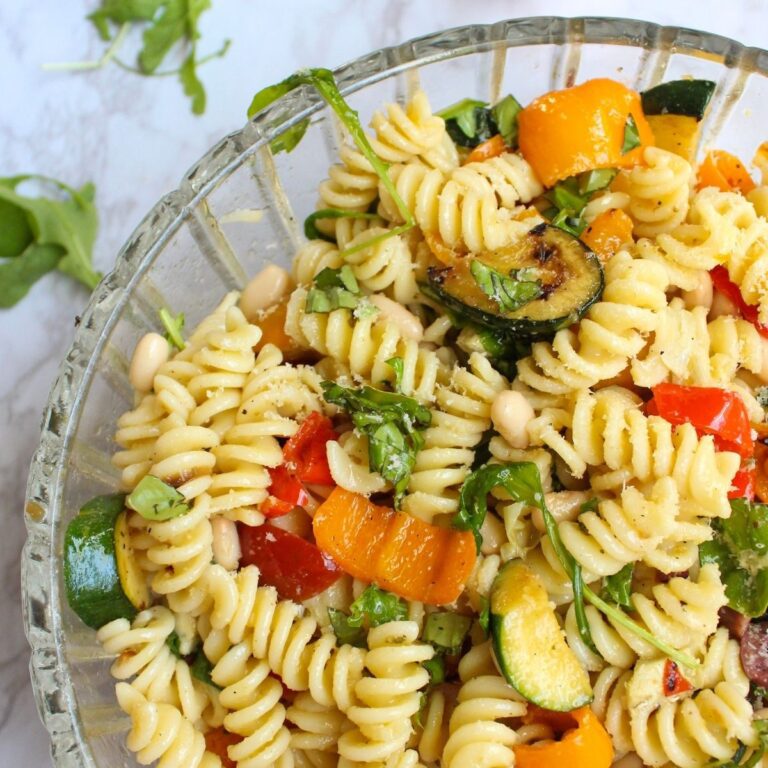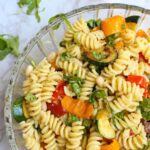 Black bean and quinoa salad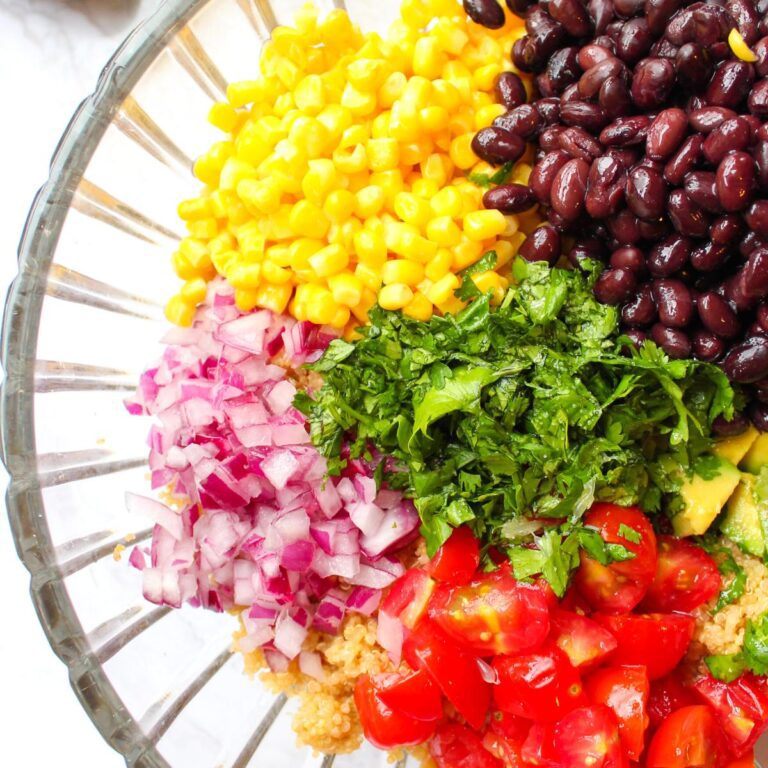 Baked potatoes
I know this sounds weird but I was on a two week tour and we brought 10 baked potatoes. We wrapped them in aluminum foil and kept them in the cooler. They were amazingly satisfying and easy to clean up. Bring some A1 sauce to eat them with. Killer combo.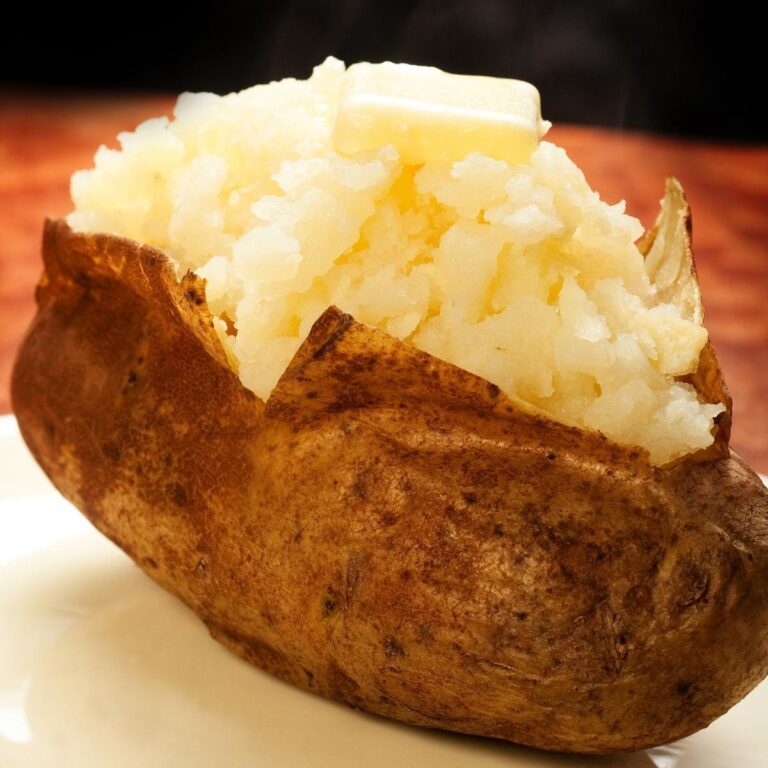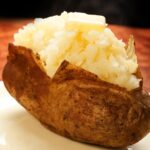 Homemade granola
Great for an easy, healthy snack on the road. Super cheap to make yourself.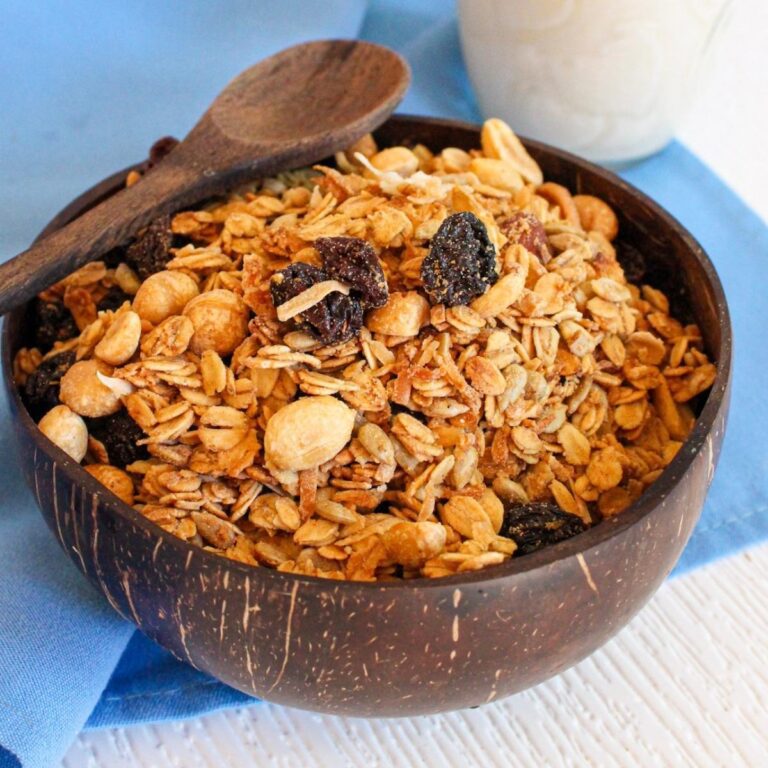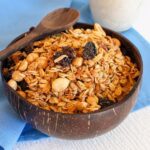 Couscous salad
This salad keeps really well in a tupperware container.
Israeli couscous salad
This Israeli couscous salad is a healthy and easy to make side dish. Full of fresh ingredients like cucumbers, tomatoes, dairy free feta, onions and fresh herbs. Topped with a lemon, oil and vinegar dressing. Easy side dish for the summer.
CLICK HERE FOR FULL RECIPE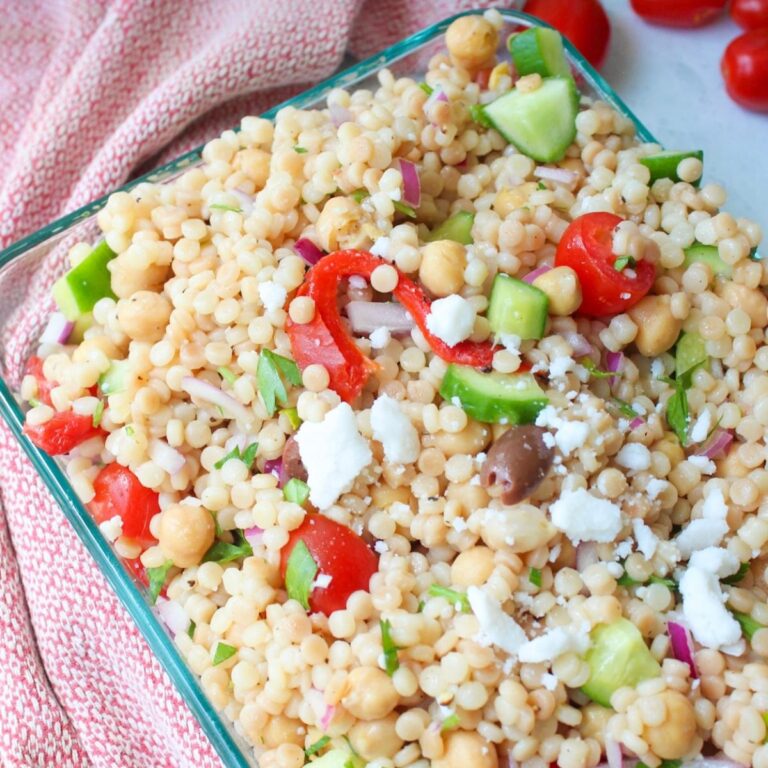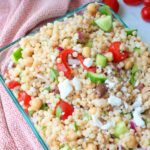 Vegan muffins
Muffins make a great travel food. They last about a week and are great for an easy breakfast or snack.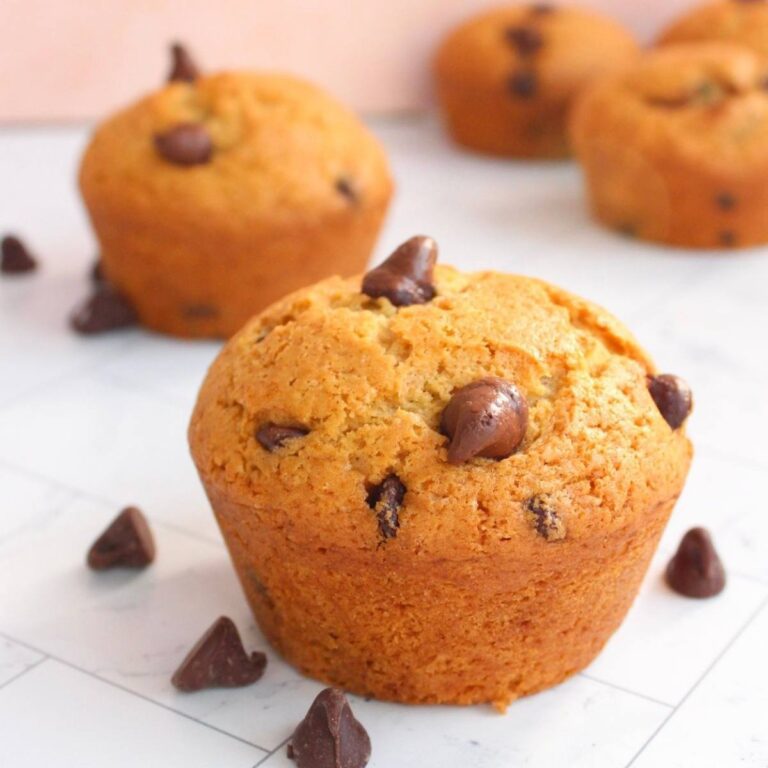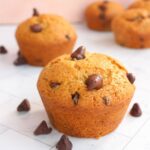 Date balls
These are the ultimate road trip snack. They'll fill you up with energy and will last for about a week. Made with dates, peanut butter and oatmeal.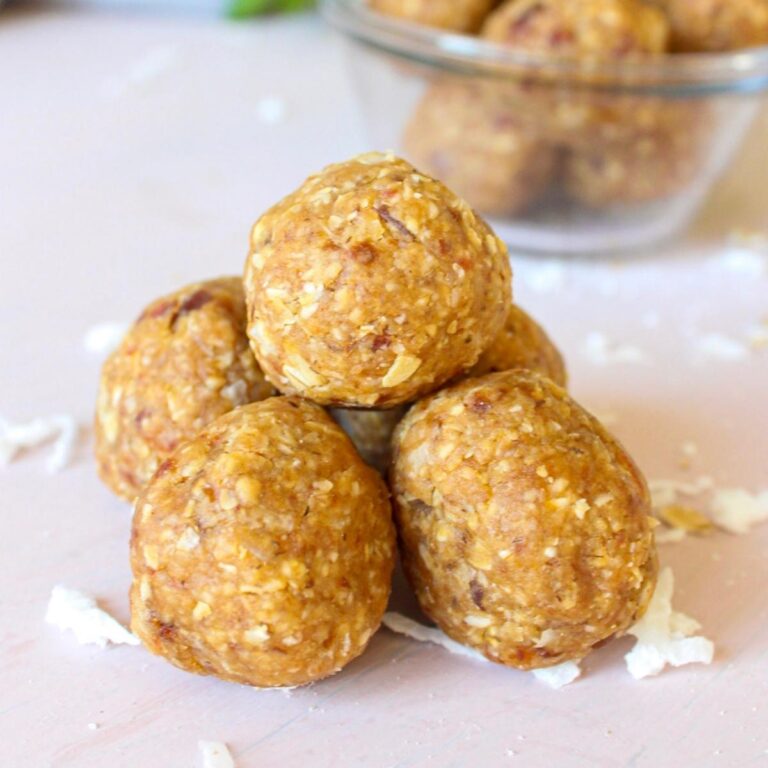 More ideas:
Fruit - anything but bananas. They get ripe and stink up the whole car. They also bruise easily and you have to handle them gently. Opt for oranges, clementines, apples and grapes.
Soymilk and cereal
Hummus with pre-cut vegetables or pretzles
Refried beans, salsa and wraps to make easy tacos. You can warm them up in a gas station microwave.
Bean and corn salad
Chips and salsa
Peanut butter and apples or celery
Fig bars and fig newtons
You get the idea. Bring a bowl, utensils and cups. Clean out your dishes at rest stops.
If you're not the food-prepping type, bring packaged snacks like fruits, granola bars, and veggies and hummus to ensure that you have something to eat.
You can also order at fast food chains, if you don't want to prep a bunch of food. I give you some tips on how to do that a little later on.
📲 Use apps to find vegan friendly restaurants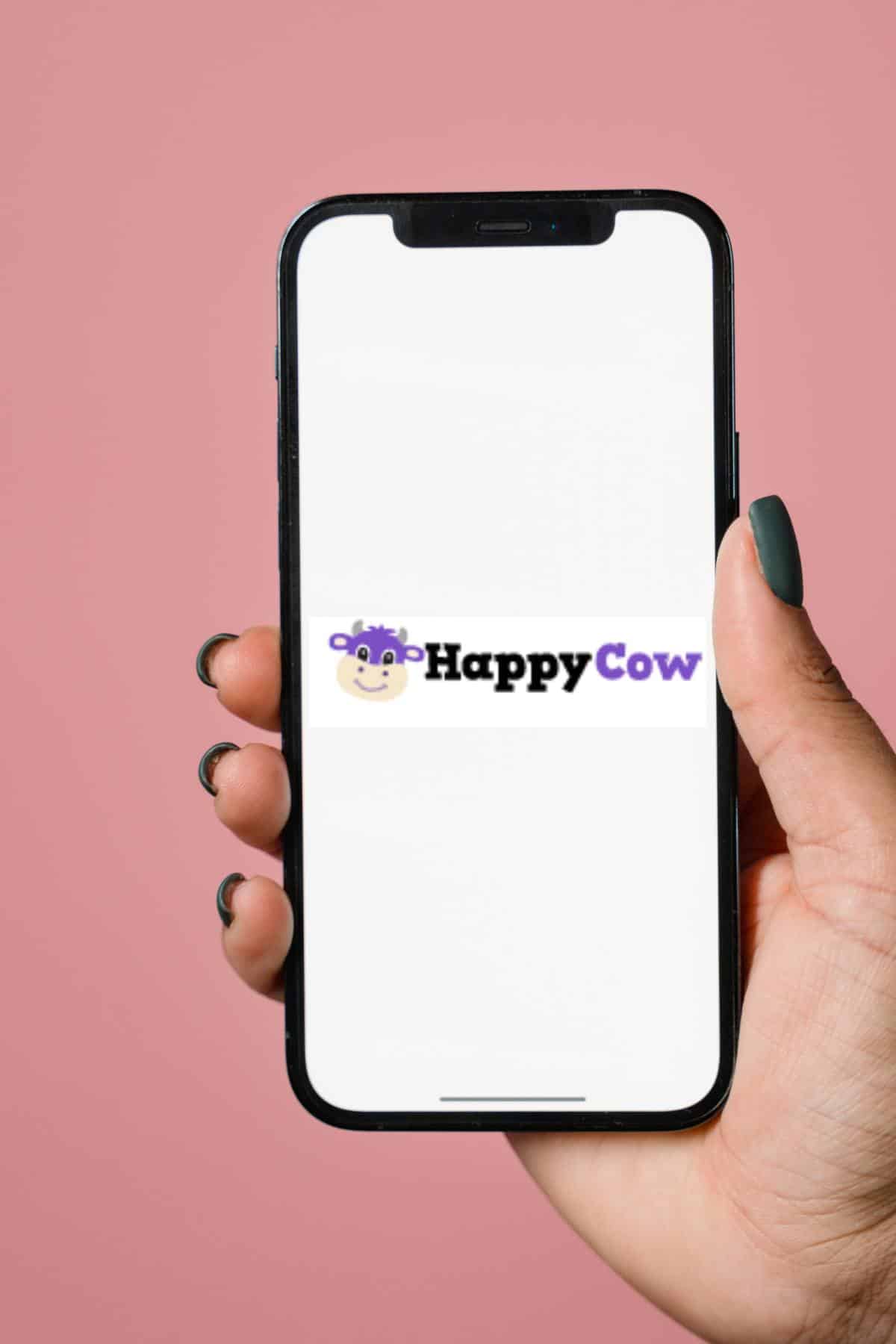 These apps have helped me to find vegan options all over the world. To find restaurants while traveling, my process is this:
First I search Happy Cow for vegan only or veg friendly restaurants. If there aren't many options in the area I then try Yelp.
In Yelp's search bar, enter 'vegan options' and see what comes up. This usually helps when I'm in the U.S. Look through the restaurant's menu and see if there are any plates that can be made vegan by asking to omit the cheese. If I'm international and I haven't found many options, I then go to Trip Advisor.
When searching for restaurants on Trip Advisor, go to the filter and select 'Dietary Restrictions' and choose 'Vegan Options'. Check the menu online before going to make sure they have things that could be made vegan.
🍝 Learn how to order vegan at restaurants
When looking for a sit down restaurant, I will first use the apps above. I generally try to find more ethnic restaurants since these are easier to eat vegan at. Be prepared to play around with the menu a bit and ask for substitutions. Here's some of my tips:
Mexican Restaurant - I order veggie fajitas. I ask for no cheese and sour cream. Also ask if the beans have lard in them
Chinese Restaurant - Mixed vegetables and tofu in a brown sauce. I ask if the sauce can be made with no chicken or beef stock. If not, then I'll ask what sauces don't contain animal stock and I'll order that sauce instead.
Thai Restaurant - Ask if they can take out the fish sauce in their curry. If not, get pad thai with no egg and no fish sauce.
Indian Restaurant - ask if they use ghee. If they don't, the options are endless. Chana masala (chickpea curry) and Dhal curry (yellow lentils) are my favorites.
Pizza is always easy to find as well. Ask if their crust has eggs or dairy. If not, then order a veggie pizza, no cheese and extra sauce. I love my pizza nice and saucy.
American - many American restaurants serve vegan burgers on their menus now. It's easy to adjust menu items in America, so just order the burger without cheese and mayo if it comes with it.
Diners- In the more remote places, diners are usually the only restaurants around. To order breakfast at these places, I order a veggie omelet with no cheese and no egg. This basically gets me a side of hash browns and sautéed veggies, which is fantastic and so satisfying. Just ask to use oil instead of butter. Be very friendly and people will not mind if your order is weird!
🍟 Learn how to order vegan at fast food chains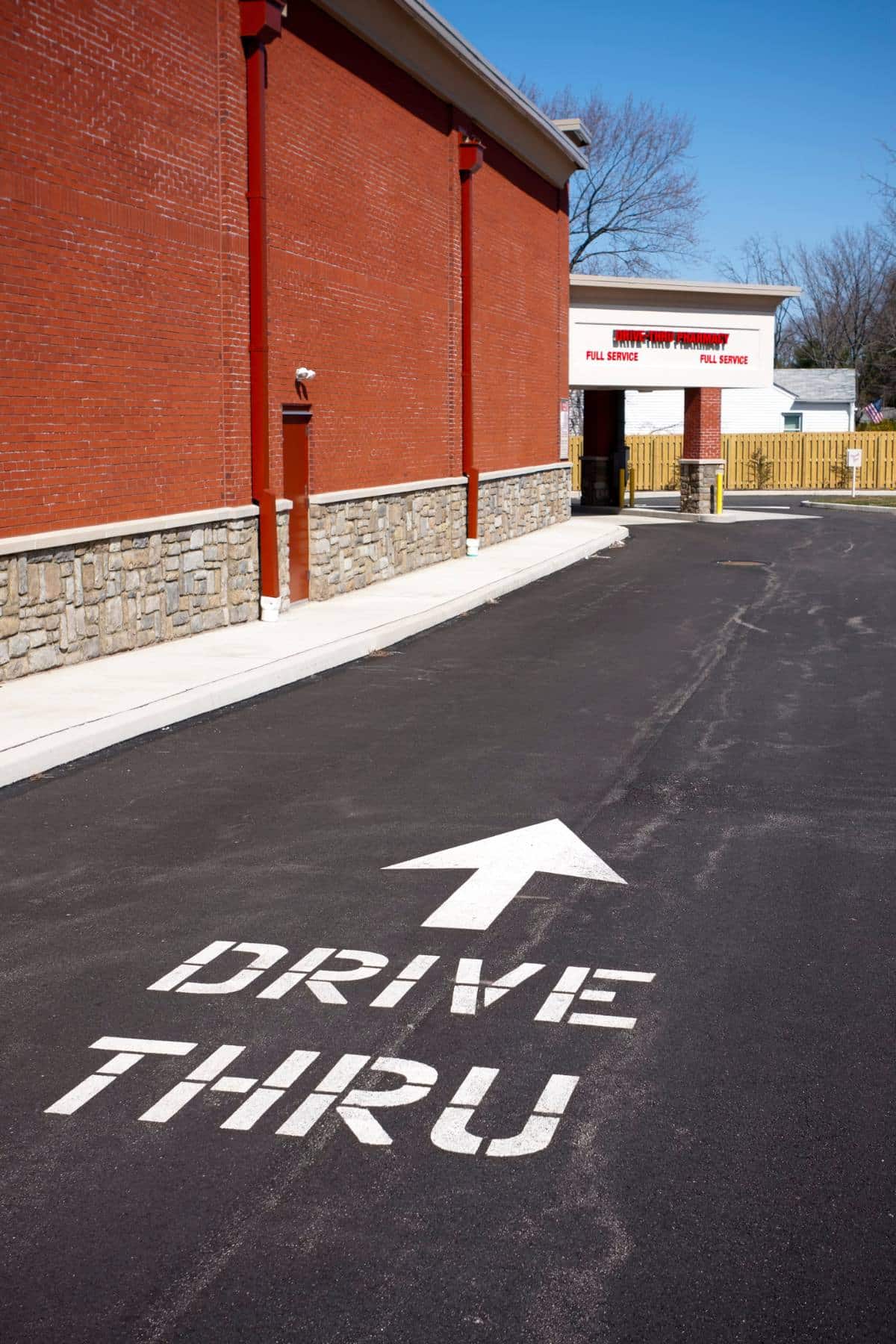 I have traveled all over the U.S. as well as internationally. I can always find vegan options by looking for a handful of common restaurants that I know are easy to order vegan at.
Check out my blog on how to order vegan at fast food chains, next!
I show you how to order at Burger king, Taco bell, Tropical smoothie cafe, White castle, and many more.
🥑 More tips for dining out as a vegan
❓ FAQ's
What are some vegan friendly countries?
According to world population review the top five countries with the most vegans (and therefore more vegan options) are the U.K, Australia, Israel, New Zealand, Switzerland. Destinations with a lot of fresh fruits and vegetables will also be easy to eat vegan in.
What are the most vegan friendly cities in the United States?
According to VegOut magazine, Portland, Atlanta, Los Angeles, New York, Las Vegan, Austin, and Philadelphia are the most vegan friendly cities in the United States.
How do you eat vegan while traveling?
It's easy to eat vegan on the road once you learn a few tips and tricks. Pack easy road trip food like sandwiches, hummus, granola, fruit and fig bars. Learn how to order vegan at restaurants and fast food chains. If you're flying and the the flight offers a meal, make sure to mark that you'd like a vegan option when buying your ticket.
🚙 To sum it up
Finding vegan options while traveling can at times be a little bit trickier, but a little inconvenience is nothing compared to the suffering the animals go through.
I hope these tips and tricks helped. Once you know how to find vegan options while traveling, it becomes a breeze! Leave me any questions you may have below and share this with a friend who is having a hard time eating vegan while traveling.
Happy munching!